How to write an Opinion Essay from Start to End
Last Updated: 21 July 2023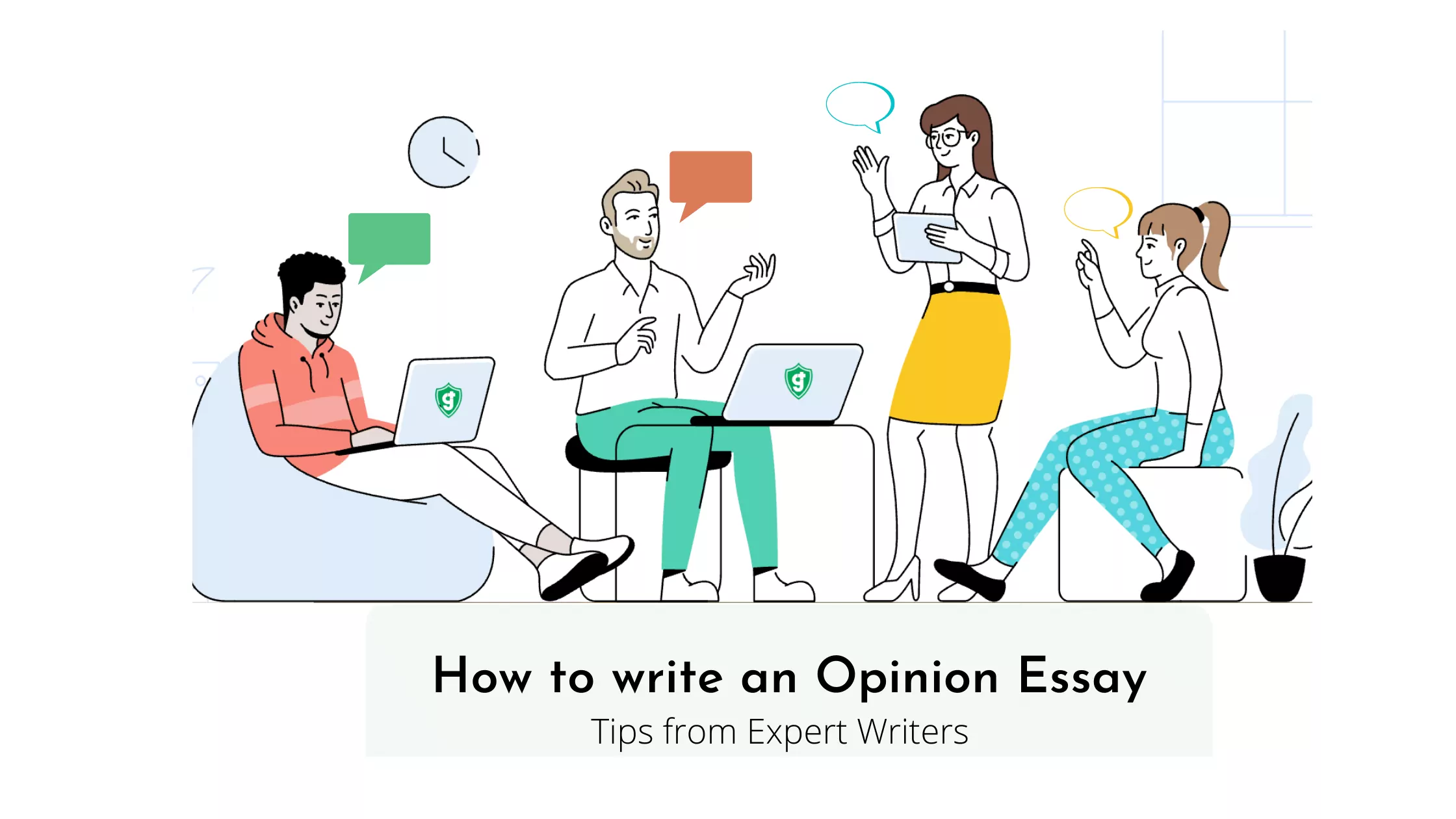 Are you struggling with writing an opinion essay, or is it your first time writing one? Then, you might as well use our ideas, tips, and tricks to write an opinion essay that scores you an A+ grade.
The process of creating a successful essay is different for everyone. Some will prefer working undistracted while others work better with distractions.
Although no guide can comprehensively fit your writing style, one thing is for sure: our guide will help you write an opinion essay in a step-by-step format. We have broken down the opinion-writing process into three core stages: prewriting, writing, and revision to make it easy to grasp.
This guide also covers aspects such as opinion essay topic, structure, and the essential guidelines to set you up with writing an opinion essay.
Our comprehensive opinion essay guide inspires your confidence as a writer from the beginning, mid-way, to the end. Consult with us if you feel you need further help.
What is an Opinion Essay?
An opinion essay is a formal piece of writing that presents an author's point of view (opinion) supported with reasoning, evidence, and examples and can entail opposing inconsistent viewpoints.
Unlike an argumentative or persuasive essay where you offer counterarguments or counterpoints, you focus more on your opinion about an issue at hand in an opinion essay.
You don't necessarily have to explore the advantages or disadvantages (pros and cons). Besides, you don't have to describe the essay topic from a different perspective. Instead, you give your opinions based on well-researched data.
Opinion writing is all about you giving your point of view or perspective in a layered manner. By layering, we mean that you support your opinion with examples and explanations.
Opinion essays are often written by college and university students. Besides, non-native English-speaking students enrolled in the IELTS must write an opinion piece. Thus, opinion essays help you express your thoughts, perceptions, and opinions while writing in English.
Prewriting Stage
Before you commence writing your opinions in an essay, you need to have a clear idea of what you want to write about in your opinion essay and how you will express it. Here are a few major steps that you must undertake:
1. Understand the assignment
Consider reading the opinion essay prompt as the very first step in your writing journey. As you read the instructions, you will get to know the objective of the assignment/essay, the length and deadline of your opinion essay, the formatting style required, and the number of sources to use when writing the essay.
Reading the prompt also helps you understand the questions you will be tackling as you write. It also helps set out the main points that must feature in your opinion writing. These points include the central idea or thesis and the extent of research required to support the opinions in your essay.
2. Brainstorming
As you read the instructions, you can use mind maps or short notes to brainstorm over the topic provided. You can also do the same to develop ideas that you can turn into topics if one is not given.
In this phase of your writing, you can utilize the freewriting technique to develop as many ideas as possible. Freewriting allows you to download all your thoughts concerning a certain topic.
No idea is terrible, off-topic, or strange during the discovery or investigation phase. As you brainstorm, do some light research to familiarize yourself with concepts, frameworks, and facts about the ideas you have developed.
If you think outside the box, for one moment, you will be amazed at how much there is to write an opinion essay about.
3. Select a topic
If no topic is given, go ahead and select a topic you feel works well for you. Pick something that you are familiar with and find interesting to write about. As you have already brainstormed, choosing a topic should not be hard.
Related: Best argumentative essay topics.
4. Do your research
Read through the primary and secondary sources as you take notes, organize facts, and develop ideas so that you can work out your position, perspective, lens, and perspective on a topic.
This is the evidence that you will be using when drafting your opinion essay.
Research online, read related books, find related peer-reviewed scholarly journals, use Wikipedia to familiarize yourself with concepts, and choose the sources to keep for the writing phase.
5. Formulate a thesis
Are you already familiar with thesis statements? If you are, you do not have to worry about developing an opinion essay thesis statement. The process is the same because an opinion essay thesis is a central idea or argument you want the entire essay to be about. It is the idea that the body paragraphs will be expounding and developing. Remember to have a clear thesis so that you have a focused opinion essay. To do this, refer to your thesis each time you are writing the paper.
6. Choose a befitting title
Like other academic papers, opinion essays must have a short, clear, and precise title. Your title often comes from the topic and the thesis. To develop your title, take your thesis and compress it into 3-4 words. Remember, the title should not tell the entire story; it leaves that to the body paragraphs.
7. Create an outline
With the topic, thesis, and title ready, it is time to create an outline or a rough template for your opinion essay. An outline helps you to organize your essay into paragraphs. It is the blueprint or the map of the rough structure of your essay. Although many students deliberately skip this step, it is vital as it makes it easier to stay focused when writing an opinion essay.
Writing Stage
Real work begins during the drafting phase, where you begin to write your paper. With all you've done in the preparation phase, you should not be afraid to handle this stage.
You already have a thesis, which is good because a lack of it often leads to drifting, making it hard to frame the fact. As you draft the opinion essay, you will be using the materials from the prewriting stage to build your paragraphs.
Most successful opinion writers will begin with the body paragraphs without an introduction. When you start with the body paragraphs, you get the independence to work through your ideas without restriction to a thesis. However, this is only useful if you are unsure about the direction you need your opinion essay to take. However, we will explain it step by step and leave the approach for your choosing.
1. Write the introduction
Your opinion essay must have an introduction as the first paragraph after the title page. The introductory paragraph presents your subject and states your opinion clearly, concisely, and precisely.
Since it is the first part your reader focuses on, you need to impress them immediately. Using a solid essay hook, you can only beckon them off the bat.
When you introduce a hook in the opinion essay introduction, you will capture your audience's attention, psyche, and interest, motivating them to keep reading. For example, you can begin your essay with a statistic, fact, rhetorical question, addressing the readers directly, anecdote, or a quote of your choosing. It should be the first sentence in your introduction.
After hooking your reader, provide the background on your topic to help your readers understand: the intent and significance of your opinion essay. Offer some overview of the critical debates about the topic, but do not provide too many details in the introduction.
Finally, present your thesis statement in your last one or two sentences. You already have your thesis statement from the prewriting stage. Present it so that your reader understands your central argument, and focus and so that you can signal your readers about your position on the topic.
If you are writing a longer opinion essay, say eight pages and beyond, you can end your introduction by briefly describing the contents of every section of the essay. Thus, you provide a roadmap of your essay so that your reader grasps the structure and has a preview of how you will develop arguments in your opinion essay.
2. Write the main body (body paragraphs)
The main body of your essay needs to support your thesis statement, set out in the introduction. For a standard five-paragraph essay, your opinion essay will have three linked body paragraphs. Each paragraph should present a separate idea or point of view that is supported by evidence, examples, and facts that must be well-cited.
Each body paragraph must begin with a unique topic sentence, a mini-thesis, or the main idea that you will back with arguments and evidence in the paragraph. Ensure that you do not start a new paragraph because the one you are writing has become longer. Instead, begin a new paragraph only when you want to discuss another idea.
As you write the body paragraph, use the right tenses, transition or linking words, formal vocabulary, right punctuations, and cite the sources well.
The body paragraphs account for 80% of your essay, which means that you should balance the word count among the three body paragraphs.
After the topic sentence, present evidence that can include quotes, data, or examples from relevant scholarly sources. Then, interpret and explain the evidence and show how it builds your thesis.
Related Read:
3. Write the conclusion
The third step in writing an opinion essay is concluding it. The conclusion of an opinion essay should restate the main opinion/thesis statement using different words. It should also contain a brief summary of the main points supporting your arguments. Finally, it should equally show why your main opinion matters.
Refrain from introducing new ideas or apologizing for your opinions in the essay. But, on the other hand, never undermine your arguments as well. You should also avoid cliché concluding phrases like to sum up, in summary.
The conclusion should engage your readers. You can end with a warning, ask a provocative question, make recommendations, or suggest consequences if your opinion is not considered.
For a great and meaningful conclusion for an opinion essay, end your essay with an impactful or memorable sentence to create one last strong impression in the mind of your readers.
Revision Stage
After writing your first draft, take a break from writing. This is the time to close your computer, arrange your table, catch that movie or series, drink some water, or take a walk.
Once you have rested enough, assuming your essay is not urgent, you can proceed to the revision stage when fresh. Some call it the editing and proofreading phase; whatever it is, it is the last part of writing an opinion essay where you make sure you dot your i's and cross your t's.
In the revision phase:
Evaluate the overall organization of your essay
Revise the content of each paragraph in your opinion essay
Proofread for grammatical and language errors
Check for plagiarism so that you have the acceptable similarity level
Revise your opinion essay for issues such as cohesion
Check whether there are transitions in your essay
Check the clarity in sentences and coherence of your ideas
Check whether you have used varied sentence structures
Edit the paper by reading what you have written. Look for any punctuation errors
Read your paper aloud so that you can catch some errors
Check the formatting of your paper in MLA, Harvard, APA, CSE, or ASA format
Ensure all the inner-text citations are as per the formatting
Check capitalization and vocabulary are well placed
Check the title and reference pages
Check the numbering
Assess your choice of words, ease of reading, and flow
An opinion essay is written in prose form. Therefore, ensure that you do not have listicles in your essay; it is not a camping list either way!
If crafted the right way, your opinion essay will become an excellent piece of writing that your professor can use as an example of the best opinion essay for the following classes. The tips we have shared above can help you pull your a-game when writing an opinion essay.
Related Read: How to write a comprehensive A+ essay.
Opinion Essay Outline/Template
You have probably already encountered and used the basic five-paragraph essay structure, which works well with opinion essays.
I. Introduction
An introductory statement, mostly a hook statement.
Background information.
A great thesis statement that clearly states your opinion on the given topic or issue.
II. Body Paragraphs
A. Body Paragraph 1
Topic sentence with the chief argument that supports your opinion.
Evidence and facts supported the ideas in the thesis statement.
Analysis and explanation of your facts and pieces of evidence.
A closing remark that points out the correlation between the thesis statement and your arguments in paragraph one
Transition to your next paragraph.
B. Body Paragraph 2
Topic sentence with the principal argument that supports your opinion.
Evidence and facts supported the ideas in the thesis statement.
Analysis and explanation of your facts and pieces of evidence.
A closing remark that points out the correlation between the thesis statement and your arguments in paragraph one
Transition to your next paragraph.
C. Body Paragraph 3
Topic sentence with the main argument that supports your opinion.
Evidence and facts supported the ideas in the thesis statement.
Analysis and explanation of your facts and pieces of evidence.
A closing remark that points out the correlation between the thesis statement and your arguments in paragraph one
Transition to your next paragraph.
III. Conclusion
Restate your thesis using new words and sentence structure
Give brief remarks on the arguments, examples, evidence, and facts in the body paragraphs.
A closing statement that leaves your readers impressed.
Expressions to use when writing an Opinion Essay
We already covered some phrases to use when writing essays. However, when you are undertaking opinion writing, the chances are that you need to explain your point of view in the best way. So, here are some basic expressions that you can use to expose how good a critical thinker and a creative writer you are, which is the key to scoring an A+ grade.
If you want to fix an opinion essay assignment faster and better, use some of these expressions or phrases to put through your opinions:
Expressions to use when writing an opinion essay

It is not entirely convincing that

Even though it is arguable that.

It is compelling that

Although Y agrees with X that,

The principal opinion here is

The vivid fact is that

Y firmly/strongly believes that

Research has proven that

X feels/thinks/holds that

One is inclined to think that

With all the assumptions considered.

It is evident that

This suggests that

It would mean that

This proves that

Although

To

To bring an end to the debate about

In support of.

To clear the confusion around

In contrast.

For example, or for instance
Nothing is cast in stone; you can always choose your words wisely. However, the ultimate goal is to write an outstanding opinion essay that seduces the best grade from your instructor or professor. Remember, you can use adverbs, adjectives, and nouns when writing but mind the flow of ideas and simplicity of your opinion piece.
Dos and Don'ts when Writing an Opinion Essay
As you set out to write an opinion essay, we have gathered some dos and don'ts to help you write a great essay. Read them and keep them in mind when researching, drafting, writing, and editing your opinion essay.
| Dos | Don'ts |
| --- | --- |
| Have a clear thesis statement | Avoid using jargon or, cliché, or slang words |
| Use a formal writing style | Do not forget to cite your statistics and facts |
| Use both short and long sentences | Desist from using short forms |
| Balance the word count of your paragraphs | |
| Each paragraph should have a topic sentence, supporting facts/evidence/examples, and a concluding sentence. | Avoid overusing sentences |
| Use transitions to maintain flow and knit ideas in your essay | Avoid using passive language |
| | |
| | Avoid using exclamation marks, parentheses, and dashes. Instead, be discreet. |
| Be brief, clear, concise, and coherent. | Unless allowed, do not use personal pronouns when writing. Do not address your readers as you. |
| Check your plagiarism score before submitting. | Do not use challenging vocabulary in your opinion essay. Please keep it simple. |
| Proofread and edit your paper well | Avoid using imperative voice |
| Cite every source you have used | Do not use colloquial expressions |
| Do not veer off from academic writing guidelines | Never give personal examples |
150 Plus Opinion Essay Topics
Here is what to write your opinion essay about
Should American citizens serve on the jury?
Should the voting age be changed to allow minors?
Laws should apply equally to anyone
Is the president above the law?
Should political leaders be held accountable for misbehavior in the media?
Should governments tax churches?
Can wars be avoided?
Are wars the creation of stable governments?
Do we need to spend much on military and defense might?
Are private prisons ethical?
Socialism is still the best philosophy.
Is capitalism killing the world?
Does the media have freedom of speech?
Should governments gag the media?
Are protocols necessary during national celebrations?
Can politicians represent the interests of certain media outlets?
Related Read: How to choose topics for your essay.
Social Media Opinion Essay Topics and Ideas
Is Facebook becoming a surveillance tool?
Social media has a role in governance
Is slacktivism legitimate action or a lazy move?
Can clicktivism shape public opinion
Social media creates rifts between people
Social media affects the family values
Social media is the primary divisive tool in the U.S
Social media and hate crimes
Social media leads to depression and suicide among teens
Anorexia nervosa and the rise of social media influencers
Does social media normalize material wealth?
Social media promotes an unrealistic lifestyle.
Twitter is for elite thinkers in the society
Twitter is a political messenger
Youths are influenced by social media
Social media is an integral tool of changing society today
Modern students rely too much on technology
Social media helped students during the Covid-19 pandemic
Facebook affects the personal relationship
Social media promotes stalking
Social media encourages body shaming
Memes shared through social media relieve depression
Social media negatively impacts body image
General Opinion Essay Topics
Children should not watch too much television
Schools should teach sex education
Countries should create buffer zones that accommodate refugees to curb emigration.
Laws prohibiting heroin should be applied to tobacco
Animal use in scientific research should be regulated
Parents are a student's first and the best teachers
Children who grow in the countryside are well mannered compared to those from big cities
Zoos are not cruel to animals
Education is vital in the development of a country
Politicians should be educated to make great laws
Ministers should be professionals in the ministries they head
Luck has little to do with success
Hard work beats luck when it comes to succeeding
Private cars are the leading cause of pollution
Using hybrid and electric vehicles does not curb pollution
Anybody can do without a TV
Smartphones are addictive
Does traveling have benefits?
Does fasting help reduce weight?
Are feminists destroying society?
Should schools still teach handwriting?
Should university and college education be free?
Does failure in school mean failure in life?
Should doping be allowed in extreme sports?
Is graffiti part of art?
Mass media has a role in shaping public opinion
Are women better parents compared to men?
Childhood obesity leads to an obese society
Leaders should be fit
Rich countries should forgive the debts from developing countries
Rich countries should pay more for pollution
Sometimes telling the truth hurts
It is justifiable to tell lies if the truth is dangerous
Students should be allowed to evaluate their teachers
The media should give famous people privacy
Corrupt leaders should be jailed
Corrupt presidents should be dethroned
Proceeds from corrupt governments hidden abroad should be used to fight hunger and poverty in the respective continents.
Rich people should pay more taxes.
Are hormonal birth control pills bad for women's health?
Fraternities promote misogyny on campus
First-year students should reside on campus
Rich peoples have no obligation of helping the poor
The internet brings the world close together
Face to face communication is deteriorating thanks to technology
Retirement age should be compulsory at 65 years
Governments should reserve certain leadership positions for women
Access to law and lawyers should be affordable to poor citizens
Homeless people are desperate
Homelessness is not the end of the road
The use of animals in circuses is unethical
Poachers should be hanged
Automakers are greenwashing electric cars
Drug use is becoming a culture in the USA
The American Dream is dead
CEOs should not earn too much while employees contribute to the success
Teens should be barred from sleepovers
We should be honest with our peers
Ill-gotten wealth does not last
Celebrities are the cause of hate online
Children should be encouraged to read physical books
Classical music is valuable
Hip hop music gives youths false hopes
Music videos promote materialism over values
Music piracy affects creatives
The use of the internet should be charged
Classical music boosts productivity
Music boosts academic performance
Physical activity promotes healthy life
Emojis help people express themselves better
Vegetarians are as healthy as meat-eaters
Related Read: Political science essay topic ideas.
Sports Opinion Essay Topics
You can decide to write an opinion essay on a sports topic. If sport is your thing, focus on the current affairs, arising issues, and the news. Here are some topics:
The use of animals in sports is ethical
Athletes should be exempted from taxes
Teams with successful coaches are successful
Hunting sports should be banned
Doping is unethical and bad sportsmanship
Professional athletes deserve better pay
College athletes should be paid
College athletes should have scholarships
Female athletes should participate in extreme sports
Mountain biking is a demanding sport
Olympic games promote global unity
Cheerleading is part of sports
Hooliganism in football affects brand image
Athletes should continue getting full-ride scholarships
Sports psychologists ensure teams' wellbeing
Athletes are fit and strong
Golf is a sport for the wealthy
Winter sports athletes should wear helmets
Basketball players are vulnerable to racial discrimination
Sportspeople today champion for equality
Sportspeople influence political processes
Check this out, too: Sports topics for essays.
Psychology Opinion Essay Topics
Anorexia is widespread among the youth
Telepsychiatry can help people in remote areas with mental illnesses
Autistic children are gifted learners
Having pet animals reduces stress
Soldiers with PTSD take a long to recover
Homelessness leads to mental illness
Imprisonment can affect the psychology of an individual
School counselors save children from suicidal thoughts
Meditation and Yoga help relieve stress
Racism is linked to mental illness
Related: Adoption topics to consider for essays.
Culture-related opinion essay topics
Culture has become a hot topic for almost every essay. Many students realize the importance of culture in society. Under it, you can explore mentality, fashion, arts, beliefs, religion, and language. Here are some topics to write an opinion essay about culture:
Left and rightwing politics, do they matter?
Impacts of social media on national culture
Are we developing a ubiquitous global culture?
Family values depend on our culture
Religion and culture peacefully coexist
Religion directs national values
Millennials are challenging old traditions, customs, and norms, and they are right.
Food has a national cultural origin
Culture defines how we engage others
Students going abroad should be taught how to manage culture shock
UNESCO does a better job preservice heritage and culture
Governments must preserve national cultures
Museums are a great place to learn a given people's culture
Cultural anthropologists and archeologists are influential professionals
Our cultural mindset reflects in our language
Related: Black death essay topics.
Parting Shot!
In a nutshell, our article has comprehensively covered the opinion writing process. Coming this far means you know how to write an opinion essay introduction, body, and conclusion. Whether it is a three-paragraph essay or a five-paragraph opinion essay, our tips will see you through to success.
Related Article: Descriptive essay writing guide.
As a final remark, once you have entirely fixed every part of your essay outline, turn the first draft into a final draft by thoroughly proofreading your paper. Remember to also revise for organization, language, grammar, vocabulary, style, and spelling. And when choosing the sources to use, utilize the CRAAP test to get credible and reliable sources.
As you write, remember not to use I when stating your opinion. Instead, use an objective and formal style when writing an opinion essay. It is a paper where you express your opinion, yes, but try to do it objectively.
If you need help writing or editing your opinion essay, you can consult with our professional writers.