How to Write an Essay - A Professional Step-By-Step Guide
Last Updated: 17 August 2023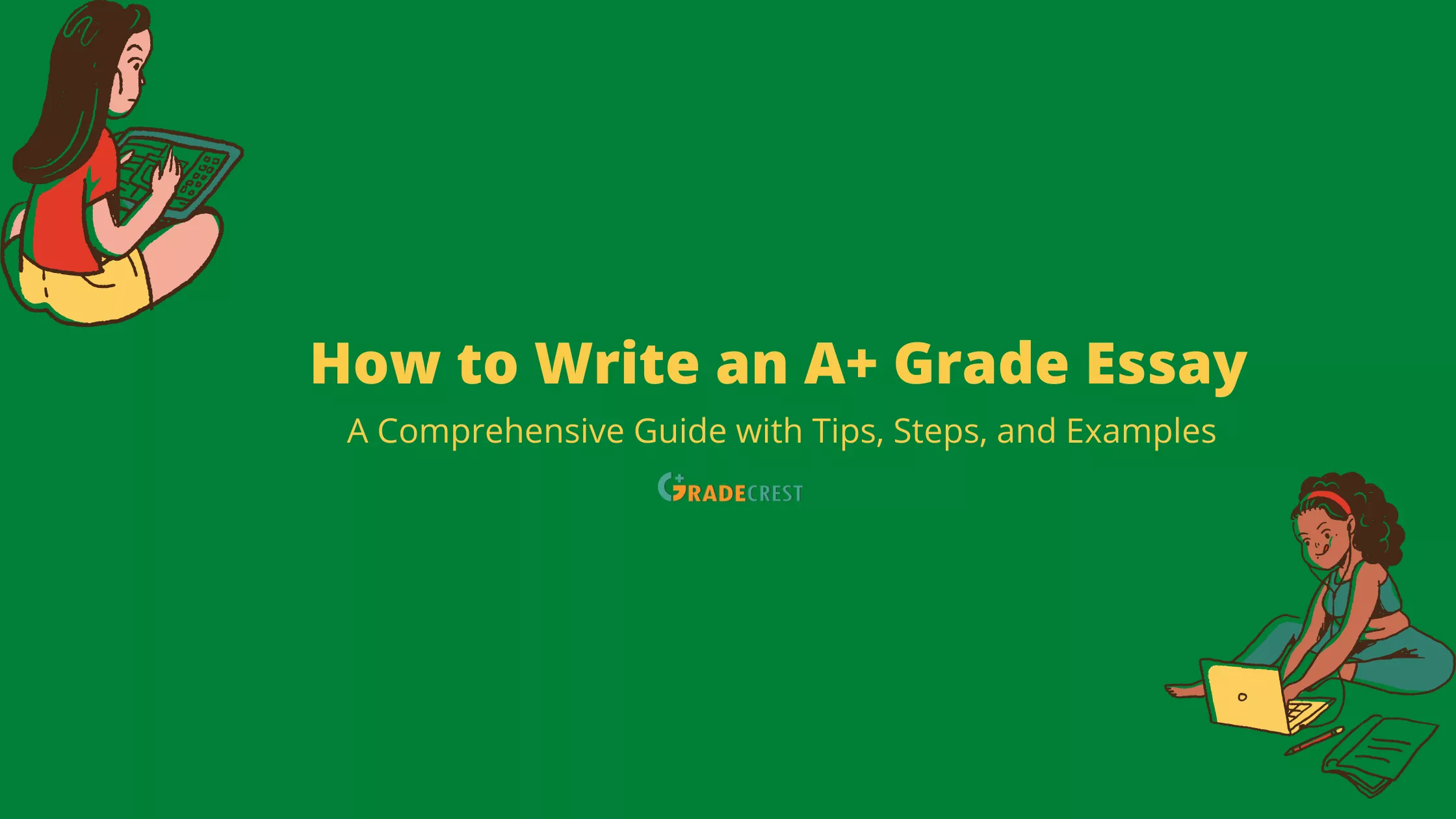 Here is a comprehensive step-by-step guide on how to write a good essay. We cover this topic because essay writing is an important practice that equips you with writing skills to survive academics and the real world.
As a student, you are forever condemned to write good essays, contributing to your GPA. While a good deal might consider the process easy, many students need guidance on writing a good essay.
If your main worry is how to write an essay that scores you a good mark on the Rubric, this in-depth, step-by-step essay writing tutorial will be useful. Any student who wishes to achieve an A+ in their essay must ensure that they utilize this detailed guide.
We believe that this comprehensive guide on how to write a good essay will help any student easily score an A. It does not matter the topic you've chosen; so long as you follow these ten steps to writing, check samples of well-written essays, and proofread your papers well, you will succeed. If you are a parent seeking a great essay writing resource, this tutorial is the best on the internet.
We make writing essays such an easy task that all you have left is to ask when you are being assigned an essay next. Our website offers reliable essay help services, which you could use. However, if you want to take the bull by its horns, here is our comprehensive beginner's guide to writing an essay.
10 Steps to write an A+ Grade Essay: The Essay Writing Process
The following steps will help you write an essay, starting with nothing but the essay instructions (prompt and Rubric) and ending with a well-crafted comprehensive essay. We are determined to share this tips so that you make a top-quality essay that has clarity, wonderful organization, and a good flow of ideas.
Step 1: Read the essay prompt and instructions
Although overlooked, getting familiar with any assignment is vital to understanding what your professor, instructor, or teacher is asking for before even starting to write your essay.
Most students give in to the temptation of skipping this step and then end up with a low grade on an essay they probably spent a lot of time on or had high hopes of scoring a better grade. The primary source of poor essay grades is consistently failing to read the instructions.
Take some time to go over the assignment, understand it, and ask your professor/instructor for clarification early enough. You must carefully go through the prompts, grading Rubric, or any material given alongside the essay assignment. The better if you can highlight and take brief notes on your essay assignment.
Reading the instructions helps you understand how the essay will be graded and what your instructor wants to see for them to give you the best grades. With the instructions understood, you are on the right track to writing a good essay.
Step 2: Select a suitable topic for your essay
Understanding what you are being asked to write in your essay is now time to decide what to write about. Typically, you can't just begin writing about everything; an essay is a specific paper that focuses on a single topic.
This is the most daunting of the essay writing processes, but do not get agitated. Although some instructors will give you essay topics to write about, it is usually never given. Instead, in most cases, instructors prefer that students write essays on topics of their choice, leaving you with an elephant hill to climb. Trust us, none of the two options is a walk in the park.
Given that students mostly have to choose from a myriad of ideas when generating topics and get limited to specific topics from the instructors. It becomes a quagmire either way. But let that not confuse you, not with this comprehensive essay guide, never!
Let's crunch the process of choosing a suitable topic for your essay.
Simple steps to choose a pleasant topic for your essay
We can sum up the process of choosing an excellent topic to this statement: Choose a topic that can reasonably address the essay length and one you will most likely have fun writing your essay. A reasonable topic is not too narrow or too broad; it interests you and has research resources that can support your arguments or thesis.
If you are wondering how to choose a good topic, here are some critical seven steps to follow:
Re-read the assignment instructions. Although you are probably familiar with the instructions, skim them and your notes. This way, you can visualize the structure of the paper and choose an exciting topic that befits the essay you are about to write. In addition, you can go back to the clarification your professor or instructor gave in case you sent a clarification email or messaged them over Canvas.
Brainstorm your topics. If you are to select the best topic, brainstorm by developing different ideas and looking up general information. This is a stage where you can comfortably use sources such as Wikipedia, which are forbidden to be cited in academic essays. Information search when developing a topic helps you widen your scope of understanding and visualize your essay's thesis or main arguments. When you have all the information, select a suitable topic that appeals to you and meets the essay requirements.
Focus on a single topic. You only have limited words to write an essay, so you would technically want to keep everything focused. As you select the topic, focus on a narrow topic, but not too narrow to impact your research. Do not choose too broad topics, because you will struggle to write without overgeneralizing.
List the valuable keywords. When you've settled for a topic or a given direction, list the words that matter when describing, explaining, or analyzing a topic. Then, you can use them in crafting a title for your essay.
Close in on one topic. You'll probably end up with many topics and have 2-3 topics of preference. At this point, you select one among those and die with it to the end of your essay or change it if you experience challenges.
Research about the topic. Now that you have the topic, you should research more about it and proceed to the last step below.
Formulate a title. After you've narrowed it down to a topic, use the keywords you found when researching to formulate a good title for your essay.
Guidelines/tips when choosing essay topics
In academic writing, two events are likely when choosing a topic: (i) you are assigned a specific topic or asked to choose among several, and (ii) you can be asked to come up with a topic and write your essay or send the topic for approval.
When you have to choose your own topic, keep these five tips in mind:
Select a topic that is appropriate to the essay's length. We have seen students pick topics that are too broad to cover in a short or long essay, which denies them the chance of scoring an A+ on an essay. We urge you to select narrow topics that often lead to close observation instead of broad topics resulting in overgeneralization. This applies to every essay you write: five-page, two- or three-page, six- or ten-page, descriptive, or personal essays. But, again, don't choose a topic that is too narrow that you lack enough to write about or have difficulty finding research sources.
Choose a topic that interests you. If you suck at writing about cigarettes and alcohol and lean more towards history, go for essay topics on history and run with the topic to an excellent grade. If you pick a topic that interests you, you will probably have more to say. Chances also are that you will write better. Ultimately, you impress the reader: your professor or instructor, and take the best grades home.
Do not summarize but analyze and discuss. If, for instance, you are writing about The Great Gatsby, avoid the temptation of choosing the entire plot. Instead, choose specific characters, actions, or plot parts that display a given theme. The latter allows you to narrow down to a specific and reasonable thesis.
Choose a topic you can find material. Even when writing a personal narrative essay or personal statement, you need to ensure that you have the right content to fulfill the requirements of the essay. If you have to use research, although you are not writing a research paper, select a topic where you can find good scholarly sources to support the ideas and develop coherent claims and arguments.
Be flexible with your topic. After picking a topic, be open to changing it if it seems not working. Instructors love it when you write a good essay rather than grinding out pages and sweating over something with a regrettable topic: a reflection of a poor choice.
Step 3: Research your chosen topic
The moment of truth is finally here: research! Although different people have their own research approach, making it the most flexible essay writing process, you must remain focused and do it fast. After all, you do not have forever to write your essay.
Three quick things about researching your topic: skim, find reliable scholarly sources, and do not ignore/overlook any information.
By skimming, we mean that you do not have to read the entire internet, book, journal, or articles about everything that has been written about your topic. The truth is, you probably can't: technically, it is impossible. So, you should scan things and identify the major points or arguments without bogging down and reading every word you find.
You should find reliable sources to use in your essay. As mentioned, non-scholarly sources like Wikipedia can be used when writing an essay. However, you cannot use them as a definitive source. Instead, you use such general sources as Wikipedia to familiarize yourself with the topic, generate keywords that drive your research, and get a summary of a large pool of information available. However, for the information you will cite in your essay, you must find reliable sources such as books, journals, articles, etc.
After seeding the keywords from general sources, dig deeper into the internet and academic databases or ask an expert where you can find reliable sources: a librarian can come in handy.
Note: You can use Wikipedia for your initial research, but you should never use it as a source for your essay.
Lastly, avoid overlooking or ignoring information. Any article will say whatever it says. Just because an article claims something is wrong or true does not mean it is a proven fact to use in your essay. So, it would help if you verified by researching deeper to find the right facts. Correlate findings from one author with those of authors writing on the same topic for the information's relevance, credibility, and authenticity.
Step 5: Organize your Research
So now that you have all the information you would need, you need to have it organized to make work easier. This is also another essay process that allows flexibility: most people have diverse preferences for organizing information. After all, the end justifies the means here.
You can create a bibliography now that you've selected the best resources. MS Word document allows you to enter bibliography information. Alternatively, you can use online citation tools to organize your bibliography. Online digital bibliography tools help link to sources you found online and can always refer to.
Organizing research helps you to cite every idea as you read and write your essay. For example, instead of writing a paper and then citing later, which often leads to poor in-text citations. Therefore, citing the essay as you write the first draft is advisable.
Besides, it is also a great idea if you have to submit or turn in a bibliography alongside an outline or an annotated bibliography before getting the go-ahead to write your essay.
Either way, create a bibliography that meets the requirements of your essay. Another organization strategy is having your articles bookmarked, downloaded, and saved in a specific folder. Other people prefer writing and printing a list of resources; if it is your thing, go for it!
Step 6: Formulate a strong thesis: the working thesis
At this stage, you have owned your essay writing process. You know what is required of you, have the right topic, and have researched and organized your research. You are ready to formulate your argument, assertion, claim, or opinion. Even when there is nothing apparent to argue against, your paper needs a strong thesis statement.
Find out more about writing a thesis statement for your essay.
You must create a specific, arguable, and strong thesis statement for your essay. Our professional essay writers agree that this is the most critical part after choosing a topic because it defines the direction and scope of your essay.
A thesis is a succinct statement, usually a sentence or two, that you put forward to your readers as to what you are writing about or proving. It is the central argument or idea of your essay. It simply defines what the essay is all about.
A good thesis statement helps you to develop solid arguments and allows you the flexibility to test your ideas. For example, when developing the thesis, you can begin with a one-sentence answer: what is my essay about?
Suppose, for example, you are writing an animal testing essay. In that case, the answer could be something like this: My paper is about the abuse of animal rights by including them in research when there are alternative methods to animal testing.
Suppose you are writing about university policies on freshmen living on campus. In that case, it could read: My essay is about university policies on freshmen students living on campus.
Your essay can be about how media influences children, which means your one-sentence statement can be: My essay is about how media can influence children.
That does not sound hard, does it? However, this is just the beginning. Most students stop here and present this as a thesis statement, only to be disgruntled when an instructor grades their essays poorly.
The truth is that you have to have a definitive thesis that is not about yourself. So, for example, the above statements would transform to:
Research has proven that there are better alternatives to animal testing, especially for the cosmetics industry, which can be pursued to save animals from unnecessary pain when used in research.
Most colleges and universities make it mandatory for freshmen students to live on campus during their first year, which helps keep them out of trouble, enables them to concentrate on their studies for better grades, and improves their social skills.
Media, specifically television, plays a significant role in the lives of children, so it can influence them positively or negatively depending on the programming content.
You can see the glaring differences between the first two sentences in which we began drafting the essay and the second working thesis statement. The bottom line is to eliminate boring words such as "my paper argues," "my paper is about," "this essay argues that," or "I think." Such will automatically lead to lower grades on your essay.
Avoid being too vague but make a powerful statement that makes a specific point about the topic. When crafting your strong thesis statement, ensure that it is arguable. It does not necessarily mean that you choose a controversial or opinionated thesis; it means that someone could disagree with it altogether. Such an approach helps you to create a powerful thesis. The thesis is called a working thesis because it is possible to tweak it as you write the paper.
Step 7: Create a comprehensive essay outline
You now have great ideas from your research and a working thesis. Besides organizing the research, you must organize the ideas for an impressive presentation. Creating an essay outline is a vital step, lack of which your essay will most likely lose its focus, and you'll probably spend more time revising the draft to make sense of the scattered points and thoughts.
An outline is a blueprint or a roadmap for your essay - it helps you structure your paper. For example, you probably wrote three or five-paragraph essays in high school. Maintaining the same structure when writing college, university, and graduate-level essays is okay. However, the specific format you choose should align with the length requirements, the aim of your essay, and the scope of your thesis.
When creating the outline, think critically about the central idea of your thesis, then structure your essay to organize the flow of ideas.
General Essay Outline
Here is a sample general outline for an essay. You can use it to craft your own based on your topic.
I. Introduction
Hook statement e.g., statistics, quote, or anecdote
Background
Thesis statement
II. Body Paragraphs (Three)
Body Paragraph 1

Topic sentence supporting the thesis
Evidence supporting the argument on (a): data, facts, examples.
Explain how they relate to the thesis
Closing sentence and transition to the next paragraph

Body Paragraph 2

Topic sentence supporting the thesis
Evidence supporting the argument on (a): data, facts, examples.
Explain how they relate to the thesis
Closing sentence and transition to the next paragraph

Body Paragraph 3

Topic sentence supporting the thesis
Evidence supporting the argument on (a): data, facts, examples.
Explain how they relate to the thesis
Closing sentence and transition to the next paragraph
III. Conclusion
Restate the thesis
Summary/Synthesis
Importance of topic
Strong closing statement
Typical Structure for an Academic Essay
Remember that most essays follow the five-paragraph format; when writing an academic essay in English, it will be divided into an introduction, body, and conclusion.
Below is a visual representation of the structure of an ideal essay. You can adapt it when writing your next essay assignment.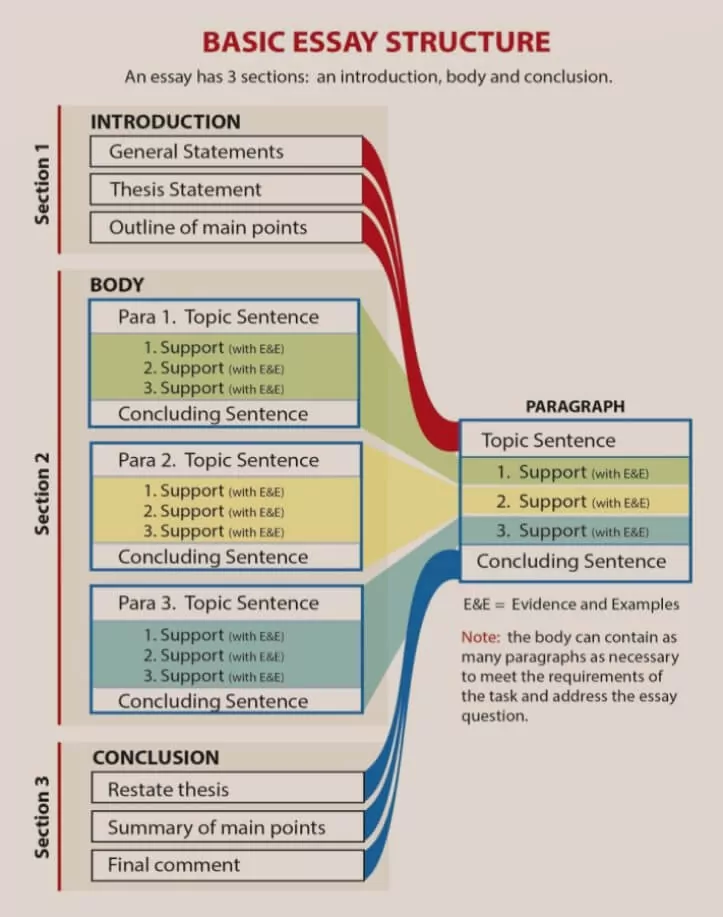 Image credit: Bethlehem College and Seminary
Step 8: Write the essay systematically
With everything else done thus far, it is finally the time the rubber meets the road. Although you might feel you should have started writing sooner, your progress so far is critical and rewarding. It will enable you to create a strong, well-organized, interesting essay.
A warning, though: DO NOT be a perfectionist when writing. Do not give in to the hype of finding the perfect words, focusing too much on excellent subtitles or grammar, or at least making everything in your essay perfect. There is time to polish and perfect your essay. But right now, write.
We have outlined in-depth how to write an eye-catching essay introduction in a separate guide to help you craft introductions that stand out and grab the readers' attention. Of course, any essay writer would tell you that your main focus should be on the reader's attention. So, most importantly, begin your introduction with an essay hook or an attention grabbers such as a statistic, alarming fact, general thought, anecdote, or quote. The introduction should also have a background statement and then be finalized with your thesis. Sometimes, your instructor might ask you to write the roadmap of your essay after the thesis, where you highlight how points are laid down in the body paragraphs and conclusion.
You should have a good paragraph when undertaking academic essay writing. An introduction has different parts, including:
Essay hook: This is your first sentence, also called the attention grabber. It can be a quote, statistic, fact, anecdote, rhetorical question, or unique statement.
Background information: You should have two sentences explaining the topic.
Thesis statement: the thesis statement should feature the argument or chief topic of the essay.
Outline: Your introduction should let the reader know the logical arrangement of the essay.
Scope: In this introduction section, narrow the essay's focus.
With the outline, it is time to fill the flesh to the skeleton to make sense of it. If you evolve and find out you need to tweak your outline, you have all the freedom on Earth and outer space. The main issue here is to maintain a focus on your thesis by providing evidence, facts, and points that support the thesis.
Each body paragraph begins with a topic sentence, the arguments and relevant evidence to support it, and finally, the closing sentence. The closing sentence transitions your reader to the following body paragraph. As you write, remember only to maintain one key idea/point per each body paragraph: do not jumble up the points to the extent of confusing your readers.
In terms of paragraph length, maintain a word count of 150 words per paragraph or balance 80% of the total essay word count among the paragraphs. Mix short and long sentences as you present evidence, give examples, and illustrate points. The paragraphs can have 5 to 7 sentences each, where you thoroughly support the topic sentence.
When writing the body paragraph, use appropriate sentences to connect the paragraphs. Besides, back your arguments using evidence from literature through in-text citations. Finally, your concluding sentences should summarize a paragraph by restating the central point of the paragraph and including transitions to the next paragraph. Ensure that your body paragraphs have:
Topic Sentence: This should be the chief argument of the paragraph. It comes first.
Supporting sentence using evidence: Here, use information from credible sources such as journals, books, government websites, and periodicals to support the topic sentence. Use the relevant transition words to bring flow to your essay.
The concluding sentence: This sentence winds up the paragraph. It should give a transition to the next paragraph for a good flow.
Wind up the essay by writing a powerful conclusion. Look at our guide to writing solid conclusion paragraphs for your essays. In a nutshell, the conclusion is the final paragraph of your essay. A firm conclusion is neatly written, clear, concise, and elaborate. A strong conclusion is necessary because:
It shows the value of your argument and why it matters.
It leaves the readers with a strong impression of your essay writing prowess
it ties together the focal points in your essay.
Restates your essay's thesis in a rephrased style to show its development from the introduction through the body paragraphs.
Reviews the major points in your essay in summary form.
Since your conclusion offers some sense of closure or ends to your argument, it must be written well. In addition, it must show new questions or possibilities that your argument has opened up.
When writing a conclusion, never introduce new evidence. Any evidence supporting the thesis is expected to be already in the body paragraphs. Therefore, you are not allowed to introduce new ideas or sources that need further explanation.
Also, avoid cliché words like in conclusion to sum up or in summary. Although the statements are not forbidden, they water down your writing, making it sound weak. Immediately you return to your thesis; it becomes clear to a reader that you are concluding the essay.
Another tip, when concluding, do not to undermine your argument. This means that you should avoid using apologetic phrases that are uncertain and appear confusing. Even when exploring many positions, your main argument should be clear to your reader.
To write a great conclusion for your essay:
Present a rephrased version of the overall thesis statement
Write a brief review of the key points in your body paragraphs
Show why your argument matters
Reflect on the broader implications of your argument, demonstrating how your ideas can be applied in different contexts.
Ensure it is 10-15% of the total word count for the essay
Step 9: Make your Reference and Title pages
So, you've slain the dragon already; what remains is just a bit, and you are done. Assuming you were writing your essay as you insert the in-text citations, the second last ritual is to set up your reference page, which is the last page of your essay.
When writing the references, reference list, bibliography, or works cited page, strictly adhere to each style's formatting and style requirements. Online bibliography makers allow you to save your organized bibliography and change the format without losing the entries. The same applies to the bibliography feature on MS Word.
If you use the digital bibliography, copy and paste your references and format them accordingly.
After the reference page, create a relevant title page for your essay, depending on whether it is in MLA (Modern Language Association), Harvard, Chicago, or APA (American Psychological Association) format. Ensure you use the latest formatting styles, such as MLA 8 or 9 and APA 7 or otherwise directed.
Step 10: Proofread, edit, and polish your first draft into a final draft
The final ritual in the essay writing process is to review it and edit for content and grammar before submitting your essay.
Usually, you need to pause after creating the first draft of your essay and do the revision and polishing when your mind is free, re-energized, and objective enough to see things from a different view. This is where now you can unleash your perfectionist side because it is a do-or-die stage.
Here are some tips to polish your draft into the final comprehensive essay (the final draft worth submitting for grading):
Edit for content. Check your essay's structure, organization, flow, wording, and length. You can check your essay structure against the outline you created. If the paper is too long or too short, either lengthen or shorten it appropriately. A comprehensive essay must meet the ideal length specified in the Rubric. With the changes, counter-check whether the paper makes sense.
Edit for grammar. It is important to edit for grammar. For this process, you can use grammar editing software such as Grammarly, Ginger, or Hemingway Editor. In addition, you can read Strunk and White's The Elements of Style, which can help you write better, especially punctuations such as commas and semicolons, and how to avoid run-on sentences. Editing might essentially take a few run-throughs. So, you can take breaks to maintain your frame when editing. Returning to the paper with a fresh mind helps focus, which helps identify and fix mistakes.
Re-read the entire essay. Once you are done editing grammar and content, take a break, then re-read the entire essay. As you read, focus on proofreading to remove the syntax, mechanical, and style errors. Double-check your paper against the Rubric and the instructions as well. Countercheck the flow of the body paragraphs and remove any complex sentences. Also, check the format of your essay, including the indentation, alignment, margins, and page numbers. You can always use online essay grading or editing services if your essay needs more polishing.
When self-editing an academic essay, focus mainly on improving the flow of your essay. Here is a checklist to guide you:
Subject-verb agreement
Sentence fragments
Confusing phrases or words
Pronoun agreement mistakes
Spelling mistakes
Grammatical errors
Misplaced words
Run-on sentences
Missing words
Passive tense
Missing references
Missing citations
Punctuation mistakes
We hope this makes you a better editor for your essay if you can write one.
Re-cap of how to write a good essay like a pro
We can summarize all the ten steps of writing a good essay into three main stages: preparation, writing, and revision.
The preparation stage involves deciding on the topic, conducting your research, organizing research, formulating the thesis, ad creating an essay outline.
The writing stage entails writing the introduction, developing the thesis using evidence in the body paragraphs, and writing a summative conclusion.
The revision stage entails editing for content, proofreading, and polishing the essay to ensure your essay's style, format, grammar, and organization are okay.
On a typical day, our top-rated essay writers confirm that they religiously follow the steps, which is why we end up with quality written essays. The writers also confirm that once you learn how to maneuver the three stages, you will do them involuntarily when writing essays. No wonder we write last-minute essays that score A+. Equally, all the steps matter and contribute to your final grade.
Now that we know how to write a comprehensive essay that scores the best grades, wouldn't it be an injustice if we failed to cover some common types of essays you will probably encounter to know how to go about each? Well, let's jump to it, then.
19 common types of Essays students write
There are more than five different types of essays. However, the main types of essays include expository, narrative, compare and contrast, persuasive/argumentative, and descriptive essays. Now, you might only know these five. Still, we bet you there are more than ten variants of essays you will encounter in your high school, college, or university life.
Advantages and Disadvantages Essays
Contrary to argumentative or persuasive essays, advantages and disadvantages explore the pros and cons of a given issue without convincing the audience to adopt the author's side of the argument/perspective. An example of a topic for this essay: Discuss the advantages and disadvantages of renewable energy sources or the pros and cons of legalizing medical marijuana.
Analytical Essays
An analytical essay presents an argument or claims on what the author is writing about. For instance, it could involve a movie, film, play, literary work, or a piece of art. It could also entail the analysis of behavior, tendency, occurrence, or event. To write an analytical essay, the author often uses logical reasoning, critical thinking, and sound judgment to achieve some natural flow. The common analytical essays include persuasive analytical essays, analytical expository essays, analytical history essays, and analytical comparison essays. Example of a topic for an analytical essay: Why do teenagers run from home? Or why do stalkers like social media?
Argumentative Essays
Argumentative essays entail the author trying to persuade the readers to adopt their perspective by immaculately presenting the pros, cons, and counterarguments on a given issue. It is among the common types of essays assigned as homework in college. However, all disciplines are likely to write an argumentative essay when it comes to written assignments. Example of an Argumentative Essay Topic: Is social media a surveillance tool than a communication medium?
Classification Essays
The primary role of a classification essay is to group and separate objects, things, events, or places according to salient characteristics. Therefore, finding a unique approach to classifying things is always advisable. For instance, you can be asked to write about the five types of personalities.
College Admission Essays
Every year, students are required to submit a college application essay as part of their application process. In this type of essay, your role is to convince the admission board/committee of the reason they should admit you to the college or university. You could be out there wondering how to choose the best topic for a college essay or how to write it better, but when you are done reading this, it will be history. This is similar to the common APP essays or personal statements.
Compare and Contrast Essays
The name lays bare what a compare and contrast essay is. It simply involves comparing the differences and similarities of phenomena, events, occurrences, physical features, countries, celebrities, comedies, books, vehicles, people, etc. For example, a good topic would be to compare and contrast communism and capitalism.
Critical Essays
In a critical essay, you are meant to criticize and evaluate a piece of art, literature, or anything presented by revealing its strengths and weaknesses. It entails presenting a deep analysis of a given topic critically, logically, and flowingly.
Cause and effect essays
In a cause-and-effect essay, writers aim to explore the causes and consequences of a given phenomenon or event. There are methods or approaches to follow. You can begin by outlining the causes and then the effects or do a cross-comparison in paragraphs. You can choose an appropriate cause-and-effect essay topic from our topics for cause-and-effect essays.
Definition Essays
In this type of essay, you define a term, concept, idea, vocabulary, process, phenomenon, or occurrence by providing in-depth details. When writing one, you should explore the origin/genesis, meanings, applications, and maybe pros and cons, where necessary. For instance, an excellent topic for a definition essay would be Exploring the concept of divorce. Or Define the concept of social media or Hacktivism.
Descriptive/Description Essays
Your role as an author of a descriptive essay is to describe things, people, events, or phenomena. It should be written from a personal perspective point of view and should offer your general impression. For example, describe the appearance, smell, feeling, etc.
Discursive Essays
In a discursive essay, the role of the author is to offer an unbiased and reliable assessment of a given issue. It is close to an argumentative essay in that it requires choosing a controversial topic, only that the discursive essays present a balanced discussion. Common discursive essays include opinion essays and for and against essays.
Expository Essays
An expository essay explores a subject or phenomenon from the author's point of view. It is all about simplifying an explanation to a given topic without trying to prove anything. Your key role is to present the advantages and disadvantages, merits and demerits, or pros and cons to the readers. Example of Expository Essay Topic: Explain why art therapy can be used in mental health hospitals. Or Explore the possibility of using laughter as medicine.
Narrative Essays
In a narrative essay, you must always use the first person to tell a story about yourself. It is like writing an autobiography.
Personal Essays
These are essays you write about yourself. It is almost similar to the narrative essay. It is a variant of a narrative essay. Examples of personal essays are essays about yourself, such as scholarship essays, statements of purpose, transfer letters, appeal letters, and admission essays.
Persuasive Essays
This type of essay is the extreme opposite of an argumentative essay. It is meant to change the readers' point of view so that they adopt that of the author as an axiom. Even though it sounds simple, it is one of the toughest types of essays. Write it well so everyone who reads your essays eventually agrees with your thoughts and reasoning. In a persuasive essay, the reader must find worth in your statements. Here is where your negotiation skills and power of conviction play a role.
Poetry Essays
A poetry analysis essay, as the name suggests, entails discussing the critical components of an essay. For example, it could explore a poem's literary devices, themes, and central claims. Example of a poetry essay topic: Explore the theme of heroism in the Beowulf Poem.
Process Essays
As the name suggests, you offer a step-by-step guide to the readers in this type of essay. It should be loaded with comprehensive information. This article could easily be a process essay as we explore the essay writing process. Example of a process essay topic: Explain the Solvay process. Or Explain how to choose an outstanding essay topic.
Profile Essays
Profile essays are essays where you describe a person, place, event, or anything in detail. It could be an essay you write about yourself or one you write about someone. For instance, you can write an essay about Elon Musk, Bill Gates, President Barack Obama, President Donald Trump, and President Vladimir Putin.
Synthesis Essays
Ranked among the type of essays as advanced-level writing, a synthesis essay explores a unique viewpoint on a central idea, a topic, or a theme.
Problem-solution essays
A problem-solution essay is a persuasive essay where the writer describes a problem, convinces the readers to care about the problem, and proposes the most effective solution while rebutting any objections. It can either describe multiple solutions or focus on a single solution to a problem.
Informative Essay
An informative essay is meant to educate your readers about a specific topic. It can define a term, compare and contrast things, analyze data, demonstrate how-to, or outline processes without presenting opinions or persuading the readers.
Phrases that dictate the type of essay you will write
There are direction words that guide you on what to do to your essay.
Describe: Here, you should write about facts, events, and processes. It should follow a specific order and emphasize the importance of something. It is best if you interpret or explain when writing descriptive essays.
Explain: In such essays, you are required to analyze and clarify points. It is a common approach in cause-and-effect essays. This is a common approach to narrative essays.
Discuss: Such essays require that you give a point of view or perspective or expound on something. While doing so, use examples, arguments, and evidence from credible sources.
Compare and contrast: Just as the name, compare and contrast essays require that you find the differences and similarities between events, ideas, or interpretations.
Critique: critique essays discuss the strengths and weaknesses of articles, books, or art.
Argue: argumentative or persuasive essays require that you systematically or logically reject or support an idea through proper evidence.
Classify: it should be all about clustering ideas based on given criteria. This is a common practice in classification essays.
Critically analyze: it should be a critical analysis. This means it can be an analytical essay.
Check out our guide on the power words to use in your essay to impress your professors and readers.
Tips for Writing a comprehensive essay
Like any other game, some guidelines guide how essays are written. Here are the rules of academic essay writing.
Use formal academic English. Disdain using slang when writing your academic essay. On the same note, avoid using tough English words. Instead, use appropriate academic writing phrases to present ideas in your essay. Simplicity is king when writing essays.
Analyze the questions to ensure you write an essay that answers the prompt or assignment Rubric.
Everything you write should be well-cited. Back up ideas using evidence from credible sources to avoid plagiarism.
Wikipedia is never a source in academic essay writing. However, you can use it to familiarize yourself with the topic, brainstorm ideas, and gather useful knowledge on approaching a question or topic.
Whenever you use information that is not your original idea, reference the source to avoid plagiarism. For instance, when paraphrasing an idea of an article, ensure that you correctly provide the in-text citation and the references.
Always follow your instructor's particular formatting and citation styles relevant to your field.
Avoid plagiarism at all costs. Professors love plagiarism-free essays.
Write your essays in prose. However, use well-balanced paragraphs. A paragraph should never exceed 150 words.
Always follow the five-paragraph essay format: introduction, body, and conclusion.
Your introduction and conclusion should each be 10% of the total word count.
An essay must have a hook and thesis as part of your introduction.
The standard format of an academic essay
Like writing research papers, term papers, or reports, writing essays differ from the instructions provided. You need to thoroughly check the assignment instructions to get an insight into the formatting guidelines to use. However, most academic essays would require that you use the following:
5 by 11-inch paper
Double spaced
Font 12 pt. (the standard legible font)
1-inch margins on all sides of the paper
Page number
Cover page/title page
First-line indentation for the paragraphs
Left-aligned paper
Times New Roman, Arial, or Calibri fonts.
The assignment rubric will also contain the headings and subheadings breakdown instructions. Some professors like giving the number of pages and references for academic essays.
How to Cite Ideas in an Essay
The citation format depends on the subject matter. Sometimes, if left with the choice, it is a matter of preference of the student. However, the most common citation styles include MLA, APA, Harvard, Chicago, ASA, and Oxford.
Academic essays on subjects within social sciences mostly use APA and ASA style citations.
Academic essays are written in humanities subjects, including history and literature, and use Turabian, Chicago, or MLA style citations.
Most medical, psychology, criminology, and nursing essays or health-related essays such as nursing academic essays are written in AMA style.
It is good to have a clue about the citation you are using. Otherwise, you should seek essay writing help from Gradecrest. Our essay writers can format, edit, and proofread your essays. All you need to do is to request assistance from our editing and proofreading service.
Features of a Comprehensive Essay
When assigning an essay, instructors, and professors often remind you that they look forward to a comprehensive essay.
It is thorough, well-composed, and deep. A comprehensive essay is an essay that thoroughly discusses a particular issue or presents compelling arguments that support or prove a thesis statement. Its content focus on explaining issues at a deeper level without deliberate omission of some important facts.
It is well written. Writing a comprehensive essay is not rocket science. It is like giving your best when preparing, writing, and revising your essay. After all, any well-written essay is a comprehensive essay.
Easy to spot and understand the main argument. When an audience reads such an essay, they should be able to understand the author's arguments, make up their mind about the topic, and reason with the content.
Has balanced paragraphs. Depending on the length, a comprehensive essay has a well-balanced introduction, body, and conclusion paragraphs.
Has a substantial, elaborate, and reasonable thesis. The introduction of a comprehensive essay has a strong thesis that informs the readers of the essay's central aim or argument.
Does not have errors. A perfect essay's structure, presentation, organization, and flow are flawless. Each paragraph has transitions connecting it to the following and knits the entire essay.
Thus far, we hope you will write a perfect essay to score you a better grade. If not, you can buy essays from our website to supplement your writing process. Our bespoke essays are written from scratch following the ten steps outlined above to give you plagiarism-free essays.
9 most common Essay Writing Mistakes and How to Avoid Them
Every student writing an essay expects that it will earn them the best grades. However, a thin line exists between a well-written academic essay and garbage. Yes, garbage in the sense that it makes no sense. To avoid corrections with comments from your professor, lower grades, and resubmission requests, you must avoid these nine common mistakes students make when writing their essays.
Writing vague thesis statements. Writing a good essay depends on coming up with a strong thesis. Having a vague, weak, and unsupported thesis statement is a suicide mission on your grades. State your thesis to be specific as possible.
Using too many quotes. An essay demonstrates your understanding of the topic and how well you research to back up arguments. Overusing quotes in an essay from the text you are analyzing r from the resources from research denies you the authority on the topic. Use quotations sparingly, and leave them out if they are unnecessary.
Plagiarism. Avoid directly taking words from a source and using them as your own. Equally, do not reword an entire article or a section of it and claim it as your work. Instead, read, internalize, summarize, paraphrase, and cite ideas. Then, write an essay from your understanding of the topic and use facts from other sources to support your argument. Plagiarism has serious consequences, such as expulsion. There are rigorous university and college anti-plagiarism policies, adhere to them.
Punctuation mistakes. Mind your Ps and Qs when writing your essays. Also, dot your I's in the essay. In simple terms, ensure that the commas, hyphens, semicolons, colons, quotation marks, full stops, and question marks are placed and used correctly.
Using hard-to-read sentences. This is a common mistake most students make. They write lengthy, complex sentences, sometimes run-on sentences. Surprisingly, these sentences do not cut it. Write clear, concise, and coherent sentences instead of using complex words (jargon), phrases, and many words. Let the reader see sentence variety in your essay: you can achieve this by mixing short and long sentences.
Using non-scholarly sources. Yes, you can use Wikipedia and other sources from the internet but do not cite them in your essay: only use them to familiarize yourself with the topic. Use scholarly sources written by academic experts and professionals. When using websites, use credible .edu, .org, and .gov websites.
Writing descriptively and not analytically. The entire point of writing an essay is to create an argument and defend the thesis. Therefore, it is crucial to be critical. Instead of telling (restating), show your readers.
Rewording the introduction as your conclusion. Conclusion is not rewording your introduction. Also, students begin concluding paragraphs with cliché words. To avoid this, rephrase the thesis in your opening sentence for the conclusion paragraph, summarize the main points, and reflect on the argument you made: the bigger picture.
Lacking enough evidence to support the thesis. Students sometimes pick a topic they struggle to understand and write an essay on it. Other times, it focuses too much on the opinions and ideas of the writer rather than the evidence. To avoid this, remain flexible when writing an essay. Also, choose a topic that is narrow and has evidence. Finally, select a topic where you can find information to support ideas.
FAQs about writing a good essay
Here are some questions that students frequently ask when writing their essays. We have provided answers that can point you in the right direction with the right trajectory. Our professional essay writers brainstormed on these questions and provided some concise answers:
Can I use images in my essay?
Yes, you can use and cite illustrations such as photos, graphs, images, and etch in your essays as long as they are directly related to your essay. However, unless your instructor wants you to use them, leave them out when writing an essay. Do not use them, thinking they will take up space. The use of images is encouraged for ad analysis essays, geography essays, visual analysis essays, or art analysis essays. Still, each image, graph, or illustration must be cited with an appropriate in-text citation.
When do I cite sources in an essay?
At high school, college, university, and graduate-level essay writing, you must properly cite the sources of your essay, just like you do when writing a research paper or a dissertation, or other academic tasks. Citations should be used when paraphrasing, quoting, or summarizing information or ideas from a scholarly source. Apart from in-text citations, you must also provide the full details of the referenced source in your references, reference list, or works cited pages, which come at the end of your essay.
Why does an essay need a thesis statement?
A thesis statement is a sentence or two sentences that summarize the central idea of your essay or any academic paper. It is the main argument you make in the paper. It is essential when writing academic papers because it gives your text's scope, direction, and focus. It equally helps the readers to understand your main point concisely. It is the frame upon which you build your arguments in the essay.
Is the thesis the same as the claim in an essay?
In essay writing, the thesis is synonymous with your central aim, central argument, or main argument since it unifies the rest of the essay. It is the reason why it should be interpretive or analytical rather than factual or descriptive.
Is a thesis the same as a research question?
No, while a thesis statement is a short and concise sentence or two that summarizes the main point or idea in an essay or research paper, a research question is a question that indicates the direction of research. A research question is often an open-ended query and not a final claim as the thesis. A thesis makes a specific claim or assertion about a topic that can be challenged or debated. On the contrary, a research question helps determine the methodology to use in subsequent stages of inquiry.
Must I write a topic sentence in an essay?
Yes, a topic sentence is a sentence that comes first in your body paragraphs. It is very critical in that it expresses the main idea of your paragraph, meaning that everything else in the paragraph that comes after it is related to it. You develop arguments, provide evidence, and offer examples supporting the topic sentence.
How do I nail the introduction of my essay?
To nail your introduction paragraph:
Start with an appropriate opening hook or attention grabber to catch your readers' attention.
Provide clear, concise, and coherent background information about the topic that your readers must know.
Write a thesis that presents your major argument, main claim, or central idea.
Distribute the word count of your introduction according to the length of your essay.
Where do I find good sources for my essay?
To find good sources for your essay, research on the internet, scholarly databases, google scholar, and trustworthy websites, newspapers, and magazine articles such as the Guardian, TIME, Wall Street Journal, or New York Times. Some online scholarly databases include EBSCO, InfoTrack, ProQuest, LexisNexis, Google Scholar, or JSTOR. Avoid using non-scholarly sources in your essay. Rather, these non-scholarly general sources can be used when developing an understanding of your topic.