What is a Compare and Contrast Essay and How is it Written?
Last Updated: 20 January 2023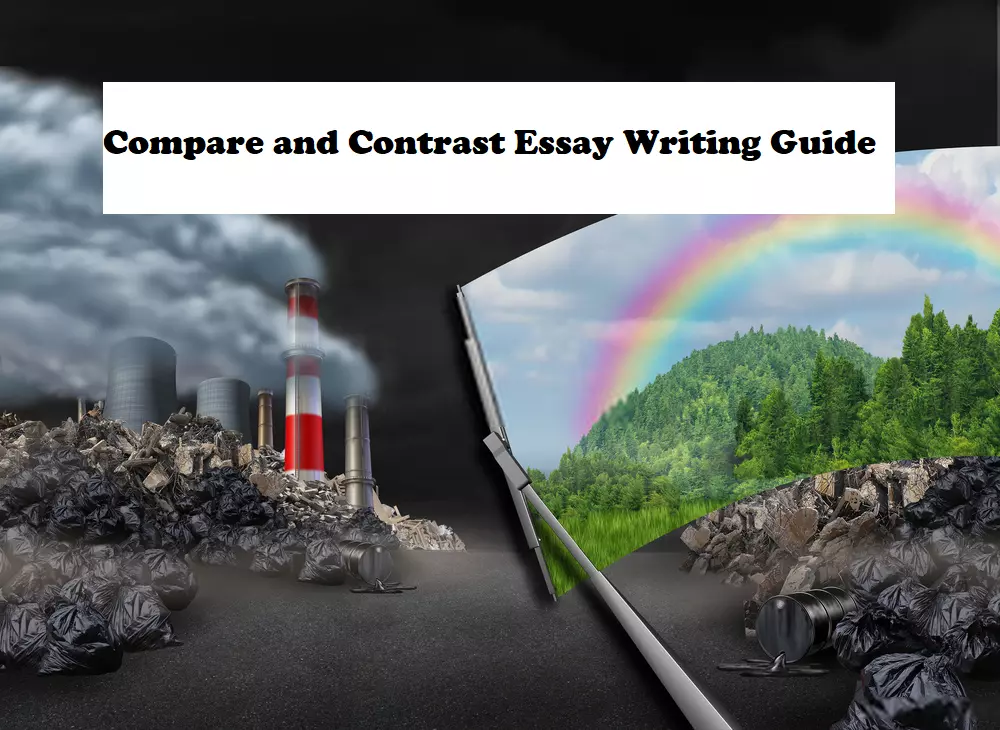 Are you wondering how to write a compare and contrast essay? Relax, this article introduces you to the compare and contrast essay definition. It also details the compare and contrast essay structure and its different organization styles.
Simply, a compare and contrast essay lists the similarities and differences between concepts for a given item or subject. For instance, you could be asked to compare and contrast sea and air transport, themes in two films/movies/documentaries, or two forms of arts or artists.
Despite being a simple essay, once you get the steps, a compare and contrast essay remains to be dreaded by students. Once you know how to write a compare and contrast essay, you will rise above the ordinary and get great grades. Stick here for more nuggets on how to proceed from topic choice to the end.
Definition of Compare and Contrast Essay
So, what exactly is a compare and contrast essay? Students and tutors alike, must understand compare and contrast definition before beginning to write or grade one. Simply put, a compare and contrast essay is a type of essay that evaluates the similarities and differences between the two subjects.
Mostly, the two subjects might belong to the same category but have different characteristics or features. For instance, when asked to write this type of essay, you might compare and contrast different kinds of farming practices, two novels, two books, two modes of transport, two authors, two poets, or two artworks from the same historical era.
The purpose of compare and contrast essay is to weigh either side of an idea through outlining the strengths and weaknesses of both sides given the central theme.
Mostly, the thesis statement of a compare and contrast essay must highlight the two central ideas that are being compared and contrasted in the essay. Besides, the thesis should be clear, concise, and convincing.
We have, at the end of this article compiled a step-by-step guide on how to write an excellent compare and contrast essay. So, if you are planning to write an essay about writing an essay on a subject and feel overwhelmed our guide will introduce you to writing a coherent essay about two subjects under one compare and contrast topic.
How do you start a compare and contrast essay?
Once you receive the assignment prompt highlighting the two subjects to be compared and contrasted, your next step is to first begin by seeking as much information on both topics.
While searching for information, your first focus should be on identifying the similarities as well as differences of both subjects. Sometimes, you can get too much information that confusion eventually sets in. However, with a good strategy to organize the information, your work will be easy.
Preferably, it would be prudent to begin such an essay by drawing a Venn diagram. The Venn diagram is a helpful tool that helps in organizing ideas. It comprises of two concentric circles that overlap and create a single overlapping area and two similar areas that are not overlapping.
It helps filter information through elimination and combination of ideas. It is wise to have similar properties of both subjects in the mid-overlapping areas and the contrasting properties in the non-overlapping ends.
Besides, you can also use a table to classify the similarities and the differences for better and straightforward comparison and contrasting. You can make a list of one or more similarities and another list for the differences then enter them into the table. The latter remains most writer?s favorite according to our internal survey on our expert essay writers.
Structure of Compare and Contrast Essay
There are numerous standard methods of structuring compare and contrast essays.
As previously highlighted, the introduction must have a catchy and informative thesis statement. Sometimes, authors have expressed their concerns on the introduction having an essay hook or attention grabber at the beginning to grab the attention of the readers.
The body paragraph is the meat of your essay, ensure that each has an introductory sentence, supporting facts, and a concluding sentence. In the body, you can begin to write about one subject in detail, then switch to the other.
For instance, let?s assume you are comparing air and road transport. In this case, you could begin with two paragraphs on common qualities between air and road transport. For instance, you could highlight that both are costly in terms of infrastructure, both connect two places, and both involve engineered machines. Then the next section would lay emphasis on the salient qualities of the two modes of transport that are different.
Alternatively, you can do a point-by-point comparison and contrast. Here, you will be comparing and contrast the qualities side-by-side. For instance, ?while road transport can only connect countries in a continent, air transport connects different countries internationally.?
You can also begin by enlisting the similarities. For example, ?both air transport and road transport are alike in that they facilitate the movement of goods, information, and people.?
After the structure, decide on the outline of your essay.
Developing the Body of a Compare and Contrast Essay
After choosing the similarities, the next step is to delve beyond the regular. An outstanding compare and contrast essay apart from only listing the similarities and differences declares a meaningful statement reflected on the larger topic.
This must be well-evident within the introduction, body, and conclusion. However, the main argument is developed and expounded upon in the body of the compare and contrast essay.
So, here is where you outline and explain the outstanding feature in the similarities and differences. You can then always relate the striking similarities and differences to your compare-and-contrast topic. Connecting ideas in your essay forms the main argument in the compare and contrast research essay.
If you have a chance to look at the free compare and contrast essay examples, either from us or online, this comes out in well-written compare and contrast papers. Also, be keen on the compare and contrast paragraphs. You can decide to begin with the similarities and list them as point-by-point contrast points.
Alternatively, you can mix related similarities and differences as you take a critical approach. Whichever paragraph format or structure you choose, be sure to write a good compare-and-contrast body.
The body must have supporting evidence, only from reliable and recent scholarly sources. Lately, there is a rising trend where professors only accept sources five years old. So, stick to the five-year scholarly sources rule for the best grades.
How many paragraphs should compare and contrast essay have?
Fundamentally, compare and contrast essays follow the classic five-paragraph essay format. The paragraphs include an introduction, three body paragraphs, and a conclusion, in that order.
Even though most of the compare and contrast essays have three body paragraphs, you are allowed to use as many as the ideas can last. However, be mindful of the word count on the essay prompt.
The last paragraph of the body should acknowledge competitive arguments or concessions. Modestly, it highlights the counterarguments just like in an argumentative essay.
The conclusion should summarize the evidence presented and the major points. Here, it would be best if you restated the thesis but make a solid argument than in the introduction.
Different Organizations of Compare and Contrast Essays
There are a plethora of ways to organize a compare and contrast essay. They include point-by-point, subject-by-subject, or compare-then-contrast organization.
The point-by-point approach switches between different points when comparing and contrasting ideas. It goes from the notable dimensions in a step-by-step form. It is very clear. However, if you miss a useful transition, your compare and contrast essay becomes flat.
The subject-by-subject approach entails dealing with all the points for one topic and then focusing on those of the other. It allows clarity and flow and is devoid of confusion. Nevertheless, the comparison and contrasts only become visible in the later sections of the essay.
Finally, the compare-then-contrast approach is similar to the subject-by-subject approach. It involves presenting the comparisons first based on identified aspects, then the contrast. It is the most common form of compare and contrast essay. All the points come out clearly.
The diagram below shows different ways to organize a compare-and-contrast essay.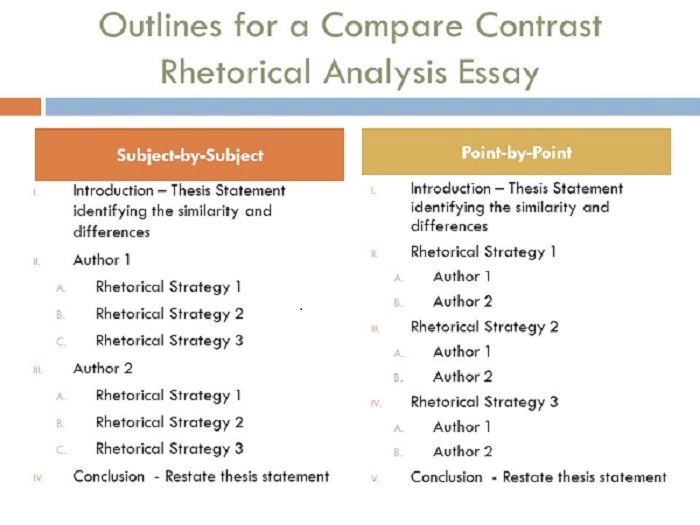 Outline of a Compare and Contrast Essay
With the table or Venn diagram pregnant with ideas, you can craft the best outline for your essay. As we have highlighted before, an essay must have an introduction, body, and conclusion.
In this case, it would be ideal to have at least four body paragraphs, two for the characteristics of each subject for balance.
A sample outline of a compare and contrast essay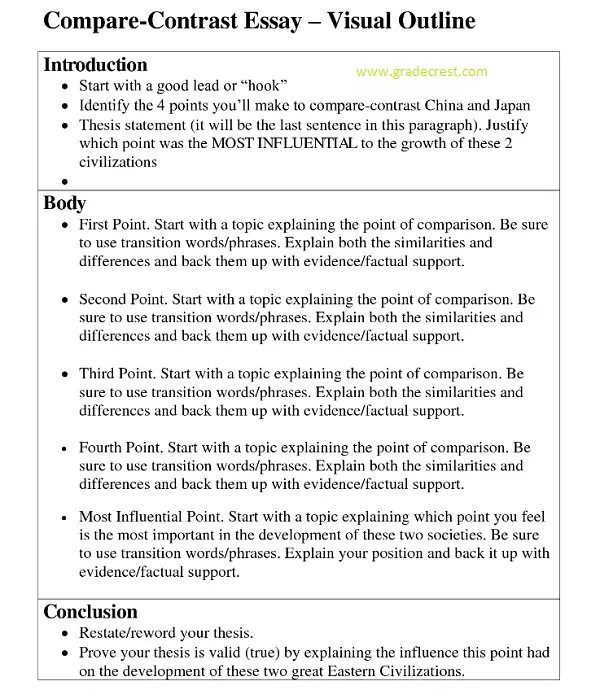 Conclusion of a Compare and Contrast Essay
Searches through Google indicate that most students want to understand how to conclude a compare-and-contrast essay. Well, the conclusion of a compare and contrast research essay summarizes the main points in the body of the essay. Like many conclusions in essays, the conclusion should reflect a reorganized and restated thesis statement. Re-organizing the thesis statement means paraphrasing it to have the same meaning but different wording. The statement comes after the closing sentence, which signals the conclusion.
After the closing sentence and the restated thesis, the next few lines should highlight and evaluate the points in the essay's body. The essay's overall discussion and main argument must also feature here.
Your concluding paragraph should highlight why the essay writer compared and contrasted two subjects and on what bases. Sometimes, although debatable, your opinion should also come up in the conclusion. As an essay writer who is aware of the topic discussion, you can do that without using the passive voice of first-person unless stated in the essay prompt.
Compare and Contrast Essay Topics
Research and brainstorming are inevitable when choosing the best topics for compare and contrast essays. It would be best if you researched some of the potential topics given your subject. Some examples of compare and contrast essay topics include:
Extroverts versus Introverts.
Nurture versus nature.
Comparing Between Natural Birth and Caesarian Birth.
Comparison of Generation X and Generation Y.
Generation Y and Z.
Baby boomers and Millennials.
Orthodox and Catholics.
Christianity and Islam.
Fatalist and voluntarism.
Chinese Culture and Western Culture.
Vegans and Meat Eaters.
Mozart and Salieri.
Picasso and Modigliani.
President Trump and President Obama.
Contrast the differences between the Public High School and College Experiences.
Step-by-step Approach in Writing a Compare and Contrast Essay
Choose a good topic from the essay prompt. A good topic is that which you are passionate about, can find information to support, and is relevant to the subject and assignment prompt.
Brainstorm and research the similarities and differences. Good organization skills such as the use of listicles, Venn diagram, or table is expected.
Develop your major argument. Comes automatically as you research and sometimes from the prompt. Should be outstanding, relevant, and factual.
Organize your ideas in a chosen format. You can do a point-by-point approach to compare and contrast. Alternatively, you can also begin by exhaustively writing on one subject in detail then switching to the other.
Draft your essay outline. Have what you will write in the introduction, body, and conclusion declared in an essay sketch or skeleton. Refer to the previous sections for an appropriate structure in our sample compare and contrast essay structure.
Choose and use strong compare-and-contrast phrases and transitional words. A well-written essay avoids run-on sentences or being flat by having carefully selected and utilized transitive words. Such words include both, similarly, by the same token, again, equally, identically, uniquely, as, too, moreover, as well as, in like manner, in the same fashion, as with, and just as, to show similarity. You can also use phrases/ transition words like comparatively, in contrast, comparable, on the one hand, on the other hand, while, and whereas, to show contrast. We have attached a visual image of transition words and phrases for comparison and contrast.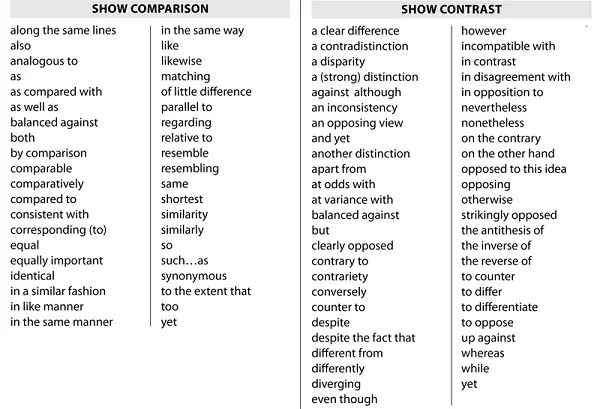 Use only credible sources to support ideas in your essay. We have mentioned that you need to find scholarly sources such as journals, peer-reviewed articles, books, publications, and trusted industrial websites as sources of information. Use only recent sources.
Write the first draft. Fill in every part of the outline with meat and ensure you neatly use the transition words. This forms your first draft. You can take a break after the first draft and settle in later for the next step.
Proofread and edit your essay carefully. Once you are done with writing the essay, take some time to check its coherence, length of paragraphs, the flow of ideas, grammar, choice of words, and punctuation marks. You can use a range of grammar-checking tools in the word processor or online such as Hemingway and Grammarly. Alternatively, you can seek a second opinion from a friend on your compare and contrast essay. Better yet, our team can help correct and improve your essay. Silly and unintended mistakes have a way of hiding from a subjective eye, which you are after long hours of writing.
Important Tips when Writing a Compare and Contrast Essay
Our parting words would be that now that you understand how to write a compare and contrast essay, can you really do it on your own. Probably yes.
However, here are some things to think about when writing compare-and-contrast essays.
Avoid bias when presenting your ideas. Make sure that your facts are supported through the use of in-text citations.
The title should not be wide. Ensure that the title is catchy and self-explanatory. Read the prompt for guidance.
Format your essay using the instructed format. It could be MLA, APA, Chicago, Turabian, or Harvard.
You can always use the PEEL Strategy in your compare and contrast for easy organization and supporting ideas.
Proofread and edit your essay before submission.
Are you wondering how to write a compare and contrast essay even after reading this guide? Get professional academic writing help from our writers. We are a recognized essay writing service, perfect for all ?write my compare and contrast essay? requests.
To order an essay from us, simply click on any order button at the top of this page. Fill in the details and pay for your compare and contrast essay. We will assign our expert essay writers who can write all essays for example compare and contrast essays.
You might need same-day essay help with your compare-and-contrast essay writing, we assure you only the best quality and plagiarism-free essays.
You can read more facts on how to write compare and contrast essays from The Writing Center.