How to write a Good Profile Essay from Start to the End
Last Updated: 24 August 2023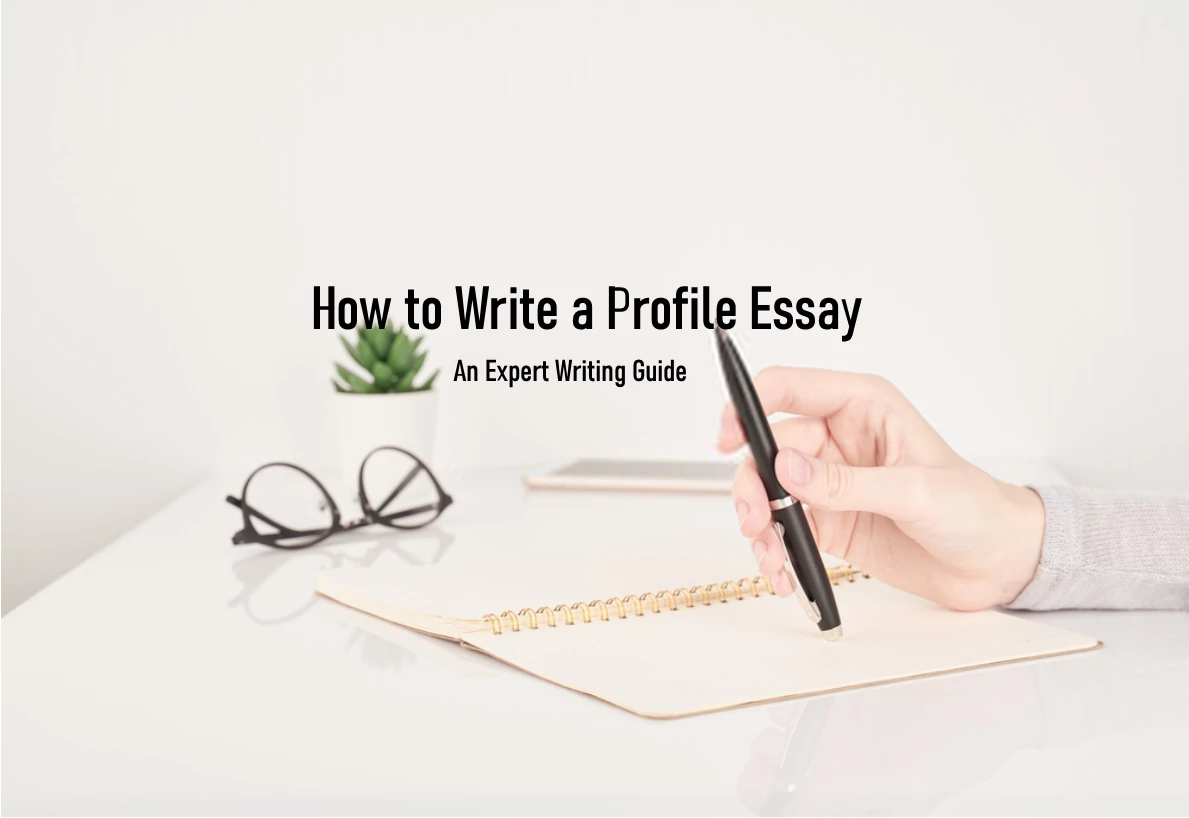 Before even learning how to write a profile essay, you need mastery skills on how to begin it. Undeniably, unfinished work does not guarantee any audience or grades. However, it begins by knowing how to write a profile essay and what a profile essay is.
In your journey as a student, your professor or instructor will test your profile essay writing skills. Therefore, you need to know how to write the body paragraphs of a profile essay, how to conclude your profile essay, and how to write an outline for a profile essay. This article guides you on how to do that.
If you have interviewed someone or read their autobiography, you understand what a profile essay is. However, there are times when writing even the simplest of all essays becomes tough.
Begin the essay with the person's appearance if you describe a notable individual. For instance, detailing some of the Degrees and the universities a person attended can be a good starting point for creating an excellent profile essay. If it is an essay about a city, focus on the demographics, world rankings, awards, geography, name, and other notable features.
What Is a Profile Essay? Defining a Profile Essay
A profile essay is a form of descriptive literary writing that centers on describing a place, an event, or an individual/person. As such, the essay should always be well-composed, comprehensive, and have balanced information on a given subject.
For instance, if asked to describe a notable past Feminist, civil rights activist, philanthropist, organization, or medieval city, it boils down to writing a profile essay. Therefore, it is not just some superficial description of the subject. Preferably, it is designed to respond to questions when trying to understand the subject.
An example of a profile essay is an interview written by an interviewee. Mostly, profile essays are written by a major journalism student as part of their term paper, coursework, or assignment.
A comprehensive profile essay fetches great grades and should demonstrate in-depth research, knowledge, and organizational skills. It is wise to use spatial order when writing profile essays on places or things.
Begin the essay with the person's appearance if you describe a notable individual. For instance, detailing some of the Degrees and the universities a person attended can be a good starting point for creating an excellent profile essay. If it is an essay about a city, focus on the demographics, world rankings, awards, geography, name, and other notable features.
The Purpose of Profile Essays
Profile essays describe a place, thing, event, occurrence, or person. For that reason, its purpose is to:
Detail some of the observations and knowledge on the subject.
To give the audience an understanding of the person, place, or thing under discussion.
Prove your prowess in writing great profile essays.
Profile essays assess your organization, presentation, and research skills in college. It is one of the most confusing types of essays. It would be best to have tips and skills to write an outstanding profile essay. Even with the millions of examples of profile essays or essays on someone, you can wonder how to write a profile essay.
An example profile essay on a person is a profile essay on Warren Buffet, Mark Zuckerberg, Mitt Romney, Barack Obama, Donald Trump, or George Bush. It is the same thing if you are writing an essay about yourself. You have at some point, wondered how to write a profile essay of yourself, haven't you?
Remember, any essay writing process is preceded by preparing an outline or structure of the essay. This is not different for profile essays.
Above all, ensure you have enough information on the subject of interest before putting down your points.
Structure of a Good Profile Essay-Sample Outline of an Essay about a Person
Let us look at how to structure a profile essay. Maybe this would help when writing a professional or personal profile essay. Here is a breakdown of a profile essay:
An opening paragraph/ introduction. This should give a brief description of the subject and the scope of the essay, and present the thesis statement. The introduction should begin with a leading sentence that describes the event or the person. The following sentences can then summarize informative points in the body paragraphs.
Main Body. The body paragraphs determine the length of the essay. A short profile essay should have at least three body paragraphs. The body paragraphs should include examples. If you use external sources, ensure you cite them. It is only through that that you can avoid plagiarism in your college and university essays.
Conclusion/ closing paragraph. This is the climax of your profile essay and should restate the thesis, summarize each body paragraph, and bring closure to the essay.
Rules are rules; these are just some things to strictly follow as they guide how to write a profile essay.
Related Reading: How to write a perfect informative essay.

How do you start a profile Essay?
It has been a long time coming, but let us face it. Typically, a profile essay must be comprehensive, attractive, and presentable. In this regard, you must set very high standards for first impressions for a lasting readership.
So then, what do you write in the introduction of a profile essay? The introductory/opening sentence must be an attention grabber or an essay hook that engages the reader. Besides, your subject matter must reflect in the essay's thesis statement.
Profile essays must include a well-thought and crafted thesis in the opening paragraph. Tell the audience why they need to stay tuned in reading the essay.
Anecdotes, quotes, or adages could be an excellent beginning of the introductory sentence. To an allowed extreme, you can include humor to engage and intrigue the readers.
Every person is unique in their own accord. Therefore, you must show total respect to individuals when writing an essay about that someone. For this reason, it is preferred that you take a condescending tone. No one will tell you this, but such a tone produces the best essay on a person. Disrespect makes a profile essay lose taste. Do we need to tell you the consequences?
Concluding a Profile Essay
Students and professionals alike always wonder how to conclude a profile essay. Well, not our professional essay writers. You have been successful in writing the entire essay. Now, in conclusion, you have to convince the readers. Writing a good conclusion is mandatory for an essay.
Always restate the thesis statement. Restating does not mean introducing new concepts. However, it means using different words but maintaining message-paraphrasing. When writing an effective conclusion, you should answer what next? Or, so what? Focus only on stuff relevant to the readers.
It would help to summarize each body paragraph in the chronology or order of the essay. Ultimately, your conclusion should leave the readers yearning for more on the chosen profile essay topic.
Remember, each of the paragraphs must have an opening sentence, the facts and examples, and a concluding or closing sentence. Stick to coherence as it ensures a good flow in your paper. Besides, always use transitions to bring flow to your profile essay.
Here is a sample profile essay on a famous person. The person of interest is Tim Cook, the CEO of Apple company.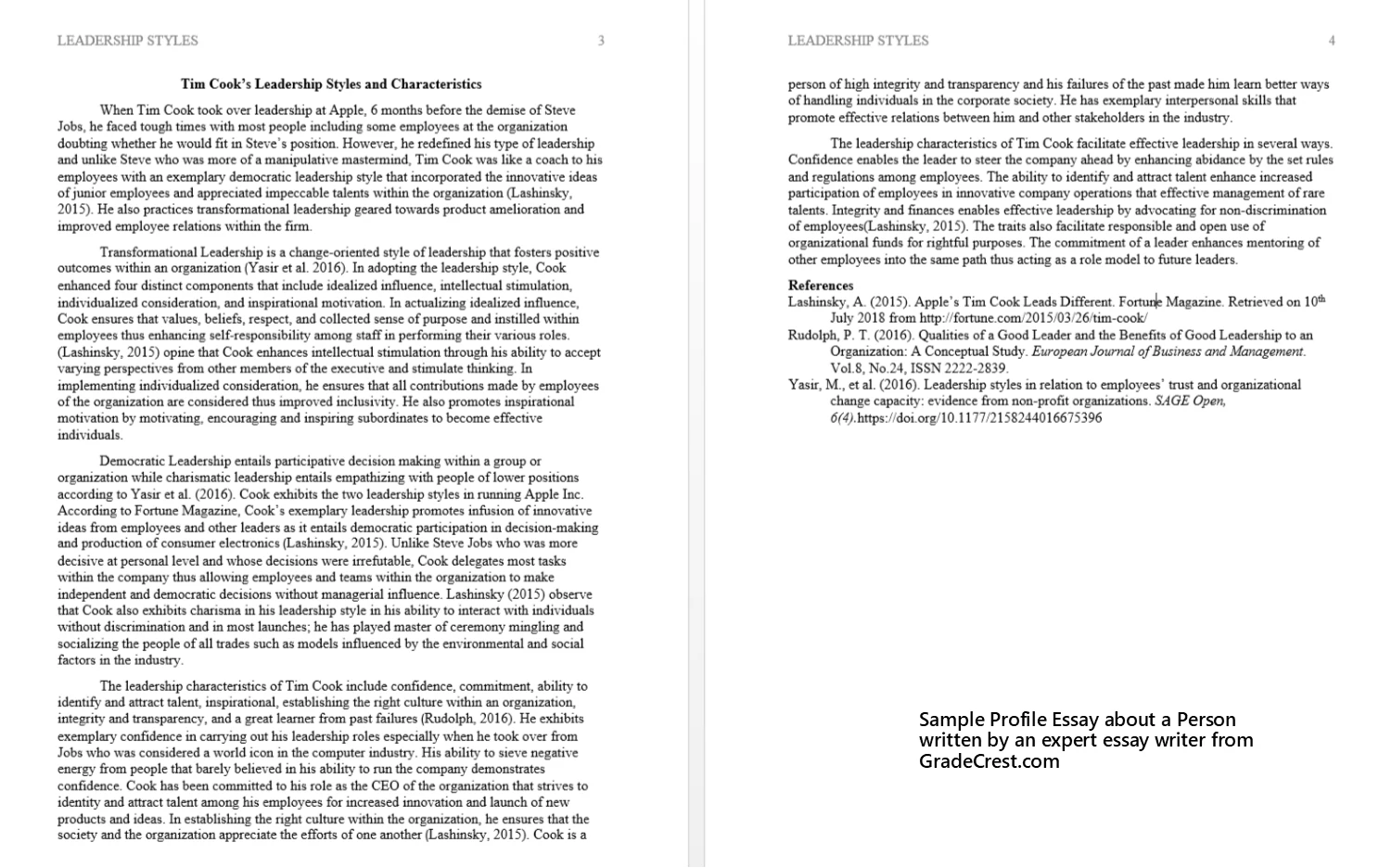 Writing an Essay Title Correctly
Undeniably, high-quality and scoring essays have short and eye-catching titles. When choosing a title for your profile essay, consider these facts:
Focus on the features of the person, event, or thing under discussion or the subject.
It should reflect your main idea in the essay
A good title should grab the attention of the readers
From the onset, it should give highlight what to expect in the entire essay
Never choose a topic that is too broad or one that is too narrow
Use simple words, as there is power in simplicity
The title of your profile essay should be descriptive. Mainly, it should have the name of the subject incorporated. Besides, it should reflect the central idea of the essay. If you are writing an essay about someone, the title should be one striking thing that forms the theme of the entire essay. For example, Bill Clinton: The Best President America Never Had can be a catchy title for a comprehensive profile essay.
You asked how to write a profile essay; we have given you more than that. The best is even yet to come.
Sample Profile Essay Prompt
Your assignment is to use the writing process to compose a 3-5 page profile essay about an intriguing person place or celebrity in your community (Omaha, NE). DO NOT WRITE ABOUT WARREN BUFFET, famous celebrities, politicians, athletes, religious figures, historical figures, vacations, etc.
Facts to Remember: An Essay Writers Guide to Writing a Profile Essay
Always show some respect on the subject. Sometimes your professor can assign a profile essay topic to someone you hate. It would be best if you showed some respect. Typically, this should reflect in your choice of words. Do not let emotions drive you. Get information from the research, and do not dwell on Fake News.
Avoid any grammatical errors. Use the third eye to remove grammatical or syntax errors from your essay. This is where our essay editing and proofreading service comes in handy.
Use simple language. There is unprecedented power in using simple language in academic essay writing. At all costs, avoid the jargon as they spike a well-written essay.
Apply the use of appropriate terms. This refers to the right choice of descriptive words and transitions.
The paragraphs should be well-balanced. Ensure the paragraphs do not exceed 150 words when writing a profile essay. Also, all the paragraphs should be well-balanced in terms of length.
Stick to the outline of your profile essay. Anything out of the structure is useless.
Like any other homework, you should use a professional tone. Only interviews are examples of profile essays about a person requiring the first.
Related Reading:
Get Help with Writing Professional Profile Essays
Do not confuse profile essays with a LinkedIn or social media profile. A dating site profile is different from a profile essay. Now that you know how to write a profile essay, time constraints can come your way and academic success.
In this case, you can pay for essays and get profile essay writing services anytime if you want to write a profile on a person and don't know how to, kindly seek help. Gradecrest is an urgent essay writing service known for its diligent essay writing services.
Our writers understand what a good profile essay looks like. You can buy our essays online or look up our offering on descriptive essays.
Our committed team of writers works 24/7 to ensure that even urgent essays are delivered. So, if you want someone to type your profile essay with, choose us!