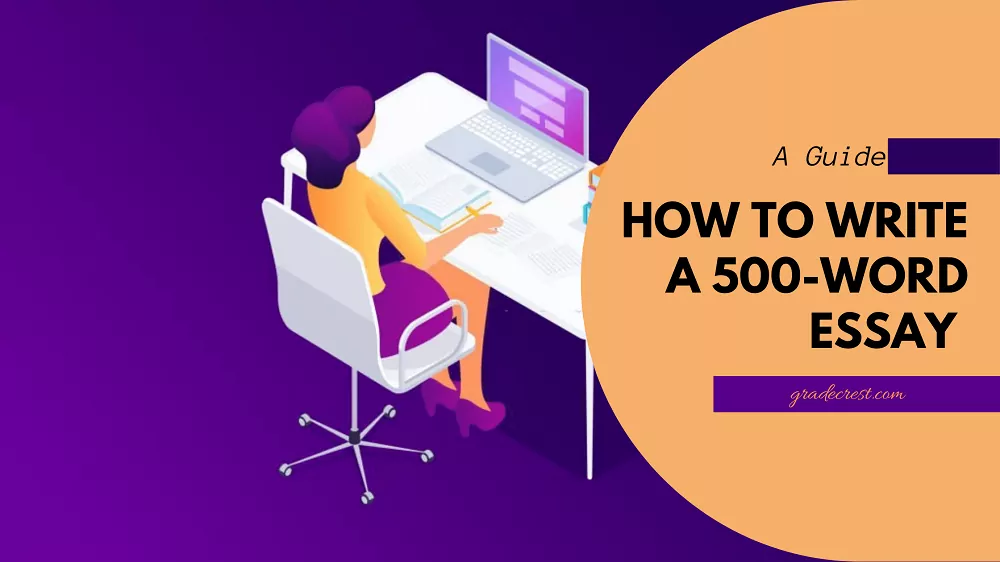 Whether it is a scholarship application, an admission essay, an in-class essay, a standard essay assignment, or a college essay, sometimes you are required to submit a 500-word essay. It can as well be a current event essay.
College students often find it hard to write a 500-word essay. While it is indeed a short essay, it is comparatively challenging to put together compared to the long essays. Thus, this article on how to write a 500-word essay will help.
In this article, we demystify your concerns on how much is a 500-word essay? What is a 500-word essay? And how many paragraphs should a 500-word essay have? Plus, many more complex questions on 500-word essays.
What is a 500-word essay?
As the name suggests, a 500-word essay is a short essay comprising an introduction paragraph, three body paragraphs, and a concluding paragraph as its three main sections where the writer discusses, describes, analyzes, and writes about a topic. It is just a paper written in 500 words, either as one single-spaced paper or two double-spaced pages.
It is a common format preferred for short exam essay-based questions, college essays, descriptive essays, persuasive essays, argumentative essays, or personal essays. If you have come across a short essay about yourself, friendship, family, or a prolific person, you would agree that most of them are written in 500 words.
A 500 words essay is nearly the same as a two-page essay. It is mostly assigned in college, university, and high school.
From its name, it is clear that a 500-word essay is an essay that requires you to follow the 5-paragraph essay format. It involves writing on a topic, an issue, or a question in five hundred words. So naturally, the word count is usually 500 words.
How long is a 500-word essay?
How Many Pages are 500 Words? This is a common question. Well, we have an answer to it.
A page is approximately 500 to 550 words single-spaced. On the other hand, when considering a double-spaced page, the word count is 250-275 words. Therefore, a 500-word essay can either be one single-spaced page or two double-spaced pages.
And you might be interested in the number of paragraphs that make a 500-word essay. Well, given the understanding of the pages and the word count, a 500-word essay follows the classic five-paragraph essay format.
Thus, it has an introductory paragraph, three body paragraphs, and a concluding paragraph. You could have approximately 100 words paragraphs of 6-7 short sentences. Some of the prompts allow either plus or minus 10% of the indicated word count.
The time it takes to complete a 500-word essay
You probably wonder how long it might take to complete this variant of a short essay. Assuming that you are familiar with the topic and are researching and writing, it could take 1-3 hours to write an excellent 500-word essay.
If you are a professional, expert essay writers can write 500-word essays in 30 minutes to 1 hour. Of course, they are mavens in essay writing. Besides, they work with the best essay writing service.
Format of a 500-word Essay
A 500-word essay follows the conventions of five-paragraph writing in terms of structure. You are expected to follow an appropriate essay format to present your ideas. When writing a 500-words essay, consider the following structure.
Title page
It differs depending on the formatting style chosen, e.g., MLA, APA, Havard, or Chicago styles.
It consists of your credentials, university name, professor's name, and date of submission
It also entails the title of your essay
Introduction

A hook statement that grabs the attention of the readers
Background information that expounds on the topic
A roadmap that explains how you explore the topics
The thesis statement that is the controlling idea for your essay

Body paragraphs (each must only contain one idea with supporting facts)

Body paragraph 1: Topic sentence (your first main point or idea), evidence (facts, examples, illustrations, explanations, and interpretations), closing sentence, and transition to the next paragraph.
Body paragraph 2: Topic sentence (your second main point or idea), evidence (facts, examples, illustrations, explanations, and interpretations), closing sentence, and transition to next paragraph.
Body paragraph 1: Topic sentence (your last main point or idea), evidence (facts, examples, illustrations, explanations, and interpretations), closing sentence, and transition to the conclusion.

Conclusion

Summary of your claims, arguments, and discussions.
Rephrased thesis statement
Your final account on the essay: recommendation, observation, or suggestion.

References/Works cited Page

If you have used references, list them alphabetically (A-Z) depending on the citation format, such as APA, MLA, Chicago, or Havard formats.
Seven Steps to Write a 500-word Essay
You can simply follow the steps of classic essay writing to complete your 500-words essay. As long as your essay has solid arguments supporting your claim, you are good to go. Writing a 500-word essay should take less time than, say, a 1000-word essay, considering that it is short. Here are some steps you can use to craft a 500-word essay successfully.
1. Read the Requirements
Although most students either ignore this or do it lightly, reading the essay prompt prepares you to write the essay and sets you up for success. Therefore, read and comprehend the requirements, including the topic, preferred approach, paragraphing rules, citation style and format, and the deadline.
2. Brainstorm for ideas
You can either use your computer or pen and paper to brainstorm and record your ideas based on the instructions. You can highlight some of the most exciting ideas that come to mind. Doing so also helps to use your creativity and critical thinking, which essay writing tests. Your rough list comes in handy during research and when writing the essay.
3. Select a good topic
With everything held in place, it is now time to choose a topic. You can either do this from the list provided by your professor or choose an independent but relevant and interesting topic. Select a topic that you find exciting and has not been overdone. You can focus on controversial social issues, current affairs, and debatable areas related to your interests or field of study.
A topic for a 500-word essay should be exciting and narrow so that you share your insights and concepts briefly but exhaustively. The topic you choose should have enough content. You can gauge this by looking for evidence from scholarly articles.
4. Conduct a thorough research
If you are running short of time, you can combine research and writing. However, if you have adequate time, spend more time researching for resources that you can use to support your claims in the paper.
Consolidating the information you need to explore your chosen topic reduces time wastage during the writing process. Assuming that you organize the sources, you can write as you cite to avoid plagiarism.
5. Create an outline
You can then create a detailed outline to envision the structure of your essay. Remember, you only have 500 words to convince or inform your readers. Therefore, adequate planning is necessary. An outline is your essay plan or roadmap. It is the backbone upon which your essay rests.
Break down the main points for each section of your essay to ensure a logical and structured flow of information. Then, ensure that you refine the content to have an essay that is coherent, competent, clear, and classy.
Your outline will help you stay on course when writing.
6. Write the essay beginning with body paragraphs
Break the monotony of beginning your essay with an introduction during the writing process. Instead, start your 500-word essay by writing the body paragraphs first now that you have an outline. This approach is better because you can write the body paragraphs that support the thesis. And suppose there are changes in the paragraphs. In that case, you can tweak the thesis statement to reflect the change instead of cumbersomely doing it otherwise.
The body paragraphs comprise 80% of your word count. So, you have 400 words to spread the content of three body paragraphs, meaning you have to have short paragraphs. The paragraphs should each have at least 133 words. Remember you have a + or?10% word count allowance. So, a paragraph of 4-6 short sentences would suffice. The body paragraphs should have a topic sentence highlighting the main idea, examples and evidence, and a concluding sentence.
Related: Paragraph writing rules
Once you are done with the body paragraphs, write your introduction. Your introduction should be strong as it is a selling point to your readers. Convince your readers by including attention grabbers. Introduce the topic and give some background information. Finally, have a strong thesis statement to wrap up your introduction. For this, you have 100 words, which means you need not include irrelevant words and sentences.
Finally, write an impressive conclusion for your essay. It would help to summarize your main argument and then restate the thesis statement.
When writing, use relevant transition words for smooth flow and quality arguments.
7. Revise, edit, Proofread, and Polish
Finally, because you focused on writing first and editing last, revise and polish your essay as a final step.
Read the essay aloud to yourself and correct the spelling, grammatical, punctuation, and stylistic errors you can identify. As well, check your paper through a plagiarism checker to ensure it is devoid of plagiarism.
Proofread your essay well and if you need help, especially for critical essays such as personal essays, SOPs, and scholarship essays, hire a professional proofreader.
Helpful Tips when writing a 500 Word Essay
Everybody looks forward to writing an essay that earns them good grades. To do so, you can use these tips used mainly by top students when writing short essays.
Always read instructions. Reading the instructions helps you comprehend what your instructor will be looking for as they mark your paper.
Take a break before proofreading. Before you edit and proofread your 500-word essay, ensure that you take a break. Doing so helps you develop an objective mind, making it easier to spot mistakes.
Use academic phrases. Avoid using clich? words when writing your essay. Instead, use academic writing phrases that will entice grades from your professor. Instead of overloading your 500-word essay with complicated vocabulary, maintain simplicity and express your ideas directly. Keep your content pristine, organized, and 100% non-plagiarized.
Use strong verbs. You are writing an essay in just 500 words. Therefore, structure your arguments and use strong verbs to avoid wasting words. Always use simple language. Avoid jargon and complicated vocabulary, as well as synonyms.
Use active voice. Like any other academic paper, ensure that you use active voice unless the passive voice is unavoidable. Check out our guide on using active voice.
Each paragraph has one idea. As you structure your paragraphs, ensure that each body paragraph focuses on a single idea. As well, ensure that you use transition words to connect your paragraphs. Your body should have topic sentences, supporting facts (well-cited), and concluding sentences.
Confirm your instruction vs. your paper before submitting it. Reread the essay prompt and then your paper before submitting it. When writing, editing, and proofreading the essay, always have the audience in mind.
Research widely. Research online to get credible sources of information. We recommend starting on a Google search to understand your topic. You can also get scholarly articles online to supplement your arguments. Research is invaluable as you write or familiarize yourself with the topic.
500-word essay Topics
Below are some suggestions or topic ideas for your upcoming 500 words essay.
The importance of Names
Is diversity a good thing within a team, and why?
Is living longer necessarily a good thing?
Is it fair to use children in television advertisements?
Why Housing Mentally Ill Offenders in Prisons is Wrong
High school doesn't prepare you for life
Should students work part-time while studying?
Should student debt be discharged in the face of bankruptcy?
The Wrongs of Polygamy
Is the US HealthCare System Broken?
Dogs are better friends than humans
Keeping pets is beneficial
Benefits of stem cell technology
Emotional impacts of HIV and Aids
Benefits of being earnest
Causes and consequences of wars
Role of ethics in business
Benefits of CSR activities
The American Dream
Video games and violence
Impact of covid on marriages
Impact of social media on relationships
Does social media promote promiscuity?
Why I want to be a nurse
The best leadership styles
Profile essay on Putin
Benefits of punctuality
Benefits of integrity in the workplace
Role of code of ethics
Why people should have respect for others
Time management strategies for students
How to score the best grade in math
Is a college education worth it?
Rising student loan debts
Essay on responsibility
Education should be free
How social media enables human trafficking
Ethics of human trafficking
How to spend summer vacation
How to revise for exams
A perfect day
An ideal society
Teenagers should be educated on sex
Suicide rates among teenagers
Impacts of driving when texting
Rape victims should not be questioned
Happiness is a choice
Importance of sleep on human growth
Animal testing should be prohibited
Impacts of covid 19 on education
Final Remarks
Understanding how to write a 500-word essay is integral to your academic journey. Students taking English courses would agree that writing essays and research papers is mandatory.
For your English 102 essay, you might be required to write a 500-word essay. Whichever subject you are pursuing and you need to write such an essay, do everything we have highlighted and set yourself up for success.
Now, if you are pressed on time, have thought about your essay at the last minute, and all you need is help with writing the 500-word essay, we can help. Our last-minute essay writers can craft your 500-word essay in less than 2 hours. Again, we are talking about you getting a 100% unique, custom-written, and plagiarism-free essay.
If this sounds like what you are after, do not hesitate to place an order through the order form on our homepage. Consider some of these benefits:
The writers can choose the best 500-word essay topics for you.
You get a free 500-word essay outline.
24/7 customer support.
100% plagiarism-free essays.
Affordable costs per page. No hidden charges.
Money-back guarantee.
Free revisions within 14 days after the papers are sent to you.
Privacy and confidentiality with your personal details.
Experienced professional essay writers handle your work.
At the click of a button, we can help you avoid the stress of writing under the pressure of a deadline. Talk to us!