Research Papers Vs. Essays (Differences and Similarities)
Last Updated: 16 March 2023
In high school, college, university, and even professional life, you will write many assignments, including research papers and essays. In school, instructors and professors use essays and research papers to test your understanding of concepts taught in class. It is, therefore, imperative to know the difference between essays and research papers.
You came to the right place if you struggle to get the facts right about essays vs. research papers. This guide guides you through the similarities and differences between the two common papers written at all academic levels.
In a nutshell, research papers focus on facts to argue a point, while essays focus on an individual's understanding of a topic. Understanding the difference between these two pieces of writing will help you succeed in school.
With that said, here is an overview of essays and research papers.
What is an Essay?
An essay is a short piece of writing demonstrating your comprehension, critical thinking, analytical skills, creativity, and awareness of a given topic. The length of the essay will determine the citations it should have and how long it takes to write it. So for a 500 words essay, the instructor will require at least five verifiable sources. Since they are short in length, they usually have five paragraphs starting with an introduction, followed by the body, and then a conclusion.
The main objectives of an essay are to:
Inform the reader by providing accurate and proven information about a particular topic
Convince the audience of a specific headline using researched evidence
Explain a topic by providing in-depth information with flowing content
Entertain the readers through humor and other funny statements
Check out our comprehensive guide on how to write a good essay.
Format and Structure
The basic format of an essay is an introduction, body, and conclusion. You must fashion all the ideas- one at a time - in the order that makes sense. To successfully deliver the content to the readers, you must attend to their logic. You have to introduce the arguments, analyze all the data, provide counterarguments and conclude the topic.
You should consider every part of the essay answering basic questions the reader is probably asking. These questions are: what, how, why.
The "what" explains what evidence leads you to your thesis statement, and you must therefore examine all the evidence demonstrating the truth of your fact.
The "how" explains how other arguments can counter your thesis statements. In other words, how does another way of looking at things affect your claims?
The "why" shows why the readers should care about your statements and allows them to learn more about what you are saying in a larger context.
An essay follows different formats depending on the academic style of writing requested; it could be MLA, APA, or Chicago format. For example, the APA style is used in social and health sciences, MLA in liberal arts, Language, Literature, and humanities, and the Chicago style in literature, history, and arts.
However, the structure is as follows:
Introduction
The introduction paragraph sets the stage for what is to come. It has three main parts:
Hook
Background information
Thesis statement
Hook
The first sentence of the introduction should grab the reader's attention. Next, you should arouse curiosity through an eye-catching statement for the reader to continue reading the essay. You can achieve this by using a joke, statistics, or research findings.
Background Information
Give the readers the context of the essay by providing some background information depending on the essay's subject. Don't give too much information ? mention just a few points you will divulge later in the text. Just make sure you save the evidence for the body of the essay. The length of this information will depend on the scope of your essay.
Thesis Statement
A thesis statement sums up the main ideas of your topic and helps control the essay's narrative. Therefore, the statement should state clearly the main idea you want readers to grasp.
Body (Arguments)
The body is the longest part of the essay, which is organized into different paragraphs. Each paragraph elaborates on one idea and contains between four to five sentences. Every paragraph contains three sections starting with the topic sentence, followed by a supporting sentence and a concluding sentence.
The topic sentence informs the reader about the paragraph, and the supporting sentence expounds on the central idea. And the concluding sentence summarizes what you have talked about.
Conclusion
The conclusion is the last paragraph of the essay. It aims to summarize the essay's main parts, show the essence of your argument, and leave the reader with a sense of closure.
When writing the conclusion paragraph of an essay, you should restate the thesis statement to remind the reader what you talked about, followed by a summary of your arguments and counterarguments. Finally, the last sentence of the paragraph should state your concluding thought.
Types of Essays
There are different types of essays, each with its own objectives. They include:
Narrative
Descriptive
Expository
Argumentative
Narrative Essays
Narrative essays are mostly personal, and they tell a story. This essay is written from a first-person perspective.
Descriptive Essays
Descriptive essays describe something? object, person, place, emotion, or situation from your own perspective.
Expository Essays
Expository essays aim at explaining a topic with facts. This is where you analyze a given piece of information and explain in detail how you have reached your conclusion.
Argumentative Essay
An argumentative essay presents both sides of an argument to inform the reader. An instructor will give this type of essay to gauge your debating skills.
Persuasive Essay
The persuasive essay aims to convince the reader. The writing presents logical information with an emotional appeal to the reader to believe your point of view.
What is a Research Paper?
A research paper is academic writing that involves supportive evidence about a given topic. It provides a perspective on a given topic using various sources supported by qualitative and quantitative research methods.
Research papers are usually similar to essays, but they are much longer and involve in-depth research conducted independently. In addition, you must spend time investigating and evaluating multiple sources to offer an interpretation of a given text.
Since the main aim of a research paper is to develop a new argument, you must include a literature review. A literature review is a foundation and support for your research, and it is a survey of academic sources on a given topic that helps you identify theories, methods, and gaps in the existing research.
They are more formal as they involve rigorous and thorough research resulting in a central idea. Only when a paper meets this requirement will the instructor give a good grade. Their aim is to differentiate between opinions and facts, provide a detailed understanding of a given topic, and critique previously written work.
To effectively write a research paper, you must clearly define your research question. If your instructor has already assigned you a topic, there is no need. If not, try to choose an interesting research question.
Choose a research strategy by analyzing the materials you will use for your research. Then evaluate all the sources by focusing on their credibility and whether they support your research question.
Like essays, research papers also have paragraphs and follow the same academic writing formats, but their structure is much different. Their structure is as follows:
Title page
Abstract
Introduction
Materials/methods
Results
Discussion
Conclusion
References
Acknowledgments
Title Page
A title page contains all the vital information about the paper you are writing. The page is usually placed in front of the research paper. It contains your name, the name of the project, and your learning institution. Since it's the first page the reader will see, it should be well formatted. The title on the page should clearly display your thesis statement.
Abstract
The abstract highlights the main points of your projects to help inform the readers what the paper is about. They are recorded along with keywords to help readers find your content more easily. The abstract should be clear and accurate.
Introduction
An introduction part allows you to define the topic and establish your voice. The introduction should be interesting enough to get the reader hooked. It usually aims at:
Presenting the problem statement, topic, and research investigation in the first part of the introduction
Establish the aim and focus of your research in the second part
Present the summary of your arguments in the third part
Research papers also have a thesis statement, like essays mostly found at the end of the introduction. It aims to explain what you are trying to prove and provide the main points in the research.
Materials/ Methods
The material/ methods section clearly defines what materials you used to perform your research. The aim is to direct readers to specialized materials, general procedures, and methods to weigh the value of your project. For example, these materials could be questionnaires that provide information about your paper. The materials should be specific and relevant to your field of study.
You should describe in detail how you conducted the analysis in their personal narrative and briefly list the methods used.
Results
The results section is where you report what your findings are based on all the information you gathered with the materials you had. You should state the findings without biases or interpretation, allowing the reader to do that themselves. The findings should only be from your study, and they could be:
Quantitative information- is data that can be measured and is presented in graphs, tables, or charts.
Qualitative information- which is brief descriptions or explanations and is often presented as lists or essay like form
Discussion
The discussion section shows the results and outcomes of your paper. It reviews and interprets the findings of the research and allows the readers to see the connection between all the parts of the paper. The discussion should include the following:
Results you gathered from the research
Discussion of related research
Comparison between the research and your initial hypothesis
You must demonstrate your critical thinking skills when developing your arguments and establishing the relationship between each part the same way you would in an essay.
Conclusion
The conclusion section outlines why the research is important to the reader and why they should care. It summarizes all the parts mentioned in the paper and demonstrates the implications of your research. The writing should be on point to deliver your message to the readers.
Acknowledgments
The acknowledgment section appreciates all the contributors for their efforts in the research. You should mention all the contributors directly involved in your research. They could be:
Funding Organization/ Donor
An author
Administrative personnel
Reviewers
Colleagues
Your professors
Work supervisors
References
The reference section is the last part of your research paper. This section shows that you have clearly and carefully conducted your research. It demonstrates that your work is credible, and readers can rely on it. You should list all the research material used. The average number of references in most research papers is 45.
Types of Research Papers
Like essays, there are different research papers, each requiring different preparation. These are argumentative and analytical research papers:
Argumentative Research Paper
When writing an argumentative research paper, you discuss your topic and then choose the stand you will be taking. The hope is to persuade the reader to take your stand.
Analytical Research Paper
You state your topic in an analytical research paper and take a neutral stance. You will then provide your arguments and facts, leaving the reader to choose their stance. The aim is not to persuade the reader but to present a well-supported analysis of a given topic.
Survey Research Paper
Survey research involves collecting data from a group of people through quantitative and qualitative research methods.
Experimental Research Paper
Based on experimental research or empirical research, this type of paper provides information about the procedures you have used in your research. It is mainly written as a scientific or empirical paper following the IMRAD format.
Definition Paper
In definition papers, you will describe an argument's facts without sharing personal emotions and only provide a list of facts without analyzing them.
What is the Aim of the Research Paper?
Learning how to write a research paper is to:
Provide Knowledge
Through research, you will gain new insights about a particular topic making you more knowledgeable.
Boost the Success, Not Business
The findings of a research paper will influence decision-makers to take positive action. For instance, if you wrote a paper about the importance of using laptops in schools, more laptops will be provided even to learners.
Enhance Public Awareness
By writing compelling research about a given headline and sharing it with the public, you give them an understanding of your ideas. Providing detailed and well-researched information will help the readers see the relevance of your conclusion.
What Are the Differences Between an Essay and a Research Paper?
After looking at each of them individually, what are the differences between them?
They Have Different Purposes
Even though they are both academic writings, they have different purposes. When an instructor assigns you a research paper, they want to know your deep understanding of a given topic by sharing how you have come to that realization. In other words, it demonstrates your opinions and those of other scientists. On the other hand, an essay shows your opinion about something even though you will research your information, and your point of view about the topic should be unique.
A Research Paper is More Formal
A research paper involves in-depth research from reputable sources, which you should prove in the form of references. On the other hand, an essay doesn't need in-depth research; it mainly relies on your thoughts and opinion. They are also not as complex as a research paper in terms of headings and subheadings.
More Time and Effort Are Needed in Writing a Research Paper Than an Essay
A research paper is a long piece of academic writing that requires multiple sources and a deeper understanding of information to reach a conclusion. Since there is tons of information to find and go through, more time is taken to do the research.
So while an essay can be completed in a few hours, a research paper can take days or even weeks to complete.
Differences in Length
Both essays and research papers are organized the same way. An essay has three parts: an introduction which includes a thesis statement, a body, and a supportive conclusion. You will need to hook your readers when writing the introduction for them to proceed with writing. The body usually has between four to five paragraphs which must be arranged systematically to make sense to the reader. Their word count ranges between 500 and 1000 words with about 5 citations.
| Similarities | Differences |
| --- | --- |
| They are both academic styles of writing | A research paper requires thorough research about a topic with more citations, while essays need a basic understanding with a few citations |
| Both require a comprehensive understanding of a given topic | Research papers help in building your knowledge about a given topic, while essays test your writing skills |
| They both have a thesis statement | A research paper is a long form of writing with about 8 pages or more, while the words in essays range between 500 to 1000 |
| They both have an organizational structure | It takes days or weeks to write a research paper compared to an essay which needs a few hours |
Because research papers require in-depth research, they are much longer than essays and are usually referred to as multipage writing. A research paper typically has nine parts arranged in order with between 8 to 100 references. Regardless, both forms of academic writing follow the same organizational structure.
Here is a table that shows the similarities and differences between the two.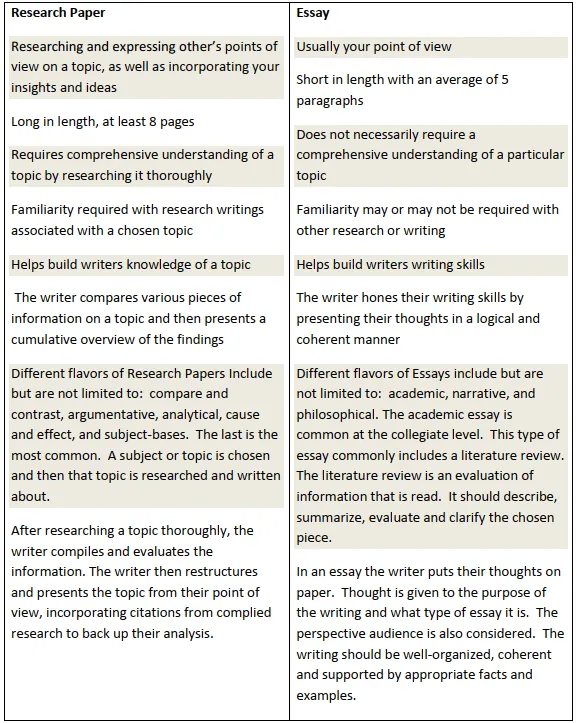 More differences and similarities between essays and research papers (source)
Final Words
An essay and research paper are common types of academic writing assigned to high school, college, and university students. Essays are the shortest pieces of writing which show your understanding of a given topic during a research paper. The above difference will help you in your academic writing journey.
Life is full of demands, and you will juggle work, home duties, family responsibilities, and social life. When you add studies and writing papers to the packed schedule, you might break down mentally.
Do you need help with a research paper or an essay? GradeCrest is the most preferred place for students and professionals who want their research papers done. We have expert paper writers who can handle papers on various topics and almost all subjects; no subject lacks an expert or is too hard to crack for us. You can order your essay or research paper by filling out the order form on our home page.