How long it Takes to Write an Essay (Word and Page Count)
Last Updated: 16 October 2021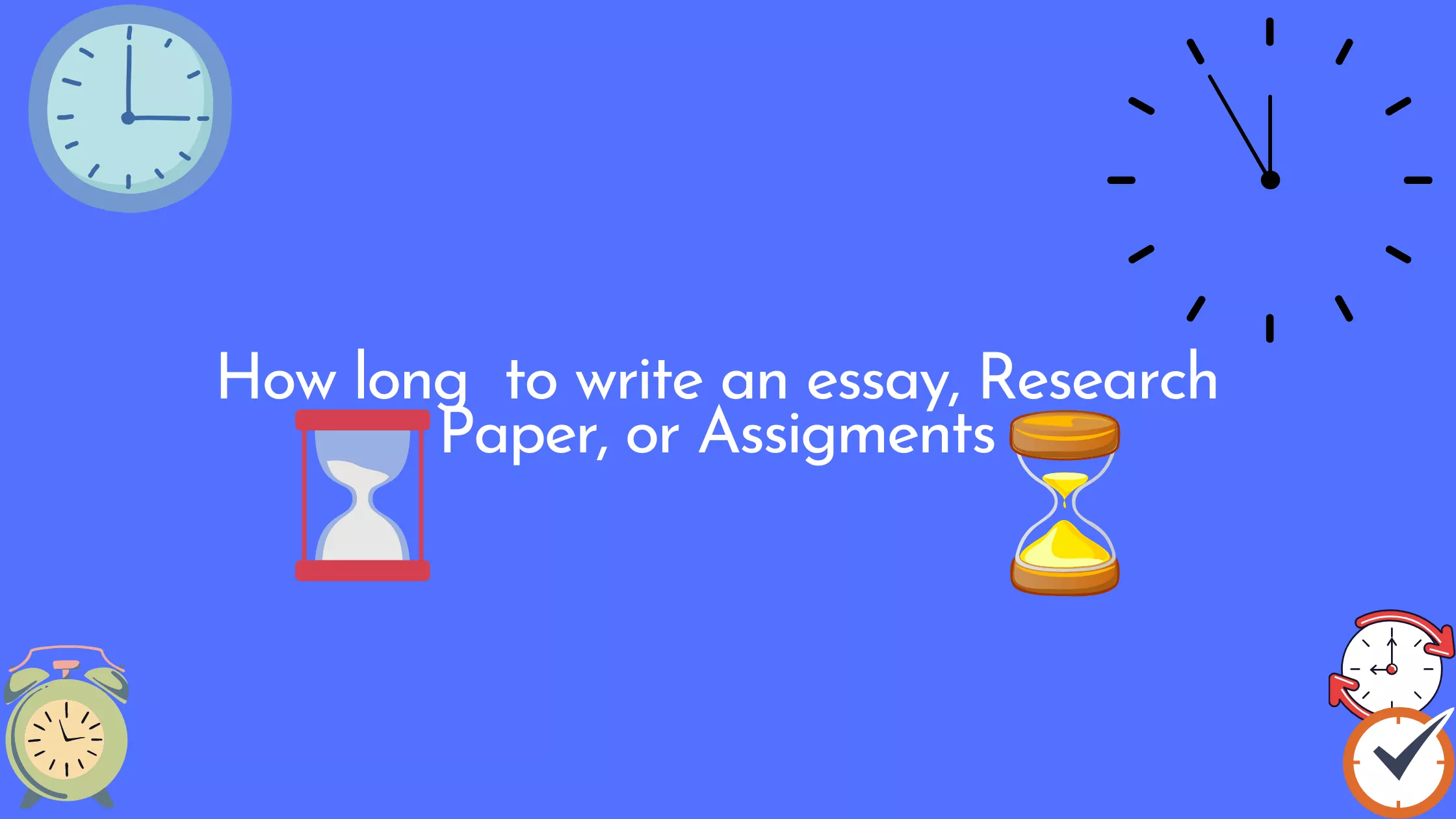 Writing essays or assignments is a tricky undertaking for most students. Time is ever not enough when writing an essay. For some, it takes little time to complete certain pages, while others might find it harder to achieve the same pages unless they have more time. To craft classy and A+ grade essays, you need to understand how long it takes to write an essay.
This article comprehensively answers the main question of how long it actually takes to write a standard essay, research paper, or assignment, which is a common question among students from every academic level.
Whether you take less or more time to write an essay, as long as you submit your essay on time and score the best grade, that's it! However, knowing how much time it takes helps you plan your schedule, especially if you have little time in your hands to complete essays and other school assignments.
So, how long does it take to write an essay? We share with you some critical insights below.
How long Does it take to write an essay?
Writing an essay is not like wearing a pair of socks where you just do it. Instead, the process requires adequate planning, the actual writing, and polishing what you have written.
In a nutshell, although estimating the most ideal time to complete an entire essay is impossible, we can infer or estimate it based on the optimal time it takes.
The total time it takes to write an essay, research paper, term paper, or complete an assignment varies depending on a myriad of factors such as required length, writing and research skills of the writer, and the technicality of the subject or topic. It is possible to write a simple 500 to 600- word essay or paper in 2 hours or less for an average writer. However, it will take you almost 5-6 hours if you are a slow or inexperienced writer.
If you are writing a 1500-word essay, you can take 4-5 hours or even a day, depending on how complex the content is and your writing skills.
We have seen writers devour 20-page research papers in a day and 10–15-page essays in less than 15 hours.
Beginning with a 40-page thesis or research paper, we will break down how long it ideally takes to complete an essay or research paper up to the smallest assignment assigned to students, usually 2 pages or 500 words.
As we advance, refer to our article: The ideal length of a comprehensive essay for the exact word count and the number of pages.
40-Page Thesis or Research paper
For an experienced writer, writing 40 pages, including research work, will take 2.5 to 3 days or 50-72 hours. This is considering that they will be taking breaks in-between or attending to personal issues. However, if research is done and only typing remains, it can take 8-12 hours to complete.
For a slow writer, you can complete writing 40 pages in 6-8 days. Some people take ten days or more, but the assumption is that they have little time to write the paper as they have other commitments.
A 40-page research paper is 11000 words, which can be achieved by writing 3600 words or 12-pages per day. However, considering that sections such as introduction, discussion, and conclusion are easy to tackle, the saved time is pushed to the complex parts of the research paper.
Anything you do, resist the temptation of using an online paraphrasing tool or w writing a bot to achieve the word count within the shortest time. A paper written after researching, reading, and critically reasoning sounds better than that spun by a bot.
To write such a paper within those three days, research well, take notes and organize your research. Then, you can use online bibliography organizers and download the peer-reviewed journals into a folder for easy access.
Rationally, professors assign more time to complete the long papers. Avoid the last-minute rush because you procrastinated. Begin early enough so that each part is not rushed and that you can cover all the required details.
30-page Research Paper/Thesis
If you are assigned a 30-page thesis or research paper, you can still complete it in under 2.5 days. Assuming you are writing 15 pages per day, it will only take you two days. However, if you are a slow writer, you will need to take up to 5 days to complete a 30-page research paper.
As a student with much time, planning, writing, and polishing, a 30-page paper should be in less than a week. If your deadline is 2 weeks, ensure that you are done in the first week so that you're left with enough time to rest, research further, and refine ideas in your paper.
Again, you need to plan your research, writing, and revision processes. Ensure that you take notes, have an organized list of bibliography, and have downloaded the online peer-reviewed articles to use.
20-Page Research Paper
This is about 5000-5500 double-spaced paper.
A fast, accurate, and experienced professional writer can take a maximum of 2 days to complete a 20-page paper. However, a slow writer will take up to 4 to 5 days to complete 20-pages. We have experimented with this with our writers internally and conducted online surveys with clients and students.
We can say that the writing and research skills, typing speed, and organization define how fast you nail that 20-page research paper. If you are writing by hand, which is unlikely in this era, you will take more than 2 weeks.
The ultimate plan is to spend 30% of the time researching, 50% writing, and 20% editing and polishing. Once the writing process is organized, completing a 20-page research paper will be smooth, easy, and fun.
12-Page Essay, Term paper, or Research Paper
We have seen writers complete 12-page papers in under 12 hours. All we can say is that skills, the complexity of the subject, typing speed, and experience matter.
Ideally, writing 12 pages needs between 12-20 hours. An advanced writer will complete a 12-page essay in 8-10 hours, while a slow writer will take as much as over 12 hours but not more than 20 hours.
The trick is to plan, research, and organize your research thoroughly, then write the paper. You better use mind maps or concept maps to organize your thoughts around the paper. It makes it easy to own and achieve the vision of the paper. Also, try to limit your distractions and focus on achieving the most in your paper.
A 10-page essay or Research paper
So, you have 2500 to 2750 words or 3000 words to write an essay, research paper, or term paper, and you wonder how long that will take? Well, writing a 10-page paper should take you 5-10 hours.
If you are a slow writer, it will take more than 12 hours but not a day. This is the typical length of most assignments given in class as part of coursework. However, it is an ideal length for you to critically and comprehensively explore a given topic. This counts for a 2500-3000 double-spaced paper or five pages of single-spaced paper.
To complete a 10-page paper faster, you need to begin by reading the prompt. It would help if you then chose a good topic and researched to familiarize yourself with it. Next, write a clear thesis statement and refine it as you organize your research. Finally, write the paper and then edit it later.
Our professional paper writing service has writers who can complete your 10-page paper within a day or in 12 hours. Our experts draw from their experience, pro writing skills, research experience, and ability to organize thoughts faster. They have been doing this for the longest time and can complete your paper fast.
5-page double-spaced essay
A five-page essay is by far the most common assignment in tourism, management, leadership, anthropology, nursing, sociology, education, and many other disciplines.
The duration to complete depends on how complex the topic is, the depth of research required, and the actual deadline of the paper. It is about 1500 to 1650 words in length.
In a 5-page double-spaced essay, the introduction and conclusion comprise 20%, which leaves you with 80% of the word count for the body paragraphs. An expert writer can do the same in 3-4 hours if it is not complex. However, slow writers will take up to a day or two to complete the same length.
A standard 5-page paper can be written in 4-5 hours.
1000-word essay
This is a 4-page double-spaced paper. Depending on the extent of research required, special instructions, and skills of the writer, you can take 2-4 hours.
An essay pro will take 2 hours to complete a standard 1000-word essay, while a slow writer will need up to 7 hours. This is because they are each writing a 1000-word essay graded an A+ at the end of the day.
The trick is to familiarize yourself with the topic, write an outline, organize your research, and write the essay, then edit it after taking a short break.
500-word essay
Writing a standard 500-word essay, which is two pages, takes 2 hours or less. Therefore, a standard writer will take 2-3 hours while an expert writer will take one and a half hours tops.
Once you get such an essay, write it faster, spend a few minutes understanding the gist of the essay, familiarizing yourself with the topics, and planning the paper. Often, it needs you to strikingly hook your readers and conclude the essay in a bang.
This is one of those essays you write as you cite and read internally as you listen to ensure that everything is well written. Again, you will need to have fast typing skills to achieve the page count in an hour or less.
Factors that Determine the time you take to write an essay
As we mentioned before, a hoard of elements defines the time you will take to write an essay. Here are some of the vital factors:
The technicality of the content–the time you take to complete an essay depends on how complex the content is. For instance, if you are writing an argumentative or informative essay, you'd probably take less time compared to when writing a technical essay on biology, nursing, physics, or geography.
Special guidelines from class–if there are special requirements from class, such as using the class text, you'd take less time writing your essay. However, suppose the special requirements need you to focus on an area or structure specifically. In that case, you will probably take more time to write the essay.
The extent of Research–an essay requiring in-depth research, reading, and critical analysis will take more time than a descriptive or explorative essay. The complexity of the subject defines the extent of research. If your essay is on science and other technical subjects, it definitely requires more research and time.
The time you have–the deadline of your essay defines the time you have to complete your essay. However, your personal schedule also determines how long you have to complete an essay. Generally, the more time you have, the more time it takes to write an essay. To avoid writers' block, consider finishing your essay on time within the standard time it takes to complete an essay. It makes you professional, timely and leaves you with more time to polish it.
Experience with writing– experienced writers will take less time writing an essay compared to average or novice writers. For instance, our fast essay writers take an hour or less to write a one-page essay of 275-300 words. Equally, they can complete a 10-page essay in under 12 hours.
Writing Skills–your writing skills also determine how quickly you write an essay. If you are skilled enough to plan, research, and write, you will complete your essay in the shortest record time.
Research Skills–the research strategies you used to get familiar with the topic, develop arguments, and offer examples also define how long you'll take to complete an essay or research paper. Besides, if you are organized enough, you will take less time researching and writing an essay.
Front and Back matter requirements–if your essay requires a special cover page and references page or appendices, it might take slightly more time compared to an essay with a standard cover and title pages.
How the writing process affects the time you take to write an essay
Do you know that the writing process and how you apply it defines the time it takes to complete an essay? Well, it does. Before we tell you how-to, let's re-cap the essay writing process.
The essay writing process entails three main stages:
Preparation/pre-writing: Here, you decide on the topic, do in-depth research to familiarize yourself with the topic, choose a tentative thesis statement, and create an essay outline.
Writing: Here is where the rubber meets the road. You develop your arguments in the body of your essay, provide evidence in the body paragraphs, and write the conclusion and introduction of your paper with the hook and thesis statement being prominent features.
Revision/post-writing: You revise for content, grammar, spelling, formatting, and organization.
This simple three-step writing process applies whether you are writing a case study, a term paper, a research paper, or any form of assignment.
Note that taking these steps becomes seamless as you practice and write more papers. You do not have to beat yourself up as they are not systematic. You can choose to begin with any step. However, ensure that the paper you write at the end will be worth the best grades.
Time-wise, the pre-writing or preparation stage should take 20% of the total time you have. Writing should always take 50% of the total time you have. Finally, you should spend 30% of the time in the post-writing stage.
So, if you have 24 hours to complete a 5-page essay, spend 5 hours brainstorming, outlining, and researching. You should then spend 12 hours writing the paper, inclusive of breaks. Note that you will be writing as you refer from sources, compare ideas, give examples, and offer evidence while citing the respective sources. The process is tedious but should be meticulous as it either makes or breaks your grade. Finally, you will spend the remaining 7 hours polishing the essay.
As you can see, this gives you ample time to run personal errands, attend to other personal issues, and complete your assignments on time.
Therefore, to write an essay fast, accurately, and efficiently, you need to plan your time against the structure of your essay.
How to improve your essay writing speed
In our article, we have used terms such as slow and novice writers to refer to average writers. It is not bad to be one. However, everyone aspires to be the best version of themselves. Writing challenging essays sucks, and the sooner you do away with them, the sooner your school life becomes less stressful. Here are some seven best strategies you can use to improve your essay, assignment, coursework, or research paper writing speed.
1. Read and understand the instructions
A common mistake students make is casually reading the instructions and assuming that they can head straight into writing a paper. If you want to write an essay fast, concentrate on what your professor wants before deciding how you meet these requirements. It cuts the time you would have wasted when you discover that you would have done it the other way round while in the middle of your writing.
2. Plan your essay/research paper
To write any paper faster, you have to plan adequately. Planning helps allocate time and spend time on the things that matter. Failing to plan is equal to failure. Therefore, write a great outline for your paper. Know what falls where. For instance, write a tentative thesis statement, plan what essay hook to use in your intro, and decide what the main message that supports the thesis each of the body paragraphs will harbor.
3. Conduct research
After planning your research, you need to conduct thorough research. The aim of the research is to familiarize with the topic, collect views and perspectives on the topic, and refine the thesis statement. While researching, ensure that you take notes.
It would be prudent if you also take note of what other scholars have discussed your topic. Refine the scope of your paper and the focus of each paragraph. While researching, you can refine the outline to ensure that everything flows. Find evidence, examples, and quotes from books and scholarly articles to defend your thesis.
4. Organize your research
When you research and leave it at that – it is a recipe for failure. Instead, organize your research effectively. Here is the trick: download the downloadable scholarly articles and save them into a folder on your computer. You can also bookmark books. As you do so, use the digital bibliography or citation tools to organize the sources in alphabetical order as would appear on your reference page.
5. Find a suitable place to write it
Do not just write your paper anywhere. After all, you cannot do homework in the club, café, train or bus. Instead, it would help if you found a distraction-free place to do your homework. A place without distractions lets you sink in the mood of your assignment.
If your roommates are noisy, try the library or find an excellent place to complete your essay without distractions. Avoid noisy and busy places as they will steal away your concentration.
If you find yourself working well with music, find some slow music that does not distract your concentration. As well, have some water to replenish yourself as you write. Finally, have a spot with good, reliable, and safe internet so that you can research online, write, and countercheck facts without having to read hardcover books.
6. Break the paper into sections
When writing, a paper with some structure or skeleton will be completed much faster than that whose parts are not broken.
Breaking your essay into sections helps you know what areas to focus on the most. Besides, you can jump sections and complete the easier ones without disturbing the flow of your essay or research paper.
Writing the paper as a block denies you the chance to be creative. Ideas tend to get to us when we are busy elsewhere. When you have a section, you can quickly incorporate the idea and return to the previous section, and the essay will still flow, regardless.
After finishing a section, take a break so that you return fresh to complete the next one until your essay or research paper is completed.
7. Write fast, then polish later
Instead of being a perfectionist as you write, focus on just writing. Leave the editing and polishing for later.
To write an essay or research paper faster, you need to write, flow your ideas, and maintain the gist of the essay. Then, you can correct the typos, errors, and omissions later. Doing so saves you the stress of rushing through polishing, which is integral for the best grades.
Parting Shot!
The truth on the ground is that writing an essay, research paper, term paper, or assignment suck. To write an essay or any assignment, the writing process entails preparation, writing, and revision. Following these three main steps ensures that you end up with a good grade on your assignment.
Time is money, and if you learn how to manage it, the better. To write a great essay, you need to be diligent, patient and committed. Typically, you will be developing ideas about a topic right from the introduction to the conclusion. In between, you have the body paragraphs that take time and skill. Therefore, it is critical to understand the ideal time it takes to write a comprehensive essay.