Basics on How to Write a Term Paper Proposal
Last Updated: 27 July 2023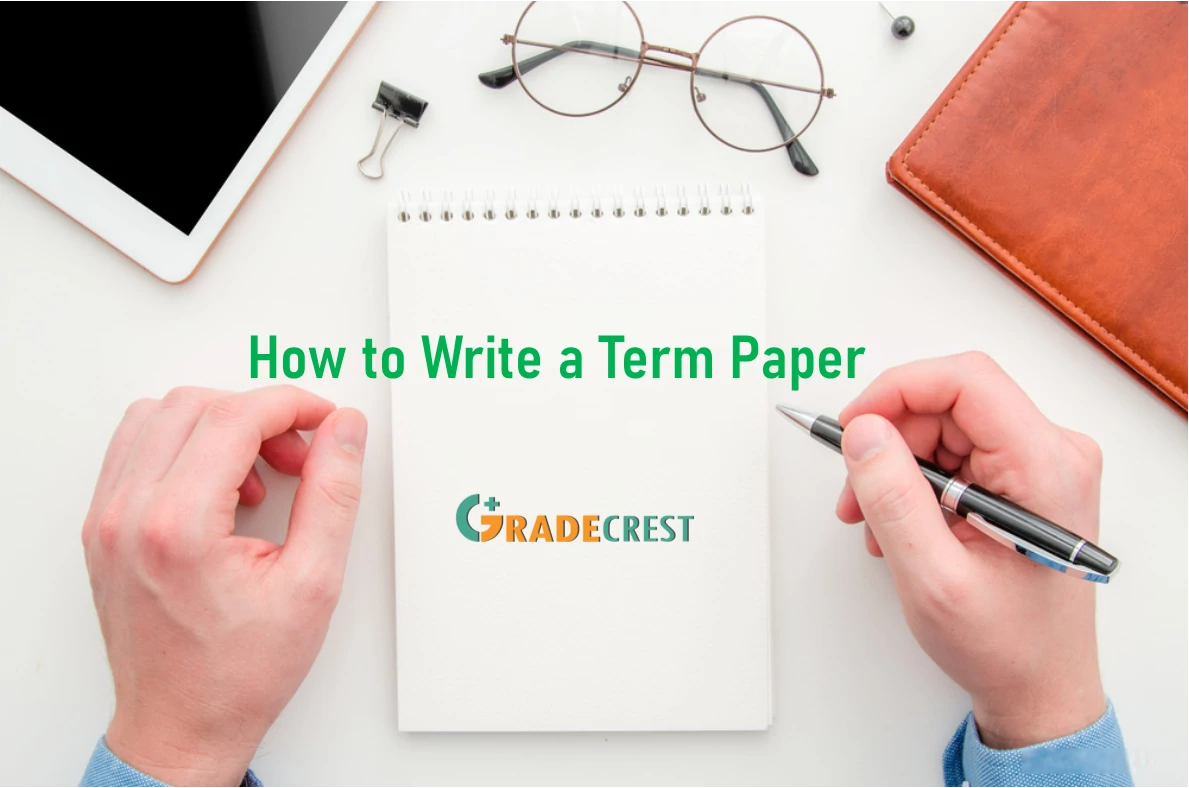 Term papers, coursework, essays, research papers, capstone project reports, and article reviews are writing assignments assigned to students regularly. It is impossible to go through high school, college, and university without understanding how to write a term paper.
You will find students preoccupied with completing a given academic writing assignment. And when you think it is all about writing good quality papers, you might be wrong. Most students chase deadlines and forget to put in the efforts to earn the best grades.
Writing a term paper or a term paper proposal requires you to spend much time on research. Even when using Google as your search point, extending to various scholarly and peer-reviewed databases is compulsory.
However, even with the sources, writing an academic paper can come with invisible obstacles. For some reason, it is the hidden ghost that makes students procrastinate and write hurriedly. Your guess is as good as mine. Poor grades are also made of hard work. You need to work smart.
Therefore, our article teaches you how to write a term paper like a professional writing expert.
What is a Term Paper Proposal?
By definition, a term paper is a type of research paper that is always required at the end of the semester or at school. It is a research-based paper that most students find themselves struggling to write. The aim of writing term papers is to test the knowledge of the students about the course. Mostly, term paper writing follows the conventions of academic writing. More like a discussion or a scientific report, term papers require hours of research, writing term paper structures, first drafts, editing and proofreading, and then the final drafts. With mediocre writing skills and habits, getting to write an A+ term paper is more of history.
We must remind you that term papers are academic writing assignments that must be well-researched, written, and organized. Moreover, they take an analytical or critical approach to reflect the concepts and knowledge of a given course.
Term papers account for the bulk of your grade in a semester. Most people even consider them the most influential influencer of your GPA.
While most students find writing term papers interesting, some would rather get a custom term paper writing service to end their troubles and struggles.
When assigned to write a term paper, students never waste time. It is their custom to plan early and ask questions whenever stuck.
Important Tips When Writing Term Papers
To our amazement, even after pulling all-nighters, and researching you find students failing. Why? It could be that they handle a term paper like any other academic research work. No! A term paper is not a research paper and not every research paper is a term paper.
Given the difficulties, we have this term paper writing tips gem to help students hone their term paper writing skills. At the end of this paper, you will get to understand the average length of a term paper, its formatting styles and requirements, and many more details.
Now, did you know that with in-depth research, your term paper is halfway done? Well, when you decide to write a term paper by yourself, and even when you pay someone else to write your term paper, you need to understand the basics.
On the best length of a term paper, term papers are anything from 5 pages onwards. Most professors prefer a term paper length of 10 pages, 12 pages, 15 pages, or 5 pages.
Tips when Choosing a Great Term Paper Topic
Writing an excellent term paper begins by knowing the term paper topic. Researching a great term paper topic needs proper studying of the class notes, scrolling through scholarly sources, and perusing through previous topics. Depending on your course, you can select the best topic for your term paper.
All excellent academic papers begin with a captivating topic that is neither broad nor so short. Make sure your topic is amazing and aligns with the course objectives. Besides, the topic should interest you!
The right term paper topics from the onset is a gesture that you are on track. Good research topics make readers stick to your paper. Here are a few things to consider:
Choose a term paper topic that is current and captivating.
The topics should align with the course objectives.
Consider whether there are enough scholarly sources to support facts and ideas on the chosen term paper topic.
Examine the relevance of the topic
Consider the time relevance of the topic given the dynamic future.
Choose a topic that is within your academic scope.
Does the term paper topic reflect the course concepts, models, and theories?
We have different topic suggestions in different fields, including cybersecurity, Macbeth, ethics, and technology. Be sure to have a look to jumpstart your topic search and choice.
Look at these related articles:
1. Hottest and Latest Cybersecurity Research Topics
2. Criminal Justice Research Topics for Research Papers
3. Art Essay Topics for College -An All-time Relevant List
4. Psychology Research Paper Topics
5. International Business Paper Topics
7. How to write essay titles within paragraphs
How do you begin a Term Paper Proposal?
After choosing a topic, it is paramount to read and re-read the assignment prompt, instructions, or rubric. Clarify any point you feel confusing with your professor or instructor. Last-minute hurries have made students lose points on term papers.
So, like when writing a research paper, you must begin with a term paper introduction. As usual, your intro should bear a conspicuously written term paper thesis statement.
High-grade and quality term papers need planning and timely execution.
Ensure that your thesis entails the gist of the term paper. It should also be related to your compelling and creative title.
The introduction comes after your term paper cover page. Remember, cover pages differ depending on the formatting style. For instance, an APA term paper cover page is different from Harvard, Chicago, or MLA term paper cover pages.
So then, you have your draft intro ready and the cover page as well, what next? You probably need a term paper outline.
Creating a Term Paper Outline – It is more comfortable than they said!
When handling any academic paper, having an outline will water down the foreseeable technicalities and barriers. An outline of a paper precedes research and writing a term paper. It is like the roadmap of your term paper or a framework upon which you build the content of your research paper.
A simple online search will reveal term paper templates. However, it is only the template noted in your assignment rubric or instructions that can work well.
An essay has an introduction, body paragraphs, and a conclusion.
However, a term paper has a bit more!
Ensure that your structure is well-organized and researched. And when you thought of ditching your technical skills, you should drag them here.
As per a recent term paper rubric, here is what you should follow when writing an argument or a topic:
Cover Page – as this is your first page in the term paper, it is limited to the course, instructor, institution, and title contents.
Table of Contents – this is just a normal table of contents inserted automatically using MSWord and has a list of the titles and subtitles in your term paper.
Abstract – a term paper abstract summarizes the key points in the term paper. You should always write it last and should entail the aims, methodology, and conclusions.
Introduction – as we said earlier, the introduction should have a proper thesis statement. You should also bring out the reasons for choosing the topic and its relevance.
Body of your Term Paper – depending on the term paper length, this should be divided into paragraphs each of 130-150 words. Each paragraph should contain one idea. Your body usually serves as the literature review on past literature on the topic for your term paper.
Term paper Results section – here is where you state your findings based on the methods used in research. Reflect on how your views have changed from when you began writing.
Discussion part of the Term Paper – Here is where you connect the dots together. It should contain linking of facts, theories, and models with the findings. Here is where you reconcile your findings and make knowledge.
Conclusion of the term paper – you must have a concluding sentence from the onset. Then, make sure you summarize the term paper and restate the thesis well. Always write a good conclusion.
References/bibliography/works cited sections of term paper – All the sources used should be written here in APA, MLA, Harvard, or Chicago.
Here is a good Economics APA term paper example. Links lead to an external site.
How to Write a Term Paper Proposal – A mini Guideline for A+ Students
Before writing a term paper, your instructor might require that you write a term paper proposal. Now, this proposal bears the topic you chose. It also indicates your working title.
The proposal summarizes the term paper by condensing its description and is always written before writing the actual term paper. It is meant for the professor/instructor to okay the topic and format chosen.
Sometimes, without knowing how to write a term paper proposal, you might tweak it endlessly.
Here is how you write a term paper proposal:
The Title: We call this your working title, and it reflects the topic you will be researching and writing your term paper on. Let it be clear, memorable, and relevant.
Objectives or aims of writing your term paper: Explain to your professor the reason behind choosing to write a term paper on a given topic. It is here that you define the scope of your term paper. If you have a research question, this is the right place to put it.
Thesis statement: You will include the gist of the term paper in one or two sentences. Do not worry; you can always tweak this when writing the introduction to your term paper.
Methodology: In this part, you will be informing your professor or instructor about some methods you will be using to research and examine your topic. You can choose to use qualitative, quantitative, or mixed-method research. Remember to state the pros and cons of each research method.
Preliminary Outline: present the sections of your term paper and a brief explanation of why each part is important.
Now, after submitting your term paper proposal, your professor will either okay it or ask you to tweak the term paper topic. You can get examples of term paper proposals online. But understand that some professors will bypass the term paper proposal and head straight into writing a term paper.
The Correct Term Paper Format
We pride ourselves as a paper writing service with unmatched prowess. Therefore, we understand the various term paper writing formats. You will find a sea of information on what is the best term paper format out there.
However, we insist that term paper formats come with term paper instructions or rubrics.
Term papers are also of different lengths. Depending on your professor, your term paper writing should not be difficult. If they are busy, you are always directed to Writing Centers or Librarians for assistance.
Most of the term papers we have written are in Harvard, APA, and MLA formatting styles. Only on rare occasions have we received term paper writing requests on Chicago or Turabian formatting styles.
A term paper with works cited means it is MLA. If you are told to write a term paper with a bibliography or references section, it can be in APA, Harvard, or Chicago formats.
However, APA and MLA are the two standards of term paper writing. You can get an APA term format online the same case with MLA term paper format. Once you understand how to format a term paper, everything else falls into place.
Does Term Paper Writing Sound like Rocket Science to You? Get Help Here!
Our term paper help comes in to help solve questions such as:
"Who will write my term paper for money?"
"I will pay someone to write my term paper for me."
"Can I pay for term paper writing services?"
Our term paper writing service is legit, reliable, and dependable. We offer urgent term paper writing to students who want a last-minute research paper written for them. You can order a term paper online from us at any moment.
We have 24/7 availability online and can help you write winning papers. Revamp your GPA today by getting the best term paper helpers on your case. The beauty of our term paper assistance is that you get quality papers. We have a couple of guarantees and discounts in place for you.
For long and short-form term papers, we have the best term paper helpers for you. You can buy or pay for papers here, always!
You could be having side projects, industrial attachments, internships, and friends to catch up with. You can now do that as we do a custom term paper for you. Why wait and struggle last minute when your term paper helpers are here. Pay for term papers online today.