How to write a Master's Essay
Last Updated: 22 August 2021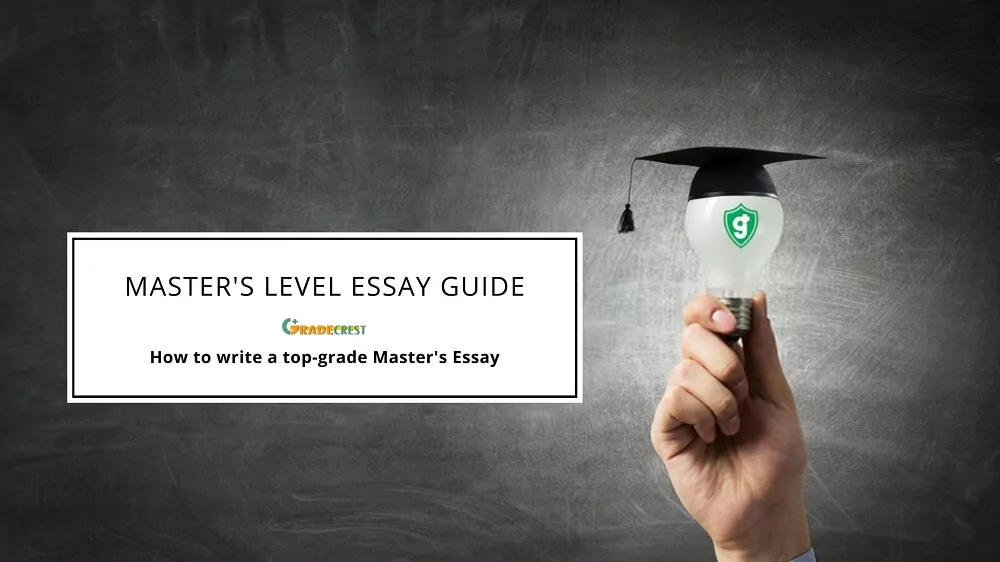 In view of writing a master's essay, if academic writing is strange to you or you have never done it before, the prospect of choosing a topic, researching on it, and writing an academic essay can be daunting.
While some imagine that they can take their undergraduate-level writing skills and turn them into a magic wand to ace master's level assignments, sometimes it doesn't just cut it. A master's level essay, for instance, requires a deeper level of independent reasoning, which is best achieved through the tips that we've tested, applied, and scored better grades ourselves.
Writing a master's level assignment follows a step-by-step approach that commences from understanding the assignment to submitting the assignment. Each step is very significant, so try and take some of your time to skim through.
However, if at this point all you want is master's essay writing help, you can trust our experienced essay writers. They are well-versed in research, writing, and polishing graduate-level assignments.
Undergraduate essay writing vs. Master's Essay Writing
This guide can be used as an academic essay writing bible for postgraduates. We have refined everything to help you draft, craft, and revise essays at that level when completing your Master's degree.
We intend to make you write outstanding master's level essays that meet the expectations of your professors. Remember, when writing your essays, you should draw intellectual findings from texts written by authority researchers in your field, primary data gathered and manipulated by yourself, and logical reasoning.
Besides that, you also need to ensure that your writing demonstrates a high level of mastery, dominance, and intellectual acuity. Here are some things your essay should portray to differentiate it from undergraduate level work:
1. Show mastery
At the graduate level, it is vital that your writing demonstrated mastery of your subject. For this reason, ensure that you have contextualized the topic and arguments as you meticulously reference scholarly academic sources. In addition, refer to theoretical propositions, paradigms, norms, and themes within your chosen discipline.
2. Let the scope of your paper be known off the bat
It is also helpful that you define and delineate the scope of your graduate paper early enough. While a thesis statement ideally does this, your introduction should conclusively point out your position given the topic or subject area.
A well-defined scope shows that you've mastered your academic writing and possess appropriate knowledge in the field – it announces your mastery. Therefore, you must contextualize a given idea when defining your scope.
3. Display independence of thought
Although you need to ensure that your graduate essay has a flow of ideas and demonstrates proficiency, you can only achieve that through the lucid description, evaluation, arguments, and analysis. Doing so shows that you can interpret, understand, critique, and present issues from a peculiar perspective.
As you put your fingers to the keys to write that piece, ensure that you challenge any assumptions and explain the rationale for your stance.
4. Use conceptual thinking and critical reasoning.
While the temptation of critiquing academic literature might creep in, avoid the temptation. Instead, ensure that your arguments are well-interpreted, devoid of bias, and show genuine conceptual engagement from the word go.
5. Have a compelling conclusion
When making claims – persuasive or argumentative, ensure that you draw plausible conclusions. There is no reason to write an entire essay, only to realize later that it is not balanced and ideas are stiff. Instead, by weighing evidence, you can analyze the arguments, develop and defend your position. Then, once you can read your master's level essay and convince yourself you have nailed it – your audience will be convinced too.
6. Maintain substantial originality/authenticity
As a rule of thumb, you are supposed to acknowledge your sources. Therefore, when writing a graduate and postgraduate essay, you need to display your field knowledge.
One way of doing so is through reading and reporting what is written. You can also achieve the same through evaluating and criticizing, where appropriate.
You can cite publications in your field through summarizing or direct quotations, which entails acknowledging the sources by providing in-text citations and references or bibliography at the end of your assignment.
Although citing and referencing is both arbitrary and complex, it makes you develop better arguments and avoid plagiarism. On the other hand, you do not want to present another person's work as your own because it is not helpful, you need to develop your conclusion based on research, and it is against the academic regulations.
In as far as master's level essay is concerned, avoid:
Changing some sentences off a text while maintaining vocabulary and structure of the original text
Paraphrasing ideas but mixing original content from a text
Using phrases or quotes of a text because they are sound
Using an argumentative organization of an author because it seems plausible
Direct copying of content from a source
Making small changes to a paragraph drawn from a source
Fixing phrases from a source and piecing them to make an argument
Any of the above revokes the authenticity and originality of your essay. Some of the verbs you can use when reporting the findings or ideas from authors include: claim, speculate, hold, opine, assume, assert, comment, contend, suggest, discuss, report, note, argue, state, show, demonstrate, refute, point out, and many other essay and assignment words and phrases as we have outlined elsewhere in our blog.
At the undergrad level, you scored top grades on essays due to evidence of genuine originality. On the other hand, at a master's level, you must routinely show originality. It is a means of showing academic perspicacity. Therefore, ensure that you present ideas as per the academic norms.
7. Display excellent research skills
Your academic paper must demonstrate that you researched well. When writing a master's essay, ensure that you support the arguments with recent research. Maintain using recent sources unless you need primary research conducted in the past for relevance. Sometimes trends do change, and referencing old studies could lead to inaccurate conclusions.
You can extend your scope of reading beyond the list provided by your lecturers. Find scholarly sources that support or refute your arguments and incorporate them as well.
8. Maintain all the academic standards
Academic writing has its conventions: always strive to achieve them. Use the appropriate tone, language, and referencing style. If a paper requires that you use Harvard, APA, MLA, and Chicago/Turabian format, stick to the tenets of each citation.
9. Observe the 3 Cs
When writing your essay, stick to the 3 Cs: clarity, conciseness, and consistency. Ensure that your main points in the essay are clear. Ensure that you use the concise presentation of ideas instead of using long run-on sentences that make no sense. Avoid fillers and keep your writing as simple as possible. If possible, you can use headings and subheadings but maintain academic conventions.
10. Immaculate organization and presentation
Although trivial, a disorganized and poorly presented essay can cost you your grades. Therefore, ensure that you demonstrate professionalism by maintaining a good flow from introduction to conclusion.
Balance ideas in your paragraphs by maintaining each idea per paragraph. Use transition words to knit together the various paragraphs and maintain flow. You can as well use signal words to make your essay academically sound.
11. Strong editing and proofreading skills
Finally, after all, is said and done, edited and proofread, the essay scores better grades than that which is hurriedly submitted. Check for all the punctuation mechanistic, grammatical, and spelling mistakes. Although basic, such errors can cost you big time. A linguistically sound master's essay will score the best grades; that's a given. You can use editors and proofreaders to polish your essay if you are not confident.
Step-by-step process of writing a master's level essay (assignment)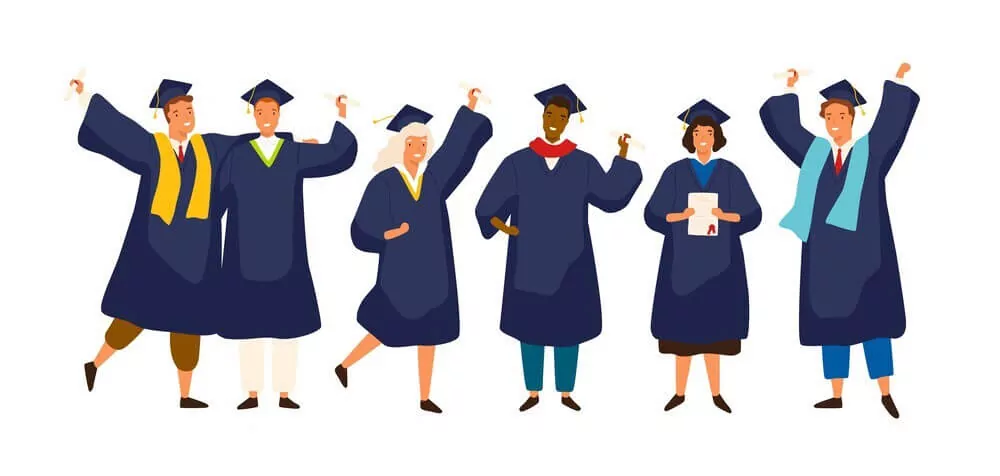 In a nutshell, while writing a graduate-level essay essentially follows the steps you took during your undergraduate, you need to go the extra mile to convince your professor to give you top grades. The process begins by reading the instructions, internalizing them, researching and drafting, and finally editing and submitting. Below is a detailed step-by-step process to write your Master's, MBA, or Ph.D. essay and get a good grade.
Step 1 – Understand the instructions.
It would help if you commenced writing the essay by understanding the instructions for the assignment. To do so, read the prompt, rubric, and any accompanying material from your instructor. The assignment description files have everything you will need. If something is not clear, you are always encouraged to ask your instructor early enough before the deadline. In most cases, the class announcements will have clarifications for various assignments. While reading the instructions, identify the verbs, key terms, and referencing instructions.
Step 2 – Create an outline or plan.
With the description decoded, you must take your time to get immersed into your paper. Of course, by now, you have settled for a topic or made a selection of the question that your essay or paper is going to handle.
Therefore, you need to decide what your main argument, the paper's focus, will be about. With this information, you then create a preliminary thesis statement. You need to ask yourself:
What are my main ideas in this paper?
How do these ideas support my main argument or the thesis statement?
Doing this helps contextualize research, determine the scope of your paper, and know what to put where in your essay.
Along with the thesis, plan on the type of hook you will integrate into the introduction to enthuse your audience to want to read your essay.
It would help if you then created an outline for your essay, noting down the main points that fall in your essay's introduction, body, and conclusion. Note that, as you become skilled in academic writing, you might often get the temptation of ignoring the planning aspect and going straight to looking for resources for your paper. When such happens, overcome it and do the step.
Step 3 – Come up with a thesis statement.
When creating the preliminary essay or research paper plan, you already have a preliminary thesis statement. Therefore, you only need to polish it to define the scope and direction of your paper strongly.
Remember, a strong thesis statement gives your readers and yourself clear scope of what you are discussing in the paper. For instance, if you are writing about why a certain municipality should eliminate feral cats from the arboretum, you need to identify the ethical method to be used and justifiable reasons for the method.
To write a great thesis statement, think about how you would describe the paper to a layperson or total stranger in one or two sentences. If you have a hard time doing so, you probably need to revisit and refine the thesis.
Step 4 – Research your topic.
As you advance through writing your essay, you need to determine the type of essay that you'll be writing. For example, is it expository, argumentative, persuasive, analytical, narrative, compare and contrast, or descriptive?
Understanding the type of paper you are writing further helps you know the resources to use when supporting or refuting your stance/arguments. Some papers require gathering and analyzing primary data; make sure you have factored in that one too.
You can then look for books, journal articles, policy briefs, statistical data, newspapers, blogs, legislation, white papers, conference proceedings, periodicals, government documents, and organizational publications. Understand what is scholarly and non-scholarly when searching for sources to use. Also, understand whether a source is primary, secondary, or tertiary and determine its suitability for your paper.
You can begin your search in Google, then proceed to Google Scholar, institutional database, and specialized databases, in that order. This enables you to understand your research, add to your outline to refine it further, and develop better arguments.
Step 5 – Refine your outline.
Now that you've gathered the correct data and organized the references using either Word Document or online referencing tools like Citation Machine, BibMe, Citefast, or citethisforme, you need to finalize your outline.
You will be adding flesh to it using the new information from your thinking and research. As you fill in the outline, ensure consistency and sound logic, and flow in your plan from sentence to paragraph level.
Remember, academic paragraphing demands that you discuss only one idea per paragraph. You should also have topic sentences, conclusion sentences, and supporting facts. You also have to use transitions.
Step 6 – Revisit the research.
You then need to double-check your research resources to determine if they still support the thesis. For example, if you rephrased and changed the thesis statement, you need to do further research. As you do this, ensure that your paper is flowing well. Do not mix ideas in the name of filling the pages; this might affect your grades.
Step 7 – Write the first draft.
With the refined outline, you can start writing the first draft of your essay. But, first, ensure that you have all the information needed to organize the flow of your paper.
As you write the paper at this point, do not perfect it so much for later. A draft is supposed to be what its name is, a piece that will be refined later.
Most of your time will be spent drafting the paper. Be wary of writers' block because it is at this point that it creeps into you uninvited.
Step 8 – Be wary of writer's block (plan well).
Now, everybody suffers writers' block when they are working on a paper. How each person handles theirs is what differs. However, when you realize that writer's block has affected you:
Take a break from writing. You can do other things like walking, riding a bike, taking a nap, or swimming to relieve the thought and pressure of a paper.
Manage your time well so that you do not stress over a last-minute essay.
Check whether you have sufficient information or too much information and come up with a strategy.
Seek help from a trustworthy writing website – one where you and the writer work hand-in-hand.
Listen to music
Brainstorm on how to improve your writing
Spend time with people who bring the best out of you
Brew some coffee
Ask help from your writing center; they can help you get relevant material
The goal is to stay focused. Any way you can achieve these counts at the end of the day.
Step 9 – Revise the draft.
With the preliminary draft in place, you need to revise and edit it to make it a final draft. Here, you should check:
Flow of ideas
Structure
Logic and arguments
Flow
Relevance
Content
This means that you will be mostly rewriting, rewording, paraphrasing, and adding as well as deleting sections. As you revise, ask yourself:
Is the essay answering the questions in the prompt?
Do I meet the higher band in the essay rubric?
Does the paper require a major revision such as deleting, moving, reworking, or paraphrasing a section?
Does the content support the thesis statement?
Is there a logical flow in the paper?
Is the paper grammatically sound?
Are the paragraphs logical?
Does each paragraph maintain only one idea?
Is the work well-cited?
Are all the direct quotes balanced and cited?
Step 10 – Edit your Draft
You need to edit the paper for a top grade. Otherwise, all the effort will be in vain. Here are some things to do when editing your master's essay:
Highlight the thesis statement. It is either the last sentence or the last two sentences.
Check whether the topic sentences of each paragraph support, expand, or explain the thesis statement.
Review the assignment instructions and determine whether your written piece meets the requirements.
Sparingly use direct quotations. For example, for a 1000-words essay, you can use one or two direct quotes. However, use parenthetical citations as they show your level of analysis and critical thinking.
Ensure that the in-text citations are consistent with your chosen formatting style.
Ensure that the cover page follows the chosen format.
Make use of spell-checker and grammar checkers to refine the arguments and maintain flow.
Reword all the sentences that begin with there is; there are, this is, it is, they are… etc. Reword these sentences to make them begin with a stronger subject. For example, "There are five critical factors to consider" can be better stated as "Five important factors require consideration." The second sentence is stronger because it has a specific subject and verb. Some sentences cannot be reworded, so leave those as they are.
Edit random paragraphs in the paper to focus on what is actually on the page versus what you think is there.
Read each paragraph aloud. You will be surprised how many minor errors you can catch with this method of self-editing. For example, errors like mistyping "form" instead of "from" or "hen" instead of "then" are easier to find when you read out loud.
When editing the paper, focus on the thesis, purpose, audience, organization and flow, ideas (examples, citations, and evidence), sentence structuring, punctuation, word choice, spelling, and grammar.
Step 11 – Prepare the Final Draft
Now that everything is in its rightful place, you need to do the last ritual before submitting the paper.
Create a relevant cover page for your essay
Compare the final essay against your outline or essay plan
Check if the changes you made still make the paper relevant to the instructions
Fix all the minor errors
Read the paper loud
Allow someone to revise, edit, and proofread your paper. Gradecrest has the best editing and proofreading services.
Ensure that the paper reflects your understanding and knowledge of the subject matter
Step 12 – Submit the Right Assignment
Countercheck your assignment to ensure that the instructions are followed. Also, check that every detail is covered as per the rubric. For example, your personal information should be on the first page, as per your recommended cover page and format.
If everything is okay, click on the submit button. Most institutions have integrated plagiarism checkers to check every submission. If you wrote your essay from scratch or had help from an expert, you need not worry about plagiarism. Otherwise, avoid pre-written essays as they are full of plagiarism.
There you go, sit back, relax, and wait for that good grade.
Parting Shot
Writing a master's essay is not a walk in the park. At first, it might seem like a distant idea, but soon as you master the steps above, you can even write an 8-page essay in a day. It is possible; our expert essay writers do this when you pay them to write your essays.
Now, we hope that these insights will enable you to perfect your essay writing skills. You can as well check our general essay writing guide for details we probably missed in this guide.
Otherwise, if you have any questions or need help, do not hesitate to reach out to us.