Strong reasons not to buy pre-written essays and academic papers
Last Updated: 16 March 2023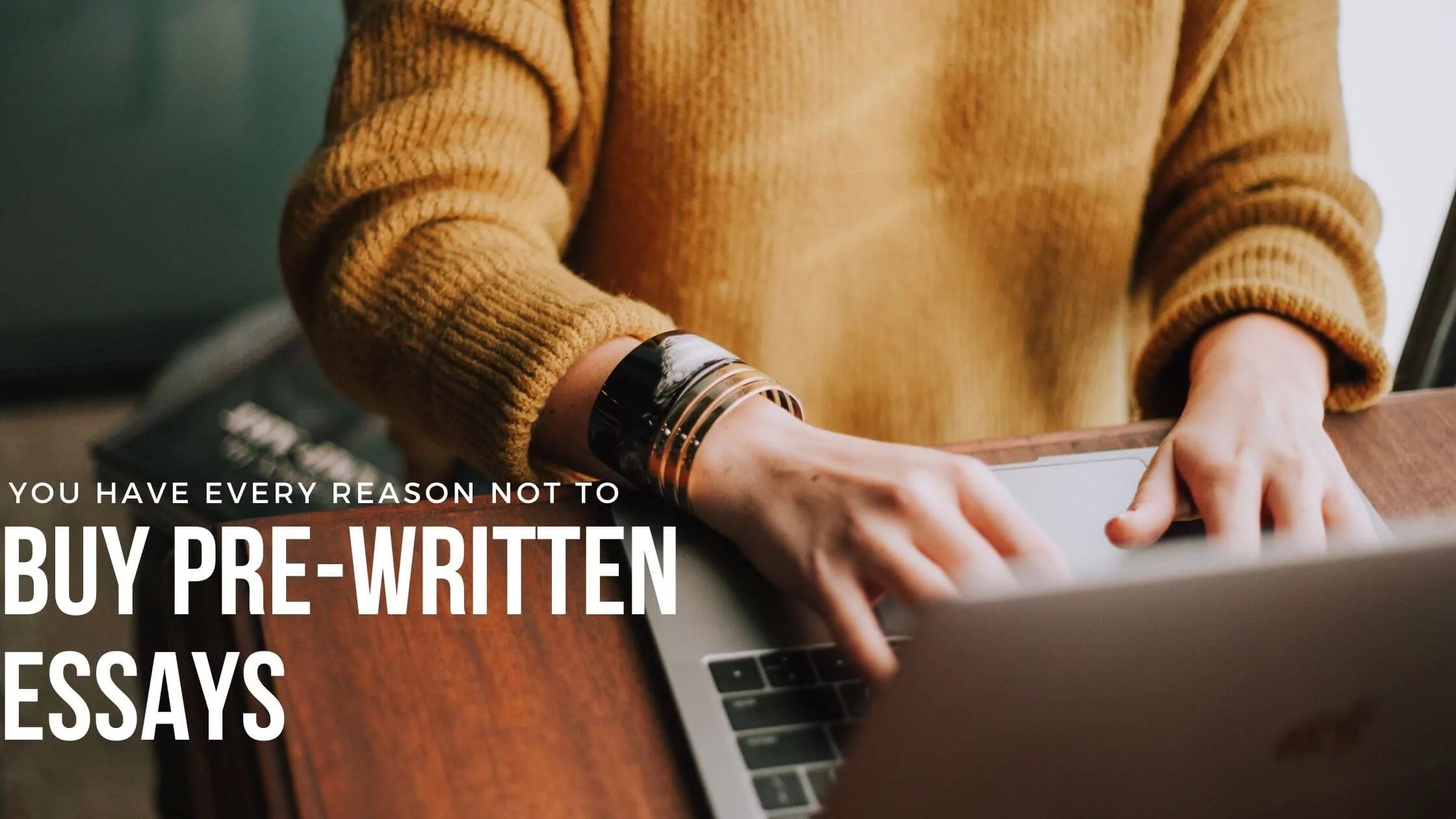 Most students who buy pre-written essays online are those who are probably rushing their essays. Imagine having a deadline in 3 hours and an entire 4-page essay to write. Anyone would shiver when that?s a reality. Looking for pre-written essays should, however, be your least of options. We cover reasons for this and instead recommend our last-minute essay writers whom you can hire to get your rush essay written within hours.
Instead of reading the first part or preview and paying for something you are unsure about, you can always buy custom-written essays developed from scratch.
Our stand as we explore the concept of free essays and pre-written essays is that: free essays and pre-written essays never hold the writer into account. Also, the chances are that the paper was custom-written to suit other instructions, making such papers obsolete. Re-using an already submitted paper is by itself self-plagiarism when you do it to your old papers and still plagiarism when you do the same using an already submitted paper to another university.
As a trusted online writing website, we never resell papers. Once you purchase an essay that is written from scratch, it is only you that will use the essay. You further get to enjoy the full rights of ownership.
Pre-written essays vs. Custom Essays
A thin line defines hiring an essay writer to write your essay from scratch and purchasing a pre-written essay online. Whichever the case, we have to understand the meaning of each lest we draw meaningless conclusions.
A custom-written paper is tailored to a given set of instructions provided to the custom writer. On the other hand, a pre-written essay is a finished product, probably a custom-written paper, that was either sold to a customer or written to be sold to customers. While pre-written essays can be sold to countless clients, custom-written papers are sold to one customer. This only means that using a custom-written essay as a model paper is likely to yield grades and save you the consequences of plagiarism or being caught cheating through online writing services compared to pre-written essays.
When writing custom essays, companies assign writers who are accountable for the quality of such papers. On the other hand, pre-written essays do not hold the writers to account. The papers, once written, are sold to as many clients as there can be.
A client also participates in writing a custom paper compared to a pre-written paper. Notably, when you hire someone to write your essay, you will ask for drafts, agree on the topic, ask for revisions, and ensure that the paper meets your desired quality. On the contrary, when buying a pre-written essay, you will only preview the paper and access the rest of it once you pay
Finally, pre-written essays are against the policies of institutions and writing companies like GradeCrest. We condemn the use of papers for credit. They must only serve as a guide, which means using them for reference and research purposes. When used well, custom-written papers are a great way to hone your academic writing skills.
While custom writing services are slightly expensive than buying already written essays online, they are practical in limiting exposure to the risks we will discuss shortly. Your paper is written from scratch, and you getting involved sounds better than spending cash on written essays that would not meet your specific requirements.
Pre-Written Essays for Sale: What are some risks involved?
Many people have their various forte areas. Some are great in sports; others do write well, while others are outdoor junkies. However, most students find it tough to write an essay, or they hate it.
This is purely natural because some people are not good at researching and writing excellent papers, albeit being in class. To compensate, some resort to buying pre-written essays, which they believe boosts their grades and solves their woes. Furthermore, some believe that buying these essays can guide their writing process.
Amidst this entire process, students often question whether they go with buying an essay they supervise as it is written from scratch or buying one written before for reference.
Buying ready-made essays and academic papers is only disastrous as it can be. Here are some risks of buying pre-written essays from any website, including the trusted websites.
They could have been stolen
Being in the industry for many years has made us witness essay theft online. There are rogue website admins, freelance writers, and students who steal written assignments and either sell them for money or get access to prewritten essays and research papers.
Some websites promise to give you already written research papers for free, but is there always a catch? Yes, we have seen websites that require you to submit your written essays, term papers, or research papers to access or unblur the final copy in any format fully. Nevertheless, unfortunately, this only means that there is nothing like free pre-written essays in the industry.
If you do your paper on a school computer and leave it undeleted or protected, the chances are that someone might access it and either uses it as currency to access papers or sell it for money. Another instance when a paper is stolen is when you hire a rogue writer from, say- Twitter. Of course, these writers always re-sell the papers to the websites that sell pre-written essays.
Whichever the case, using a paper already pre-written could only mean that you are using a paper stolen from someone else.
Some are sold without consent from original owners
Even though there are students who sell their previous assignments, no sane person would do so. Many papers are those that clients paid for but are being sold against their consent.
Having a database of essays already written for clients is by itself unethical. At Gradecrest, we promise to keep your paper safe for as long as our database is online and dispose of it when we feel necessary. If clients want free pre-written essays from our website, we usually ask them to place their order and get 100% custom essays written at a cheaper price.
No Revisions, No Customization!
When you buy pre-written essays online, you cannot request the website to find an excellent writer to customize the paper to your liking or instructions. This only means that you cannot request a revision or ask the original writer to make some changes to your paper.
The websites that sell recycled essays have a simple rule that what you see or buy is what you get; nothing more, nothing less. Therefore, the writer or author of the paper is not obligated to edit your bought essay even when it has glaring issues like grammatical, syntax, and presentational errors.
No money-back guarantee
When you go down the road of buying pre-written essays, the companies that sell them will never assure you of getting your money back if you realize that the paper does not meet your requirements. This means that if the purchase did not work for you, you cannot get any refund. In this case, you end up losing time, money and still order a custom-written essay at another cost or rush to write your essay. Sometimes, the effort of paraphrasing such an essay is futile because nothing matches your current rubric.
In most cases, you get a short preview of the paper that does not guarantee the overall quality of the paper. If your writer was crafty, you only realize later that you paid for a paper that has significant issues or mismatches. It could be illogical to the current rubric from class or might have structuring errors that make them unusable.
All in all, recycling essays by getting pre-written essays online either free or for some money might affect you. You can solve this by trusting a safe and legal writing service whose custom writer can be held to account.
You might get caught because everyone is buying
Funny enough, your professor or instructor knows that websites that sell ready-made essays and research papers exist. SafeAssign, Turnitin, and other plagiarism detection software are tuned to compare papers submitted to various universities. This way, when you purchase a pre-written academic assignment and submit it for grading, chances are you will be flagged for plagiarism.
The professor might catch you in other cases because everyone else bought the same copy and paraphrased it. However, when ten people are reading from the same source, there is never too much deviation, making it easy to conclude that you used a pre-written essay.
In the case of custom-written assignments, even if you order ten people from the same website, the fact that ten different writers will be working on your paper makes it hard to conclude that they are from the same source. The same way you are not telling your friends you used a pre-written academic essay bought online is the same way they conceal such information from you.
No one regulates the essays or paper market. Therefore, to avoid being judged as a cheat, if you cannot write an essay by yourself, you would rather hire a professional essay writing website that assigns custom essay writers to write your essays from scratch.
Spun Content ? not worth the dime!
Hiring an unreliable writing service can be disastrous to yourself and your academic future. Getting a suspension is never a bitter pill anyone can comfortably swallow. Such writing services unscrupulously spin content from papers already sold to other customers and offer you a pre-written essay.
The truth is that the pre-written essays are written based on instructions from other customers because no website can conclusively write essays for all the essay prompts from universities, even those that give pre-written essays for free. If such papers are re-written for you, again by novice writers, the chances are that your grades are at risk.
With such a higher risk margin, paying for an essay written from scratch can save your grades and future. On the other hand, selling a paper after submitting it is useless because the institution can soon catch up with the seller if they have graduated and nullify their degree or diploma certification. Those selling papers are only after quick money. So, unless you are buying them with the risks in mind, you?d rather either write one alone or hire a paper writer from a credible custom writing website.
The papers are plagiarized
As indicated before, pre-written essays are always papers written for other clients who consent that they are sold or not consent at all. Some students seek academic writing services to get model papers to refer to as they research and write their papers. However, some submit such papers for grading, which is plagiarism.
Now, why buy a paper submitted to another university? Is it not plagiarism because someone already submitted the paper? You pay for a preview then access the entire paper, which means that you cannot check for plagiarism or request for plagiarism report as you would if the paper was written from scratch.
No website writes a pre-written essay exclusively for sale- they are papers from other clients. So you will be getting a paper written to whoever has the dime to spare for it, which might be an unknown number of people. Even if you use it as a model paper, you cannot paraphrase the standard parts or use the cited resources as your own; however, befitting they are.
Again, once you have paid for the pre-written paper, there is hardly anything much you can do to complain. Furthermore, even if you get your money back, would they wipe out the sanctions and consequences of plagiarism? No.
You have 1000 reasons to work with a writer, supervise the writing process, get involved and understand your essay, and ask questions for clarity when your paper is written from scratch than when bought. Again, we insist that you get someone to write your essays from scratch and not use recycled paper.
Parting Shot!
You do not need to buy pre-written essays online. All you need is a reliable essay writing service. We have served thousands of students this far. Never at any time have we sold pre-written essays to any. If anything, we have a stringent policy and thresholds on quality. Our writers are well-trained and qualified to write papers at high school, college, university, and graduate levels.
We can offer you discounts of as much as 15-20% for any paper you order, which is better than buying pre-written essays or papers online. Our essays are written from scratch, and not a chance they will have plagiarism. The fact that you get involved in writing such papers means that you get papers that have your input.
Do not buy pre-written essays, however good they may look. They are not original and not worthy of being guides or revision materials, as would essays written from scratch. Instead, hire a custom writing service with professional writers because it is legit, safe, thoughtful, and worth your time.
Check out the various academic writing services we offer.