Tips for writing an Excellent Current Events Essay or Research Paper
Last Updated: 16 February 2023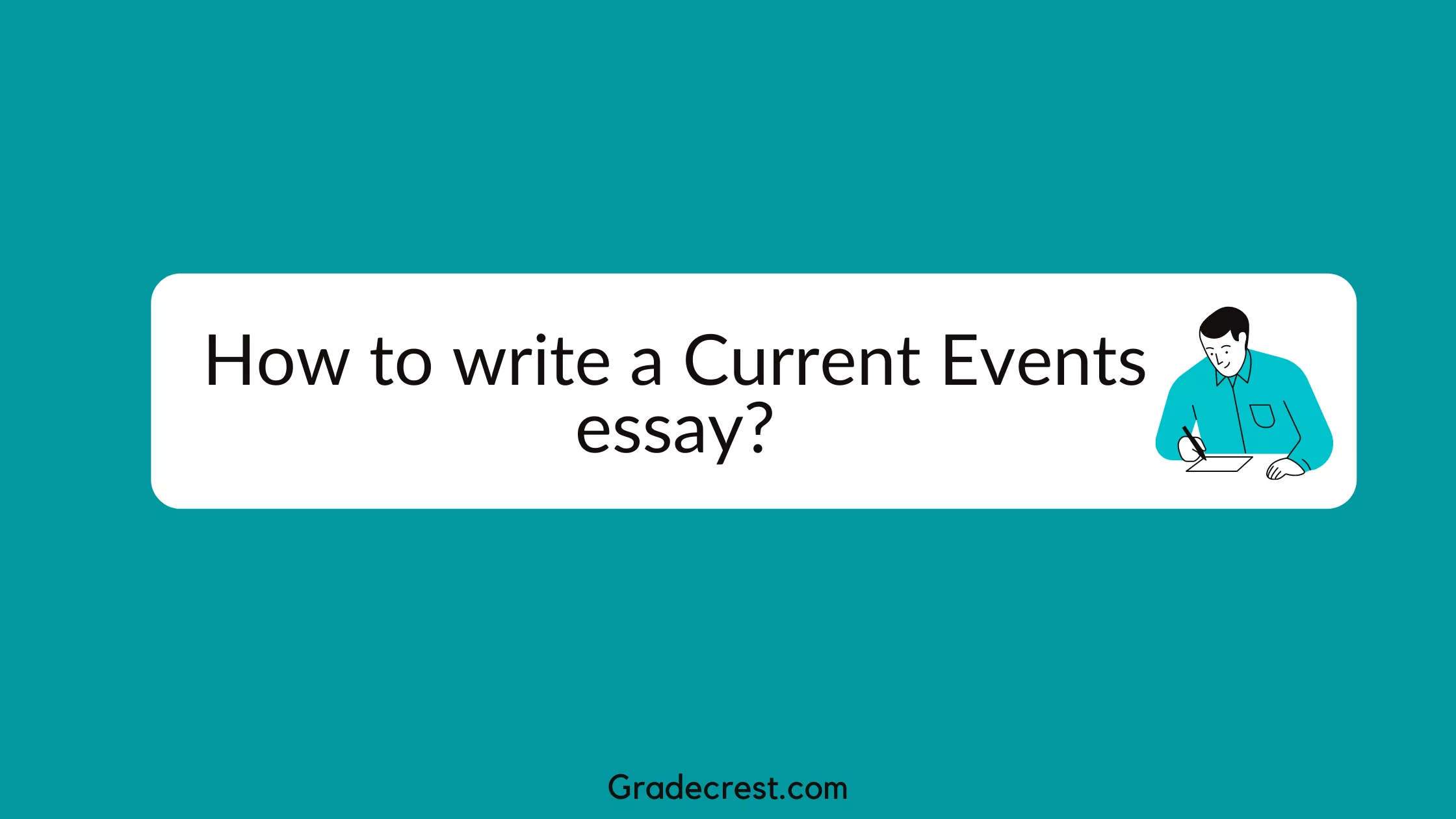 Let's face it, writing a current events essay can be challenging if you are not adequately prepared. It is a laborious process, especially if you are to select a current event issue, formulate a topic, plan, write, and polish your essay within a tight deadline.
The bitter truth is that no professor will teach you how to write one. Well, at least not as deep as our detailed guide here will do in the next less than a quarter an hour of your time. Yet it is an assignment assigned at grades 6-8, high school, college, university, and sometimes even at Ph.D. levels.
In most cases, your role is to present points or concrete arguments about the event in question. In essence, you need to plan, research, and engage your best writing, critical thinking, and creativity skills. Good analysis, organization, and presentation are necessary more like when writing a synthesis essay or expository essay.
With all that in mind, let's find the way out. You can read this article and scoop some ideas on the elements that make a good current events paper, even if you are writing it for the first time.
What is a current events essay?
A current events essay describes a recent issue, situation, phenomenon, or happening that is interesting, drawing the attention of many people, shocking, or fascinating. In some cases, current event essays describe an event that is yet to happen. It helps relate what you have learned in class to the real-world situations that occur around you. Most current event essays are five-paragraph essays.
In a current events essay, you are to address the historical context, current state, and the potential short- and long-term effects of a given aspect of a current issue or phenomenon that has a global impact. In most cases, the topics will relate to concepts from the law, politics, international relations, technology, science, sociology, medicine and health, and other controversial societal issues. You will take a current event or issue and present it in its context.
It is a common assignment for students taking English writing classes, which is meant to assess writing, editing, and research skills. It also informs students about important occurrences across the world.
When writing one, you are to reflect on and form opinions about social justice and also learn how to spot publication bias. And as you write it, you get to hone your reading comprehension, summary, creativity, and critical thinking skills.
As well, writing an essay on current events helps you to develop your argumentative and persuasive skills.
Now that we know what a current events essay or the paper is let's explore the various steps you should take to write one successfully.
Steps to Write a Current Events Essay
Before everything else, let us show you the steps you need to follow when writing a current events essay. Although there is no one single proven way to approach such an essay better, these steps can help you avoid writer's block and write a current events essay that becomes your teacher's favorite. To write a current events essay, follow these steps:
1. Select a topic you find interesting
Although some professors or educators provide specific instructions about what topic to choose or write about, others leave it up to you (the student) to choose one. When allowed the flexibility of selecting a current events essay topic, you need to be very careful.
Check whether the instructions have specific time constraints on the topic you are to select. For instance, the instructions could stress that you focus on current events within the last year, one month, or five years.
You must also check whether your topic relates to a specific area, field, or industry. For example, understand whether it relates to education, banking, investments, technology, sports, business, religion, discrimination, gender, or politics.
Finally, check whether you need to choose a topic with some analytical aspects. This step should help you choose a topic that will not end up with a descriptive tone.
To choose a fit essay topic, you can focus on your notes, ask for insights from classmates and peers, or consult with your teacher. And as you select a topic, remember to choose one that is interesting, easy to find information about, and one you can write a complete 5-10 page essay on.
Suppose you are unsure and cannot get enough help from your teacher. In that case, you can engage an essay writing service for topic selection and further guidance.
Related Reading:
2. Choose a reputable news source and select an article
Some of the good places to find topics and articles for a current events essay include New ELA, NY Times, National News, Local news websites, Sports News, The Atlantic, BBC News, Daily Mail, The Economist, The Guardian, Investopedia, Forbes, TIME Magazine, The Harvard Business Review, National Public Radio (NPR), CNN News, USA Today, The Wall Street Journal, The Washington Post, and other credible news outlets.
The source you select should be reliable, reputable, and credible. It should write well-researched, verified, and trustworthy news. After finding the source, research a fresh article as you write about a current event. Besides, choose an article on the correct topic and ensure it has the right information for your current events paper.
If you are writing a current events paper for a politics class, use the section of the major newspapers that deals with political matters. In the same way, if you are writing on science topics, target the science and technology section of the newspaper for appropriate articles.
Consider choosing from scholarly sources such as empirical journal articles, scholarly books, government documents, or peer-reviewed articles.
3. Read the selected article and take notes
After you have selected the article, read through it severally. In the first few instances, skim through the article to have a rough idea of its contents, then subsequently read as you take notes.
When reading, highlight the critical points within the article. If you are unsure of some vocabulary in the article, use a dictionary and note the contextual meaning of the words.
You should then use the highlighted notes to identify the 5 Ws: who, what, where, when, why, and how. Answer briefly the questions below:
What happened?
Where did it happen?
When did it happen?
Who was involved?
Why did it happen?
How did it happen?
Determining these aspects helps you develop an angle of analysis, develop lead sentences, craft a strong thesis statement, and develop claims and arguments necessary for your current events paper. You can also document your thoughts about the article and its content.
4. Develop a thesis statement and hook for your essay
With the notes, you can develop a thesis statement and choose a good hook for your essay. A current events essay needs to be captivating, which means supporting the main arguments with credible evidence. Therefore, develop a strong thesis that each body paragraph will support using evidence.
If you are writing a current events essay on human trafficking during COVID-19, you can use the hook and thesis below:
Hook: In a study by the United Nations Office on Drugs and Crime (UNDOC), it emerged that the COVID-19 pandemic had had a devastating impact on the victims and survivors of human trafficking, with an increased targeting and exploitation of children and women.
Thesis Statement: It is time for world leaders, investigative agencies, and law enforcement agencies to come together and develop a platform that would curb human trafficking, especially during challenging times such as pandemics and natural disasters.
5. Select the sources you are going to use to support the thesis
Research is the most critical yet intimidating part of writing any paper. However, to set yourself up in the right direction, consider doing this:
Understand the number of sources you are to use to determine the scope of your research
Choose credible sources. This primarily depends on the instructions. Some professors and teachers will allow you to use media and business articles. At the same time, some will only accept essays written with scholarly sources.
Know the scope of your research or paper before commencing research. Try to write down the main points that you will use to support the thesis then research.
These are blueprints for your research as you seek to expound on the 5Ws and H of your current events essay paper.
The sources should help you fortify your position. Find and quote from experts, public figures, and scholars in the field.
When researching, look for relevant passages. Then, skim and read the documents with the 5Ws and H in your mind. If a section has ideas, consider them and highlight the significant points. You can also use the organizing tools to organize ideas from the sources.
6. Create an outline
A current events essay follows the five-paragraph essay format:
Introduction
Body paragraphs
Conclusion
The body section is where the rubber meets the road as you provide evidence to support the thesis. For example, you can use subheadings in the body corresponding to the 5Ws and H.
Below is a breakdown of what should go where:
Introduction
What is the event?
What happened or is yet to happen?
Where did it happen?
Who was involved?
Why did it happen?
What are the consequences?
Which media has covered the event, and when did it do so?
The answers to these questions should be brief. Your current events essay introduction aims to give the reader insight into the event. Brevity helps you to sound reliable, knowledgeable, and engaging. The introduction should not exceed five to six sentences in most cases unless it is a very long essay.
Body Paragraph 1
Give a history of the event
What factors led to the event, and who was involved
Body Paragraph 2
Explain the two sides people can take regarding the event (one side agrees, the other disagrees)- give adequate reasons.
Body Paragraph 3
Explain the significance of the event
As yourself, "who will the event impact?"
What will happen?
What roles do the people involve play?
What can be done to change things, and by who?
Conclusion
Summarize the crucial details of your essay
Discuss the possibility of bias in the article
Reflect on how bias informs you of the way the article was created
Tell your readers why the event is significant enough to cover in an essay.
Works Cited Page
7. Write the first draft
It is now time to make the outline count with the outline completely. Then, you can start organizing your research and developing ideas in your essay. We advise that you begin by writing the body paragraphs, then the introduction, finally winds up with the conclusion. We are of the opinion that writing the introduction last ensures that it is excellent, composed, and consistent.
Regardless of the process, even if you begin writing chronologically (from introduction to conclusion), only focus on writing and not perfection when developing the first draft.
Select from the important passages you read evidence that support your thesis. Paraphrase, quote, and summarize from the sources, then provide an appropriate citation. Write the respective headings, subheadings, and paragraphs and use transitions to maintain a good flow.
Your first draft should be rough, which means writing and not editing. Then, when writing the conclusion, it should be a recap of your essay. It should have a rephrased thesis and some important points of your research.
To avoid writer's block, ensure you systematically complete the paper when you have the will and zeal to write. Do not wait until later. Instead, plan your essay and complete it in phases before the deadline.
8. Proofread and edit the essay
With everything completed, it is time to refine the first draft and turn it into a final draft. First, edit your essay for the flow of ideas and sentence structure. Check whether there are ambiguous sentences, run-on sentences, or sentences that don't make sense and are correct. If essay phrases have been misplaced, ensure that you replace them with the best ones.
Proceed to proofread your essay for spelling and grammar errors. To conclude the polishing process, countercheck the sources cited in your essay. Check if the citations are done per the preferred format and that sources used in the in-text citations appear in your list of references in the right format.
If possible, have another person read your essay. Trust our online proofreaders to read your essay, highlight mistakes, and make necessary corrections. You will get a smart paper that explains the significance of these changes. Your essay sells ideas to your professor or markers and anticipates the best Grade.
Tips when writing a current events paper
Use the following tips to perfect your current events essay.
1. Always read, understand, and analyze the essay question or the essay prompt
Check the limiting terms that define the scope of the topic, the content terms specific to the task, and the directive terms that define what your essay will be about. Directive terms include discussing, evaluating, comparing, illustrating, or exploring.
2. Define your arguments as you plan to write the essay
Ensure you have claim statements, thesis statements, and good hooks related to the main topic. Make an informed opinion, position, or point of view on the topic.
3. Use evidence, reasoning, and scholarship.
Evidence should offer data and facts to support your claim. It could be statistics, examples, quotations, and facts. Reasoning helps connect the evidence to your main argument. You will have to use reason when evaluating the evidence to show how it fits in the context of your paper. The scholarship aspect helps show how your arguments relate to what you have cited.
4. Ensure that your essay has an excellent organization
Use good essay hooks and thesis statements, and write befitting background information in your introduction. Next, organize the body paragraphs using different paragraphing techniques for a good flow. Finally, let your conclusion leave the readers yearning for more from you. It should show how the topic fits a broader context of your discipline, the significance of your findings, and factors you have covered that might interest your readers.
5. Have an essay plan
An essay plan will help you avoid writer's block. It will also help break down the writing process's parts, making it easier to concentrate, focus, and achieve more.
6. Have an essay checklist to help you refine and polish the paper
Develop the checklist from the rubric or marking scheme if one is provided. If not provided, consider some factors for a successful essay and mark your paper against the checklist.
7. Cite sources and evidence in your essay
Check whether each of the in-text citations is done as per the requirements. Equally, ensure that your list of references is up-to-date and formatted correctly in MLA, APA, Chicago, or Harvard formats.
8. Do not plagiarize
Ensure that every piece of information you use is well-cited. Acknowledge others for their credible information as you use their evidence, findings, and data to write your essay. This also means referring to verified sources such as authoritative newspapers, government journals, company data, images, and scholarly articles.
9. Be impartial
When writing, describe an event objectively without taking a subjective position. Look at the causes, factors, and other background details of the event that are not accessible. Choose not to guess or misrepresent ideas. Instead, analyze the chosen issue or event critically. And if you are writing about an event yet to occur, write what is expected based on evidence. Make good predictions and offer rationale or justifications to support your arguments. Your current event essay must be objective, convincing, informative, and educative.
These current essay tips can be the only determinant for getting the best Grade off your current events essay. Perfect and polish your writing, reading and comprehension, analytical, and organization skills because that is what is being tested. Avoid using complicated vocabulary. Instead, focus on the simplicity required in scholarly writing.
Current Event Topics
We have brainstormed, researched, and developed various current event essay topics you can choose and write about. Alternatively, these topics can be a great starting point for you to brainstorm and develop an appropriate topic.
How Twitter is a significant political tool
The USA uses drone strikes to attack terrorists; how accurate is the move?
Causes of the high cost of healthcare in the USA
Shortage of nurses and healthcare workers in the USA
Wildfires in Australia
Is the WHO trustworthy?
Is Big Pharma taking us around with COVID-19 vaccines?
Controversies about green energy
Ballooning student loans in the USA
Is social media to blame for rising teenage suicides?
Is TikTok better than Google?
Trump's presidency and international relations
Afghan women's rights under Taliban 2.0
The Black Lives Matter Movement in America
How COVID-19 changed the global politics
Are mandatory vaccination laws legal?
Should the USA reduce its strictness to illegal immigrants considering its built on the same workforce?
Should children above 15 years be allowed to vote?
Should the government be representative?
Should developed nations stop funding corrupt developing countries?
Should rich people be exposed?
Do rich people control the world
Are wars a tool to thwart developing nations?
The war in Syria is a creation of selfish leaders
Why America and Russia are not on good terms
Should North Korea stop nuclear weapons manufacturing?
Relationship between North Korea and the USA
The impacts of COVID-19 on the Tokyo Olympic
Eliud Kipchoge's 1:59 marathon Record
Should NFTs be banned?
Is Blockchain the next big thing for the world?
Nations should negotiate with North Korea
Causes of global hunger and poverty
Is NATO an effective organization
Did COVID-19 change the global healthcare system?
Is it possible that we are headed for a third world war?
Is China an observer of human rights?
Is China the new world's superpower?
China is the world's kitchen, a chief polluter
Is the Indian Judicial system better?
Foreign aid has hurt Africa for ages
African leaders are mainly corrupt, and dictators
Should Africa be recolonized
Is China using loans and foreign aid to recolonize Africa?
Is cycling better than football?
Covid-19 and the Olympic games
How covid-19 has affected sports
Should euthanasia be legalized
The endless destruction of Amazon and what governments are doing
Sex work should be legalized
Women's rights in Afghanistan
Mental healthcare for the LGBTQ people
How COVID-19 Exposed the Flaws of America's Private Health Insurance System
Why should Korea not forgive Japan for its past war crimes?
Did History Repeat Itself in Afghanistan?
The Afghanistan-Taliban scandal
Is Dubai a hub for international organized financial crimes?
Social isolation of prisoners during covid-19?
Was the media skewed in telling lies during the pandemic?
The no-mask mandate in England
Why is it time to lift COVID-19 restrictions?
Mandatory vaccinations and global travel
Was the alarm around COVID-19 necessary?
Housing shortage in China
Gender reveal parties are a waste of time
Is democracy doing any good?
Social distancing distanced people all over the world
Vaccine equality
Science and lies during the covid-19
Politics behind climate change
Fascism in the contemporary society
Can Trump make it back in 2024?
Covid-19 and property pricing in New York
Media censorship and oppression
The media only sings the tunes of the rich
Effects of covid-19 on financial stabilities of families
Being a Muslim in China
Are electronics the ultimate weapons?
Are the media houses making us more divisive through the news?
The third hand in Myanmar chaos
Africa and its ballooning foreign debts
Why do African countries store their money abroad?
Immigration and covid-19
Access to food and water during the pandemic
Should TikTok be banned?
Is TikTok a tool that has enabled LGBTQ people to come out?
Is universal basic income attainable?
Are trade unions any better in contemporary society?
Who runs the world?
Role of the New Silk Road from China to Pakistan
Justice in a divided country
Is Kim Jong-Un displaying his insecurity by flexing his nuclear muscles?
Is Trump among the best Presidents the USA has ever had?
Is Medical marijuana a promise for terminally ill patients?
Can medical marijuana be used to manage COVID-19 symptoms?
Deepwater Horizon Explosion and the environment
Walmart and gun ordinances
Consumer behavior in the age of social media
Nissan's CEO a wanted man
The latest breakthroughs in Fusion power
Elizabeth Holmes and her Theranos ideas
Is Next-Gen Graphics the next big thing?
Using CRISPR to reverse blindness
Silicon valley's greatest disaster
Thorium as the future of energy
Apple's M1 Chip as a game-changer
Rise of bank fraud
Ponzi schemes in the 21st Century
The rise and fall of HTC
Humanoid robots and the future
List of Current Events to Write About
We have listed elsewhere social issues that you can also look into as possible topics and titles for your current event essay. Apart from those, here are suggestions of recent events that you can check and pick an appropriate topic. First, focus on what is in the news pertaining to these areas, then choose your angle of analysis.
Activism
Airline travel
ANTIFA
Artificial intelligence
Assisted suicide
Atheism
Autism
Bilingual education
Biofuels
Black lives matter
Blockchain technology
Border Security
Cancer
Capital punishment
Censorship
Census
Charter schools
Childhood obesity
Citizen scientists
Civil rights
The civil war in Ethiopia
Climate change
Climate change
Concussions and injuries in football
Corruption
COVID-19
Cyberbullying
Cyber security
Cybersecurity
DACA
Digital divide
Drug trafficking
Early childhood development
Early voting
Electric vehicles
Electronic voting
Environmental laws
Ethiopian Grand Renaissance Dam
Euthanasia
Executive order
Factory farming
Fake news
Food security
Fast food advertisements
Flint water issues
Foreign aid
Fracking
Freedom of speech
GDPR
Genetic engineering
Gerrymandering
Green energy
Green New Deal
Global Recession
Hacking
Hate crimes
Hate speech
Health insurance
Healthcare access
Heart diseases among footballers
HIV/AIDS
Human trafficking
Immigration
Investigative journalism
Israel-Palestinian relations
Land ownership
Land use and management
Lead and copper rule
Lead toxicity
Machine learning
Me Too movement
Minimum wage
Misinformation
Money laundering
National elections
Natural disasters (Tsunamis, hurricanes, volcanic eruptions, flooding, snowing, storms, etc.)
Net neutrality
Nuclear energy
Offshore drilling
Online anonymity
Organic food
Organized crimes
Outsourcing
Police reforms
Police shootings
Pollution
Poor governance
Racial profiling by law enforcement
Russian hacking
Scientific Research
Self-driving cars
Sex education
Shale gas exploration
Slacktivism
Smart devices
Social security
Socialism
Space exploration
Sports
Stem cells
Stimulus packages
Supreme Court
Sweatshops
Syrian war
Taliban and Afghanistan
Terrorism
Tesla
Title IX
Trade tariffs
Transgender rights
Transnational crimes
Ukraine and Russia
Vaccines
Vaping
Voter fraud
Voting laws
Water resources
Water rights
Water supply regulation
White nationalism
White privilege
Wildfires
Women's rights
World cycling tours
Zero tolerance policies
Final Remarks
Now you understand how to write and what to include in a current events paper. We hope you are inspired to write one on your own following the steps, structure, and examples outlined above.
Although using this guide is the surest way to write a quality paper, you can always look at samples of current event papers written in the past. You can also consult with peers and professors for the best ideas. Finally, you can choose from our list of topics and develop further ideas from our list of current events.
If you are not satisfied or confident with your research and writing skills, you are welcome to seek the help of our essay writing experts. We offer 24/7 professional support that can help you when stuck. Do not hesitate to contact us and ask us to write your current events paper.