Tips and Steps for Writing an Issue Paper
Last Updated: 28 January 2023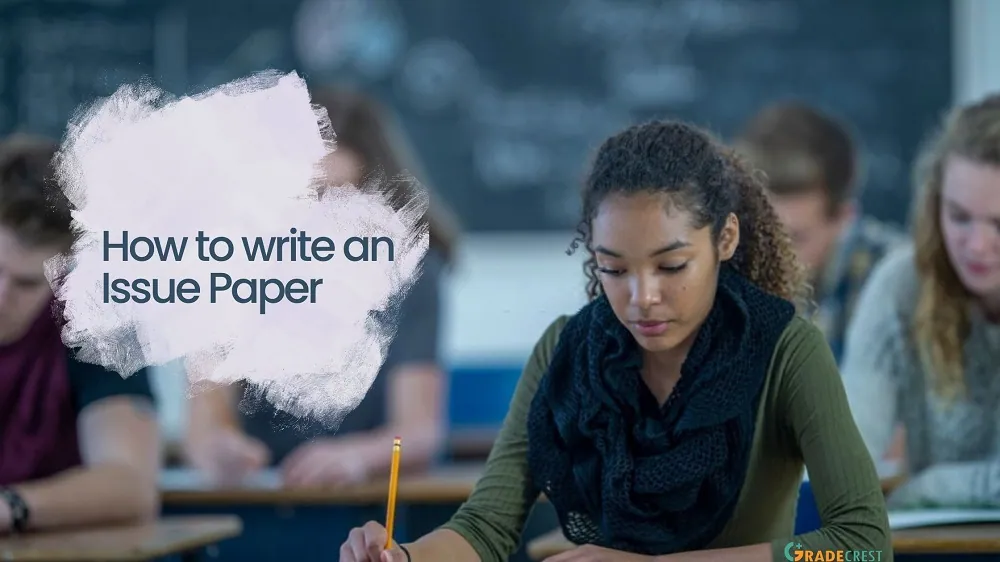 An issue paper is a common assignment in high school, college, and university where analytical writing is a mainstay. An issue paper presents a focused opinion about an issue or a topic by providing arguments and evidence on an issue-based topic.
It is a brief essay meant to convince an audience, usually policymakers, lawmakers, company executives, individuals, or government bodies (stakeholder groups) to address specific issues that are affecting society. Such papers focus on issues of national, regional, and global interest intending to find suitable and sustainable solutions. Think of it more like a problem-solution essay.
When writing an issue paper remember that it plays a critical role in the formulation of public or organizational policy concerning various issues affecting society. It should be written to persuade people (stakeholders) to adopt a given policy, change a policy, or come up with solutions to issues. In most cases, issue papers are 5-8 pages in length and focus on controversial issues.
Although writing an issue paper can seem challenging at the beginning, it is actually very easy if you know how to do it. And because so many students often fail in their attempts to write issue papers, we have put together this comprehensive guide that will expound on the basics of writing an issue paper.
Of course, you can use our because an issue paper is a typical essay focusing on an issue. However, this one is more focused on the specific skills and requirements for an issue paper.
Steps to writing a Convincing Issue Paper
We have written an ultimate essay writing guide that you can use to write literary any essay or academic paper. However, because an issue paper specifically focuses on an issue and its solution, here are the specific steps you can take.
1. Choose an Issue of Focus
Assuming you are given the liberty to choose a specific issue of interest to address in your paper, you need to think critically, research, and settle down on an issue. In most cases, when asked to write an issue paper, you are required to handle matters of national, regional, and global interest.
There are many such issues affecting society in different ways. For instance, you can write about global security, climate change, corruption, poor governance, global health systems, etc. Elsewhere in our blog, we have a comprehensive list of social issues that you can select as topics for your issue paper. You can read newspapers, periodicals, journals, books, course materials, and magazines, or search for news on the internet relating to the issue. Equally, you can consult your teacher for some choices or check whether your selected issue meets the criteria.
When you select an issue, ensure that you take into account the instructions provided by your instructor or professor. In most cases, they will give you scope. For instance, they might specifically be interested in issues of national interest affecting you as an individual or your community. That has to reflect in the issue that you settle with for the paper.
You can go for a real issue with genuine controversy or uncertainty. It should have positions or affect a given group of people or stakeholders. It should also be an issue that you are interested to advocate for its solution.
As you strive to select an issue, ask yourself:
What makes this issue the most suitable one to explore?
Does the issue meet the issue criteria in the rubric or essay prompt?
Are you interested in solving the issues?
Does the issue affect you or your community?
Is the issue controversial or requires urgent solutions?
Who are the interested parties or stakeholders given the issue?
2. Do a Preliminary Research
After selecting an issue that interests you from a potential list of issues that meet the criteria specified in the rubric, you need to go on a fact-finding mission. Read through dictionaries, encyclopedias, and handbooks to define and contextualize the issue. You can also look at books, government reports, academic journals, blogs, publications, and reports online to familiarize yourself and plan around the issue.
Doing preliminary research on the issue enables you to identify the focus of your paper. It helps you to settle on a specific topic of interest given the issue and also to develop your thesis statement. Researching the issue will also help you to identify good quality scholarly sources of information to integrate later when writing the paper.
As you research, you will develop a research question that will help you frame a topic and a good title for your essay. For instance, you could come up with the question "should rich countries pay poor countries for destroying the environment more?" or you can opt for "should men make more money than women? Or "should men also be given paternity leave?"
Such a question helps you to frame your argument better. It helps you to address your potential audience as you write the paper, and by extension meet the requirements. The answer to these questions can become your essay title.
In the process of researching not only should you take notes but also organize and store the sources for use when planning and writing the first draft of your issue paper.
3. Develop a Title
With the knowledge, you have gathered and the insights you have developed, you need to write a title for your essay.
Having an interesting title for your issue paper engaged your readers from the first time they encounter your paper.
A good essay title identifies the topic and keywords. It is brief, concise, and captivating. As you write the title of your issue paper, limit its length to 10-15 words. The title should have keywords that inform your readers about your topic. Let the readers understand the issue of interest by reading the title of your issue paper.
4. Craft a Thesis Statement
Alongside choosing a good title, also come up with a well-developed tentative thesis statement. It is tentative because you can rephrase, polish, and refresh it as you develop the body paragraphs or as you research and write the issue paper.
The thesis statement of an issue paper, like in any other essay or academic paper, should be one or two sentences that explain the gist (central ideas) of your paper.
As you researched, you developed some thoughts, took a stance, and decided to stick to one perspective. It is these insights, perspectives, observations, and arguments that you later utilize to develop your thesis.
Let the readers know what your entire paper is going to be about in a sentence or two. It should be an assertion about your topic. You should turn your topic into a thesis statement by making a claim about the topic.
To polish your thesis, review your research materials and think of what you believe to be true, and what the readers need to know, and write a sentence stating what will be the central focus of the issue paper.
For more information about thesis statements visits our thesis statements writing guide.
5. Create an Outline
Now that you have the basics, you need to outline your issue paper. Outlining your essay helps you to organize the paper into a successful essay so that you can write the draft with the end product in mind.
Write a skeleton of your paper where you identify and note the attention grabbers, introduction background, thesis statement, main arguments, supporting ideas, recommendations, examples, and conclusions.
Break down the entire paper as you would like it to appear after writing. As you outline, revisit the rubric and assignment instructions so that you can limit the scope of the paper. For instance, you know that the introduction and conclusion should each be 10% of your paper. This information helps you structure and plan the number of paragraphs in the body of your essay, which make up 80% of your paper.
You will know if your essay should have three or more body paragraphs.
6. Write the First Draft of the Issue Paper
With everything envisioned and planned in the outline, the next step is to write the first draft. When writing, you should focus on writing first and then editing later. This philosophy or approach to writing helps you to develop ideas and maintain the flow then focus on polishing the paper after you are done writing.
You can start writing your essay with either the introduction and advance to the conclusion or begin with the body paragraphs, the introduction, then the conclusion. Whichever approach you prefer should work as long as you have the first draft of your issue paper in the end.
When writing the introduction, choose an appropriate hook or attention-grabber. After the title, the first sentence of your introduction should also convince the readers that the paper is worth reading. You can include facts about the issue such as statistics or statements that make people instantly get interested in reading more for themselves. The next step is to give background information about the topic. Here, explain to the readers why the topic matters, why they should care to address it, and why you saw it fit to address it. Finally, present the thesis statement.
Break down the body paragraphs depending on the main points that you have. Remember, each of the body paragraphs must support your thesis statement. Therefore, each topic sentence should be unique and must address a single idea that relates to your thesis. You should weigh in on your position on the issue of interest within the body paragraphs of the essay. And as you do so, present the arguments for or against your position to support your thesis. Utilize academic phrases and transition words when developing the body paragraphs for an adequate flow of ideas.
Finally, the conclusion should entail a summary of your paper. Restate the thesis, summarize the main ideas, and give a call to action to your audience.
Some people prefer writing the introduction last, and that is allowed provided the flow of the paper holds. If you do this, ensure that the introduction shows where the paper is headed.
7. Polish the Paper
Because you focused on writing, it is possible that you rushed over and made mistakes and that is very well allowed. After writing the first draft, it is preferable to take a break from writing to develop an objective mind, has fresh ideas, and be able to polish the paper without bias. As you polish the paper, think of your audience and the instructions from your professor.
Begin by checking and correcting the grammatical, punctuation, and language errors in your paper. You should then check the tenses, voice, diction, and syntax in your paper. Ensure that your paper flows from the introduction to the conclusion. As you edit, proofread, and revise the paper, make sure that it meets the highest score in the rubric. Ensure that each point that has been paraphrased from a source is followed by a correct in-text citation.
And if you have used quotes, ensure that you format them correctly and provide the specific page number from the source.
As well, run your paper through grammar software such as Grammarly or Hemmingway Editor to further correct mistakes and remove errors.
You can also run the paper against plagiarism checkers to correct and reduce similarity levels so that you are not accused of plagiarizing, once you submit the paper.
Related: how to indent paragraphs in an essay.
Formatting your Issue Paper
Your issue paper should be formatted as any other essay or academic paper. Here are the technical specifications of an issue paper:
Fonts: Written in a word processor in font 12-point Times New Roman
Should be double-spaced with no single-spacing and no extra spaces between paragraphs. Only use single-spacing if required by your teacher to do so.
Heading: Should have a heading or cover page with the course details, professor's name, your name, and date.
Margin: Should have a one-inch top, bottom, left, and right.
Page Numbers: Should have page numbers as per the adopted formatting style (APA, MLA, Chicago, or Harvard formats).
Title: The essay should have a title that is in the same font as the rest of the essay.
Indentation: Indent the first line of each paragraph.
Alignment: The text in the essay should be aligned to the left instead of Justify.
When formatting your issue paper, make sure to follow the respective formatting style of the style you were advised to use such as MLA, APA, or Chicago formats.
Structure of an Issue Paper
You are probably wondering what goes into an issue paper. Well, given that it entails arguments about a given issue and the best means to addressing it, you should organize your issue paper in the following structure:
Title/cover page
The title or cover page for an issue paper contains the details about the course, your school, and your professor. It should also contain the title specifically written and formatted as per the required formatting style. This is the first page or part of your paper.
Introduction
The introduction of an issue paper outlines the issue, making it easier for the reader to identify what your paper is about. It should contain:
An attention grabber or a hook. This is a sentence that grabs the attention of the reader. It is the opening sentence of your introduction. It can be a statistic, fact, historical background, or statement.
Explain why it is worth pursuing the issue of interest or the topic.
Thesis statement. The gist of your paper.
Body paragraphs
The body paragraphs focus on the claims that you are making in your essay in support of your thesis statement.
Each body paragraph should have:
A topic sentence. That tells your readers what the paragraph is about. It should address a specific and unique aspect of the topic.
Supporting sentences. A series of sentences with examples, evidence, and materials to support the claim in the topic sentence.
Concluding sentence. To tie up the content of the paragraph and transition the reader to the next paragraph.
Conclusion
The conclusion of your essay should not include any new information. It should instead have:
A sentence where you restate or rephrase the thesis statement
A series of sentences summarizing the main points in your essay
A final statement, appeal, remark, or call to action to whoever is reading the essay
It should bring closure to the readers and close the loop in your writing, sending back the reader to the introduction.
Reference List
Your issue paper should have a list of references where you list the resources you consulted as you wrote the paper. Format the reference list as per the adopted writing and formatting style such as APA, MLA, or Harvard. The list should be alphabetical in order from A-Z.
And if there is any figure (graph, image, pictures, tables, or illustrations) you have used in the paper, let it be in the appendices section that comes after the reference list. Be sure to use the right names in the body, again depending on the identified/preferred formatting style (APA, MLA, or Harvard).
Final Remarks!
To successfully write an issue paper, you have to choose a good topic that focuses on an issue of interest, research widely, and plan, write, and polish the paper. You should focus on an issue that meets the criteria set out by your professor. If no criteria are given, go for controversial issues in society that affect you or your community and ones that you are genuinely interested in solving. It should be an issue whose information is available.
We know that writing an issue paper is not everyone's cup of tea. Maybe you just hate writing essays or do not have time to write one. If you could use some help writing your issue paper, we are here to help. GradeCrest has English paper writers whom you can hire to write your issue paper. You are guaranteed a 100% original, error-free, and well-cited/organized paper.
We have always delivered on any deadline including the most urgent papers. With our customer-friendly pricing, we believe that we are your best place to pay someone to write your issue paper. Others are already doing it, do not be left behind.
Click on our homepage, fill out the order form (estimate the cost), pay for your paper, sit back and relax as our professional writers devour the paper, and get the final paper done and delivered to your email and account.