How to write a Dialectic/Dialogic Essay
Last Updated: 27 July 2023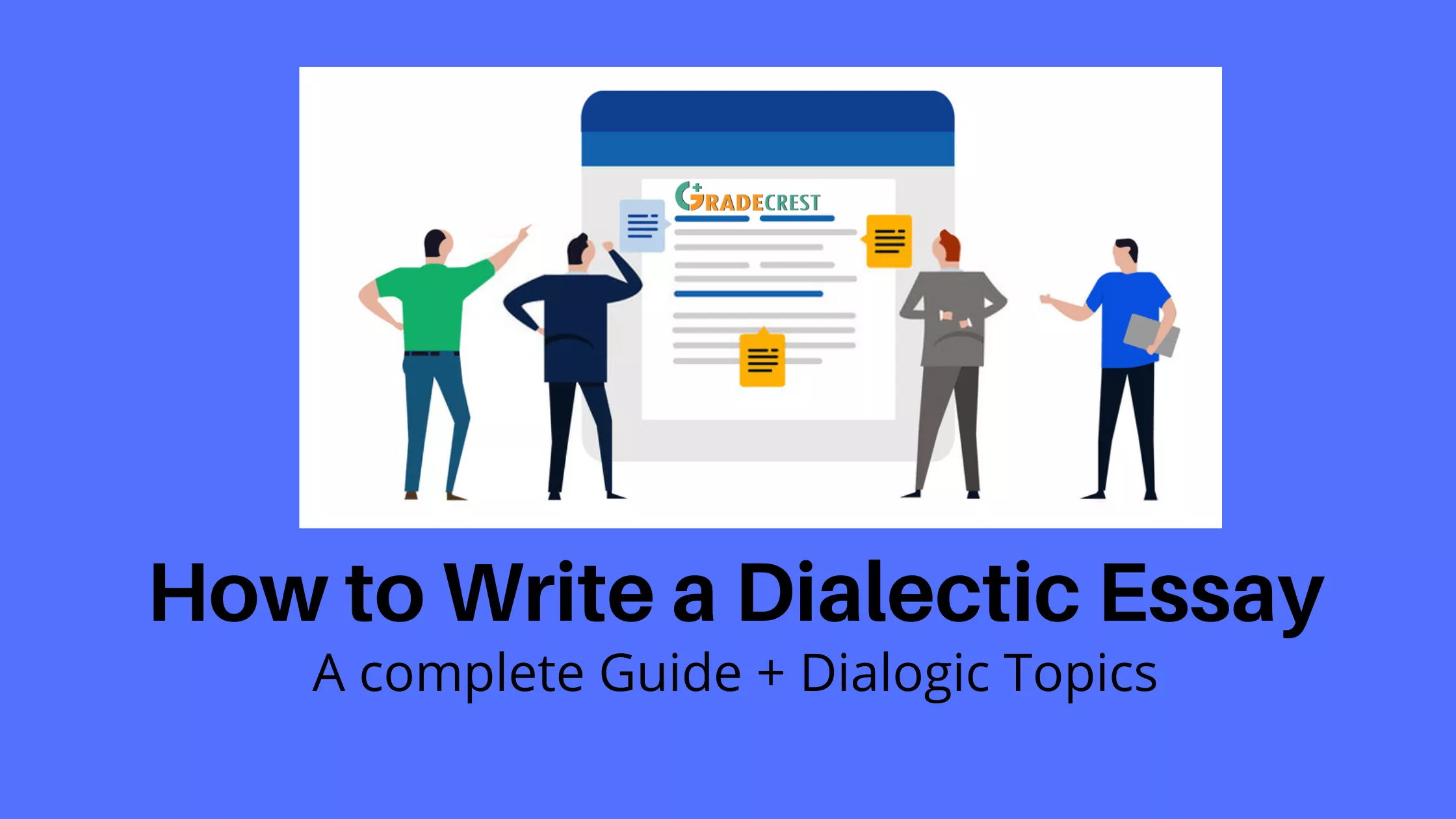 So, your instructor or professor has finally assigned you a dialogic or dialectic essay, and you are wondering how to go about it. Where do you begin? How do you write one that gets you an A+ grade? What goes where? What is the structure? What steps do you take? Worry not anymore because in this comprehensive guide: you will learn how to write a dialectic essay, some topics you could choose, and many tips that will help you ace this essay.
First, you need to acknowledge that a dialogic or dialectic essay is a rare type that many people would not wish to write casually. It requires research, reasoning, and a special kind of keenness. As a result, it proves more difficult when finding important information on how to write a dialectic essay. On the other hand, this type of essay enables you (the writer) to indulge in meaningful discussions on crucial topics in their respective disciplines.
Below we will discuss the procedure of curving out a perfect dialogic essay like a pro.
Let's find out more about this special assignment.
What is dialectic, debate, or Dialogic essay?
A dialectic essay is an argumentative debate or dialogue where the writer composes a thesis statement and provides arguments and counterarguments that tests it before coming to a conclusion that supports the thesis.
When writing, the writer introduces a thesis statement in the introduction paragraph then argues the information out. After using arguments and counterarguments to prove or disagree with the thesis, then the writer gives an objective conclusion to prove the thesis.
The process of arguing out a thesis statement is divided into three principal parts: pointing out the root argument to support your thesis statement, providing a substantial, weighty counterargument, and then weighing your counterargument.
Arguing out the thesis statement requires the writer to research extensively on the topic of the day to bring out a conclusion that validates the thesis statement. The validation statement does not primarily give any position on the point of discussion. It instead points out the most viable view inside the context and attributes of the evidence in the body of your dialogic essay. A conclusion, in most instances, anchors the thesis statement.
One of our top-rated essay writers noted that a dialogic essay or dialectic essay is not the same as a critical precis that takes a single stand. Instead, you present all the arguments, even when you strongly do not agree with some of them.
In some instances, a professor might ask you to share your personal opinion in the conclusion. Still, all you always have to do when writing this assignment is to discuss all sides rationally.
My professor assigned me a dialectic essay. What's the essence?
A dialogic essay is like a conversation among several people. The first one introduces an argument, then the second person objects to it with a counterargument, sparking a debate. A third person then responds to the objection from the second person with arguments that are different from the first person. And the chain continues.
When assigned this assignment, your professor is not out on a mission to frustrate or torture you. Instead, you are given dialogic essays to assess how you've mastered the art of writing essays.
Equally, a dialectic essay tests your ability to elucidate thoughts on a given issue or subject, especially controversial debatable topics. It is a different point of view essay where you present the subject or issue from different perspectives, all of which matter. You are also assessed whether you can rationally, without bias, consider the pros and cons of a problem, and make a conclusion.
This way, writing a dialectic essay helps you discuss specific topics from different perspectives by accounting for positive and negative aspects.
In sum, writing a dialectic essay equips you with the skill to consider the positives and negatives of a thesis and explore an issue deeper.
How to write a Dialogic Essay and Score an A+
Before writing a dialogic essay, you should begin by choosing a topic. You should then brainstorm around the topic and develop ideas, in the process considering all sides of the argument. Since you must provide factual information to support your opinions/arguments, it is necessary to also research. Finally, when presenting the ideas on paper, you have to consider their audience or the people you are addressing : in most cases, the professor/instructor.
An audience is mostly several people who already know the subjects and encourage their opinion on that. The audience may agree or disagree on the point of discussion. The audience's knowledge infers that you should improve the discussions on the subject to a higher and new level. A dialectic essay is always unbiased and gives an array of options; the unbiased opinions give a dialogic piece a philosophical flavor.
11 simple steps to write a dialectic essay
We already covered the comprehensive essay writing process, which you have to go through when writing a dialogic essay. However, in a nutshell, here is what you should do:
Read the assignment instructions to understand what your professor wants
Choose an appropriate topic based on the range of topics provided, or choose one for approval by your instructor. You can use a concept map when brainstorming for points and developing ideas for your outline.
Do general research on the topic to familiarize yourself with it
Develop your thesis statement, which is the central argument of your dialectic essay
Conduct in-depth research on the scholarly sources that can help you develop ideas in your paper
Organize the research so that each that supports a given viewpoint is recorded appropriately
Create an outline for your dialectic essay based on the different perspectives and your thesis statement
Systematically write your essay without being a perfectionist
Make your title and reference pages
Proofread, edit, and polish the first draft into the final dialogic essay
Name your essay file appropriately and submit it on time
Dialectic Essay Topics
There are so many dialogic topics that you may write about daily or once in a while. However, if it is a free choice essay, it is vital to choose a passionate subject. It may be an assignment in some cases, but you should strive to provide information to the fullest. There are so many channels where you can seek such information. You can research on the internet, books, novels, magazines, or newspapers. As you do so, focus on debatable or argumentative essay topics.
You may sometimes get caught in arguing situations on topics you probably do not believe or hate. That does not mean that you should do it half-heartedly. On the contrary, your work should reflect your intellectual ability. There are many topics you can write a dialogic essay about: technology, ethics, science, sports, politics, education, or arts.
If you are having a hard time finding topics to write on, then have a look at the list below:
Technology
Should video games be used in education systems?
Should social media profiles be considered in the hiring process?
Should students be taught typing in place of writing?
Should children be encouraged to join social media platforms?
Should there be a legal implication on hate speech witnessed on social media platforms?
Should the state be granted access to your social media profiles?
Are we too dependent on computers?
Do social media influencers affect how people live?
Can social media fame be translated to real-life success?
Is online dating effective?
Are cellphones dangerous?
Should people pay to use the internet?
Should content on the internet be censored?
Can technology be used to manage elections?
Are online classes better than in-person classes?
Ethics
Does the belief in God change a person?
Does science complement religion?
Does the level of educations affect one's moral values?
Should abortion be legalized?
Should developing countries be blocked on international funds?
Should loans on struggling countries be regulated?
Are CCTVs a breach of privacy in public places?
Is controlling screentime for a teenager fair?
Should people use animal-tested cosmetics and drugs?
Should torture be accepted?
Should the rich people help the poor?
Is killing a rapist immoral?
Is killing a murderer ethical?
Do paparazzi infringe the privacy of celebrities?
Science
Does cloning improve one's lifespan?
Should there be a limit on the number of children be regulated on a person?
Do GMOs have a long time on a person?
Does cloning animals improve breeding?
Should COVID-19 vaccines are compelled on people?
Does COVID-19 affect one's lifespan?
Sports
Is cheerleading a sport?
Is VAR effective?
Should the Olympics be held biannually?
Does the World Cup unite the world?
Should alcohol and tobacco advertisements be shown in stadiums?
Does match-fixing affect the fans?
Politics
Should the prime minister be appointed or elected?
Should voting be online?
Should prisoners be allowed to vote?
Should the voting age be raised to twenty-five years?
Should the chief justice be a state appointee?
Should Africa have one president like the United States of America?
Should the campaign budgets of presidents be taxed?
Should the presidential campaign budgets be capped?
Education
Should the university be free?
Does school break benefit the students?
Does school uniform affect student's performance and discipline?
Should graffiti be allowed on the walls of the school?
Should tribal, racial societies be allowed in school?
Should programming be offered as a subject in high school?
General Dialogic essay topics
Are teenagers capable of loving intensely?
Does abortion have moral grounds?
Can making tobacco production illegal stop smoking?
Is the death penalty effective?
Are gun laws effective in gun control?
Is competition a good thing?
Are boys too loving in relationships?
Are girls mean in their friendship?
Is buying a lottery ticket a good idea?
Should working moms and dads have special treatment?
Are assignments punishments to students?
Is fashion important?
Should staying on-campus be made mandatory for first-year students?
Is breakfast the most important meal of the day?
Does quitting sugar help improve health?
Is human cloning ethical?
Is identity theft punishable?
Should we sleep 8 hours a day?
Should citizenship by birth be canceled?
Should we remove the boundaries around the world?
Can wars be ended?
Do we need to spend on homeland security?
Why does government invest in security and not so much in food sustainability?
Does success in school mean successful life?
Should advertising to children be prohibited?
Can social media destroy real-life communication?
Can same-sex marriage affect the mentality of a child?
Related: Argumentative essay topics.
Dialectic/Dialogic essay structure
Writing a dialogic essay is easier than you thought, but how to fine-tune it to perfection is always hard for most writers. This essay follows the traditional structure of five well-fed paragraphs. An ideal dialectic easy is divided into three main parts: introduction, body, and conclusion.
Introduction
First of all, a dialogic essay should have an introduction. In this part of the paper, you begin by using an attention grabber to lure your readers into reading the essay. It should be a fascinating statement that makes the reader glued and hungry to go through your work. Make sure that your statement is controversial to help you note down both sides of the story.
You should also provide a short and precise definition of the essay topic through the background. This essay topic should have at least two interpretations.
However, make sure you do not give away a lot of details in this introduction part. In most cases your thesis statement can be a one-line statement at most. Two sentences are also acceptable.
Body
The body is the most significant part of your dialogic essay. It comprises mainly three paragraphs, which require the writer to organize it point-by-point structure. The structure starts from small argument statements, provides a counterargument, and then provides contradicting information. This marvelous structure keeps your readers glued to your work as you provide detail by detailed arguments.
In the first paragraph, state your argument and support your statement with credible facts and pieces of evidence you collected from your comprehensive research. Technically, this means that without researching widely, you will not feed this category with enough flesh. Feed this paragraph with all the valuable evidence to support your thesis statement in this paragraph.
In the second paragraph, provide statements that contrast your earlier point of view:offer an objection. These statements should contradict your earlier argument and not the main theses to help your essay be debatable. Feed this section with information and pieces of evidence that support your counterargument to avoid confusing your readers.
The third paragraph of a dialectic essay is anchored on facts that criticize your previous paragraph:offer a response. You should watch out not to repeat statements from the first paragraph when responding to the second paragraph. Instead, provide new evidence that diminishes the second paragraph. This paragraph mainly states scientific or widely known shreds of evidence that object to your earlier section.
The last two paragraphs are aimed at demonstrating your understanding of the thesis.
Conclusion
In this last paragraph, the opening statement should reflect the core claim. Still, it should be written using different words and a different sentence structure. You may opt to rewrite your thesis statement or provide an updated view. In the first option, you are to reiterate that you have proven with all your research that your thesis statement is true or exists depending on the topic of study.
For the second alternative, bring out a new thesis statement. This thesis statement should not be completely different from your earlier statement. It is updated depending on the evidence you have put forth in your writing.
Finally, the writer shows their standing on the topic of discussion by giving a justifier anchored on the thesis statement or arguments in an objective structure.
Outline of a Dialogic/Dialectic essay
As indicated before, a dialectic essay is structured in the five-paragraph format. Let us now break it down.
I. Introduction
II. Body
A. Paragraph one (presentation of the argument)
The minor argument that supports the thesis statement.
Evidence and facts supported the ideas on a thesis statement.
Analysis and explanation of your facts and pieces of evidence.
A closing remark that points out the correlation between the thesis statement and your arguments in paragraph one
B. Paragraph two (Presentation of the counterargument/objection)
An opening statement that criticizes the minor argument in the first paragraph
Evidence and facts sustaining this paragraph's arguments.
Explanation of your above facts and shreds of evidence.
A concluding remark showing the correlation between the thesis statement and your second paragraphs claims
C. Paragraph three (Response)
An opening statement that gives a critique of your arguments in paragraph two.
Facts and evidence that anchor the above claims.
Insightful explanation of your facts and pieces of evidence.
A closing remark that points out the relationship between your claims in paragraph three and your arguments in paragraph
III. Conclusion
Restatement of the thesis statement with new words and sentence structure
Brief remarks on the thesis statement, arguments, claims on the thesis statement, and counterargument
Closing statements that echo the prevailing shreds of evidence of the thesis statements over the counterarguments above
Dialectic or Dialogic Essay Tips
When assigned to write a dialectic essay assignment, here are some tips for using to ensure that you capture everything:
Begin by reading the essay prompt carefully to understand what the assignment requires
Choose an excellent debatable topic that interests you, unless one is already provided, or you can choose among many.
Research online to get ideas and familiarize yourself with your topic
Craft a thesis for your essay
Research further and organize your sources
Write a dialectic essay outline where you determine the structure, paragraphing and placement of ideas and counterarguments
Think of the advantages and disadvantages of the thesis and construct your arguments and counterarguments
Remember to use paragraph organization strategies such as the PEEL format when developing ideas in a paragraph.
Use the right tone when writing. For example, in a dialogic or dialectic essay, you are writing a dialogue that addresses a disputable aspect of a current matter of public controversy. It entails three characters, each with their perspectives reflected in each of the three body paragraphs. You should ensure that the opinions are not only strong but also unique. You should use an objective and persuasive tone but never be offensive, condescending, or aggressive, even if you disagree with the arguments.
In the body of your essay, make sure that the paragraphs object and respond to the previous one
Your counterarguments should only object to arguments from the previous paragraphs and not the thesis
Wind up your dialogic essay with a solid conclusion that supports the thesis and initial argument
When you give reasons, ensure that they are clear, concise, and factual. Do not present any subjective or dubious claims to avoid misunderstanding between those in support and those opposed to your thesis.
Parting Shot
As we live in a multicultural world with diverse people, discussing and seeing multiple points of view enables us to consider a greater variety of problems and solutions. Doing so also helps us to evaluate cross-cultural and global issues.
A dialogic (otherwise dialectic) essay is based on a debate between two or more opposing or diverging positions of a given issue. Thus, a dialogic essay is a fair and balanced look at the differing or opposing points of view.
A dialogic essay requires you to argue two or more positions or opinions and offer a final perspective that is a compromise or a higher resolution of the previous positions. You don't even have to believe in all the opinions, whether you agree or oppose each. However, you must honestly and fairly understand and rationally discuss all the viewpoints.
Related Read: Important persuasive speech topics.
In the final compromise or the synthesis, however, you may offer your own opinion. Expressing your opinion must show that you have rationally integrated the previously presented arguments and counterarguments and provided strong evidence of convincing the particular perspective.
Structurally, it is a five-paragraph essay with an introduction, first perspective, second perspective (opposed to the first), third perspective (weighing in on the first two), and the conclusion or the synthesis.
If you find this guide useful but need someone to write a customized essay for you, you can trust our custom writing service for the best help online.