A Blue Print for the best Leadership Essay
Last Updated: 25 January 2023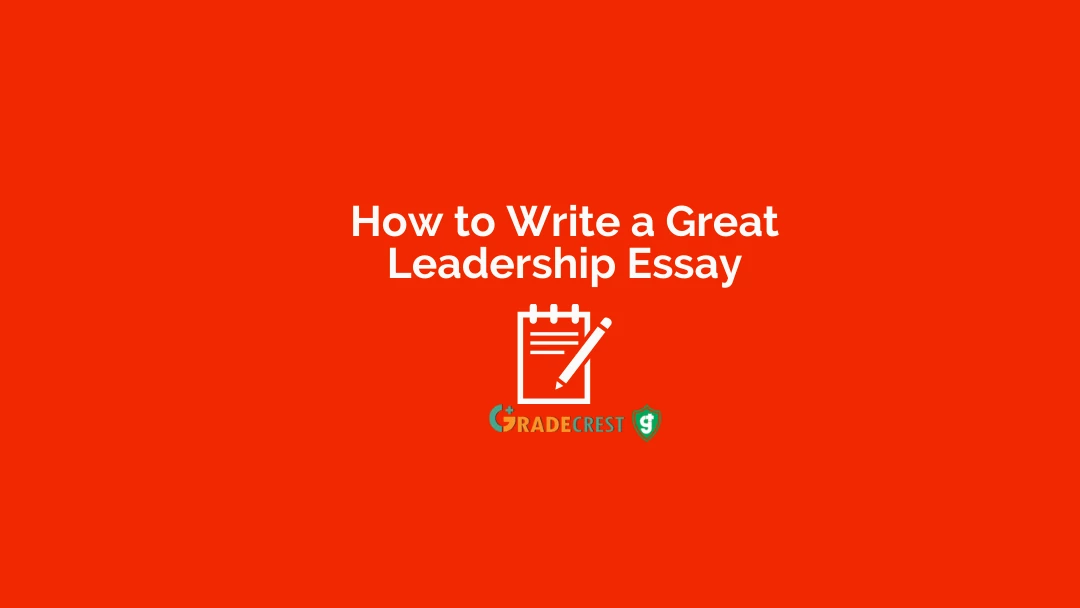 Leadership encompasses a variety of tenets. It includes leadership approaches or styles, leadership development, types of leadership, leadership principles, leadership values, and leadership theories. These are but a few concepts that any college student must be acquainted with to be able to complete an essay on leadership.
As complex as writing a leadership essay sounds, it is simple when you know how to write an essay about leadership. You must begin by understanding who a leader is and the entire concept of leadership.
When writing an essay about a leader, it is akin to writing a profile essay about a certain leader or yourself. Leadership essays for college require a special type of keenness. While there are many scholarly sources you can use, it takes expertise to knit together a great leadership essay introduction.
This guide helps you write the "what is leadership" essay effectively. It also enables you to write the best nature of leadership essay. If you are stuck with choosing leadership essay topics, our guide has over 89 essay topics on leadership and ideas that you can use to brainstorm. From today on, write the best leadership essay conclusion. And if it is a leadership essay for a scholarship, admission, or personal statement, we have experts that can help. We also have proofreading and editing professionals to help edit and proofread your leadership thesis and dissertation.
Read on and see what we have for you.
What is a Leadership Essay?

A leadership essay is somewhat a unique assignment assigned to college and university students. It can be part of the admission or scholarship essays or part of the coursework. Naturally, it is an assignment assigned to students pursuing different courses such as business, management, human resource, organizational behavior, economics, psychology, or political science, among others. A leadership essay encompasses exploration:
The concept of leadership
Nature of leadership
Stories on prominent leaders
Leadership traits and qualities
The link between leadership and development, success, performance, and improvement
Leadership abilities
Facts and events of an individual's leadership experience
To write a good leadership paper, a student must begin by reading the essay prompt and the rubric. A student should then think critically and logically on what to include in their paper. Like other exceptional essays, a good essay on leadership must have credible facts from scholarly sources. The instructor/professor is always testing for your evaluation, assessment, analytical, and presentation skills.
Tips when Writing Leadership Essays for College
Creating a perfect leadership essay is easy when you follow these predetermined success-assured steps.
1. Choose a leadership Topic that interests you
When assigning leadership essays, most professors and instructors alike give prompts with a list of topics to choose from. Go for topics that impress you and ones that you can find great information from books, journals, credible websites, and other scholarly sources.
2. Research Online and Get enough insights
After selecting a particular topic, ensure that you go a step higher to conduct research online. Gather as much information from the available literature as possible. The research process, when writing leadership essays, helps in generating ideas for the introduction, body, and conclusion of the essay. It also helps define the scope of your essay and come up with a thesis.
3. Create an excellent thesis statement
Your thesis statement in your essay on leadership should reflect the outlook of the entire essay. Format it to feature your major argument in an intelligent and reasoned way. An excellent thesis statement defines a good essay any day.
4. Draft the Leadership Essay Outline
Every great essay begins with an outline. Creating an outline for your leadership essay helps you draft a blueprint for the entire essay. Outline what will go to the introduction, the thesis statement, and the background information.
5. Write your First Draft
With the arguments reflected on the outline, you can choose to use any format for the body paragraphs. A common approach is to use the PEEL writing strategy for coherence in your paragraphs. You can also use the Schaffer strategy. The choice is yours. Above all, ensure that facts from scholarly sources are cited in-text in MLA, APA, Harvard, or Chicago formats.
6. Edit, Proofread and Revise your Essay
After writing your essay, it is always great to edit and proofread. If you have no confidence in your leadership essay, you can hire someone to edit your leadership essays. If you are an MBA student, we can help you correct mistakes on your paper. Always submit a paper you are confident will pass Turnitin and get you great grades.
How to Begin a Leadership Paper - The Introduction
You are probably reading this because the question of "how do I start my leadership essay?" is bothering you. Well, even though the question seems ambiguous, we have an answer for you right here.
Every great leadership essay has an excellent introduction. Your introduction should be well-written to the extent that it grabs the attention of the reader and entices them to stay through the end. Ideally, the introduction sets the mood of the entire paper.
As with other types of essays, a leadership essay can commence with a great essay hook or a grabber. It could be an anecdote, a statistic, quote, phrase, or a catchy word.
The hook should be preceded by a few sentences that act as the background to your essay. The aim of the background sentences, in the introduction, is to set the context of the essay.
The background is then followed by an excellent thesis statement. The thesis statement gives a sneak peek into your essay in a snapshot. It can either be one or two last sentences in the introduction. The thesis differs depending on whether the essay is descriptive, classification, narrative, argumentative, or persuasive essay.
If you follow these steps, you will write an outstanding essay on leadership. Make it count right from the beginning.
How to Ace a Leadership Experience Essay
When writing application essays, scholarship essays, or school transfer essays, you can be asked to write an essay about your leadership experience. It is always imperative to make your essay as unique as the Costco application essay. Here are some tips to use when writing your leadership essay:
Begin by reading the leadership experience essay prompt to understand exactly what you are being asked to write about.
Come up with an excellent essay hook for your essay. It could be an anecdote, a quote from a great leader, a simple statistic, or an observation'.
Write the thesis of your leadership experience essay, which should cover the gist of the entire essay.
Write the introduction of the essay as though it is to be published among the best sellers.
Make sure each of the paragraphs outlines your leadership experiences. Each of the paragraphs should have leadership experience, illustrations, and examples.
Keep the flow within the paper by using appropriate transitions.
Avoid using jargon in your leadership essays. In most cases, simplicity wins the day, and after all, a successful leader expresses themselves in just a few words.
If there are references used, be sure to cite the essay in APA, MLA, Harvard, or Chicago.
Make the conclusion count. Restate the thesis and write a summary of the entire paper.
Most leadership essays can be anything between 150 words to 2000 words. Depending on the essay prompt, always be sure to meet the word count.
Remember, if the leadership experience essay is a scholarship essay, personal statement, statement of purpose, or an admission essay, it should be written in the first person. Otherwise, you must stick to the third person, which is a preference in academic writing.
Leadership Essay Topics and Ideas you can choose for your Paper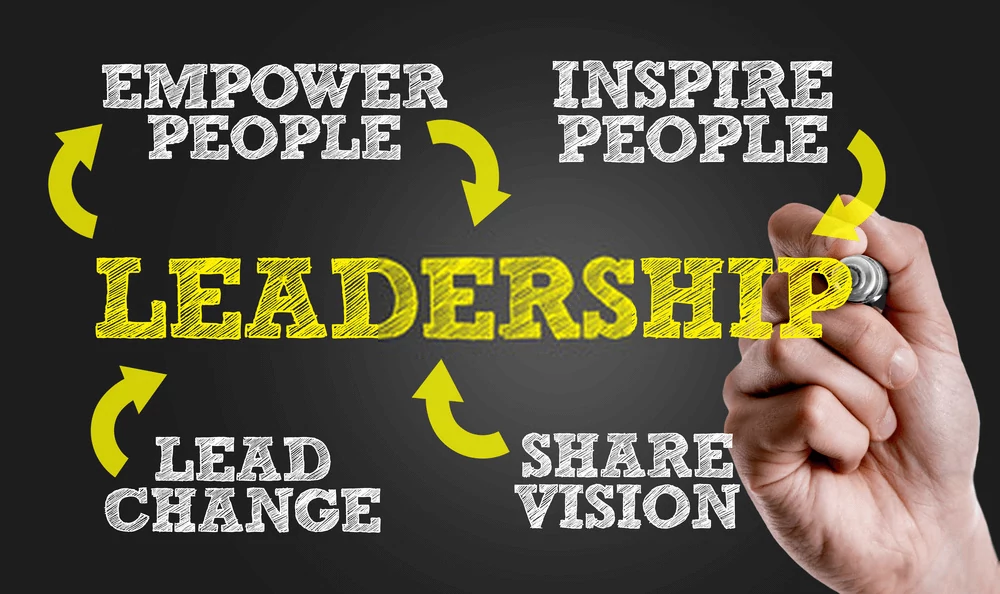 Are you wondering about the best leadership essay topics? We have your back on this. Here are some essay topics on leadership to kick start your topic choice process. We answer the question of "what are some essay topics on leadership?"
The ability of women in leadership to successfully steer progress and success in organizations.
Role of leaders in the community
Charismatic, transformational, and transactional leadership
Characteristics of a good leader
Features of supportive leadership
Leadership and Power
Women in leadership
Breaking the glass ceiling
Role of ethics in leadership
Gender differences in leadership
Importance of team leadership in virtual teams
Role of leaders in group formation
How leadership brings diversity in an organization
Corruption among public leaders
Are leaders made or born?
Can situations define a leader?
Leadership succession and its importance in organizations
Do you consider yourself to be a leader or a follower?
An example of a 21st-century exemplary leader
Challenges leaders face
Importance of listening for leaders
Are transformational leaders better than transactional leaders?
How to improve leadership skills
Great leaders should be great communicators
Who do you look up to as a leader?
Importance of self-confidence among leaders
Which leader do you admire? Please write a letter to of gratitude for their influence on your life
The importance of leadership in schools
Historical leaders
Think of a leader you admire and list three of the qualities that make him or her a good leader. Which quality do you share with him or her? Which quality could you improve upon?
How can you improve your own leadership skills?
Role of military leadership
Do entrepreneurs need to be leaders?
An integrative theory of leadership
The impacts of national culture on corporate and public leadership
Leadership and organizational development
How leadership affects the morale of employees
Does leadership competence define the organization of choice for employees
The link between leadership and organizational citizenship behavior
Leadership and organizational loyalty
Variation of leadership behavior depending on the culture
Leadership processes and self-identity of followers
Leadership style and organizational commitment
The prospective of future leadership
Role of strategic leadership
The Influence of democratic leadership on Employee performance: A case in Saudi Public Sector
Business leadership and culture
The normative approach to business leadership
Comparative analysis of the world's greatest military leaders
Understanding combat leadership
Role of military leaders in strategy and policy implementation
Meyers Briggs Type Indicator best for military leadership
Understanding the art of command in military leadership
How school leadership works
Does the leadership styles of a school principle define the success of a school?
Are collaborative school leaders successful?
The role of power, culture, and people in educational leadership
Leadership and policy implementation
Leadership style of educators
School leadership in the 21st century
Teacher leadership for professional resilience
Qualities of exceptional school leaders
How professional school leaders deal with dilemmas
Leadership and the glass ceiling
The performance of indigenous communities in political leadership
Sustainable environmental leadership
Corporate leadership
The psychology of leadership
African-American women executives and organizational leadership
Ethics as the heart of leadership
Servant leadership
Leadership challenges in virtual teams
Leadership development and growth
Evolving human resource practices in succession planning
Contemporary issues of leadership
Leadership investment
Importance of leadership for nurses
Are leadership traits inherent, or can people be molded into good leaders?
Are meetings the only effective way for sound leaders to disseminate information?
Compare and contrast the effectiveness of dictatorial and servant leadership
Explore the church leadership approach
The foundation of biblical leadership
Compare business and political leadership
The bureaucratic structure of government and their impact on leadership in the public domain
Best leadership styles for diverse teams
Impacts of technology and social media on the leadership style of millennial leaders
Compare and contrast formal and informal leaders
The leadership philosophy of great leaders
Critical analysis of leadership styles and organizational culture that enables the implementation of a proposed local project of advancing the Nursing practice
Contact us for the best topics and help with your MBA leadership essays or essays for school on leadership. Our professional essay writers can always help.
Top 30 Leadership Qualities to Include in a Leadership Essay
As a student undertaking a leadership course, completing an essay, term paper, or a research paper on leadership is mandatory. When asked to write an essay on leadership, it would be best if you used some of the leadership traits.
The common traits include
Empathy
Vision
Influence
Transparency
Conscientious
Confidence
Charisma
Excellent communication
Decision-Making Skills
Problem-solving capacity
Accountability and responsibility
Integrity
Delegation and empowerment
Resilience
Emotional intelligence
Humility
Creativity and innovation
Passion
Commitment
Adaptable
Decisiveness
Endurance
Bearing
Courage
Unselfishness
Knowledge
Loyalty
Enthusiasm
Justice
Dependability
These are some of the powerful traits of successful leaders. Of course, there are many other traits that you can research and include in your leadership essays. Effective leaders need to be very tactical when influencing their followers. They need to foster teamwork where necessary and use their wisdom to solve conflicts among the followers. It is great to have empathy or fit in the shoes of a leader when writing your leadership essay. Sometimes, even as simple as a biography essay, a leadership essay needs to be well-organized such that there is flow and a good explanation of the traits is inevitable.
Help with Writing Leadership Essay for College
You might have read the entire article but still cannot comprehend how to write a leadership essay. It is always time to get a great leadership essay sample to understand how one is written. If, even with the leadership essay example, you cannot write the essay, you need help.
Related Reading: Descriptive essay writing process and topics.
Luckily, we have writers for hire who write various types of essays on leadership. The leadership essays we can help with include: narrative, how-to, compare and contrast, classification, exemplification, descriptive, persuasive, argumentative, and reflection essays on leadership.
You can pay our paper writers to write the best leadership essays for school. If you are doing an MBA leadership essay, you can always consult with our writers for the best insights and advice.
Even with this ultimate guide for writing a leadership, things can get thick. Getting help with writing college essays is not illegal. Get a great homework helper or an assignment helper from our website to help you write a custom leadership essay, today!