How much can it cost to write my essay?
Last Updated: 27 July 2023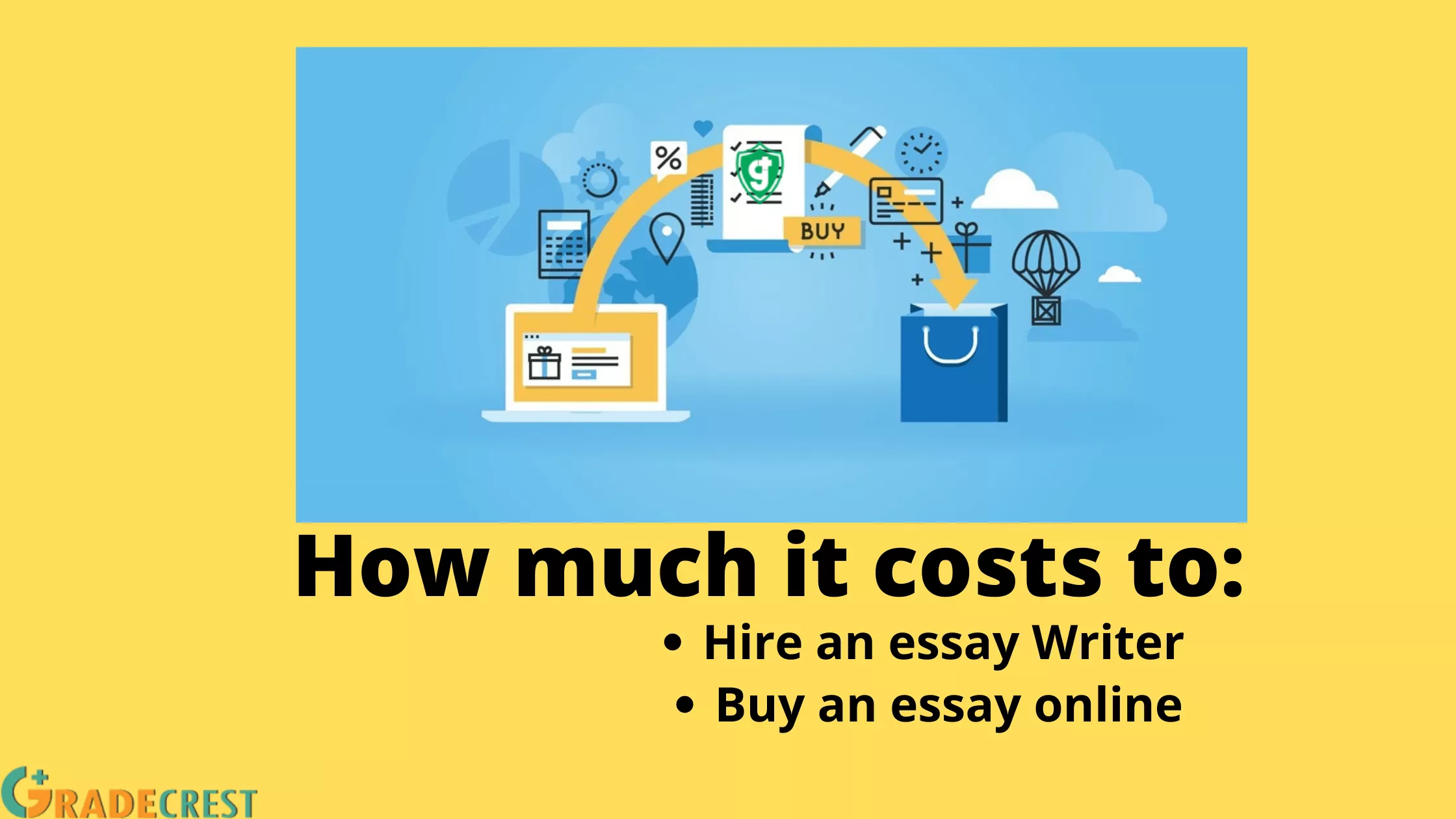 On average, a professionally written essay should cost you anywhere between $12 to $38 a page, which is the cost most professional writing websites and professional writers charge for an essay.
Many factors determine the price, including the deadline, academic level, subject, number of words per page, additional costs such as plagiarism report, to get sources in PDF, smart paper services, essay written by top 10 writers, or when your essay is to be written by a preferred writer.
Look at the help you get from essay writing services as an investment. After all, a college degree is an opportunity to get better jobs, promotions and advance your career in many ways.
Student life can be complicated, but when someone takes care of your essays, the chances are that you remain light enough to enjoy college and make memories.
Now let's answer your question of how much it costs for someone to write an essay for you.
5 Factors that define the cost of an essay or paper
When you seek professional writing services from a custom writing website, a hoard of factors come into play when pricing the essay, papers, or the services you receive. You must consider these elements when ordering to negotiate for a discount through the support teams.
Note: Some rogue writing websites have hidden charges meant to frustrate and fleece you of your hard-earned cash. We already explored tips to use when buying essays and won't repeat that here. So, for now, let's look at the factors that drive the cost of essays.
These parameters define the prices:
1. Urgency/Deadline of the essay/paper
When placing an order on a custom writing website, urgency is one of the key parameters used to define the price of your essay, term paper, research paper, or academic writing task you want to be done.
Since all the papers are delivered in different time frames, it is possible to have papers with different deadlines running concurrently. So, a writer will have five orders with different deadlines but cannot take orders with the same deadline, for instance.
Extremely urgent essays are required in 2, 3, 4, 5, 6, 8, or 12 hours. These urgent essays cost more, similar to urgent assignments or research papers.
They cost more because a writer will suspend everything they do to fulfill your request. When there is a short time frame to write a paper, even professionals feel the heat, which is why you should prepare to pay for more when you want urgent essay writing services.
Although short-deadline essays are prone to errors and mistakes, we can guarantee you that our custom writers are so experienced that they quickly edit out the mistakes.
For essays required within a day, two days, three days, four days, or a week, the cost is easy in your pockets. In addition, these essays are not demanding, so the writers have adequate time to complete them – they can plan, research, and write without pressure.
If you realize that you might need help, place your order early enough to get fair prices, unrushed work, and quality essays. This is not to say that urgent essays are of poor quality; it depends where you buy them and who is writing them for you. Gradecrest is safe either way, thanks to our competent writers.
2. Your Academic Level
The academic level of study is critical when setting the price for any essay or paper on a writing website. Ideally, different academic levels define the academic attainment of students.
High-school orders are priced lower than, say, PhD-level papers. But, again, the logic is simple; the academic level helps us assign the orders to qualified writers to write an essay for your level.
For instance, Ph.D. and Master's students write PhD-level academic papers. In contrast, Master's writers write undergraduate 3-4 and Master's level papers.
Writers who have only attained an undergraduate degree always write either undergraduate 1-2 or high school-level papers. We have structured the system to enable us to achieve high levels of quality in whatever we do.
As you advance the academic levels, the tasks become demanding, tedious, and time-consuming. This means that the papers will cost more from high school, undergraduate, master, and PhD level, respectively, in that order.
PhD-level writers always demand more because they have many other things to do. Besides, such papers require in-depth research, critical analysis, and sieving a lot of information, the same as the master's level papers.
3. Spacing of the paper
There are two types of spacing when typing academic essays and research papers: single- and double-spacing.
A standard double-spaced paper should be 275 words, while a full single-spaced essay should be 550. Thus, technically, a double-spaced is charged as per the standard pricing, while the cost of a single-spaced paper is twice that of a double-spaced one.
4. The complexity of your paper
A time comes when you are ordering an overly demanding topic or subject, say accounting, finance, engineering, architecture, statistics, Biology, or Geography paper.
Such subjects are considered technical and would cost more than non-technical subjects such as humanities, social sciences, English and literature, tourism, business and management, or creative writing.
Technical subjects require data analysis, mathematics, calculations, and in-depth review.
Therefore, the complexity of your task is also a key determinant of how much you pay for your essay.
5. Type of work
Speaking of the type of work, there is editing, writing from scratch, paraphrasing, plagiarism removal, formatting only, or proofreading. Writing from scratch is great if you want a writer to research, plan, and write your essay based on the instructions. Generally, it costs more when your paper is written from scratch than when you want editing, formatting, proofreading, or paraphrasing.
Editing entails checking and correcting grammar, syntax, and stylistic errors. Finally, formatting entails checking if the format is okay, including the references and citations.
These services take little time compared to writing from scratch, which entails planning, outlining, and researching before writing.
Why do some websites sell pre-written essays?
We strongly advocate against pre-written essays because we have all the reasons to believe they are probably not tailored to your instructions. Besides, you are probably not the only one buying and recycling the essay.
Buying pre-written essays pits you against those who bought them, unlike having a custom-made essay that sets you ahead of the competition in the entire class.
There are many reasons against buying pre-written essays, which we have also explored in our other articles. Our focus, for now, is why some websites sell them.
Here are some reasons why some papers sell pre-written essays:
To continue getting money from an old essay. We view it not only as a breach of confidentiality but also as greed. Once a paper is written for you, it remains your sole property, as per GradeCrest policy. However, websites that sell pre-written essays will re-sell the paper to make continuous profits, which is unrealistic.
To stifle the creativity of different students. Imagine 10 of you buying an essay and writing the same scope and approach, and probably using the exact phrases and essay words. That alone will make your professor or instructor to smell something sinister. Buying essays pre-written other than custom-written stifles creativity. You cannot consult a writer for clarification, and sometimes, most of them are paraphrased internet content.
To mess up your future. Bought essays are sometimes full of plagiarism; if you accidentally submit them for grading, chances are you will face the consequences of plagiarism.
There are more reasons, but we can only point to these three main ones for now. First, we are simply saying that you are better off working with an essay writing website with writers who write your essay from scratch than those that sell pre-written papers.
Why you should avoid buying cheap essays
As the adage goes, cheap is expensive. The sooner this sink, the better. Essay writers are professionals, and essay writing websites run like regular companies. There are bills, salaries to be paid, and running costs. Therefore, there is no website where you can pay as low as $1-9 a page for an essay.
If you see such lower prices on a website, it is bait. There could be hidden charges, or you are in for a rude shock. Run!
Apart from endangering your grades, or further endangering them, if the school has not been welcoming to you or you've been so busy submitting assignments, these cheap essay websites can mess up your health – stress, the pain of loss, or headaches.
In many instances, we also noticed that scammers riddle the price lower to attract you to steal your personal details. Cheap from a fully-fledged academic website is better than cheap from an underdog website, a person on Twitter, Tik Tok, Facebook, or Instagram. You can hold an academic website accountable compared to individuals or rogue companies.
In recent research and a survey we conducted online, we found that given the industry dynamics, any website or writing company that promises to do your essay for less than $10 is dangerous and sinister.
When you realize this, you'd have disclosed too much personal information, such as names, billing addresses, account numbers, credit card details, and other valuable credentials. With the rise of identity theft, we can't guarantee your safety will be their priority. In addition, be in the know that some cheap essay websites cover illegal and unlawful businesses. So, you need to tread carefully.
A reliable essay writing company, like Gradecrest, prioritizes your security and safety as a client. It is why we have invested in systems and do not sell your written papers to anyone else; neither do we post the questions you provide online for marketing.
Where should you buy essays?
When you decide to purchase an essay, for whatever reason it is, we advise you to buy from a custom writing website. You can choose Gradecrest as your preferred place to buy essays because we are a reputable custom essay company.
Even though there are many online reviews for essay companies, you should not be duped by the reviews. We know of websites that buy reviews, making most of them fake. In addition, some websites reviewing some services are also run by those writing the reviews.
The best thing to do is engage customer chat support if you want to know more about a company. Understand the policies that cover you, what might go wrong, and what to do when it does.
Buying from reputable companies that deliver ensures your essay is unique, written from scratch, and your sole property. In addition, a reputable company will set a reasonable deadline and advise you on the appropriate time required to complete your order realistically.
Also, a reputable company will allow you to follow up on your order by communicating directly with your writer. You can ask for drafts, discuss the way forward, and agree on an issue with your writer.
A reputable company will also allow you to review and rate your writing. Thus far, Gradecrest has all these features, which makes us a top-rated essay writing website that helps you ace your essay.
What can make a student buy essays online?
There are numerous reasons why students buy essays online.
You have family/job/commitments to handle. Are you a military man or woman trying to get back to school and find it hard to balance work, life, and study? Are you a wife that can't balance running family errands and doing an essay? Well, these are perfect conditions that make people opt to buy essays written from scratch based on class instructions.
You need help. There comes a time when you are exhausted from writing; all you need is time to relax. You cannot do that when you have piled essays and other writing tasks that demand your attention. Outsourcing assignments to a reputable writing company connects you to a professional writer who removes your assignments.
You can't write any better. If you've been getting poor grades, which you would like to bolster to avoid re-sits, getting the help of an essay writer can save your grades. Professional writers write standard essays that can improve your writing and research skills when used as samples. If you suck at writing essays, you can buy them and have professionals do them.
You need peace of mind. "I hate writing essays!" or "Essays stress me!" are client statements on our website. However, we can make that essay go away by doing it for you from scratch.
You want to party hard. Essays have a way of coming in between fun and college life. However, with a reliable essay writer, you can play, party, and move however you want while your papers are taken care of.
You want samples. Samples make learning easier. If you wish to get a sample essay, essay outline, or essay plan, you can pay someone to write them.
Whatever your reasons are, you can hire and pay someone to write your essay at Gradecrest. And it is not illegal to pay someone to do your essay anyway, so, hey, make that move now!
Parting Shot!
Now that everything is clear, you understand that buying essays does not mean that you are getting a pre-written essay. It means that you are ordering an essay to be written from scratch. It is a bespoke or customized essay that is the product here.
There are many reasons to buy essays, including lack of time, motivation, and skills. Take an example of a mother who has responsibilities. Some emergencies come in, or a father who has responsibilities on the side and classes to attend. Unfortunately, essays can bog you down.
Writing essays, leave alone, other assignments can be tiring, which is why working with a professional saves your life in so many ways. But even as you buy essays online, pay attention to the cheap essay baits we have online.
Instead, work with reputable, reliable, and legit writing companies. Did we tell you that professors, politicians, higher ed moderators, and professionals use our service? Oh well, they do because we are thorough and have intelligent writers. So, hire your next essay writer from our website.