How to write an Autobiography Essay - The Ultimate Guide
Last Updated: 26 April 2021
Is writing an autobiography essay causing you goosebumps, even the mere mention of it? Well, we all have been there because putting together an autobiography essay is challenging.
You are maybe thinking to yourself that you are not the caliber of Bill Gates, Barack Obama, Nelson Mandela, Vladimir Putin, or Mahatma Gandhi, and writing an autobiography will not count. Your feeling is justified. Every college and university student we have helped write an autobiography essay has confessed that they knew not how to start an autobiography.
As if that is not enough, most students fear the mention of autobiography writing being part of their assignments. Just a by the way, because an autobiography is just like an essay about yourself, you need not panic. Anybody, famous or not, who feels like writing an autobiography can do so. Therefore, we compiled this comprehensive autobiography essay-writing guide.
Do not panic, and look for the best autobiography example yet. We know how fulfilling writing an autobiography essay feels. With this guide on how to write an autobiography essay, we make you become a hero of your story.
What is an Autobiography?
To define it simply, an autobiography is a non-fictional narration written by a writer (subject) about their own life from their perspective. Because everyone has a story- it could be long or short- that is what makes an autobiography.
Autobiographies fall under the genre of biographies and are common among the general readings accessible to the public.
There is always something that fascinates you or that which your friends define you as. And when you share that something with the world, you will be writing an autobiography. Unlike a biography that is an account of someone written by someone else, an autobiography is written by a person : you write your own autobiography but someone writes your biography.
If you are looking to write an outstanding autobiography about yourself, the trick is to treat it as if it is the best story, you ever will read. Like most stories, make it have a hook, a narrator, a central idea, and themes, and bring in special characters.
Unlike the long-held belief, writing an autobiography is not a praise to one's self. Instead, it can be writing to store professional or life memories as one lives and impacts the world.
Autobiography Vs. Biography and Memoir
Although biography and autobiography fall within the same genre: bibliographies, they have glaring differences. While biographies are written about someone by another person, autobiographies are written by an individual about themselves. In this case, the autobiographies are written using the introspective approach.
An autobiography is also a first-person account of the author while a memoir only documents part of the life story of a person. memoirs are also more focused on a given era of someone's life, often linking it to a given lens or perspective. It is also more focused compared to the general autobiography.
10 Authority Autobiography examples to emulate
Our Autobiography example has all these tenets factored in. The greatest way to get inspired on how to begin writing autobiographies is by reading the autobiographies of the most famous people.
Such autobiography examples help in developing the essence, flow, and ideas on how to write your own autobiography.
Some of the most inspirational autobiography examples include:
Dreams from My Father by Barack Obama
Long Walk to Freedom by Nelson Mandela
Anne Frank The Diary of a Young Girl
Open by Andre Agassi
The Autobiography of Benjamin Franklin by Benjamin Franklin
The Autobiography of Malcolm X by Malcolm X.
Agatha Christie: An Autobiography by Agatha Christie
On Writing: A Memoir of the Craft by Stephen King
A Moveable Feast by Ernest Hemingway
The Story of My Experiments with Truth (the autobiography of Gandhi)
These are the top ten best autobiographies that everyone has to read before they write their own or before their demise.
Remember, an autobiography is a firsthand experience of the author written by the author. It is intended for the readers to understand the hidden and open side of the author.
Types and formats of Autobiography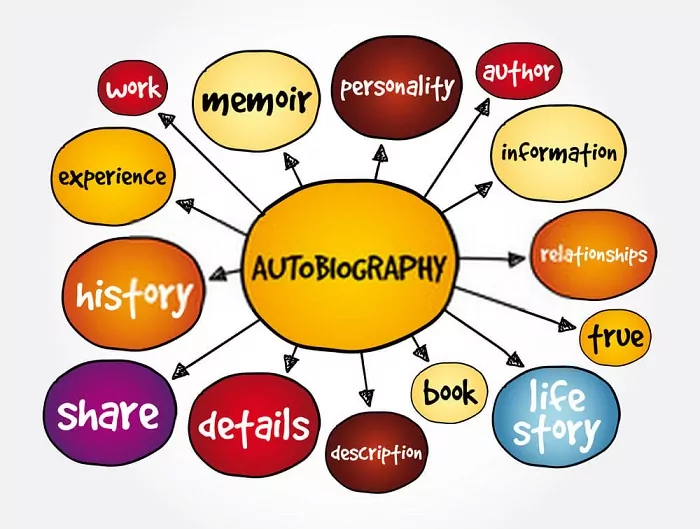 There are various types of autobiography formats you can choose to adopt.
Autobiographies need to flow in a particular format. There are many formats to follow when writing an autobiography. They include:
1. Traditional Autobiography Format
This is a format where the author begins recording events chronologically from birth to their current situation. Some of the notable traditional autobiography examples include: The autobiography by the late Nelson Mandela titles Long Walk to Freedom.
This type of autobiography is the fullest and longest story someone writes about themselves. In most cases, these are written for personal use, which helps store memories. In some circumstances, prominent people write their autobiographies for sale. We've seen autobiographies of prominent people like Obama, Nelson Mandela, Trevor Noah, and Paramahansa Yogananda.
These are autobiographies created for the general public. In essence, an autobiography details the date of birth until the day you are writing. It entails the goals, challenges, encounters, triumphs, failures, and every other tiny detail. If you are busy and would like someone to write your autobiography, there are many services where you can hire an autobiography ghostwriter to write your story.
2. Vignettes
In this autobiography format, the author presents their story in the form of short chapters that describe and focus on particular events in the life of the author. Therefore, to complete a full autobiography, the author combines a collection of Vignettes. A sound autobiography example following the format is the
A Well-Lighted Cafe section written by Ernest Hemingway' It was very late, and everyone had left the cafe except an old man who sat in the shadow the leaves of the tree made against the electric light. In the daytime, the street was dusty, but at night the dew settled the dust, and the old man liked to sit late because he was deaf and now at night it was quiet, and he felt the difference. The two waiters inside the cafe knew that the old man was a little drunk, and while he was a good client, they knew that if he became too drunk, he would leave without paying, so they kept watching on him.
3. Personal Narrative Autobiographies
Unlike the vignettes which focus on the events, the personal narratives or personal essays focus on a single moment. In this autobiography example, the events are described through dialogue or imagery. Essentially, students are usually assigned autobiography essays where they detail their experiences at one moment. It is also a common feature on the part of personal essays and admission essays. Examples of potential autobiography titles include: How I climbed Mount Everest or How I Narrowly Escaped the 911 Incident.
4. Memoir
Memoirs are autobiography examples where there is a razor-sharp focus on the particular aspects of an individual say their political success, their business success, or their public speaking prowess. Notably, some of the common themes include philosophy, politics, religion, or history. To that effect, a good memoir autobiography example is Night by Elie Wiesel.
5. Personal Essay
A personal essay also fits as a form of autobiographical writing. It is an emotional and very intimate form of writing where you share your experience, encounters, beliefs, values, principles, philosophy, and ambitions with the readers (mostly the admissions committee) in an in-depth manner to help them pick you for a spot in college, graduate program, MBA, or a scholarship.
A personal statement should help your readers have a smaller and bigger picture of yourself or events around your life as well as understand your feelings through your words.
A personal essay entails describing how a given encounter, scenario, or situation happened in your life and how it influences your choice or impacted your life and worldview.
To be specific, given that personal statements can be between 500 words and 1000 words essays, they are the shortest form of autobiographical writing just like college essays.
6. Autobiographical college essays
Many students write college entry essays where they give details about themselves. With this type of autobiographical writing, you must convince the admissions committee that you are a worthy candidate for your dream college.
Most of the college essays are short essays but bear the greatest burden of convincing the admissions officers that you should be accepted. For this reason, these essays have a conditional word limit beyond which the officers discard the content. In modern times, there are tabs where students paste college essays. These tabs will only take the defined content length and characters. Therefore, you have to be smart, clear, concise, and convincing.
Let it be known here and now that college essays are not your CV or resume. Instead, they should bring out your personality, values, and everything else that is not professional.
11 Proven Tips to Make Your Autobiography Interesting
When writing your autobiography/memoir, you are writing a story about yourself by yourself. It is entirely different from a biography, where someone else writes a story about you. Now, to craft an award-winning autobiography, there are certain principles that you must observe.
Grab the attention of your audience from the onset
An autobiography needs a good entry point. Like other essays, the readers will judge the entire text based on how exciting and attractive your introduction is. Therefore, strive to convince your audience about the uniqueness of your story and remind them that it is worth their time.
As you fall your harmer on the introduction, ensure that you have a snapshot of your entire autobiography that creates a personal connection to your readers. And because we read, experience, and hear life stories, chances are that your readers will relate if you have a welcoming introduction.
Keep it logical
Ensure that your autobiography has some great flow right off the bat. Have a clear theme, thesis statement, plot, and climax. If there is some chronological aspect in your autobiography, every piece within your story builds on the other brick by brick.
Make it interesting and brief
Always avoid writing superfluous words to fill pages in the name of an autobiography. Instead, when revealing personal details, your selection of words should prove that you are a writing nerd.
To invite, keep, and irrigate your readers, ensure that you engage sensory details. Provide vivid details in your essay and let the audience smell, touch, and feel your world. We liken writing an autobiography to invite someone in a world of your own in writing. Therefore, even if it means using spatial order in your autobiographical essay, ensure that your audience can have the full picture of your world.
Keep it easy
Never use vocabulary. Instead, stick to being simple and have a good flow by introducing relevant transition words. Do not water the weight of the autobiography essay by bogging down your main points with unnecessary details.
Write from the first-person perspective
It is all about you and you have to make frequent references to yourself, so this is even self-explanatory. This is a type of writing where you are allowed to use I when expressing ideas and thoughts.
First-person narration is allowed in an autobiographical essay. Essentially, since it is an essay about yourself, there is not so much limit on using I, me, or we in your essay. Autobiography writing conventions are slightly different from the rules of academic writing where personification is prohibited.
Let the audience hear your personal voice, which is your elemental purpose anyway, through the words you write. Personification also brings to life the connection with the audience at a personal level.
Have a central theme
Your autobiography has a purpose, and that must be very clear. Most of the exceptional autobiographies have central themes that guide the tone of the author.
Some of the common themes include success, determination, endurance, patience, resilience, and bravery, just to mention a few. Having the central theme can make it easy to keep the readers glued and in suspense after every sentence.
Once your autobiographical essay has a central theme, match your life experience and episodes to it. Let your story have an in-depth meaning that the readers should decode as they chew your narration.
Understand the audience
Since you are writing a personal profile essay, you should be wary of the audience and what makes them entertained. Essentially, the audience guides the theme, word choice, and length.
Avoid triviality
Avoid things that sound like cliché. Yes, those are common with biographies. Even though autobiographies are formal essays or papers about yourself, put slang and colloquial expressions at bay.
It is not a personal diary or a resume
Even though you are getting candid and revealing to capture the attention of the audience, be mindful of what you share. Do not go to the minute details. Have some set boundaries of what goes in your autobiography.
When writing your autobiographical essay for college, the admissions officer already has your resume. Do not make a mistake of presenting your grades and academic performance.
Instead, dwell on your character, personality, principles, and values outside of school. Assume that you are writing for someone who will only judge and know you through your words. Let them read your unique story and make you part of the college fraternity.
It should never be so long
If it is an autobiography essay, it can be between 500 words and 3000 words, depending on the context and purpose. If it is for admission to college, your autobiography should be around 3000 characters, but they always specify. Like long admission essays, long autobiographies get repetitive and boring.
Mind your tenses and tone
When telling any story, choosing one verb tense matters a lot. Decide the tense that you want to use and maintain it throughout your storytelling. Let there be consistency in the selected tense in your autobiographical essay. Using past or present tense is allowed when writing about the past but you must not change your tenses to an extent of disrupting the flow of your story midway.
How to Write an Autobiography Outline/Structure
An outline for your autobiography helps you understand what falls where and organize its flow. Remember, an autobiography has to have an introduction, body, and conclusion.
The structure depends on the type of autobiographical writing you are doing. However, since this guide depends on the basic autobiography structure, here are the basic autobiographical structuring principles you should adhere to when writing your essay.
The introduction should be clear and concise about who you are. Fundamentally, this means a brief and succinct description of yourself, your early life, challenges, and how you got to where you are. Ultimately, you can also define the theme (s) at this level.
We have written an entire section on how to start an autobiography (in the later sections of this guide). It is no different from an introductory paragraph of an essay. It serves as an entry point that grabs the attention of the readers and presents them with the gist of your writing.
It should not be very long but clear, concise, and coherent. Besides, it has to provide your portrait to the readers so that they understand your story from your perspective.
The body should have segments of your life in paragraphs to give an understanding of every event and occurrence. You should highlight the childhood phase, adolescent phase, early adulthood phase, and more in that order. Vividly, it is also in this segment that you highlight your hobbies, academic achievements, and experiences including jovial and sad moments.
In short college autobiographical essays, the body can be a paragraph or two. However, in longer autobiography writings, the paragraphs can be more, each with its idea.
As a rule of the thumb, the main body forms 80% of the total word count. The remaining 10% goes to the intro and the 10% to the conclusion.
In the closing paragraph of your autobiography ensure that you exercise brevity. You would want to present the theme, and the lesson of your life, your quotes, or your personal philosophy-just make it different and unique. It is also here that you highlight the intention of writing the autobiography.
Make it impressive, strong, and engaging enough to create some link and make your readers yearn to read more. Mention the lessons, changes you've made to life, and the new world views that have emerged. If there are negative encounters, talk about how your values and resilience enabled you to overcome them.
Learn how to start or end your autobiography in the next sections.
To this end, if all you need is someone to write your autobiographical essay, we have the best autobiography essay writers.
Here is a great sample autobiography in PDF format.
Three things to consider when writing an Autobiography Essay
1. Simplicity
Above all, the simpler your autobiography is, the higher the likelihood that it will entertain and stick in the memories of the readers. Ordinarily, a simple language also makes it accessible by a large audience.
2. Rationality
Only write what is humanly possible. Avoid irrational bluff like supernatural powers. In this, you must develop a clear thesis statement that gives an overview of the autobiography and its central theme.
3. Keep it interesting
Nobody wants something boring in the form of an autobiography. All ten autobiography examples are succinct, simple, and have an interesting language and approach. Writing personal details unknown to anyone is also interesting on its own. Therefore, at whatever cost, make your autobiography exciting.
Primarily, there are different autobiography templates online, which can give you a picture of how to approach an autobiography.
However, once you are equipped with the autobiography outline, remember the three factors to consider, and curate the best piece there ever is.
Seven steps on How to Write a Good Autobiography Essay
Writing an autobiography is a humbling experience. It gives you the chance to delve into your past and uncover some things about you that might have been washed away down memory lane.
Ordinarily, with these tips, you can become an award-winning autobiography writer sought by great people to ghostwrite their autobiographies. Autobiographies are treasured and the moment your family has one, rest assured they will cherish you vividly.
When asked to write their autobiography essay, most college students get confused. Apart from just giving you an example, we felt it is wise to cover some tested methods to write the best autobiography essay.
If you are wondering how to write an autobiography about yourself or how to write an autobiography for school, we have your back. The good thing, you can scroll through this article as you sip some espresso, cold beverages, or as you chat with friends over dinner. Now, let's get the ball rolling.
Here are some tips for writing a killer autobiography that would leave people yearning for more.
Step 1: Chart your Timeline to Date
The very first step is always to research more about who you are, how you have lived, and what your contributions to life have been. It is important to have a timeline of your life, which entails some important/major milestones. Ensure that you have included all the important dates, events, and occurrences. Here are some questions to help:
Where were you born?
Who were your parents?
What is your family history?
Can you trace your ancestry?
Where do your parents live?
Do you have siblings, and how have they impacted you?
What college did you attend?
What was your major?
What places would you like to visit and why?
What are your best skills?
Who has hurt you in life?
What is your personal philosophy?
What doctrines do you value in life?
Who do you look up to?
How do you handle negative events?
What is your personality type?
What was the most important lesson you have ever learned in your life?
Can you remember your childhood? Can you connect it with your current life?
What has been your career, relationship, and life journey?
Have you had bad events?
What are your goals for the future?
What famous quote can describe your life?
Who influenced your personal development?
Who is your greatest role model?
What do you want to become in your later life?
What demoralizes you?
What is your family's social and ethnic background?
This initial stage is meant to brainstorm many ideas and build facts that you will use to support points in your autobiography. When you eventually have a list of what you are to write, you have achieved writing the autobiography already.
Step 2: Define the major influencers in your life
We began by stating that well-written autobiographies sound like great stories. When someone is reading your autobiography, they want to understand how it feels like to be you.
Therefore, authenticity and honesty win the hearts of the readers. In this case, your autobiography should not stick to the college essay canonicals. Instead, it should expose your life the way it was and is currently.
The best way is always to write as though you are narrating to a close friend, without holding back. Also, ensure that your intention when writing is to reveal your personality. And when writing it from your perspective, choose those that matter, who have in one way or another impacted your life.
Step 3: Maintain Authenticity All-Across
The way through a great autobiography is to reveal everything about oneself. Sometimes, these autobiographies come out as critical motivations to those facing similar life situations.
So, it would help if you always reflected the truths about yourself and your identity in your autobiography. Never should it be limited to achievements, while masking some negative occurrences.
Instead, it would be best if you offered your story in full-length comprising of both accolades and scorns, mistakes and wins, successes and failure, and everything in white and black.
Sometimes, try to reveal your philosophies, including how your life has become hard or good based on them. If you have opinions and ideas, do not hold them back.
Step 4: Take Keen Note of Events and Occurrences
Human life is measured in terms of events, both good and bad. Therefore, while looking back into history, acknowledge past events and how they have shaped your future.
For instance, a tough upbringing could have made you escape the teeth of peer pressure or early pregnancies. Look at cultural events, festivals, celebrations, norms, deaths, and any other event and relate it to your current life.
Step 5: Have a Creative Outline
An autobiography begins with an outstanding introduction. The introduction can have a hook to steal the attention of the readers and keep them. Your introduction must not be your date of birth, which has become a cliché.
Sometimes, it is also good to construct the body of the autobiography, based on selected worthwhile themes. The themes and the plot form the body. The plot can consist of obstacles, wins, or achievements and must have a climax and a resolution in the end.
Let your structure remain focused with a plot, characters, event, and encounters well mapped out. An autobiography with a perfect structure will be written flawlessly and within the shortest time.
Ensure that you induce a sense of excitement in your readers off the bat. As you begin your narrative, let them know your worth.
Step 6: Write the Draft
When writing the draft, you can choose to begin your introduction with a chronological narrative of your life. However, to make an autobiography more interesting, weaving chronological data with logic can work the magic. The introduction can be a reflection or reaction from the present related to past events.
Also, you can begin the story by narrating some outstanding moments in your childhood or upbringing and go reverse-forward all through. For instance, if am to write an autobiography on myself, I would begin by noting some touching moment in my life then cover my heritage, flow through to college days, and then bring the climax when am explaining my career life.
When writing the draft, remember to stick to the themes identified in the outline. It does not always have to be a conflict, make it a memorable theme ? spirituality, education, defeat, hardship, hard work, etc.
As you write the draft, try to reflect on some of the important life lessons and doctrines that have seen you through. If you are writing a book, use chapters to divide the important aspects you need to cover. Besides, each chapter should end up in either suspense or greatness that leaves the audience yearning for more. If it is an essay, the paragraphs should be well connected. Use transitions to make it flow and keep readers entertained from beginning to end.
As you craft the narrative, segregate your draft into different sections. How well you end each paragraph or section will draw the attention of your readers and they are yours to keep to the very end.
Step 7: Proofread and Edit the Autobiography
An autobiography will only be a plain story written by an armature/rookie if not well-proofread and edited. When proofreading and editing, focus on spelling, tenses, punctuation, word order, clauses, and abbreviations.
A paper full of grammatical and spelling mistakes always turns off people, even when the content is great. When editing focuses on the dates, descriptions, events, names, and meanings.
You should tweak the paragraphs, replace all the mundane words, insert relevant citations, use the correct spelling and ensure that everything flows.
Therefore, strive to achieve the purpose of your autobiography by being keen. One mistake most autobiography writers do is to edit their autobiography on their own. However, because you have been subjective in your writing, you can never objectively critique any of it. As such, your autobiographical writing will be subject to many errors.
Editing an autobiography requires a professional touch. Lucky for you, we have editors and proofreaders for your autobiography ready to help. Copyeditors always help clean your writing. They have the knack for playing around with words and turn dull stories into amazing ones.
When professionals bring their expert touch, trust us, your autobiography will read as though it was written to kill the readers with details.
How to start an Autobiography Essay
A good starting statement for your autobiography essay is getting an essay grabber or hook. It can be a fact, an anecdote, or a quote, among others. Instead of diving right into the meat of your autobiography, ensure you build a foundation in the introduction.
Remember, an autobiography essay is descriptive. Therefore, describe things, people, places, events, or periods vividly in a manner to create a mental picture. An example is to describe a setting,
As I stood in the podium looking at my fellow students, tears of joy filled my eyes. I could not believe I was the newly elected Student President.
Once you have hooked your reader, present the main idea that you want to depict. The introduction to your essay does not have to be longer, like in other essays. It should have a hook, some background/setting, and some of the events that inspired you.
Our experts recommend approaching the introduction non-chronologically to make everything exciting and engaging. While you write the words, knit them together using careful transition words.
Example: I was never planning to have such a change in my life, but its opportune moment came anyway.
First Sentence Ideas for your Autobiography
My mantra since childhood
Raised and bred by strict parents
The tough upbringing and poverty-ridden early life
My passion for succeeding
I am a people person
My dream growing up was
I wish I knew this before making a decision
One quote that defines my gusto and gist is
I love the. movie
The novel/movie/author best describes my.
These are just but a few examples of autobiography start-words that students have used in writing an A-grade memoir.
How to Conclude an Autobiography Essay
We have mentioned that the body will bear the theme of your autobiography essay. Now, the autobiography conclusion is as important as is its beginning.
The conclusion wraps up the story, ties the message up, and makes an impact on the reader. If your autobiography does not have a stylish ending, chances are it will never be read.
You need to consider summarizing the major points, including the mention of the central theme. Consider your challenges and how they influenced who you are today. Also, connect to your beginning and describe the story.
It is also the conclusion that you introduce an unexpected occurrence and its impact on you. A fantastic autobiography essay conclusion wins the reader from the start. Do not focus just on the negatives; you can include the positives as well.
Now that you have the tips at hand, writing an autobiographical essay should not be hard. If you need a professionally written autobiography essay, we have experts.
Facts to Spice up your Main Body
The body of your essay is an arena where all the presentations happen. In this case, you need to make it well-packed with ideas, points, and great ideas. Here is what to include in an autobiography main body:
Your personal background
Explore such things as your date of birth, name, the meaning of your name, hometown, family composition and history, touchstone moments in your life, grandparents, and other personal factors. You can do a historical autobiographical introduction where you explore your origin from the perspective of your lineage. Give a complete picture of your life.
As yourself:
Who are your parents?
What values do your parents embody?
What type of family do you come from?
When were you born?
What is your parent's occupation?
How many siblings do you have?
How does your background connect to the central theme in your autobiography?
Childhood memories
Our childhood period shapes our lives indirectly or directly. It is a period that is we reflect deeply we realize shaped who we are today. Therefore, when writing your autobiography, ensure that your piece of writing captures this important phase. Here are some questions:
How was it growing up in your family?
Where did you spend most of your childhood?
How did your family members perceive you then?
Were you an introvert or extrovert?
What events shaped your current self-identity?
Were there challenges you experienced in childhood?
How does your childhood define your current beliefs?
Explore your culture
Everybody belongs to a culture that shapes their perspectives, reasoning, and personal choices. Your family traditions, principles, and beliefs largely determine the kind of person you are. As yourself:
What special moments define you?
What traditions do you uphold to date?
Are there philosophies that guide your family relations?
Are there customary events you cannot miss?
How did events relate to your family traditions?
Narrative of your challenges
Life is never free from challenges, ensure that you throw in a few challenges or setbacks you faced in life.
The prowess of writing an autobiography comes when you can link these encounters to your selected central theme.
A story of failure can help you shape the perspective of your readers that failure is not a death sentence. If you follow it with how you fought your challenges, you have a story!
Details of your successes
Like failures, have a proper connection between your successes, accomplishments, or achievements and the central theme. Walk your readers through the steps you took to achieve success. Do not limit your focus on the bitter parts of your journey. Every story in your journey counts.
Episodes of your professional life
Every reader of an autobiography always yearns to get to the point where the writer took a turn from their failures and excelled professionally. Give this section extra attention as it can either make you connect with your reader or mutilate the trust you've already built.