Is Using Chegg for Studies Cheating? + Hacks not to get Caught!
Last Updated: 03 March 2023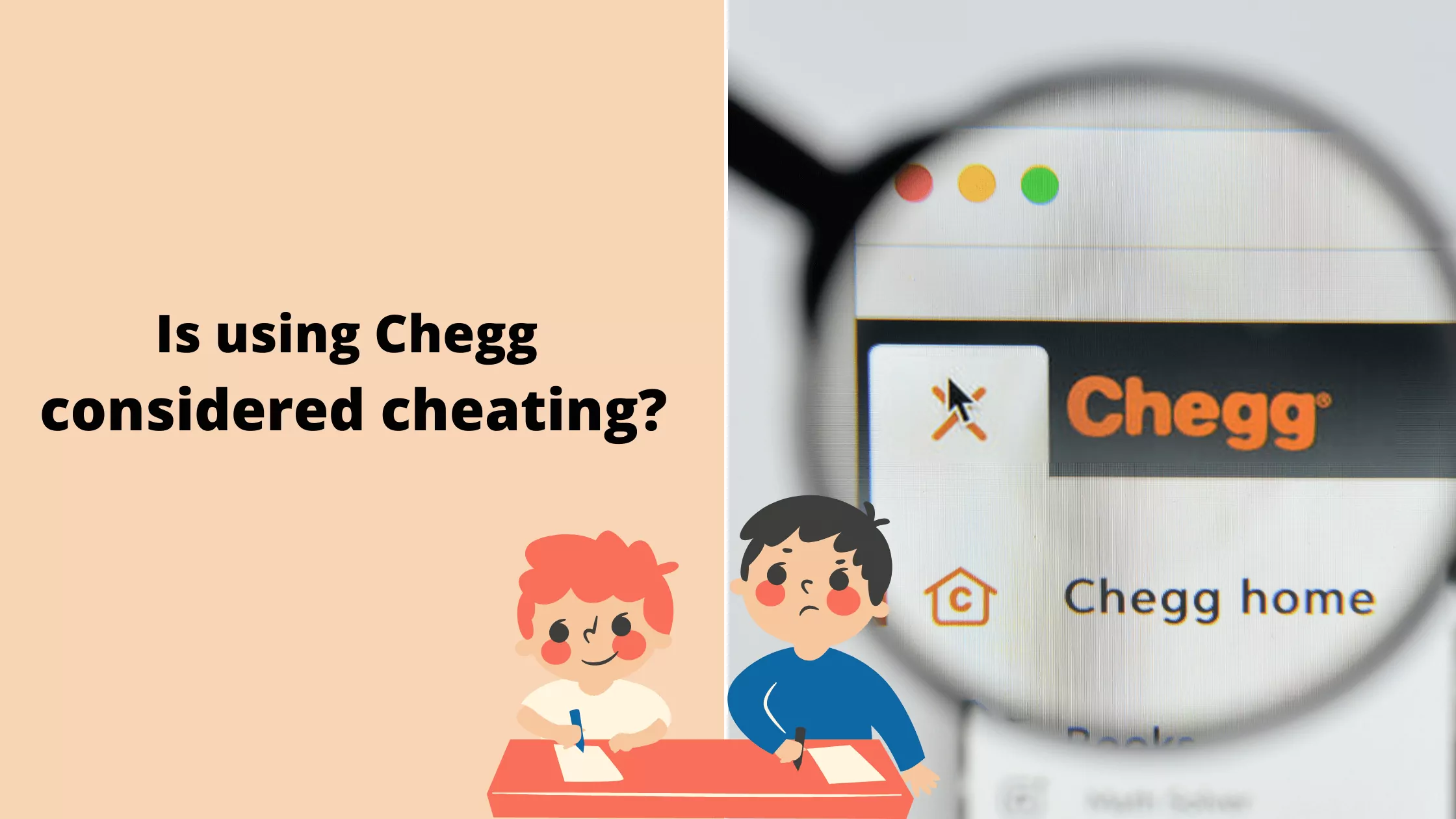 According to Jeffrey R. Young, an editor at EdSurge, many students are ˜Chegging' their way out of homework. The report backs up the claims by Forbes that Chegg is a cheating super spreader. Furthermore, it appears that more and more students prefer to get homework help from Chegg by copying answers instead of doing it. So we set out to find out whether using Chegg amounts to cheating. This article comprehensively answers the question and gives you some valuable tips to safely use Chegg homework-help website without getting caught.
To begin with, the view of Chegg as a super spreader of cheating can be flawed or legitimate, depending on your angle of view. Multiple educational homework assistance websites make the lives of students easy. Homework can be challenging, but with a fantastic study website like Chegg, everything levels out.
Like our own assignment help services, Chegg has its merits and drawbacks. Chegg has always been of great help to students when stuck with their assignments. Instead of waiting for a dragging professor or instructor to get back, you get model solutions. Whether it lands you into trouble or solves your homework stress depends on how you use it.
What is Chegg?
Chegg. Inc is an American educational technology company that is headquartered in Santa Clara, California. The company offers various services, including textbook solutions, online tutoring, digital and physical textbooks, homework answer solutions, and a hoard of other student solutions. Beginning November 2013, the company started trading on the NYE.
Our assessment reveals that Chegg has a large base of student clients who visit the website to procure different services. Thus, Chegg fills the gap between professors and students just like our homework assistance company, Gradecrest.
We can agree, especially following the pandemic, that the internet has expanded learning. Several online platforms have made learning more accessible. Online or web learning has replaced the need to research physically in libraries. You can simply do an assignment without stepping into the library.
With the help of online tutoring websites like Chegg, students often get a click-away homework solution, tutorials, digital texts, and manuals. You can only struggle or get stressed with the school if it is your choice.
Getting help is now easier than ever. And the sweet part of it is that everyone, including that instructor, moderator, professor, or lecturer got help at some point in their studies. So let's not even talk about the significant people in society who saved time with such assignment help platforms.
Is using Chegg Legal, and is the platform Legit?
Chegg is legally operated and owned. It trades stocks in the NYE stock exchange. It is a legitimate educational service provider that helps students maneuver through different assignments and homework. It provides legitimate documents displayed and sold as per its policies and pricing practices. Most students who use Chegg attest that the documents they receive from the website credibly help them in their studies. Therefore, the company is legal, legit, and practically existing within the laws of higher education. There are also many ways to get legit answers and solutions from the website, including from trained and vetted tutors.
If you are to rent a book, you will get it within seven days. The platform also has an extensive network of reading documents that addresses the needs of diverse students and users. It is a company that solves a gap in society. And it is likely to attract a behemoth of critique from those who think using it is illegal or illegitimate.
Chegg has a functional organizational structure known to the public. These are professionals who work within the confines of federal and state laws. The website legitimately empowers students with the correct answers, knowledge, and problem-solving skills, which improves their grasp of academic content. We view Chegg as a problem-solving website that substitutes the professors and instructors when they are out of reach.
An important insight is that Chegg does not snitch on you even when you use it to cheat. That is the onus of your professor to prove and not Chegg. It has privacy and confidentiality policies to guard you against undue pressure and false accusations. Unless you mess your way when using Chegg, it will always legitimately assist you.
Does Using Chegg amount to Cheating?
As we mentioned earlier, Chegg is a crucial cog in higher education. The online tutoring platform enables students to avail themselves of answers, which enables peer-to-peer learning. Moreover, students get the chance to interact with answers done with expert online tutors. However, using the platform without proper caution is considered cheating. But that depends on the extent to which you use it.
In our assessment, we can honestly conclude that:
Using Chegg is cheating if you (the student) get the Chegg answers and directly use them to answer your quizzes, exams, and copy the essays directly and submit them for assignments. When you do this, you get an undue advantage through collusion with an expert over other students. You reap where you did not sow. Chegg Study is not considered cheating if you use the platform for revision, obtaining texts and other learning resources, and facilitating group discussions. It is more of a study buddy in college who provides answers to you whenever you need it.
Therefore, you need to be very meticulous when using Chegg to avoid being accused of cheating, which draws serious academic integrity breach consequences. Whether you cheat or not with Chegg depends on how you use it. If you get quick answers without studying, let's call a spade a spade, you are cheating!
But if your university policies or college honor codes are relaxed, you will go away with it. There are many ways to defend yourself, after all. Given that there are two sides to this debate let's see when using Chegg is cheating and when it's not.
While at it, remember that you can get instant assignment help with any academic task from our platform. We have real writers who write everything from scratch. These vetted writers will produce 100% original and plagiarism-free answers that have not been used elsewhere. A customized approach is better than Chegg answers that are accessible by everyone.
When using Chegg is not Cheating
There are a thousand and one reasons you should not cheat in school, exams, or college. Using homework help answer platforms with ready answers, such as Chegg, and not holding the label of a cheat depends on how responsible you are yourself.
If you use Chegg as a guide to help you unpack solutions to a given problem, you are a researcher trying to solve a problem, which is not synonymous with cheating. Instead, it is like a lab technician looking at the lab manual to prepare a given solution"it's a situation that is inevitable.
You are using the Chegg platform to find solutions, which is a logical and practical thing to do. So here are five ways to use Chegg legally without being accused of cheating.
1. For Revision and Study Purposes
If you use Chegg for the proper purpose, you can be sure to get help from academics without raising eyebrows. Chegg appears to be an effective, efficient, and reliable solution to any academic task. Whether you are handling questions or essays, you can use it to digest the answers, plan an answer, and write a comprehensive paper that answers the questions. We agree, to this extent, that there is much Knowledge Chegg passes to the subscribers and users, all at an affordable price.
Chegg has solutions when you need help. And if you use it well, you will not be cheating. A caution, though, since everyone else is sourcing the exact solutions, just like using course hero, Chegg might mess you up. It would help if you used the answers for inspiration, but that should not stifle your creativity. So instead, use the platform to understand the concepts from class, different angles of solving a question, and get the knowledge that can help you sit for your mid-term and final exams.
2. Chegging answers but not lifting them as is
You can use Chegg to access answers to textbook problems, model exam answers, quiz answers, and homework answers. However, use them only for inspiration to do yours. For instance, if you have come up with different wording that makes sense, you can check whether your approach has the same solution as Chegg's answers. Students do this every day, and sometimes instructors do too! You can also use it to understand how questions are framed and how to structure your answers to get the maximum points in the rubric.
3. Accessing digital textbooks
Chegg is a handy resource for a student. You can use it to order cheap digital and hardcover books that can bolster your study efforts. In addition, you have the option of getting class texts shared by your classmates or students before you, course materials, and eBooks that can come in handy when researching for your essay or research paper. Used this way, the Chegg website is a powerful student resource.
4. Comparing your answers
The human mind likes comparison. About 60% of students who use Chegg use it to compare their answers to the model solutions written by online writing experts in their field. If you have completed your work and you are unsure if the answers you gave are correct, you can log into Chegg and compare the answers to yours. This way, you will tweak your answers appropriately or develop a curious mind to research more and provide a better answer.
5. Study tools to gain more knowledge
The ultimate purpose of Chegg is to use it as a study tool to benefit any student during their study years. It is a good test for your responsibility, given that everybody else is accessing the tool. Forget the honor shield that covers exam answers during exams. Can you use the tool independently in your assignments and tests without influencing your thought process and problem-solving capabilities?
Most students lift solutions from Chegg and present them as their own, which is plagiarism. If you have a resilient mindset, you can see this as a chance to develop yourself. You can check the steps to take when answering your homework, the likely content, and how to frame an answer.
Homework gauges your understanding of facts, concepts, and material from class. Use Chegg to advance this objective, build your skills, and enhance your knowledge, and you will not be cheating. After all, all Chegg tutors undergo rigorous vetting and recruitment processes.
When is Using Chegg equated to Cheating?
If you have used Chegg responsibly, you can never be accused of cheating. However, if you use Chegg to get an undue advantage, the chances are that you will be caught. For example, using Chegg for all the wrong reasons and getting answer solutions when prohibited is outright cheating.
1. Lifting answers as is
Plagiarizing Chegg's answers can land you in trouble. Plagiarism is an academic integrity offense that can cripple your academic life and future. When you are chegging to lift the answers and submit them as your own, you are a cheat. Instead, learn to adapt the answers as a strategy to study, revise, and formulate better responses. Do not copy-paste Chegg answers and expect to pass SafeAssign, Turnitin, PlagScan, UniCheck, or other plagiarism detection software.
2. Getting ahead with online exams and tests
Suppose you use Chegg to get exam answers dishonestly; whether an open-book, online test, quiz, or an online exam, you are cheating. However, you can use the material to learn and revise for exams without stealing solutions during the examination sessions.
3. When it is against institutional policies
Various academic institutions have taken a different stance on using Chegg. If your college or university has prohibited it, do not use it as you will be cheating. Furthermore, you risk getting disciplinary actions for such daring moves. Instead, use our academic writing website that is never prohibited because we give model answers that are unique, custom-written, and reliable.
4. Contravenes Honor Code
Chegg believes in honor codes that protect the interest of the institutions and students. In itself, the materials in the platform are not meant for cheating. They are to be used as a study guide. However, if you use it to go against the institutional honor codes, you are definitely a cheat.
18 Valuable Facts about Chegg that you should Know
Chegg can track your information if you view a question, including your device's IP, location, address, and many other aspects. Chegg also has your email to track your usage of the website.
A professor can tell if you copied or paraphrased answers from Chegg. Then, they compare the approach, lenses, or perspective and the structuring of your answer vs. Chegg answers.
When you copy answers as they are from Chegg, you will be caught by a plagiarism checker. This is a no-brainer.
You cannot hide your identity to Chegg as you do with Gradecrest. When you register, they will know that you registered under what name and where. If you used an IP address, they could also access the details. Sometimes, you give Chegg your school details.
If your institution is investigating you, you can be caught using Chegg since the answers are sold to many people. With the proper request, Chegg can assist your institution in knowing whether you used their answers or not if you are being investigated.
Course Hero, Chegg, Study pool, and Sweet Study (formerly homework market) offer suitable study materials. However, like Gradecrest, the extent to which you use these materials defines whether you have cheated in exams, essays, or school.
Chegg has many tutors who work round the clock to offer solutions. Unfortunately, they are not as fast as Gradecrest tutors.
Even though the response from Chegg is fast, Gradecrest support teams are always at the forefront to help you navigate our website.
Chegg has a free and premium plan; you pay to get assignments and homework answers. There is nothing for free in the world today. You've got to pay.
You can use Chegg video lecture classes to boost your knowledge. In addition, you can find detailed explanations that further simplify homework answers.
Chegg is a safe website accessed by millions of students and professors globally. It is an information resource that critically fits into the structure of higher learning. You can safely rent books and use them for your college class readings. Chegg adheres to honor codes too.
Using Chegg only gets you into trouble if your university detects that you have cheated. The professor can detect this using a plagiarism checker that will tell that you copied Chegg's answers directly.
Answers from Chegg are accessible to anyone, they are not customized, and they are not cited; you can only escape plagiarism if you use them wisely.
If you use Chegg answers illegally, you can be sued for plagiarism. You can also be expelled from school if you contravene the school honor code.
Chegg has no jurisdiction to dictate how you use their services. If your essay, the consequences that befall you are for you to face and not Chegg.
Chegg tutors are prohibited from offering direct help to students. However, its AI or machine learning can flag any illegitimate requests. In addition, Chegg can cooperate with your school to uncover if you used the website to cheat.
Not all answers from Chegg are correct. The tutors hired by Chegg make mistakes, and because there is no quality assurance, they can pass the mistakes to you. Although they regard them as low-quality content, some get their way to publication.
Chegg can refund you if a tutor provides a wrong answer, although there are terms and conditions. You only rate a tutor when satisfied by an answer, which means that all answers are subjective. Get more objective answers from Gradecrest Online Tutors.
Parting Shot!
Whether you use Chegg answers correctly or dubiously, there is always a catch. Overlying on Chegg can make you a quack practitioner. Although Chegg has better tutors than Course hero, the relaxed environment they operate in makes it easy to get low-quality solutions.
As an alternative to Chegg and course hero, we recommend using our website to get instant homework help. We have very reliable, responsive, and experienced online tutors. Moreover, the practice environment is rigorous, that every answer is of high quality.
Our tutors facilitate one-on-one learning through the materials they offer. As a result, 99% of our clients prefer working with any tutor because they find all the tutors balanced in knowledge.
We are a very secretive writing company. Since the answers are unique, you can trust that your essay or research paper will not be the same as your classmate's. If chegging it does not appeal to you, you can better still get answers and solution from our website.