Multimodal Essay Guide: How to Write plus Useful Tips and Tricks
Last Updated: 28 January 2023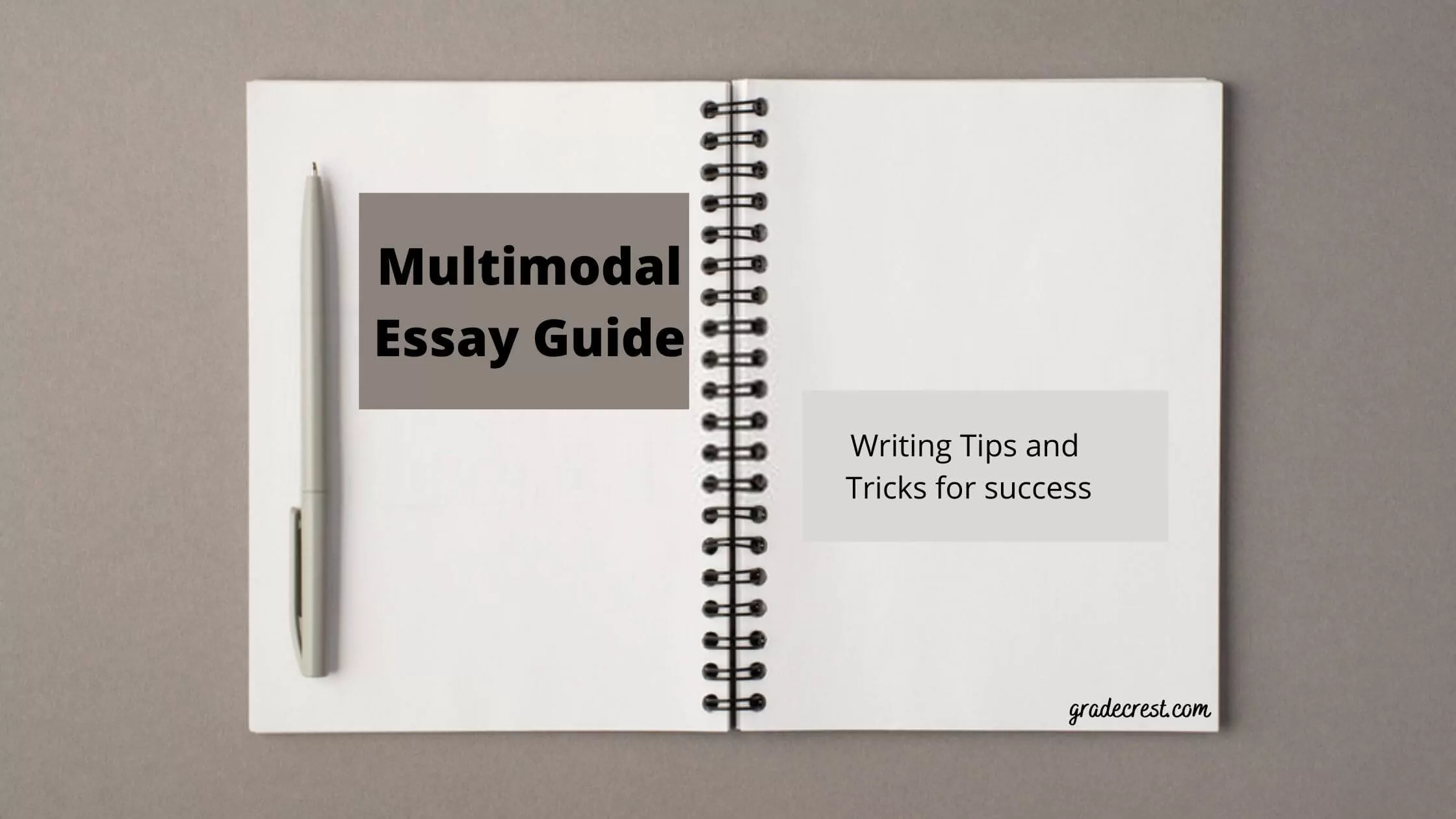 When it comes to learning how to write a multimodal essay, it might seem like a tedious task in the eyes of beginners, but once you master the steps, tips, and tricks of writing one, you will be writing as though you are an expert in no time.
In this article, we discuss the definition of a multimodal essay, the modes of communication to feature in multimodal exposition, and show you the step-by-step guide with an outline, cheat sheet, checklist, and examples.
Alternatively, if you prefer skipping all these and having a professional writer help you do it, feel free to contact our top essay writing service by going to our home page and placing an order ? filling the order form.
What is a Multimodal Essay?
Unlike the traditional texts, multimodal texts use multimodal composing that extends beyond the alphabetic to include a combination of sound, images, colors, animation, and text. In most instances, the multimodal texts demonstrate effective use of multimodal exposition, which is displayed in a predominantly digital space.
A multimodal essay refers to a formal, comprehensive essay that combines two or more mediums of composing, such as photography, audio, printed text, video, magazine-cut-outs, website, blog, video game, or hypertext web document, etc. it is a piece of assignment meant to expose you to different modes of composing. It is often a digital essay where you do things differently than you would do if you were limited to printing on paper. It is often read, assessed, and graded onscreen.
Although there are other forms of multimodal expression, such as events, fashion objects, costumes, sets, etc., the aim of this guide is limited to multimodal essays.
A multimodal research essay is substantive, researched, imaginative, carefully composed, organized/designed, and edited. In most cases, students write a multimodal essay for their digital portfolio. You might do the draft first then refine it after getting comments and feedback from your peers in class.
Multimodal essays are one of the many ways of multimodal composing. It is categorized as hybrid multimodal composition, the same way as photo essays. It can also be a video essay. Multimodal essays are comprehensive and cohesive essays that combine written text with compelling audio and visual elements that are artistically arranged to present persuasive or informative claims effectively. Like a normal essay, multimodal essays also have a thesis.
Examples of Multimodal Essay Prompts
Prompt 1: Compose an imaginative text of no more than 700 words to reflect your understanding of human experiences related to one of the following areas that you have focused on in class:
Power and justice.
Transgression and redemption.
?Witch-hunting.?
The type of text you choose may be a short story, a script, a performance poem, or a different kind of text approved by your teacher. Your teacher will provide three lessons in class for you to write, conference, and/or edit your work, and the final version will be submitted on the due date.
Prompt 2: Choose any topic that you want to argue. It must be specific, locally or regionally oriented, and something you are interested in. Therefore, choose an issue that you think has the most potential as a digital and multimodal project.
Prompt 3: What?s something crazy or intriguing that has happened in Lubbock in the past?
Prompt 4: Evaluate the advertising techniques of a major popular brand. Select several ads?both from print media (magazine, newspaper, billboard) and from electronic media (television, film, website)?and evaluate how they succeed or fail to fulfill their ultimate goal: to ?sell products.?
How to Select a Multimodal Essay Topics
Even though some instructors give a prompt for your multimodal essay, most of them assume that you will use your multiliteracy skills to select a topic and compose a good topic.
Choosing the right topic is important as it determines whether you can precisely locate the resources by defining the scope of your essay. Arguably, the process of multimodal essay topic selection is by itself a research process.
This means that you don?t have to rush and pick a topic immediately after being assigned an essay. Instead, you need to conduct research based on the theme of the course you are studying. Researching the topics and letting research guide us to test the topics is the best advice we would give to any student writing a multimodal essay.
You can research for the relevance and volume of the resources available before eventually picking a topic. You should focus on current contemporary issues. We have a list of social issues that you can start to brainstorm from.
When selecting a topic, never go for too broad or too narrow a topic. For instance, a topic like ?what is the cause of homelessness?? is rather too broad. Even though broad topics are great starters to create a narrow topic eventually.
A topic like ?what is the cause of overcrowding in animal shelters in orange county?? is also too narrow as it would be difficult to contextualize the paper to other settings. But when you write about ?the factors leading to animal shelter overcrowding,? it would be a good topic.
To get a good topic, check for sources like images, charts, tables, statistics, and any materials that matter.
A good topic would be ?The impacts of the loss of religious staffing on Catholic and Lutheran Schools performance.?
Tricks of multimodal Essay Topic Selection
Having the importance of an essay topic in mind, here are some tricks and hacks to keep you going.
Take your time and do not rush the process
Look at the current social issues and the current issues that occur in the news
Check the previously written essays and consider that one might be best to use for your upcoming multimodal essay
If you find a previously done multimodal assignment, such as a presentation, write the topic based on the current events in essay form.
Research widely on some issues that are facing the society
Rhetorical essay topics also suffice as multimodal essay topics
Think about the main claim or main idea that your preferred topic would put forth
Organize how you will present your thoughts
Check whether you can get different modes to present the main claim
Summarize the topic to create a title and write a multimodal research essay proposal
If required, create an annotated bibliography for your multimodal essay/assignment, which should be based on the thesis
Refine the topic and write about it based on feedback from your instructor
Checklist for writing a Winning Multimodal Essay
When writing your multimodal essay, ensure that it:
Employs the affordances (capabilities) of the medium (digital) you use for effective rhetorical ways.
It is characterized by a careful design that helps to convey meaning.
It is instructive, is inventive/creative/insightful.
It does more than simply inform the audience; it should also help readers/viewers reflect on and gain insight into the subject.
Cite every image, interview, text, magazine, or source from where you borrow ideas
Features a works cited page where you appropriately reference outside sources of information
Incorporates multimodal elements for persuasive and informative reasoning
Is well-formatted, edited, and refined.
Meets the required length as per the prompt. In most cases, multimodal essays do not exceed 1000 words unless otherwise specified by your instructor.
Should be a clear and stylistically sophisticated prose
Five Modes of Communication
To demonstrate effective use of multimodal exposition when writing an essay, you must communicate the different modes. There are five modes of communication: visual, linguistic, spatial, gestural, and aural modes.
The linguistic mode operates in the printed, written text. It refers to the alphabetic text or spoken word. Its emphasis is more on language and how words are used, either in writing or speaking. When writing a traditional five-paragraph essay, you are relying primarily on the linguistic mode. Some digital texts also exhibit this mode too.
The visual mode operates in formatting the text in your essay, choice of typography, and arrangement of the titles. It is what the audience can perceive through sight or see. It could be moving or still images, color, italicization or capitalization of words, text size, and style.
The spatial mode refers to how the text deals with space. It is related to the arrangement, organization, emphasis, and contrast of other modes in a given text. For instance, an infographic is a good example of spatial mode. It emphasizes specific percentages and words to achieve its goals.
The gestural mode refers to movement and gesture within a text. It is often apparent when delivering speeches by the way a speaker uses non-verbal cues.
Finally, the aural mode refers to what the audience can hear or not hear. It entails music or the absence of sound.
A multimodal text or essay can combine the various modes of communication. For a clear communicative essay, you need to follow a writing process that entails invention, drafting, and revision. As you write the essay, think about how the final draft will address or not address the potential audience. Let us now delve into how to make a multimodal essay.
Steps to Compose a Good Multimodal Essay
The process of writing a traditional essay is the same writing process you follow when writing a multimodal essay. So let?s elaborate on it to make things clearer. These strategies have been tried and tested by our English tutors; thus, we are confident they are reliable and can lead you to success.
Step 1: Read the Prompt
Before attempting any piece of assignment, you should begin by reading the prompt. The prompt helps you unpack the question, choose a good title, settle on a preliminary thesis, and plan your essay. This is a no-brainer, but some people take it casually, which is often the beginning of their failure.
As you read the prompt, you need to unpack the question through:
Reading the question to ensure that you understand it
Framing the question in your own words or terms
Figuring out your position, whether you agree or disagree with the question, and to what extent
Developing a preliminary or rough thesis statement
Picking your themes will form the major arguments of your essay.
Parting out the essay to determine what goes where.
Related Reading: Unique argumentative essay topics and ideas.

Step 2: Plan your essay
After reading the prompt, you need to brainstorm your rhetorical situation, consider the purpose of your text, audience, genre, and medium of presenting the essay.
When brainstorming, it is best also to scratch the web for research that supports or refutes your major claims. Again, it helps you to contextualize the message that you want to present to your audience.
During this process:
Pick your examples wisely to support your claims and arguments in the body paragraphs.
Mind-map your essay so that you can connect the preliminary thesis to the themes and examples.
Select an appropriate essay scaffold to use. For example, you can use a divided response where you combine texts in one paragraph or an integrated scaffold where you pit paragraphs against each other before concluding.
Edit and re-draft your essay outline/mind map if your research shows that you need to tweak it.
Step 3: Review and analyze other Multimodal essays
After brainstorming the rhetorical situation and picking a topic, stance, or claim, you need to look at other essays or texts representing the topic and genre.
Find a text that you believe is an exceptional sample of what you need your essay to look like in the end and analyze how the authors present, style, and format their ideas.
Although this is not a must, getting inspiration from what others have written helps you bolster the strength of your writing by addressing their weaknesses.
Step 4: Gather content (Conduct research)
With a rough idea of crafting a perfect multimodal essay, you need to gather information and materials. A multimodal essay must have content that you can only develop through in-depth research.
The extent of the research will be defined by your themes, examples, and claims. You need to dig deep into scholarly research to develop the ideas in your essay. Collect the aural and visual materials that relate to the content of your essay. When selecting this content, look for openly licensed materials such as Creative Commons licenses (CC). You can use websites like Free Music Archive (FMA), Digital Public Library of America (DPLA), or CC search.
At the same time, focus on organizing the scholarly sources you gather online for the linguistic mode part of your assignment.
Step 5: Write your first draft
When you are finally ready to begin writing, you are sure that you have your ideas, arguments, claims, thesis, images, visuals, sounds, and examples. It is all about putting these together to create sophisticated prose with images, sounds, and other modes of communication.
You need to begin with developing the body paragraphs. The body paragraph has the topic sentence, examples/claim/evidence, link, and concluding sentence. You can follow the TEEL or PEEL format of paragraph development for cohesive, comprehensive, and creative paragraphs.
Ensure that each body paragraph contains only one idea. Use evidence effectively by:
Choosing the relevant examples
Using the evidence to support your main arguments
Never listing the examples
Supporting the examples using appropriate citations
Using at least three examples in a paragraph
Linking the evidence to your argument
Discuss each piece of evidence using the PEEL format.
Include the relevant images, audio, or any other aspect that brings out the five modes of communication as advised in the prompt.
Step 6: Write the Introduction
When you are done with the body paragraphs, you now have a perspective of the flow of your essay. To create a lasting first impression, your essay introduction must:
Begin by a catchy essay hook
Present the thesis and answer to the question
Present the ideas that support or refute your argument
Address your field of study
Signpost and foreshadow your topic sentences
Have a background of the issue or topic you are handling
Reinforce your title
You can polish the preliminary thesis into a final thesis. Summarize the relevance of your essay in the introduction. You are allowed to use the first person in multimodal composition, but that is subject to the permissions on the prompt. Ask your instructor if you are unsure.
Step 7: Write the conclusion
The conclusion should be the last thing you are writing in your multimodal essay. It has to create a lasting impression on your reader. Although it is the easiest to write, you need to be extra careful.
When writing the conclusion:
Reassert your thesis in different words but with the same meaning
Recap your supporting ideas and thematic framework
Make a final statement about your argument
Do not bring in new ideas
With the essay done as a first draft, you can seek feedback from your peers or a professional editor.
Step 8: Edit and Proofread the entire Text
With everything done, you now need to polish the first draft into a final draft. Then, based on the comments from your peers, professors, or editor, make changes to your essay to have a great multimodal essay for a final draft.
Edit and proofread the essay. Focus on the formatting, style, and organization of your essay entirely. Check the complex and straightforward grammar errors. Remove any spelling mistakes and ensure that your paragraphs are well-balanced. If there are missing citations, be sure to indicate them rightfully to avoid plagiarism.
Ensure that all the images, visuals, multimedia texts, and writings are well-cited, and strategically placed and that the reader is directed to understand their meaning.
After editing, run the essay through grammar and plagiarism checkers to see what parts are unoriginal and paraphrase further.
Step 9: Submit through an Appropriate Channel
This is always the last step. You will now upload the final draft on Canvas, Blackboard, or whatever platform your school uses. Since you are sure about the quality of your essay, it is a step that brings joy that you have offloaded one assignment off your assignment list.
Only hit the submit button after confirming that everything in the file is right. For example, it has your name, course details, your university?s name, the course code, and your name, etc.
Steps to Polish your Multimodal Essay like a Pro
According to our essay editors, here are some top steps that can help you proofread and edit your essay. When done right, your essay should have improved quality and be set for an excellent grade.
Check Grammar
It is important to edit for grammar and style as you revise your paper.
Check the clarity, conciseness, appropriateness, accuracy, and coherence of your entire linguistic mode.
Also, ensure that you have used active voice when passive voice is not more appropriate.
Check and eliminate all unnecessary words and phrases
Condense the repetitious sentences and closely related material to reduce redundancy.
Replace vague and ambiguous sentences, words, and phrases with manageable and comprehensible words given the context of your essay.
Use words accurately
Combine or delete words and sentences that are out of place
Check style
As you finally polish your essay, it is also important to:
Check if all the paragraphs are balanced
Check if you have met the word count
Ensure all the paragraphs have a topic sentence, evidence, and examples, links to other paragraphs, and the thesis
Format and style the essay in APA, MLA, Oxford, Chicago/Turabian, or Harvard.
Ensure that the title page of the essay is well-formatted
Ensure that you have a reference page that is formatted and styled as per the chosen citation style.
Mind your Tenses
It is a piece of formal writing. Therefore, ensure that you mostly write in the present tense unless writing in the past tense is justified. Present tense helps you to organize ideas and avoid confusing the readers. In addition, it makes a paper straightforward to read.
Be strict on Plagiarism
Plagiarism is a punishable offense in all academic institutions. You have your chance to polish an essay before finally submitting it. If you want to hire someone to fix your plagiarism, you can use our service.
Now, to manage plagiarism:
Ensure that you cite anything you reference in the multimodal essay, including visuals, images, songs, and other external materials.
Use an online plagiarism checker such as Grammarly, Copyscape, Culled Turnitin, or others to catch and remove plagiarism by paraphrasing or rephrasing points.
You can use an external editor; Gradecrest is a well-known website where students refine, polish, and edit their essays. Trust us for that!
Vocabulary
We will forever insist that there is nobleness in simplicity. Therefore, avoid using huge words and vocabularies, even though you are encouraged to use different words to demonstrate your understanding of the facts in your essay.
You can use a thesaurus to expand your vocabulary during research to contextualize phrases where necessary.
Titling
Have a catchy title that creates a lasting first impression. Then, even though your introduction counts, the title is the first contact with your reader and the multimodal essay.
A captivating title will stick out from the rest and should be relevant to your work.
Examples of Multimodal Essays
You can find multiple multimodal essay examples online. We have included links to some of them to help you effectively compose a creative multimodal essay.
Note that these are student multimodal essay examples (some are from professionals). Although well-written, some samples above do not guarantee you a great pass. They are meant to show you how to approach the writing process.
Suppose you have been assigned to write a multimodal essay but you find the assignment challenging. In that case, you can use our professional college essay writers. They will research, develop ideas, and write a personalized great sample.
9 out of 10 students who sought model essays from our website ended up performing better than their peers. Availing assignment help from our website is legal, reliable, and assured to reduce stress with homework. We guarantee you a 100% plagiarism-free essay that is formatted, edited, and presented as per the instructions from the class. In addition, we offer one-on-one essay help by allowing you to communicate directly with your online tutor.
Parting Shot!
Depending on the topic you are assigned, the question on the prompt, and your field of study, you might be required to complete a multimodal essay.
Do not freak out when you get such an assignment. It is just like the traditional essay, only that you spice it up with images, fonts, visuals, audio, and other modes of communication. For instance, when you are writing a multimodal essay about covid, you can choose to focus on vaccines, front-line workers, death, PTSD, Depression, aviation, global business, recession, etc.
Think outside the box because everybody else is going to write about topical things. Using the steps we outlined above, you will definitely get to a top-grade multimodal essay. You can easily score an A. Above all, make it as simple as possible because vocabularies rob you of the best grades. As long as it is organized, furnished, supported/inked, and presented well, you are good to go.