How to write an Evaluation Essay like a Pro
Last Updated: 16 February 2023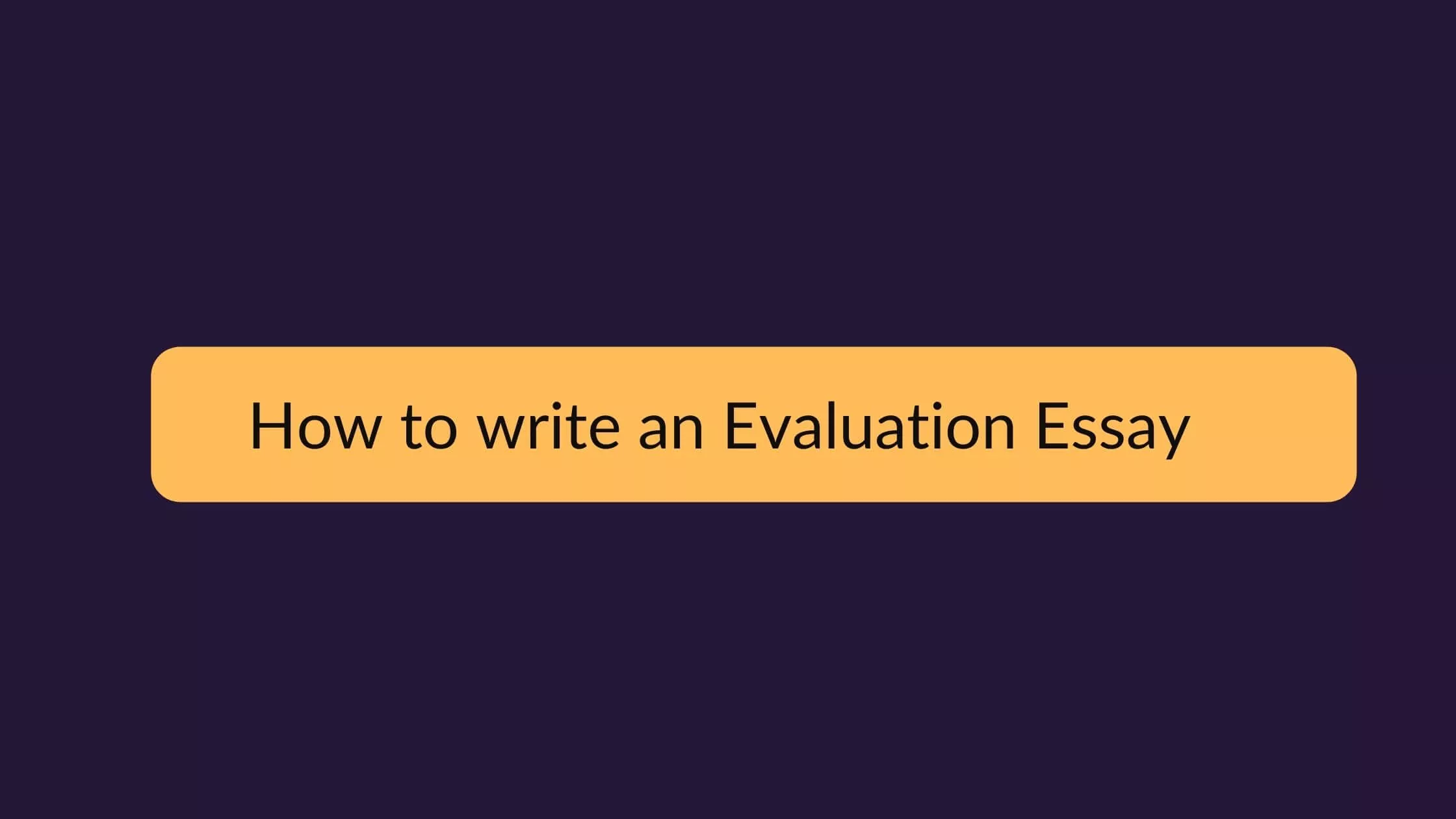 Everything held constant; you will learn to write an evaluation essay in simple steps. Have that in mind as you read through this ultimate evaluative writing guide.
You have probably been assigned to shorter writing assignments that evaluate a single topic. These could have been easier. However, as many students observe, progressing to a four to eight-page evaluation paper that considers more than one subject can be challenging.
An evaluation essay is a critical component of developing high-order thinking skills in students and later in the workplace and general life. It entails making careful judgments backed by evidence and using specific criteria or standards.
What is an evaluation essay?
Evaluating is synonymous with appraising, judging, estimating, analyzing, weighing, assessing, rate, or valuing.
An evaluative essay is an essay where you present an overall point of view or value judgment that is based on a selective set of criteria about a subject ('thing,' phenomenon, or person) or body of work. It is also known as a critical evaluation essay, evaluative essay, or evaluative writing.
While writing it, you provide evidence to justify your opinions about the subject.
In an evaluation essay, your general objective is to validate the quality or lack of a specific item, product, service, program, person, book, movie, process, etc. And although you are giving your point of view, it is not to be opinionated. Rather, it should be as objective as can be.
Students are asked to evaluate some of the common things, including movies, books, items, products, tools, events, speeches, vehicles, and anything else.
When writing an evaluative essay, you should review something, a place, a phenomenon, or an issue, then objectively give your opinion on the value.
Although an evaluation essay is similar to a persuasive essay, it provides a more balanced argument. You need to provide a judgment that is asserted through a clear thesis statement.
Elements of an evaluation essay
You need to understand three core elements of an evaluation essay as you set out to write one. These elements include criteria, judgments, and evidence. So, let's have a closer look at each in-depth.
Criteria
This refers to the reasons you made your opinion. The criteria you select must establish the ideal of the product, place, or person that you are evaluating. For instance, it could be the characteristics, character, age, perceptions, etc. When choosing a criterion or criteria, you are setting a point of the benchmark where you can evaluate other similar products, people, or places based on the same criteria. The criteria or standards help you assess or measure how well a subject meets or falls short of the ideal.
Judgment
The judgment aspect of an evaluation essay is your overall opinion that is underpinned by the criteria you selected. It means a more profound analysis as to whether the selected criteria are being met or not. For example, suppose you would judge a cruise ship based on the services and destinations. In that case, you will analyze whether the specific cruise ship you are evaluating meets this benchmark compared to other cruise ships.
Evidence
Evidence refers to the information that you use to support the judgment. It answers the question "why?" elaborately. To avoid being subjective, you must provide strong clues or evidence for your judgments. For example, if your judgment is about quality workmanship, elaborate on what comprises quality workmanship and how the product you are evaluating demonstrates the same. It offers a basis upon which you can draw objective conclusions.
Now that you understand the three parts of an evaluative essay, you should ensure that each paragraph deals with a different criterion. For example, if you are writing a 5-paragraph essay, ensure that your three body paragraphs each explain a criterion, make a relevant judgment, and offer credible and reliable evidence to support the judgments.
Steps for writing an evaluation essay
We tasked our essay writers with coming up with some steps a student can take when writing an evaluation essay. Given that they have written thousands of evaluative essays and coached students in writing them altogether, they came up with these eight steps, which you can follow to write a well-structured, researched, and organized evaluative essay paper.
1. Read the essay prompt
We will forever insist on the first step of any given assignment being reading the instructions. Most students who fail to read and comprehend the instructions eventually notice mistakes that are otherwise avoidable at their advanced stages of writing.
To avoid going astray, it is important to read the instructions. They provide information about the length and scope of the essay. Additionally, some professors will let you choose a topic or suggest a range of topics you can select.
2. Choose a suitable topic
After reading the instructions, you need to select a topic, just like you do with an essay. Sometimes, it could be that your professor or instructor allocated a topic. If you are asked to choose a topic, you are comfortable writing about, select one that is neither too narrow nor too broad.
Consider the subject from an in-depth point of view and ask yourself whether there is a set of criteria or standards that you can use to make judgments on its value.
It is advisable to select a subject or topic relating to a subject you have adequate knowledge of. That way, you can maneuver through research and write an evaluation essay with ease.
3. Do the research and develop your preliminary thesis statement
After choosing your topic, do some light research to establish a judgment asserted thesis statement. The thesis is the overarching purpose of the evaluation.
The thesis must include the criteria of evaluation used to judge the value of the subject. It is called a preliminary thesis because it undergoes revisions as your evaluation essay takes shape.
4. Consider the criteria of evaluation
Even though you have stated the criteria or standards in the thesis, that's not the end of it. You must consider various points or benchmarks that you will use to evaluate your subject.
In most cases, the criteria vary depending on the subject. For instance, when evaluating a phone, you will use different standards, same as when you are evaluating social media. And with the criteria of evaluation, develop your main argument, as we show later in this article.
5. Write an outline
With the evaluation criteria and potential judgments developed, you need to write an outline. An essay outline or plan helps you superficially organize your essay to make writing easy.
6. Gather supporting evidence
A successfully written evaluation essay has each opinion backed up with relevant evidence. For instance, if you evaluate the impact of technology on education during the pandemic period, consider examples of the use of technology in education. You can also use online class statistics, a quote from experts talking about e-learning during the pandemic, and check related studies.
You can only find credible evidence by reading from credible scholarly articles. Using scholarly evidence helps you present a balanced, unbiased, and objective argument, making it convincing.
Therefore, it is imperative to research, read through, and select the best sources to use when drafting the paper. As you research, you can manage your sources using online citation organizers. You should also take notes that can further help you fine-tune the thesis or the criteria.
7. Draft you essay
As you now have everything you will need, write your first draft. The first draft should be just that, a first draft. Focus on writing first and editing later. With everything in place, write your body paragraphs first, the introduction, and finalize with the conclusion.
Ensure that each body paragraph focuses on a single criterion, judgment, and has a set of evidence to support the points you make. Develop your body paragraphs chronologically, ensuring you have adequate transition words for adequate flow.
After developing the body paragraphs and possibly revising the thesis, write the introduction paragraph. Finalize the draft by writing a solid conclusion. Your conclusion should entail your final evaluative argument that offers the overall assessment. As you conclude the essay, link your final paragraph to the opening statement. You can achieve this by restating the main point you established but in other words.
8. Review, revise, and polish
The climax of writing your evaluation essay is turning the first draft into the final draft. Therefore, it is recommended that you polish your essay after taking some breaks. The break is necessary for you to break the monotony of writing and to dawn an objective mind.
When doing this, read through the first draft and make necessary changes. For example, you can trim your essay to make it shorter, lengthen your evaluation essay, or rewrite some parts to make it flow and meet the criteria highlighted in the rubric. Then, if your final draft is okay, you can turn it in for marking.
How to develop an evaluation argument
After developing your criteria and potentially brainstorming about the judgments of the values of your subject, you need to come up with an evaluative argument. It is the argument that shows your overall stance on the subject.
The ultimate goal of your evaluative essay is to show your final evaluative argument backed by evidence and objective analysis. Therefore, you need to use a phased approach to maintain some order.
If, for instance, you are evaluating a social media like TikTok, you might want to consider:
The strengths and weaknesses of TikTok
The number of people using TikTok
Criticisms about TikTok
What people love about TikTok
After looking at these strengths and weaknesses and considering the number of users, reach, and quality of information as your criteria points, you need to develop a final argument. It could read:
Ultimately, TikTok is a new social media platform that kept people going through the COVID-19 pandemic and now dominates other social media. But, especially since it has become a top website other than YouTube, Facebook, and Instagram, its creators should consider formal communication aspects that it can enable.
When writing your overall or final evaluation, consider using terms such as:
Considering the points above…
Overall…
Ultimately…
All things held constant…
On balance…
Evaluation Essay Outline/Template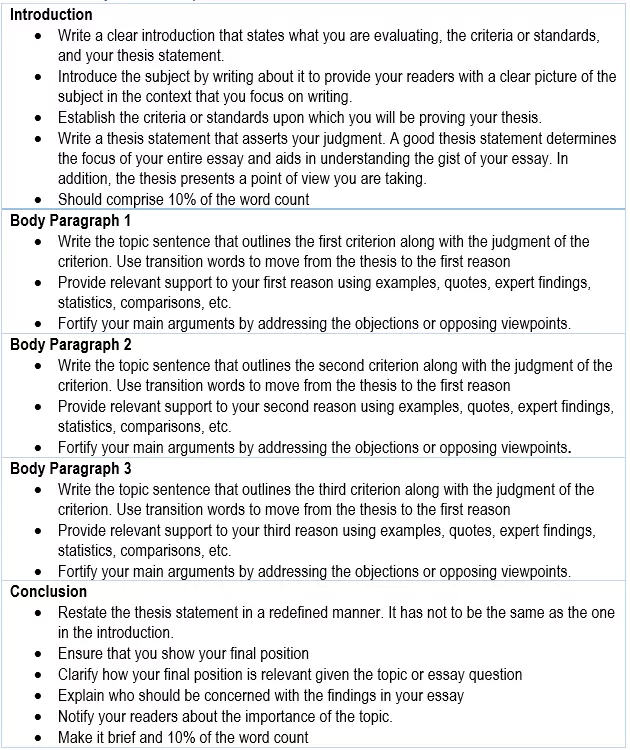 Evaluation Vs. Review
Although often confused as synonymous, an evaluation essay is not the same as a review essay. Although both papers have similarities, they have glaring differences that further set them apart. Let's look at these differences in the form of a table.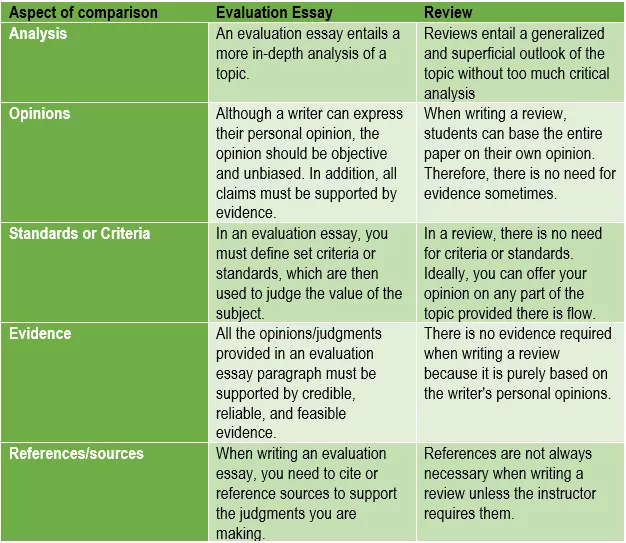 Evaluation Essay Examples
You can access various examples of evaluation essays by searching the internet. For example, while looking for credible sources, we came across these two:
You can access millions of sample essays online. Alternatively, you can also find evaluative essay samples written by our experts. The beauty of this approach is that we will write model evaluation essays based on your instructions and topic. This means that you will learn how to research, write, and polish an evaluation essay based on the samples.
Below are also some great samples that you can learn a thing or two as you set out to write your essay.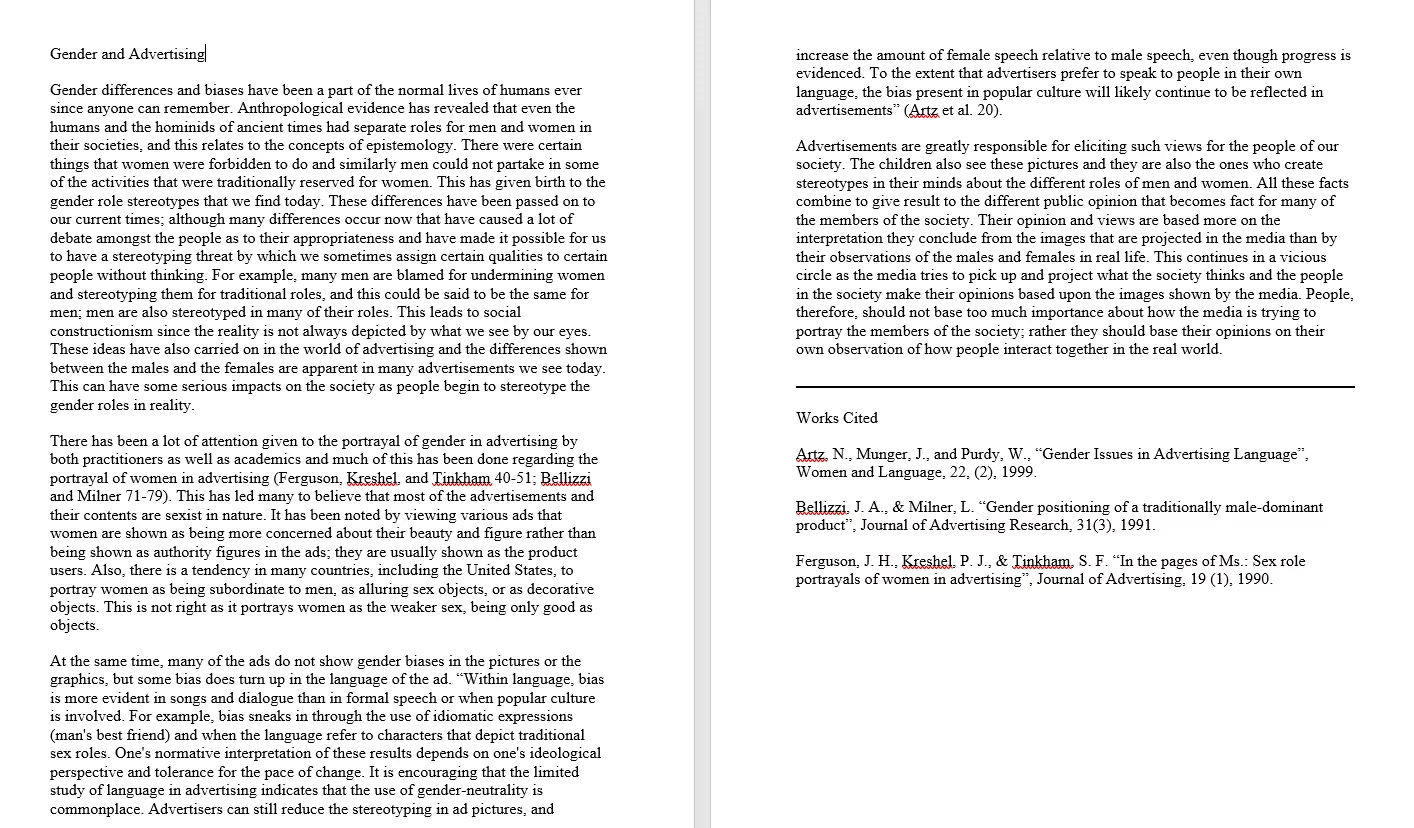 Adopted from Purdue.edu
Tips to write an excellent evaluation essay and please your instructor
Before you submit your final copy of an evaluation essay, there are a few things that you should consider doing. Here are some tips to help you write your essay better:
You can approach the paragraphs in the block by block or point-by-point paragraph development formats to explain how each subject meets the standards or criteria.
Use evidence from reputable sources such as expert testimony, scholarly articles, and theories to support your thesis
Format your essay in APA, MLA, or Chicago format or as directed by your instructor
Have an engaging introduction that identifies the subject or subjects you are comparing. The subject can be websites, products, film, and your reason for evaluation
Your thesis statement should be anchored to your judgment
Let your thesis communicate the better subject, in the case of two subjects.
Your conclusion should be clear, concise, and concrete
When writing, ensure that you only give the right details regarding your final evaluative statement
Use proofs or evidence to illustrate the points
Ensure that your writing is precise
As you write, yearn to help the readers agree with your objective opinion without sounding biased or prejudiced.
Evaluation Essay Topics Categorized by Field
Now that you understand the steps it takes to write an outstanding evaluation essay, let's look at the topics you can write your essay about.
These topics are a great starting point for getting evaluation essay title ideas. Then, you can quickly develop standards or criteria of evaluation and compose your essay.
We have further categorized the topics for easier navigation.
Environmental Topics
Are governments doing enough to combat climate change?
Impacts of deforestation on Amazon Forest
Impacts of oil spills in oceans
Effects of microplastics on oceans
How electric vehicles are doing less to protect the environment
Recycling, reusing and reducing as an effective sustainability strategy
Are wind turbines effective compared to fossil fuels?
Impacts of pollution on access to clean water
How factories are polluting rivers and how it impacts human population
Effects of population increase in deforestation
Social Services evaluation essay Topics
Are juvenile justice systems just?
Impacts of tools on significant highways
Impacts of expressways through cities
Sustainability of CDC and WHO
Pros and cons of universal healthcare
Factors limiting access to healthcare
Effects of social safety net programs on society
Benefits and drawbacks of social services provided by religious organizations
Benefits and drawbacks of foreign aid
Whether non-governmental organizations are effective or financial corruption conduits
Impacts of local libraries
Benefits of having local computer science labs
Religion-related evaluation essay topics
Effects of Islam on world peace
Religion as a critical element in world peace
Has science made religion irrelevant?
The causes and consequences of Islamophobia
Religion as a basis of hate crime
Why did the Jewish thrive in trade
Impacts of the Covid-19 pandemic on Christianity
Effects of social media on religion
General Evaluation essay topics
Effects of social media on personal relationships
How social media has drifted families apart
Importance of the internet on contemporary business
Social media as an accountability tool
Impacts of self-driving cars on society
Video games and brain development
Video games and violence
How modern farming benefits the environment
Media as a tool that governments use for propaganda
Cryptocurrencies vs. conventional currencies
Influence of music we listen to on our character
How westernization has affected African culture
How the western culture promotes obesity
Impacts of sports on academic performance
Effects of sports on mental health
Sports as a nationalizing factor
Commercialization of sports
How sports promote the development of rage and stress
Is higher education worth investing in?
Are health science degrees better than arts degrees?
First-year students living on campus
The usefulness of arts and humanities degrees in society
How science degrees benefit the society
Benefits and drawbacks of homeschooling
Impacts of financial education
Using technology in education
Effects of Facebook on society
Discrimination in the criminal justice system
Why police are killing innocent civilians
Addiction among adolescents
Causes and consequences of teenage pregnancies
Smartphones and quality of life
Impacts of weather patterns of flight schedules
Benefits of weather predictions
Impacts of drunk driving
Efficiency of trains
People should own one car
Merits of vegetarianism
Evaluation of The Yellow Wall-Paper
Evaluation of An Enemy of the People by Henrik Ibsen
Impacts of global warming on coral reefs
Impacts of the global pandemic on international travel
Effects of terrorism on tourism
Impact of the global financial crisis on poverty
Impact of homelessness on prostitution
Impact of globalization on global trade
Impact of public transportation on cities
Impacts of non-motorized transportation on cities
Quality healthcare and quality of life
Final Remarks
If you are a high school, college, or university student, the chances are that you will write several evaluation essays. It is a common assignment.
Related Articles

To get excellent grades and marks, you should prove your prowess in writing. You must come up with a standard or criterion to judge the value of your subject. And as you conclude your essay, you should make your audience understand your final evaluation analysis statement.
As it is an essay with a balanced argument, you need not be biased. Instead, you must support your judgment using relevant evidence. Your evaluation should be objective and well-balanced.
We have provided an evaluation outline or template that can guide you as you settle to write your paper. Besides, the tips we have suggested here will make you write a top evaluation essay. Consider the instructions from class and advise. If you need someone to help you, you can also ask us.
We wish you good luck with writing your evaluation essay.