Essay Typer - The Untold Truth and how it Works
Last Updated: 12 January 2021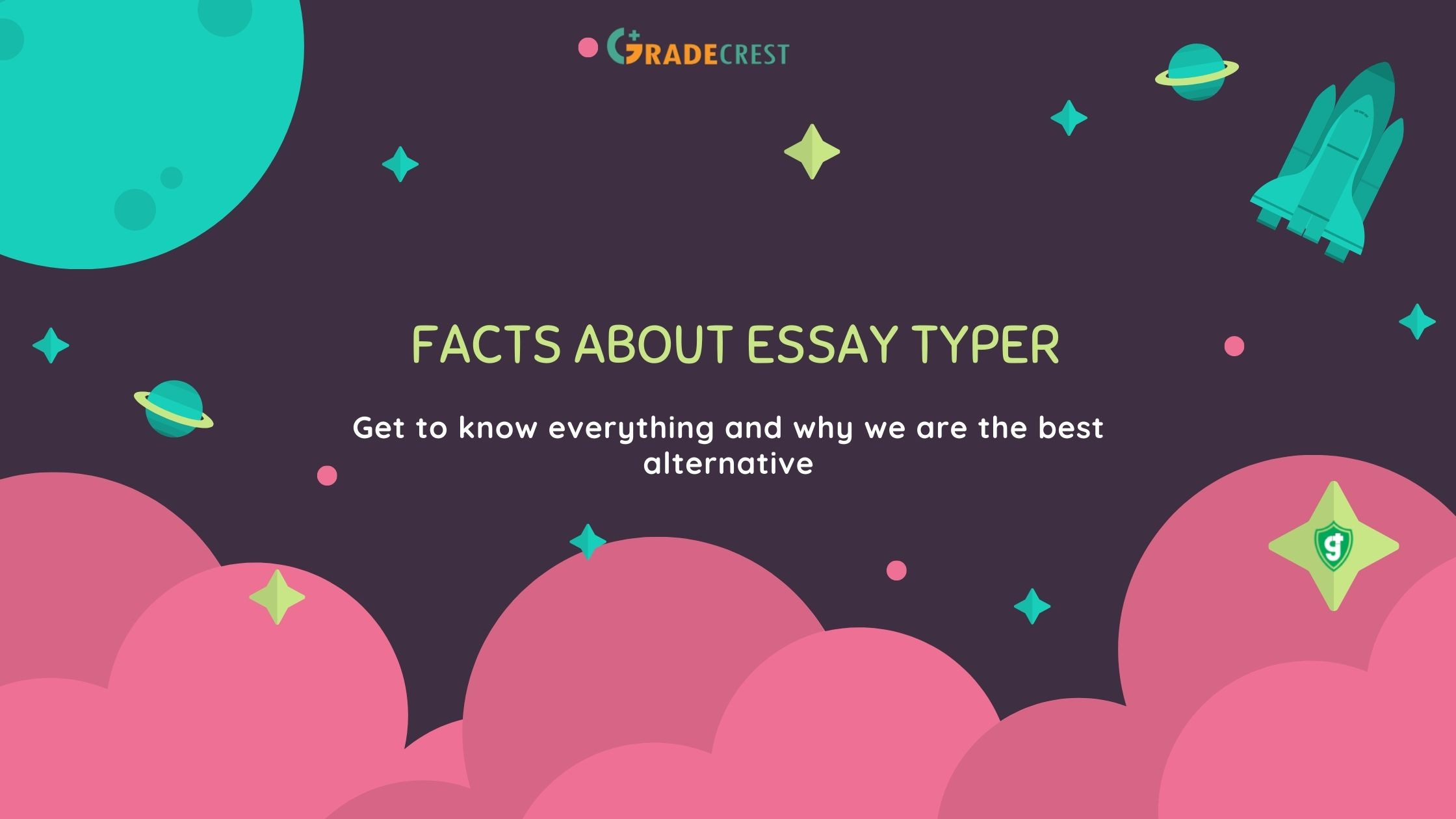 It is funny what the pace of technological growth does. There are many innovations. In the essay writing world, essaytyper.com ranks as a top innovation. Those among us who attended high school in the 90s or early acknowledge the value of research and typing essays. Quite some time was spent on doing research, writing an outline, and conventional proofreading and editing.
Fast-forward, then came the age of the internet where websites that write essays mushroomed. Trust me, some of us would not be where we are, were it not for the custom essay writing services online. We were all doing just fine. Then, Boom! Came the EssayTyper.
EssayTyper.com is a site that offers virtual essay writing services. With a word-style webpage, you can plug in and write an essay on any subject. Technically, you will not need to write anything. Instead, you will hit the keyboard and words will magically appear.
Is Essay Typer Legitimate?
A common worry is whether EssayTyper.com is legitimate. Well, legitimacy is a cumbersome topic. By the fact that it exists is already a good proof of its legitimacy. EssayTyper allows you to write your own essay automatically.
However, the fact that it uses some patented combination of algorithms and Wikipedia to help you write your essay taints its legitimacy. We all know writing essays and using Wikipedia as a scholarly source is prohibited. Wikipedia is not a credible academic source. Besides, failure to acknowledge the source, in this case, Wikipedia, amounts to plagiarism. Probably, the caveat on the EssayTyper.com can answer the question. It says , please don't ever try to use this legitimately. The magic part is not real... and that's plagiarism. Thus, using the tool for assignments to be graded in class is probably a bad idea.
Our trial proved that indeed EssayTyper uses Wikipedia as a major reference source. Compare this with a custom essay writing website. You can pay for essays in the latter, and it will be written by a human being. The beauty of the websites that write essays online is that professional writers actually write essays. Yes, like we did back in the day!
The probability of getting a high-quality paper, well-cited, and references lies with essay help online services. Otherwise, until EssayTyper improves on code and other parameters, it is a no go zone for students.
Read more about essay typer here (external link)
How to Use Essay Typer Website
While testing essaytyper.com, the entire process was straightforward. Here are the steps we followed:
Upon opening the webpage on your browser, you will see the word-type webpage.
You will then type the title or topic of your essay and press enter.
Immediately, you will get a redirect to a word-type online document.
Using the topic, the magic code, and Wikipedia and other online sources, the essay typer will use keywords to get insights on your essay.
As it does so, all you have to do is type any keys on the keyboard including the special keys like caps lock and shift keys. Probably a good way to fool your strict parents you are working while a professional essay writer is working on your actual paper, huh!
If you choose a topic on the impacts of human relations or Civil war, the essay typer will choose and rephrase the topic for you. A professional essay writer would do well choosing a rational essay topic for you, maybe!
When using the software, completing an essay is simple and fast. Notably, when writing the essay, the software follows the basic essay writing requirements. This includes the formatting and structure of essays. For this ability, it can be a tool to save your frustrations if you have no time to finish an essay.
What Are the Advantages of Essay Typing Websites?
Essaytyper.com has the advantage of helping you complete essays faster. You are likely to go to work, catch up with a movie, complete and submit an assignment. Typically, this can come in handy when you have professors who demand timely submissions. Maybe late submission of assignments attracts penalties. Note that penalties can hurt your college GPA. So, in just a few minutes of typing literary nothing, this free software will help you type essays.
If you are those students that get loads of assignments, essaytyper.com can come through for you! It can type more than tens of thousands of essays in a short time. More than it is humanly possible, appending keywords or topics for your essays will get it started.
The essay typing website has a simple user-defined interface. Thus, completing an essay becomes a self-guided process. There is no need to download the application to your PC. It does the magic well online, at least for now. All you need is to be online. Apart from its writing, I am sure you can use the draft to craft a great piece.
Remember, even when buying essays online, the moment you submit the same for credit you have erred. The process, simple as it may be, amounts to plagiarism.
Concerns with the Typing Services online
Top of the listed con of essaytyper.com is plagiarism. Our service always insists that students use our work as sample essays. A testament to that, all the assignment writing help we offer has benefited students. When you submit work from EssayTyper for grading, without acknowledging the source, it is plagiarism.
Besides, when we checked the paper written by Essay Typer Website on Plagiarism Software, it returned a similarity of 85%, without Wikipedia being among the sources. This then raises questions on its credibility. Writing essays isn't just about putting words and sources together. It is about using quality scholarly sources to support claims and citing the sources appropriately.
Generally, the content you end up with is from Wikipedia. For this, when you decide to go down harm's way and use it, pass the paper through plagiarism software or plagiarism checkers recommended by your instructors or professor.
The tool, like any other online discovery, is very addictive. In the end, if you rely so much on the software, you might lose morale to read. The essence of reading is to get educated. Now, using essay writing services helps you grasp the points because you get ideas when writing your essay. On the other hand, since essaytyper.com spoon-feeds you, it is but a free-online essay writing tool to toy around with your intelligence.
Can AI Write High-Quality Essays?
Artificial Essay Writing AIs like Essaybot and EssayTyper can write essays based on some algorithms that help them scan through endless content and generate what seems like an essay. The inventors of AI claim that they can write perfect essays, but that is only but a flawed claim. Off the bat, essays written by AI programs have questionable quality.
Compared to a professional essay writer, an AI is guided by algorithms but not knowledge and experience. Time and again, we have insisted that writing essays is a tough endeavor, and it needs time to achieve prowess level essay writing skills.
The very idea that a mere program can write your essay for you for free shows how careless you are with your essays. These programs comb through the content in the internet and scrap the relevant information. They then use some English language codes to piece up such information using connectors and what seems close to human writing.
However, AI programs do not cite the sources. To begin with, they use not so scholarly sources like just any website, blog, and Wikipedia. Your professor will punish you by awarding a poor grade for using poor sources and even more for plagiarized essays.
We conclude that AI will need some proper refining through involving industry players and experts for them to write great essays : the A and B plus caliber essays!
What is the Solution to Writing Great Essays online?
EssayTyper and EssayBot will only hurt your academic progress. These AI tools act like article spinners. The content generated makes no sense and meets no academic standards. In the field of academia, writing coherent papers is a must, and taking a critical approach enables you to do so.
Now, instead of using the EssayTyper websites, why not use our essay typing service that has professional and talented writers. Our proficient writers undergo a rigorous recruitment and hand-picking process. They can help you research, outline, choose a topic, and write a term paper, essay, research paper, and thesis.
And the best thing yet is that you end up with a plagiarism-free academic paper.
When you order an essay or paper from our website, the writers will always complete your papers on time before the deadline. Besides, they are bound to revise the essay until you are satisfied. We have the expert essay typers who can help you with any type of essay, including synthesis essays, interview essays, expository essays, argumentative essays, compare and contrast essays, and personal statements. Just say, Write my essay and our experts will be on your case!