How to Write an Evidence-Based Practice Paper in Nursing
Last Updated: 24 August 2023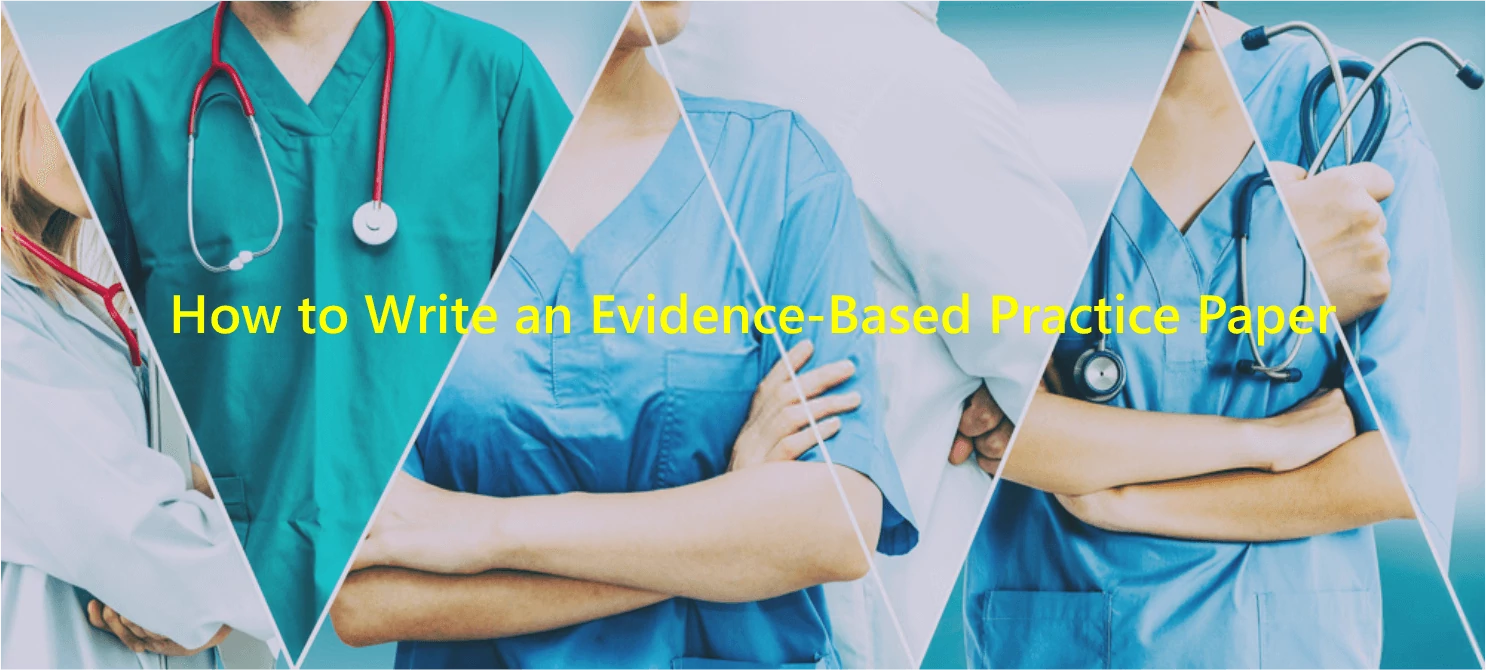 Some call it an EBP paper while some evidence-based research paper, and it comes in many other forms as well, including EBP case reports, EBP capstone projects, EBP coursework, or EBP thesis. Regardless of the name, without explicit knowledge on how to write an evidence-based practice paper, you cannot wrap your mind around it. Evidence-based papers are written by students so that they can develop confidence, research interests, critical thinking, creativity, and decision-making skills that are applicable in real-world clinical settings.
Any nursing school student must write an evidence-based practice paper. In most cases, EBP papers can come in the form of change management papers where quality improvement processes are recommended. To avoid making blunders when writing, it is vital to grasp the entire writing process.
Unlike other nursing papers and essays, evidence-based practice papers require in-depth reasoning, research, and reading. We acknowledge that writing a great evidence-based paper that is gradable takes sweat and is very challenging.
We have compiled this guideline for writing an evidence-based nursing paper to ease the burden on your side. If you quite can't find it easy even after reading this article, we have experienced nursing paper writers who can always help you.
We are the best nursing paper writing service; we do this to help you take care of your wellbeing, achieve freedom, and extend your time caring for others in your clinical. Let us dig right into it, won't we?
What is Evidence-Based Practice?
Evidence-Based Practice in the field of nursing focuses on the premise that medical practice should focus on adapted and developed principles through a cycle of evidence, research, and analysis of theory. Evidence-based practice intends to address the changes in practice based on the nursing and non-nursing theories developed through proper research.
In nursing, the implementation of EBP comes in the form of a systematic review, where research is reviewed based on a particular guideline to determine its suitability for being used as a gold standard in practice.
The systematic review helps in sense-making from the mammoth of information available for effective change management, implementation, and institutionalization.
The EBP process involves six significant steps:
Assessment of the need for change: This entails the formulation of a research question or hypothesis based on the gaps in current practice.
Location of the best evidence: Depending on the levels of nursing resources or evidence, the next step entails assessing the credibility, reliability, and relevance of the evidence or peer-reviewed articles.
Synthesis of evidence: This step involves the comparison and contrast of available sources of evidence to establish similarities and differences to determine the best course of approach.
Designing change: through the results of the synthesis of the available evidence, the next step is to create an effective change based on the evidence collected. It also involves drafting the change implementation plan within the clinical setting.
Implementing and Evaluating Change: After the design comes to the process of initiating the change through change advocates such as nurse leaders and nurses themselves, it is the phase where the new process is established into practice. Various change management theories can be followed to ensure the fruition of the change management plan.
Integration and Sustaining Change: Once the new evidence has been used to implement change, it is adopted through policy or guidelines within the clinical settings. It also entails the process of continuous improvement to achieve the best.
Steps of Writing an EBP Research Paper in Nursing
Once you have been assigned to write an evidence-based paper, you need to follow the steps below to write the best essay.
1. Choose a Topic for your Paper
There are many methods you can use when choosing an EBP topic. You can get ideas from your coursework, peer-reviewed sources, class assignments, and past evidence-based projects done. Thanks to the Internet, there are various evidence-based practice topic ideas. However, choose a topic that resonates well with your passion and interest in nursing practice. For instance, if you are looking forward to improving patient flow in the ED using technology, be sure that you are cognizant of such technology as EHR or HIT. Begin by exploring the assignment and make some notes; you should then settle for a tentative topic.
2. Consult with your Professor/Instructor
Nursing education, just like nursing practice, calls for collaboration and getting feedback. Therefore, once you have selected a creative, evidence-based practice topic, you must make an appointment with either the writing center or the professor/instructor for confirmation. In some instances, your professor/instructor will request for an evidence-based practice proposal. In the EBP proposal, you must state the nursing issue you intend to solve, the change management process, and the rationale for the change. If it is convincing enough, you will get a go-ahead. Otherwise, you will need to revise the EBP nursing proposal.
Tip: SELECT a good health indicator (disease, health conditions, working/living conditions), DESCRIBE the population or sub-population of the target, find EVIDENCE of around 7-10 peer-reviewed sources that support your proposal, and DESCRIBE the intended outcomes and rationale of the change proposed in the clinical setting.
Some of the health indicators you can use for your EBP paper include socio-economic status; gender, education, environment, employment, genetic endowment, culture, child development, healthcare services, access, quality, cost of care, social support, coping skills, etc.
The EBP papers can include a change model, population health model, nursing theory, and nursing interventions and each must be justified using credible evidence.
3. Gathering Supporting Evidence - Research
The backbone of an evidence-based paper is evidence. Therefore, you need to extensively research both online and print sources to get facts to support your EBP paper thesis statement. Once you have developed the problem statement and outlined the thesis statement, you should critically evaluate the sources to determine those that support the thesis.
In some instances, the instructor might request you to write an annotated bibliography or critically analyze each of the articles or the main article that supports your evidence-based practice paper. A common approach is through using an evidence evaluation table. When selecting the sources, remember that there are both primary and secondary sources.
You can get primary and secondary sources from databases such as PubMed, EBSCO, UpToDate, TRIP Database, OVID, The Cochrane Collaboration, and CINAHL. Besides, you can depend on .gov, .org, and .edu websites to get information. Professional and government organizations, as well as NGOs, can be a starting point of research. They are an excellent resource for statistics, epidemiology data, and further information. Excellent research means that the research question, hypothesis, and thesis statement will be supported and answered.
Related: How to write a great thesis statement for any paper.
Deciding on the Best Resources for EBP Papers
There are primary and secondary data sources when it comes to scientific writing. Instead of collecting and analyzing real data as students do for qualitative and quantitative or mixed methods thesis, dissertation, and research papers, an EBP paper is purely based on the published findings from primary research. It is imperative, therefore, that a nursing student only uses credible, valid, and reliable sources. Here are three criteria to select a good source for your EBP paper:
A research journal article is only reliable if published in a reliable database/journal and is peer-reviewed. It depends on the level of the evidence as well. Will the same test yield similar results if replicated?
A valid research study has followed the strict research protocols, is up to date, and is relevant to the chosen EBP paper topic selected. Does the study measure what it says it intends to measure?
Credible research that can be incorporated into an EBP paper must have verifiable findings, published in a reputable journal, and is scholarly. Is the research study from a reputable journal?
Is the research report, article, or journal primary research such as qualitative research, quantitative research, randomized controlled trial, controlled case studies, or quasi-experimental study?
It is only natural that you can dislike the entire process of writing an EBP paper, not because you don't know how to, but probably because of the strict and laborious process. If this is the case, our nursing writing service is all you need for your peace of mind. We have experienced nursing assignment help experts who can craft the best papers for you. Stop, think about it, and let us know if you need some help.
Related reading: How to title an article in an academic paper.
Outline of an Evidence-Based Practice Paper
A good evidence-based paper in nursing must have several parts, each of which are completed with precision, care, and wit. If you have researched online for evidence-based practice paper examples, you will agree with us that the format or structure is more or less as broken down below. It is the same structure you will see on an evidence-based practice paper template that you will likely receive from class. Here is a critical breakdown of what to include in your nursing evidence-based practice paper:
1. Title of the EBP Paper
A good title will either attract and keep or turn off your audience, instructor/professor. Therefore, having an excellent title for your evidence-based practice case study, report, write-up, or research paper is paramount. The title aims to set the scope of the EBP paper and provide a hint about the hypothesis or thesis statement. It is, therefore, imperative that it is concise, clear, and fine-tuned. If you decide to write the title as a question, you could paraphrase the PICOT statement, for example. Otherwise, it can also take forms such as statements or facts opposing the status quo. Whichever direction you choose to align to, the aim remains constant to give more insight to the reader from the onset.
2. Thesis Statement
While the PICOT statement can already tell what your entire EBP paper is all about, you need to develop a great thesis statement. A thesis statement, usually the last sentence or two, is like a blueprint of the entire paper. It is the foundation upon which the whole paper is built. Take note that a thesis is not a hypothesis, which is an idea that you either want to prove or refute based on a set of available evidence. An evidence-based practice paper with a thesis ultimately earns the best grade without leaving the reader to look for it the entire paper.
The thesis statement must be specific, manageable, and enjoyable. A sample EBP thesis statement can be: According to new developments in genomics and biotechnology, stem cells have reportedly been used in breast cancer treatment with higher chances of remission in the patients. Novel approaches to pain management dictate that a nurse must obtain three kinds of knowledge to respond effectively to patients' pain: knowledge of self, knowledge of standards of care, and knowledge of pain.
A thesis can also be an implied argument, which makes it descriptive. However, not so many professors like such. This paper discusses
3. Introduction
The introduction of evidence-based practice must reflect certain elements. First, you must present a background to the research question or nursing issue. It would help if you also painted a clear picture of the problem through a thorough and brief problem statement and at the same time, provide the rationale. You can organize your intro into a PICO:
Patient/Problem: What problems does the patient group have? What needs to be solved?
Intervention: What intervention is being considered or evaluated? Cite appropriate literature.
Comparison: What other interventions are possible? Cite appropriate literature.
Outcome: What is the intended outcome of the research question?
The thesis statement we have discussed above then comes in as either a sentence or two in the last part of the introduction. The research problem should help generate the research question or hypothesis for the entire EBP paper.
4. Methodology
As indicated before, an EBP research paper does not focus on research; instead, it focuses on a body of knowledge or evidence. For that matter, when writing an EBP paper, you only collect data from literature produced on your chosen topic. A confusing bit when researching evidence to use is deciding on what level of evidence to use. There are systematic reviews, literature reviews, white papers, opinion papers, practice papers, peer-reviewed journals, critically appraised topics, RCTs, Case-controlled studies, or cohort studies, you name it. You must decide which level of evidence is appropriate. It trickles down to the scholarly source's validity, reliability, and credibility. Your methodology should include:
The databases you searched, the search terms, the total articles yielded per search, the inclusion and selection criteria, the exclusion criteria.
You should indicate the inclusion and exclusion criteria for the articles and the number of articles you finally end up with.
You can further choose to use knowledge as evidence based on authority, a priori, theory, and tenacity, as advised by Fawcett and Garity in their book Evaluating research for evidence-based nursing practice.
5. EBP Literature Review
In the literature review section, you aim to explore the associations of the evidence chosen given your topic. It aims at either finding the gap in those studies or using the knowledge to build on the topic. For instance, if you are to come up with a new management approach for pressure ulcers in palliative care, choose credible evidence on the topic. Find the effectiveness of your proposed approach in other environments, what works well, and what precautions should be taken. It is more of comparing and contrasting the sources. You also ought to be critical as it is the only way you can develop the best EBP paper. It is here that you report your findings from the literature. You can do it in the form of a table outlining the aspects of each study including demographics, samples, methodology, and level of evidence, results, and limitations.
6. Discussion
Like any other professional research setting, the discussion section often discusses the changed practice, implementation approach, and evaluation strategies. This can be your approach as well in your EBP paper. However, go further to explore how the findings led to a given change in practice, the efficiency after that, and suggest the best strategy for implementing the change in your chosen organization. Make comparisons if necessary.
7. Conclusion
In your conclusion, you should wind up the paper, summarize the EBP paper, and leave the readers satisfied. Your revamped thesis statement can feature in the conclusion. Make your conclusion count.
Finally, your EBP paper must have references, works cited, or a bibliography section. You realize that most EBP papers are written in either APA formatting or Harvard formatting.
Furthermore, it would be best if you wrote your abstract section last, which is about 150-250 words. It aims to offer a highlight of the entire evidence-based paper.
Here is a graphic/visual representation of the entire EBP writing process for students.
You can Buy Evidence-Based Papers in Nursing Here!
If your worry was how to write an evidence-based practice paper in nursing at the beginning, it is possible that you feel like a pro to this end. It is a super feeling that every reader who interacted with our article on how to write nursing care plans had, and they suggested we do this article as well.
As the best nursing assignment help service, we gave in to the pressure and put our best feet forward. We intend to create a resource for nursing students and learners. We also have expert writers to help in various academic fields. If you feel stuck with anything, do not hesitate to ask for help.
You can get a sample EBP research paper to benchmark on as you complete your nursing evidence-based research paper. Apart from the EBP research paper examples online, we offer you the chance to have a custom sample that matches your instructions.
In this article, we have answered the question: what is EBP? What is an EBP research paper? and how to write an APA evidence-based research paper in nursing.
If you are far ahead in your nursing level, our article on nursing capstone ideas can also be an excellent place to sojourn and drink from the fountain of wisdom. The students who have sourced examples of evidence-based practice assignments from us have ended up mastering concepts. Do not just wait, be part of the excelling team!