Chicago Writing Style Guide: How to Format a Paper
Last Updated: 27 March 2023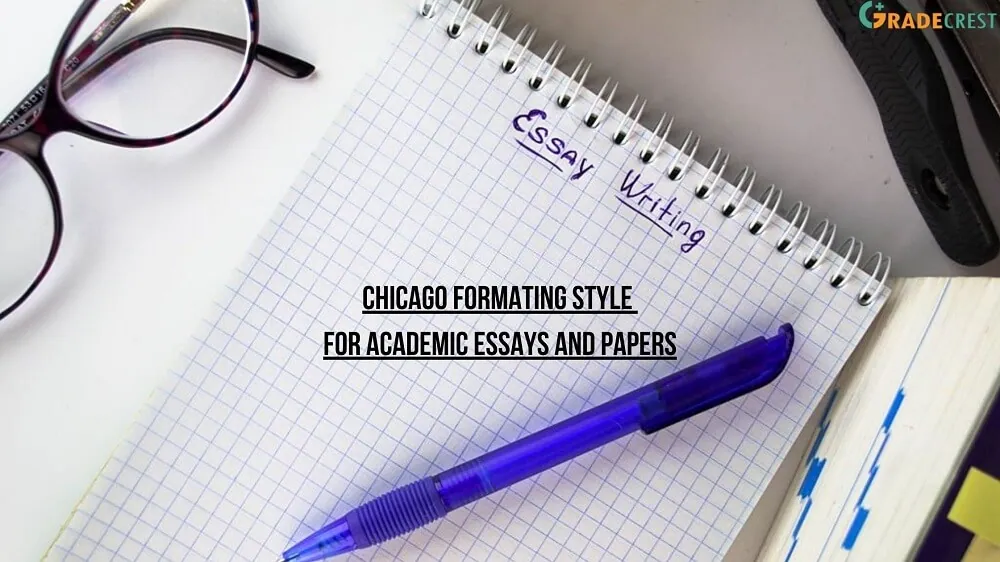 Does your instructor expect a well-written and formatted paper in Chicago style? Chicago style is a formatting and citing guide based on The Chicago Manual style, used widely in publishing since 1906. Today, it is one of the most recognized academic writing styles.
Figuring out how to create and format a paper in Chicago style can be challenging. The good thing is Chicago offers a simplified version called the Turabian style for students.
Like other style guides, Chicago formatting provides guidelines that follow specific plans and a page layout. It is available in two variations: notes and bibliography and author-date, and those in humanities, history, and the arts prefer notes and bibliography systems.
On the other hand, the Author-dates system is standard in sciences and social science. Here, sources are cited in-text, in parenthesis, using the author's last name and publication date. You should follow the guidelines to properly format your paper in Chicago style, and the following will guide you on how to do it correctly.
General Formatting
You should double-space all text except block quotes, notes, bibliography entries, table titles, and figure captions.
For block quotes, also knowns as extracts or block quotations:
Prose quote with five or more lines should be blocked
Two or more lines of poetry should be blocked as well
A quotation that is blocked should be on a new line
Blocked quotes should be indented
There are no specific instructions on the type of font size to use in Chicago. However, you are advised to use a simple and readable font, for instance, size 12, Times New Roman.
Every new paragraph, block quote, and bibliography should be indented ? inch from the left margin. Use Left alignment; it should have a ragged right edge.
If you are writing a longer paper, use subheadings. Come up with your own format but make sure it is consistent.
It would be best if you numbered the pages in the top right side corner of the page, starting from the first page, which is number 1. You can also include your name on each page if they are separated. Number every page until the last one but don't have any pages without text.
Don't number the cover page; count it as part of the total page count.
Your paper should be in the following order:
Cover/title page
Body of the paper
Appendix (if requested)
Notes
Bibliography
Don't bold, underline, or italicize these elements. Remember that these requirements may vary when writing doctoral theses or dissertations.
Related: Why how you indent your paper matters in academic writing.

Title page
You can either include the title page or write the title on the first page of the paper. However, most instructor requires that students include a title page. Use these formatting tips if you are writing the title page separately.
Ensure the title and subtitle are centered ? of the way down
The subtitle should come just under the main title. Place a colon under the title.
Write your details in the following order just below the subtitle;
Name,
Course title
Instructors name
Date, and any other detail request from your instructor about ? way down
Double-space the title page
Don't include a page number in the title page; however, you should include it in your page count.
Related readings:
Headings
In Chicago format, headings, and subheadings are necessary parts of writing used to organize your work, giving it a hierarchical organization.
Headings and subheadings help readers navigate through your paper. Plus, if you use Microsoft Word, it will help generate an automatic table of contents. For this reason, you should use headings and subheadings in your paper.
There are specific rules you must follow in Chicago style. These rules are:
You must maintain consistency and parallel structure.
Use headings styles for capitalization.
Each heading and subheading should begin on a new line.
The hierarchy of headings and subheadings must be clear.
Don't end headings and subheadings with a period.
Use at most three levels of hierarchy.
Ensure there is more space before writing a heading than after
Every chapter should include at least two headings.
Don't end a page with a subheading.
Don't number headings or a subheading.
Turabian Heading Levels
The Turabian manual allows different heading levels to organize a paper coherently. It enables the use of up to five different levels of headings and subheadings. These levels of headings and subheadings are formatted as follows:
Level 1
It should be centered, Bolded, or Italicized and written on its own line. Use Headline-style Capitalization. You can also underline it.
Level 2
It should be centered in standard type (not italicize, bold, or underline) and on its line. Use title casing. Title casing means you should capitalize every letter of the major words.
Level 3
It should be left-justified, Bolded, italicized and written in the title case. It should also be on its line.
Level 4
It should be left justified in standard type. Use sentence casing and write it on its line. Sentence casing means that you should format the heading like a regular sentence and only capitalize the first letter of the first word.
Level 5
It should be left-justified, Bolded, and italicized. Use sentence case and end with a period. Don't write it on a new line.
Please note that you should use all these headings in this particular order starting with level 1. Therefore, if your paper only has three headings, you will start with level 1, followed by level 2, and then level 3 for lower levels. Similarly, if you are writing a paper with five levels of headings, level 1 will be for higher-level formatting, while level 5 will be for the lowest formatting.
Higher-level headings should stand out visually more than lower-level headings.
Subheadings will generally be more prominent when you center, bold, italicize, or capitalize headline-style than when left-justified and written in standard type or capitalized sentence style.
Names, Acronyms, and Numbers
Acronyms and abbreviations must follow the Chicago style.
Chicago recommends writing full names for persons or agencies when you refer to them for the first time in your paper, then placing the acronym in parentheses. For example, the Center for Disease Control and Prevention (CDC), Ted Bundy, etc.
After that, you can use only the agency acronym and the person's last name. Follow these rules when writing names and acronyms:
If you are unsure whether the words are abbreviated or spelled out in full, spell them out.
Capitalize the first letter of each word in an acronym.
Don't use an acronym when writing a direct quote.
If an acronym has the word " the," don't use it in an acronym.
The following should be abbreviated:
All titles come before names. For instance, Mr., Mrs., Prof.
All titles succeeding names, e.g., Dr., B.A., M.A.
Names for all familiar organizations, e.g., CIA, FBI, NASA
Names of all countries and corporations that are referred to by their abbreviations more than their full names, e.g., U.K., USA
Names of famous people, e.g., JFK
Name of widely known things, e.g., DVD, CD-ROM
Names of states and their territories. Don't place a period after abbreviating the names of states. Remember that state abbreviations should be in accordance with all the accepted abbreviations by the U.S. Postal Service. For instance, C.T., NY, NJ.
Commonly used Latin words such as et al.
Mathematical units used with numbers, for example., 12ft, 200 kg 10:00 a.m., 20 B.C., 130 A.D.
Ensure to keep non-science and non-tech abbreviations to the bare minimum.
The point of using an abbreviation is to save space on all other subsequent mentions. For this reason, there is no point in introducing abbreviations if you will never use them again in your paper.
If you are writing numbers, ensure you spell out those below 100.
Please note that you should neither use numerical nor acronyms or abbreviations at the beginning of sentences. You can either rewrite the sentence to make the sentence or acronyms appear elsewhere. Or spell them out in full phrases.
For example,
Instead, 50 guests came to the party
Say,
Fifty guests came to the party
Or,
The party had 50 guests
Footnotes and Endnotes
The Chicago style guidelines recommend including footnotes and endnotes to cite all your sources. Footnotes and endnotes are not the same as in-text citation methods, and you must provide sufficient information for all sources you use in your paper. So footnotes and endnotes tell the readers exactly where you got your information.
There are some exceptions, but you can use either footnotes or endnotes but not both. Check with your instructor to know which to use.
Use footnotes in the footer section of every page and endnotes in a separate section after your last text, just before the bibliography.
You can create a footnote or endnote using a superscript that appears at the end of the phrase it refers to. Place it at the end of punctuation, except if you have ended the sentence with a dash; then it appears before.
Ensure you number all the notes are numbered sequentially throughout the paper, starting with number 1. You should not restart the number with every new page or section of your paper.
Also, match your citations to the corresponding number in the footnote location and endnotes. Because they show the location of your citations, you can provide more information from multiple sources.
When You Should Include Footnotes/ Endnotes
After using your own words, use footnotes/endnotes to cite:
Paraphrased ideas or arguments belonging to someone else
Uncommon numerical knowledge or information
Use footnotes/endnotes immediately after using direct quotes.
If you use quotations over 100 words, separate them from the rest of the text as a block quote.
Block Quotes
The length and type of the text determines a block quotation in Chicago style. By type, it means that it is either prose, verse, or dialogue:
The prose is worded in a book or report; in other words, just regular text
The verse is in poetry or drama
Dialogue is precisely a line of texts spoken between characters in a dialogue
The length of the quotes will vary by the type of text you are writing. So, before you begin writing, look keenly at the type of text you have to understand how to create the block quote in Chicago style.
Chicago Style Block Quotes: Prose
The length of the prose will determine how you should format the quote:
If the section has four or fewer lines, include them in the text and add quotation marks
If the section comes with five or more lines, set it in a block quote
Please note that you can use a block quote for a text shorter than five lines, but only if you emphasize or compare it with a shorter quotation.
To format the prose as a block quote, follow these rules:
If you start your quotes with a complete introduction, use a colon before you begin the quote.
If the introductory sentence is incomplete, and you've started with words like "according to, " use a comma before the quote
Don't use quotation marks on the quote.
Single space the block quote
Leave a space before and after the quote.
If there are quotation marks within the block quotes, lots best that you leave them as they are
Indent the quote 0.5 inches
Don't add a paragraph if there is more than one paragraph in the block quote. Just indent it 0.5 inches
To block quote a verse in Chicago style.
Ensure it is two or more lines of poetry
Indent the quote 0.5 inches
Single space it
If you include two or more lines, format it like for verses. Also, capitalize all the speakers' names or use a different font.
In this guide, you can learn how to format your block quotes in Microsoft Word.
Note that block quotes should be used sparingly, particularly if it is a short essay. Excess use of block quotes indicates that you don't really understand your source materials.
Bibliography or Reference List
After you are done writing your paper, you need to end it with a list of all the sources you have used. You can use a bibliography or a reference list.
A bibliography lists all the sources you have cited in your paper. Each entry starts with the author's name and source title, followed by other relevant publication details. A bibliography is not mandatory, but it is important in showing your reader's a source for all materials used. Ask your instructor whether or not you should include it.
A reference list, on the other hand, is used in the Author-date format. You should show all the sources you have used in your paper in a list at the end of the paper.
When writing the references list and bibliography, don't double spaced it; leave a black space between each entry.
If one entry extends onto another line, indent it ? from the margin for all except the first line of entry.
Perfect Your Chicago Formatting
Now that you've gone through the guides, it's time you get down to work.
Remember that Chicago formatting is pretty simple once you get the hang of it. Please note that the instructions from your professor will trump all the guidelines.
You can use online citation generators or tools such as citethisforme or BibMe to track and generate footnotes or parenthetical in-text citations as necessary. If you want us to help you format your paper in Chicago, don't hesitate to place an order by filling out our order form on the homepage. We also write Chicago-format academic papers from scratch, including footnotes and endnotes as necessary.
FAQs About Chicago Style Formatting
Below are some answers to commonly asked questions regarding Chicago formatting for essays, research papers, and other academic papers.
Is Chicago formatting similar to Turabian?
Not entirely. Turabian is much shorter with fewer instructions and aims at simplifying some aspects of the Chicago style for those writing papers not intended for publication.
What font should I use in my Chicago Style Paper?
There are no specific instructions on the type of font or size you should use when writing a paper in Chicago style. Write your paper in a readable font; Times Roman and Ariel are the most used.
Do a reference list and a bibliography differ in Chicago formatting?
Yes. The main difference is the placement of dates and the arrangements of the references. The publication year is placed in the reference list just after the author's name, and the headings are titled " References." And the references will be arranged alphabetically as a list of sources. In the bibliography, on the other hand, the publication date comes last, and the references are placed into sections and then arranged alphabetically.
What are the variations of the Chicago formatting style?
There are two variations of the Chicago style:
Notes bibliography (N.B.) system - It uses a bibliography and either footnotes or endnotes and is mainly by those in literature, history, and arts.
Author-date System -uses bibliography and parenthetical citations to cite sources within the text; those scholars in Sciences typically use it.
Do I include a bibliography or reference list in my paper?
You must include a reference list in your paper if you have cited sources using author-date citations. However, if you have used footnotes, it is recommended that you include a bibliography.
What is the difference between footnotes and endnotes?
Footnotes are placed at the end of each page containing sentences it refers to, while endnotes appear at the end of the paper just before the bibliography.