How to Write an Executive Summary for any Document
Last Updated: 14 September 2022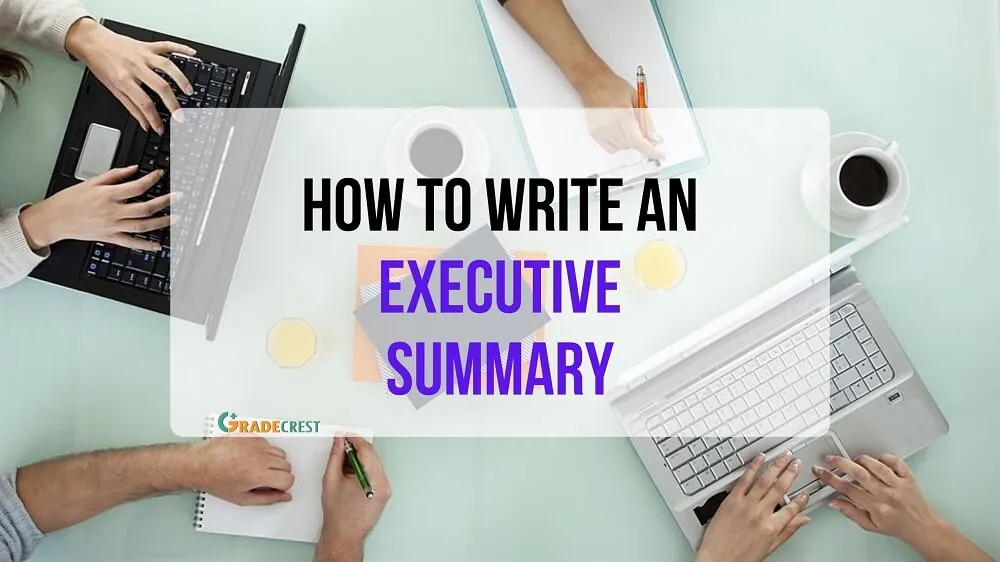 Writing an executive summary when writing a research report, business or marketing plan, strategic plan, white paper, or any other document is one of the ways to inform your readers about what the document is about. Therefore, knowing how to write an executive summary is essential because it improves your competitive advantage both in school and the professional world.
It is a concise summary meant to appeal to the readers. Executive summaries for business proposals are meant to convince investors that your proposal is worth listening to or reading.
If you are writing an MBA project, your professor will gauge your content's suitability and validity based on the executive summary. Policymakers also use executive summaries to prioritize the issues that should be addressed.
Because writing executive summaries is a handy skill for college and university assignments and real-world work settings, honing your executive summary writing skills is necessary.
Many students and professionals alike find writing executive summaries challenging. And that is what this entire guide is about.
What is an Executive Summary?
An executive summary is a concise summary that is part of an extensive report, business document, policy paper, white paper, business, marketing, strategic plan, government document, or research paper. It is a stand-alone section that offers an overview of the main parts of the research report detailing the problem or issue, the purpose of communication, and a detailed summary of the findings, conclusions, and recommendations.
A good executive summary compiles the critical messages that the readers (target audience) need to know without necessarily reading the entire document.
Students pursuing their undergraduate, MBA, and graduate studies might be assigned to write research papers or reports with executive summaries to hone their writing skills in readiness for the actual work in different organizational settings. When assigned to write a paper or proposal and include an executive summary, you are taught how to address or engage external stakeholder groups through research findings.
You should note that an executive summary is not an abstract, introduction, preface, or a random collection of highlights. Furthermore, the target audience of an executive summary is primarily outside of the academic community. Instead, they target the professional community and other stakeholders such as funding entities and organizations.
Executive Summary vs. Abstract
A common question students ask is whether an abstract is the same as an executive summary. While they both appear in the same section of a document, there are glaring differences.
An abstract lets the readers get the gist of a research paper, term paper, proposal, dissertation, or thesis. It is a short form of the entire paper, primarily presented in seminars and conferences. Abstracts are meant for orientation, while an executive summary condenses the information in a document. It can stand alone and make sense.
While you can write an abstract in technical language, executive summaries should be pithy and written in non-technical language. An executive summary also has a conclusion at the end, whereas an abstract does not have one.
Executive summaries also contain recommendations at the end, whereas an abstract does not contain any recommendations. An executive summary has a comprehensive recommendation section, which is never allowed in abstracts that follow the discursive academic discourse. Besides, while abstracts are implicit, executive summaries are explicit.
Another glaring difference is that an abstract is one single paragraph, whereas an executive summary can take the form of many well-balanced paragraphs. Finally, it is also worth noting that executive summaries are longer than abstracts.
While an abstract is limited to 200-300 words max., an executive summary can be written from one page onwards, depending on the length of the document in question.
You can also use citations and references in an executive summary, unlike in an abstract where such is not permitted. As a rule of thumb, an executive summary is no longer than 10% of the original document. An executive summary can be between 1-10 pages for longer documents.
Finally, you can also write an executive summary that summarizes more than one document, unlike an abstract that focuses on one document- the research paper, term paper, or proposal.
Main Parts of an Executive Summary
You should incorporate some components when writing an executive summary for whatever purpose. Notably, the content of an executive summary should reflect the contents of the larger document that you are condensing. Try to be simple when writing an executive summary.
The five most critical parts of an executive summary include the background information, statement of purpose, summary of the main points/findings, conclusion, and recommendations.
Let's explore these in-depth so that you know what to put where to ensure that you crunch your executive summary within no time.
Background Information
This serves as the opening paragraph of your executive summary. You should begin your executive summary with background information or an overview of the report. If you are writing about an issue, let your readers know the issue. If you are writing about an organization, clearly state the organization's name and provide the context of your report or document. Let your readers know:
The context of your report
The main people or organizations involved
The incident prompting the writing of the report or document
Statement of Purpose
The second section of the exec summary is the statement of purpose. Here, you should have two or three sentences that detail why you wrote the report. For example, explain why the study occurred if it is a study. Give the rationale for writing the report or document.
Overview of the Main Points
This is the section where you cover aspects such as data collection and analysis methods and the research findings.
It should be clear, concise, and straightforward so that the readers can know what the main contents of the document are by reading the summary. List the main arguments or ideas in the report or document.
This section should include examples and illustrations to support each point by providing evidence from credible sources to help the readers understand the main issues within the report or document.
If you are writing a strategic, business, or marketing plan, this section should contain the main points in the body of your plan so that the readers can comprehend what's in the plan.
A business plan includes aspects such as company description, products and services, SWOT and PESTEL analysis, Market Analysis, VRIO analysis, marketing plan, financial planning, and funding.
Conclusion
The next section in an executive summary is a brief conclusion, whose purpose is to summarize the document's points.
It should be brief and never contain any new information, not in the document. Besides, it should restate the thesis so that the readers have closure on the topic.
Recommendations
In this last section of the executive summary, you should include the recommendations based on the findings in your report.
It is like a call-to-action part of the executive summary where you state some actions that need to be taken to address or improve a situation.
These solutions should be based on the findings in your essay.
You are allowed to give a concise summary of the rationale for each recommendation to have a stronger executive summary.
Steps for Writing a Good Executive Summary
An executive summary is an independent or stand-alone document that substitutes the main research paper, report, proposal, or document. It contains a brief description of the main sections of the document, including the results, conclusions, and recommendations. If you are writing an executive summary, follow the following steps.
Step 1: Read the entire document
Before writing the executive summary, ensure you read or skim through the document first.
You will condense this entire document into a well-written executive summary, which means you should be familiar with its different sections.
Reviewing the document helps you to understand, plan, and finally write an executive summary that fits the bill.
Step 2: Take note of the main points
As you are reading the document, take note of the main points, arguments, and ideas from the document.
Remember, the executive summary is a reflection of the entire document. Therefore, it helps to break it down into respective sections and decide what points are worth prioritizing. Taking notes on a second reading helps you to organize the executive summary.
You should utilize summarizing, paraphrasing, and rephrasing skills in this step. Consider these as the points that will explain your document's goal when a person reads the executive summary.
Step 3: Outline the main sections
After taking the main points, it is time to examine the sections of the original document and decide what goes into the executive summary and what is to be discarded.
List the main section as they appear in the main document and a few sentences for every section that describes the main idea, including the supporting ideas.
Ensure that you have a concise and clear summary for the following sections:
Opening statement (including background information),
Purpose of the report, study, or document,
Methods used to gather and analyze data,
Findings or results, and,
Conclusions and recommendations.
Step 4: Compile the information
With the outline done, you should now compile the information into a well-written executive summary. The executive summary should not be longer than 10% of the word count of your original document.
As you write, utilize academic writing phrases and transition words. As you state the main points, use references and in-text citations to support the main points. Your choice of words should consider the audience you are writing the executive summary for. Ensure that you give explanations, illustrations, and demonstrations to help the readers comprehend your message. The strongest evidence should be from credible scholarly sources.
As a final part of writing the executive summary, you should add a short conclusion that restates the thesis of the document, rounds up all the arguments and main points, and states the recommendations given.
Step 5: Read and Polish the Executive Summary
A good executive summary is devoid of errors. Therefore, you should strive to achieve excellence by proofreading and editing your executive summary. Check the spelling, grammar, syntax, punctuation, and tense errors in your executive summary and address them to make it flawless.
For this step, you can use editing programs such as Grammarly, Ginger, or Hemingway Editor. But, again, you should remove any bluff or fluffy words from the executive summary.
You also simplify the vocabulary in your executive summary at this stage. Then, once you have fixed the errors, re-read the executive summary after taking a break to develop an objective mind.
Tips to help you write the best Executive Summary
In many years of writing and polishing papers, we have encountered mistakes we were either made aware of or unaware of. Use these tips when writing your executive summary.
Do not cut and paste
Instead of cutting and pasting the sections of your document into the executive summary, you should paraphrase, summarize, and rephrase them to make your executive summary appealing and original. Don't include titles, subtitles, and lists to fill the word count. Instead, only use them when it is absolutely necessary to do so.
Observe the length
A typical executive summary should not exceed 10% of the word count of the original document. Therefore, ensure that you plan well with the word count so that you do not write a longer executive summary with repetitive points. After all, you should be clear and concise when writing an executive summary.
Write for your audience
When writing an executive summary, even for class, consider your audience. First, you need to consider the audience you are writing for so that you can select the language appropriately. Then, adjust to the requirements of each audience accordingly.
Be clear, concise, and coherent
As you write the executive summary, ensure that you do it clearly. Organize your exec summary so that it has the flow of ideas.
A cluttered executive summary might cost you good grades. You can spend time proofreading and editing to ensure that your executive summary is devoid of errors.
When writing, ensure that your choice of words, placement of ideas, sentences, and paragraphs fit the context of the original report. It should be simple, clear, concise, and straightforward.
Ensure that you write the summary in your own words. Utilize your memory when presenting the main ideas. Finally, present the information from the point of view of the author.
Write it last
An executive summary should be written after you have written the report or document, just as an abstract is done. Writing it after the document helps you condense the points without tweaking it based on future developments as you advance in writing the document or research report.
Parting Shot!
As the article shows, an executive summary is not like an abstract, although both might be in the same section in an academic or professional paper. They both come before the introduction. Executive summaries are a means for readers (target audience) to quickly understand the essay, research paper, term paper, or document without necessarily having to read the entire document.
When writing an executive summary, you should condense the main parts of the paper to make it easy to inform your readers what to expect. For example, an executive essay summary is brief, concise, clear, straightforward, and devoid of grammatical errors.
This guide has included valuable and practical tips to help you write and polish your executive summary. In case you need help, we are available.
GradeCrest is a custom research paper writing website. We have experienced writers who can plan, research, and write various papers with an executive summary section. Do not hesitate to contact us if you want a white paper, research report, marketing, business, strategic plan, or company research report with an executive summary.