How to write a top-grade Thematic Essay
Last Updated: 25 January 2023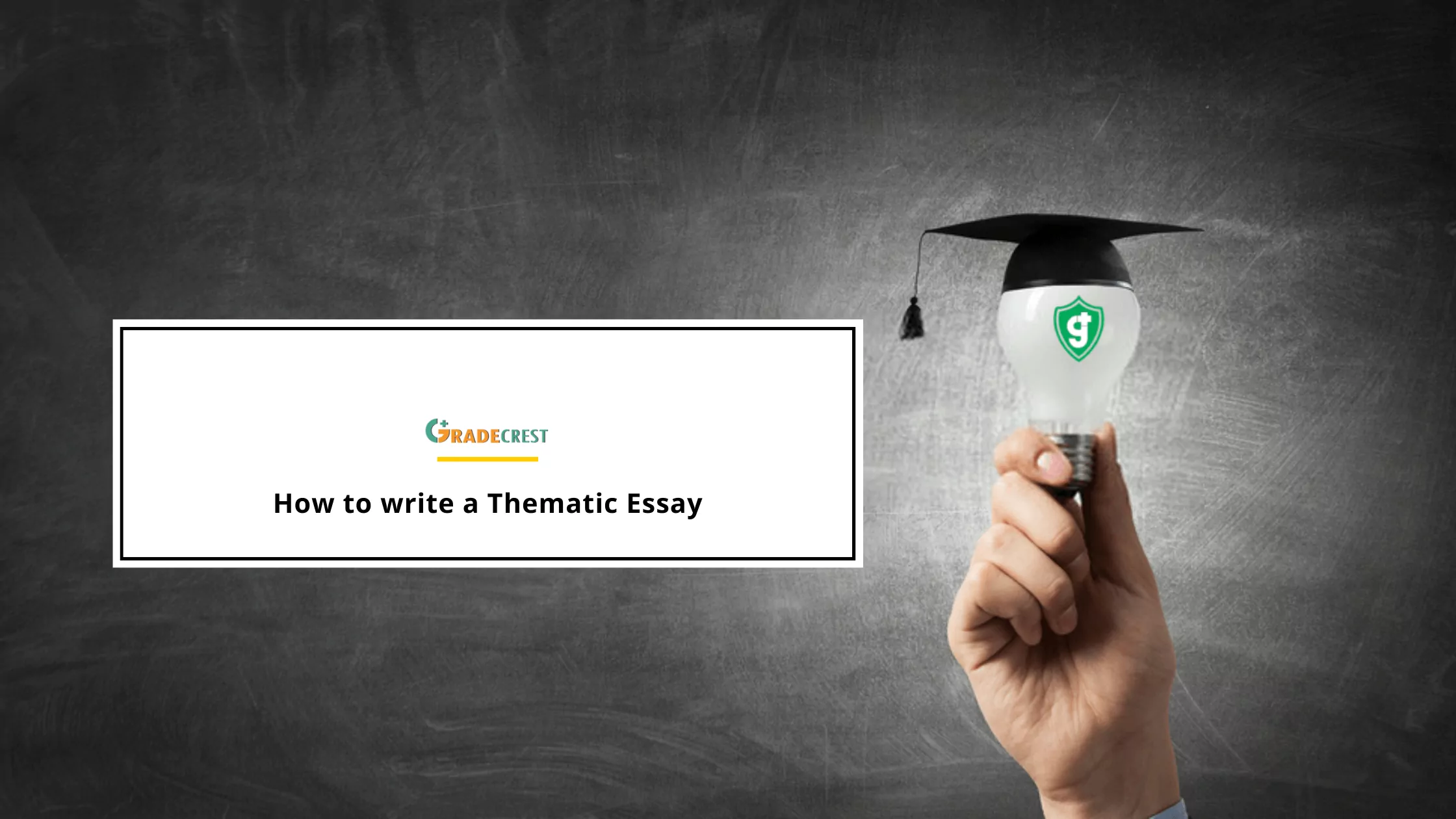 When assigned to write a thematic essay, you ought to understand what it is, how to approach it, and how to put every aspect of it on paper finally. You will most likely be assigned to write a thematic essay in high school, college, and university. Instead of getting confused, as most students do, you can use this quick guide and learn how to write a thematic essay quickly and seamlessly.
Remember, a thematic essay entails developing the central theme in literature, using specific literary devices. This guide will teach you the steps to take, identify a central theme, and some helpful tips when writing thematic essays. You will also have some topic suggestions and advice.
Without wasting time, let us delve deeper into it.
What is a thematic essay?
A thematic essay is a category of essay that involves the creation of a major literature theme using literary devices such as imagery, personification, and metaphor, among others. The writer expresses the importance of the themes in the essay.
However, the common challenge in a thematic essay is that every writer interprets the main theme from their perspective. Therefore, an ideal thematic essay should consist of logical arguments that are justified through literary devices.
The fundamental role of a thematic essay is to unwarp the major subject discussed. As a student, you are required to use facts, evidence, and examples obtained from a secondary and primary source.
You should connect the various facts to the main subject of your essay to demonstrate logical arguments in your essay.
How to write a good thematic essay in simple steps
One major challenge for students writing a thematic essay is that they have to identify a central theme. Apart from that, your thematic essay should also have logical arguments backed by evidence, examples, and illustrations that are based on literary devices.
Step 1: Read the essay prompt
The essay prompt provides the information about the issue or the topic to be discussed in the essay.
Reading the essay prompt is significant in inspiring your response in an essay form, which is critical in your reasoning and analytical skills.
Moreover, reading essay prompts is important in informing the writer about what is expected in the thematic essay.
Step 2: Choose the text you are going to use
It is important to gather the sources you will use in your essay writing before embarking on writing.
The texts include literature abstracts, discussions, or other texts that support your theme. Therefore, it is vital to gather the texts properly.
You should ensure that the text you choose contains facts or examples that support your essay theme.
Step 3: Take notes as you read
As an essay student, taking notes will influence your attention to make the appropriate decision about the key literary devices to apply in your essay.
It is vital to choose relevant sources that entail comprehensive literary devices that support your theme as you make notes.
Step 4: Determining the central theme
Determining the central theme is one of the vital steps of thematic essay writing. The central theme is the basic component of your essay. It defines the essence and scope of the essay. It also defines your angle of analysis.
Therefore, it is significant to determine the central theme of your essay. We will provide hints later in this article on how to identify central themes. It is vital to have the hints at your fingertips as a student.
Step 5: Craft your essay thesis
After determining your main theme, it is vital to develop your essay thesis. Your essay thesis is fundamental in summarizing the points that will be discussed in your entire thematic essay.
This thesis will be posted at the end of the introduction paragraph; your essay thesis should clearly define the central idea to be discussed in your essay.
Consequently, every component of your essay can relate to your essay thesis. The following tips can help you to craft your essay thesis:
Construct a question. To craft your essay thesis, you can begin by considering the questions provided. However, if not provided, you can come up with your individual question. What can you decide or like to explore on the topic?
Write your first answer. After embarking on research, you can construct a temporary answer to your question. This is a simple task because it controls the writing and researching process.
Construct your answer. After writing your answers, you need to consider that you will use your answer to co-compel your readers of your essay. Reading extensively concerning the topic will give your more details about your answer and assist you in developing further.
Step 6: Write body paragraphs
Writing the body paragraphs follows the introduction in thematic essay format. The body paragraph should convey the purpose of the essay and utilize literary devices that are used as evidence, each literary paragraph should consist of literary devices.
The topic sentences are introduced to provide a gateway and claim of the evidence. Each topic sentence is linked to a literary device and its connection with the literature.
After writing your topic sentence, you are required to justify your claims. You can use secondary sources to strengthen your point of reasoning through facts, figures, and examples. You can use questions or plots related to your essay's main theme.
It is crucial to prove how the quotes or plots link to the thesis statement of your essay. It is also important to note that every claim should apply the literary device. Thematic essays rely on applying literary devices to improve the thesis statement.
Step 7: Write a captivating introduction
The introduction summarizes your approach and understanding of the answer to your essay question. It is critical in revealing what you intend to discuss in your essay and how you evaluate the theme.
To write a captivating introduction in your thematic essay, your initial stamen in the introduction paragraph should hook the reader through an intriguing claim concerning the topic.
This will attract the reader's attention and provide required background information that assists your audience to comprehend the essay claims later. Moreover, writing a captivating introduction is vital in conveying a well-framed thesis statement that reveals the novel central theme.
Step 8: Write a powerful conclusion
Conclusion marks the end of the thematic essay. When you write your conclusion, you should ensure that it completes the essay before wrapping up the whole paper. It should include new information that was not discussed in the body of the essay.
To write an effective conclusion as a student, you need to start by reinstating the thesis statement differently from how you stated in your introduction. Then, summarize your logical arguments on the central theme in the body paragraph.
To end your essay. Provide a final concluding statement that analyzes the topic. You should ensure that you leave your audience with a hook making them interested in exploring the topic.
Step 9: Format, edit, revise, and proofread the essay
After writing your thematic essay to a conclusion, it is vital to check the format of your essay and adjust any necessary items as required by your professors' instructions before submission.
You should confirm and double-check your central themes to match your essay requirements. Finally, peruse through your entire essay and edit any mistake should note that grammatical mistakes will irritate your readers.
Therefore, it is critical to clean all mistakes to make the essay attractive to the reader. Revise the paper to ensure that the essay is well-edited and efficient.
Proofread your essay to remove any possible mistakes. Proofreading can also assist you in changing the sentence structure to help polish your essay further. Moreover, it can help in eliminating mistakes from the paper.
Generally, as an essay student, you should ensure that your essay is in the correct format, well-edited, revised, proofread, and is free from grammatical mistakes before submission.
How do you pick an excellent thematic topic?
Selecting an excellent thematic topic is one of the crucial aspects of thematic essay writing. The following guidelines help pick an excellent thematic topic:
Brainstorm. Remember anything you discussed with your parents, friends, or teachers. Do the conversations link to some novel, book, or literature writing?
Write the ideas that you can recall. In most cases, the ideas that come first in your mind are the best ones to build on.
List the best literature. Ask yourself about the most touching piece of writing to you. Then, evaluate the subject and the challenges of the author in the literature developed in the story. This can help you to develop your ideas.
Select a convincing theme. You should understand your expected audience and provide strong ideas to engage them as ordinary readers. Considering things that can engage your audience can assist you in coming up with a central theme in your essay writing.
Refer to other pieces of literature. Using your professors' materials can assist you in coming up with the main theme of your essay. In addition, reading the material provided or suggested by your professor can give you hints of an appropriate theme that you can discuss in your thematic essay.
Get the Perspective. Sometimes to come up with the major theme, you will be required to consider the advantages and disadvantages of issues ad consider one perspective that can lead to a major theme to use in your essay.
Consider social issues. A thematic essay is linked to social problems that affect human life in most cases. Therefore, to develop a compelling theme as an essay writer, you need to analyze the social issues and select one that is appropriate to develop the main theme in your essay.
How to identify the central theme in a text
As discussed before. Unwrapping the major subject and the main point are the fundamental steps in writing a thematic essay. However, sometimes it is cumbersome to interpret the central theme effectively due to numerous aspects that run within the literature Coming up with a central theme is one of the significant approaches in thematic essay writing. The steps provided below can assist you in coming up with an appropriate theme.
Condense the literature: consider the major idea that the author is conveying. There are many hints about the literature summary. As a writer, you should choose the hints that are effective and less challenging
Pick a common subject: As an essay writer, it is vital to identify the difference between subjects. A subject is regarded as a general topic; it can be deception, love, or bravery. However, there is a specific point that is derived from the subject. Therefore, identify a common talking point and make it the focal theme of your essay.
Read the central point: interpret the major idea that the author was delivering upon getting the subject. You will become more apparent as you explore the frequent examples and clues in the literature.
Overall significance: you should consider the importance of the author's point. Identify what can be retrieved and applied in personal lives. Generally, this will drive you to ask the lesson that can be derived from the literature.
Comprehensive Outline for a Thematic Analysis Essay
As an essay writer, your main objective is to be creative when writing your essay to include all crucial details. Consequently, beginning your essay with the outline is vital for thematic essay writing.
Your outline should note that all things contained in the draft do not necessarily form your final piece of writing. Nevertheless, an outline is significant in guiding you throughout your work.
As a writer, you should make sure that you check the flow of your essay. You can achieve this by checking how you use transitions.
In many instances, students tend to treat every paragraph as a mini-essay without linking one paragraph to the other. This aspect leads to an essay that is incohesive and is not flowing.
Also, students should refrain from emotional expression and wordiness to prevent irritation of the reader. When drafting your essay, you should ensure that you are neutral in the sense that you should refrain from being informal or formal. It would assist you to sound sincere and respectful.
A thematic essay outline is meant to guide the writer without mistakes throughout the writing process. Additionally, an outline is crucial in preventing the writer from getting stuck during the writing process. In most cases, the outline of a thematic essay follows a 5-paragraph structure that consists of an introduction, 3-body paragraphs, and a conclusion. Some students think that writing an outline is a waste of time. However, this is not the case; an outline is the basic component of your essay paper.
Possessing a detailed essay outline allows you to create a fantastic thematic piece of writing that is logical, flowing, and coherent.
Overall, a good outline consists of an introduction, body paragraphs, and conclusion. However, the number of your body paragraphs can vary depending on the depth of the theme of your essay.
Introduction
You should begin your essay with an introduction. You should make an impressive introduction that attracts the attention of your reader. The introduction section consists of background information and the vital points discussed in the essay.
You should be strategic when developing this section. Utilizing practical tools such as humor or posting a connective question is critical. In your introduction, deploying exciting and surprising facts encourages the readers to explore your work.
However, you should not make this paragraph lengthy. Instead, it should be brief and contain the central idea concerning the essay. The last sentence in your introduction should comprise the thesis statement.
As discussed earlier, the thesis statement provides information about what is discussed in the body of the essay. Therefore, make sure your thesis statement is clear and provides a logical argument about the topic of the essay.
Body Paragraphs
Body paragraphs are the essay's main body that comprises of detailed discussion of the central theme. This is where you will be providing analysis, supporting justifications, and developing arguments.
It is critical to avoid giving baseless statements in this section because this part demands well-constructed logical arguments supported with evidence, facts, and examples that increase the quality of your essay.
As an essay writer, you should ensure that all your main points are discussed in the body of your essay. Each point should be discussed in each paragraph. The point is stated in the form of the topic statement and supported with the literary device.
Also, you can use subheadings in your thematic essay to avoid clustering of your content. All the paragraphs in your essay should be of equal length.
This is important in producing a quality essay. You can get numerous thematic essays on websites. You can read the samples to guide you in writing an excellent thematic essay.
Conclusion
The conclusion is, marks the end of the essay. A reasonable conclusion should be precise, practical, and logical.
Generally, the conclusion should resonate with the information in the thesis statement. To write a reasonable conclusion, begin by rephrasing the thesis statement.
Rewrite the thesis statement in your own words while keeping the meaning of the idea. After that, summarize the main points discussed in the body paragraphs of your thematic essay. Ensure all the points are summarized.
Finally, provide an overall statement that can hook the reader and attract the reader's interest to explore the topic further.
Essential tips when writing a thematic essay
Read relevant literature that includes book chapters and other relevant sources that support your theme. Then, read the essay question carefully and brainstorm the best approach to writing your thematic essay.
Developed a detailed outline that will guide you in writing the paper
Ensure you master the requirements of the essay and academic rules that govern essay writing. Ensure you adhere to the required format and refrain from plagiarism by paraphrasing important p points from secondary sources.
Your introduction should be brief and to the point, and you should not forget to include a logical thesis statement
It is necessary to develop one straightforward central question in every paragraph
You should present your paragraphs in a logical format. Ensure the paragraphs are linked with one other to ascertain the flow of the essay.
Use compelling examples and claims that support the points in each paragraph. The claims and examples should be verifiable and well elaborated to bring the logical arguments in the essay.
You should reference your source properly. Poor citations and references may result in plagiarism. Therefore, ensure you include a well-structured intext citation and reference list in your essay.
Ensure all your description is followed by extensive analysis as a way of justifying your claims in the essay. Any description that lacks analysis should not be included.
Make sure that your conclusion is relevant and concise.
Make sure that all the materials are referenced, and a bibliography or reference list indicating all the used sources is provided
Ensure you submit your essay at the required time.
Mistakes to avoid when writing a thematic essay
Avoid using the complex word;
Avoid using text that is not significant to your essay;
Do not exaggerate your essay;
Avoid long sentences;
Avoid submitting your essay without proper citing;
Do not submit the paper unreviewed;
Make sure the paper contains stronger arguments;
Refrain from submitting your work without running it through a plagiarism checker and Grammarly software
Avoid using the wrong essay format;
Avoid using too many questions from secondary sources.
Thematic essay topic ideas
Numerous thematic essay topics can be utilized to produce impressive work. Most of the common thematic topics are related to historical events. As an essay writer, you should consider an exciting topic to write about. Getting an interesting topic is fundamental in deriving ideas and writing quality work based on your knowledge. The following are some of the topics that are related to distinct subjects.
Global regents
The transformed meaning of philosophy
Can a person manage unconscious thinking?
The responsibilities of Men and Women in the modern society
Human rights in the contemporary world.
The role of social media in the modern old
The significance of the political system in the contemporary society
The role of globalization in the contemporary world.
The role of religion in society
Belief systems
Should the death penalty be allowed?
Should people be allowed to carry handguns?
Are video games effective in mental health mitigation?
Women should take care of children and not engage in any form of work.
The childhood period is the most significant part of human life.
Literary thematic essay topics
Explain the themes explained in the book "The Great Gatsby."
Explain the major theme highlighted by Bernard Shaw in the novel "Arms and the man."
What is the central theme in the poem "The Road not taken" by Robert Frost?
Happer Lee discusses "innocence" in his novel To Kill a Mockingbird. What does he try to elaborate on?
US History
The civil war era.
The slavery issue in America
US-Russia relations
The Cold War Period
USA and UN
Industrial revolution in the USA
International organizations
Read our article on the list of social issues and see if you can consider some controversial and current social issues for your topic ideation.

Final Remarks!
As you wind up your thematic essay, ensure that everything is okay. Remove any spelling, stylistic, typographic, and grammatical errors.
Also, confirm is your central theme comes out clearly in the paper. You can hire an expert proofreader to help you spot and correct mistakes.
Thus far, we are sure you have the correct information that has set you up to write a great thematic essay by yourself. You can use this guide to research, plan, and write a quality paper.
Alternatively, you can hire an essay writer to write your thematic essay from Gradecrest. Our model essays are plagiarism-free, 100% unique, and top-quality.
You can also check sample essays online to get further inspiration. We believe that you will write an excellent paper from now on.