How to Write an Interview Essay : A Comprehensive Student Guide
Last Updated: 27 August 2021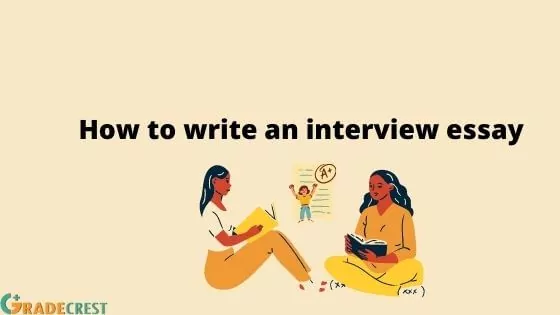 Interviews can, at times, be underrated by students until they are assigned writing an interview essay. Without knowing how to write an interview essay, all hell breaks loose! We are not selfish enough to let that happen.
Whether it is just a casual interview or a formal interview, critical thinking, creativity, and reasoning skills are paramount. If you have read Larry Ellison's revelations, then you already have got hold of the best interview examples. From it, you will realize how he was raised on the streets of Chicago and about his Oracle.
Reading an example is great. However. If you are facing adversity in the interview research and writing process, you better stay tuned. Alternatively, you can hire us to make your interview essay for you.
Before you hurry and click the close button, did you know that interview essays are common school assignments? You need then to dig deeper into this article and get to understand how to write an interview paper. When given an essay on an interview
What is an Interview essay or Paper? Definition and Writing Process
An interview essay provides insights or views on a given issue, phenomenon, event, or object and is usually based on a conversation between two people. In the conversation, the interviewer usually asks questions, and the respondent provides answers and clarifications, where necessary.
If you are planning to get answers, conducting an interview is inevitable. However, to write an interview paper, you have to organize, clean, and process the answers to the interview and include them in your essay.
So, now that you know what an interview essay is, wouldn't it be better to understand its writing process? Well, here are six major interview writing steps. Follow them to the letter to get answers to what is the interview paper writing process?
Purpose of writing the interview paper/essay. You should first begin by choosing the best topic for your piece of writing. A topic defines the scope of the interview.
Prepare a list of questions to ask the interviewee or the respondent.
Choose your respondents based on the subject matter and their interest in it.
Conduct the interview and while at it record or take notes where necessary.
Clean the answers, group them, analyze, and process them with accuracy.
Begin writing an interview paper. Remember to begin with an outline followed by a good introduction.
Outline of an Interview Essay
Whenever you are tasked with writing an interview essay, begin by drafting a carefully thought interview essay outline. The outline is the framework upon which the entire paper will be built. It offers a logical structure for your essay and helps in maintaining the main message in the entire paper.
Here is what a basic outline for an interview looks like:
Introduction: Give your audience/ intended audience a reason to read the entire essay/paper.
Thesis statement: The thesis statement comes either within or the last part of your introductory paragraph. It can be a few sentences, but mostly one sentence is better. It should give details on the participants in the interview and the core question upon which the interview essay is founded.
Body paragraphs: usually, three body paragraphs is mandatory when aligning to the five-paragraph structure. Ensure that each paragraph reflects one idea. Focus on the viewpoints of the interviewee on a given issue. In these paragraphs, you can also cite references on the opinion of others over the same issues.
Conclusion: Without a compelling conclusion, your interview paper will be vague. Therefore, ensure that the conclusion draws a clear picture of the interviewee or based on the answers provided.
Remember, always rank the interview questions in order of importance and ensure the best questions are answered. Sometimes, color coding important questions are the best option.
Types of Interview Essays - Peculiarity of Interview Papers
There are many types of interviews. Nevertheless, the central focus of this article is on the first five, which are common.
Career Interview Essays. As the name suggests, this is an essay written based on an interview conducted on potential recruits. You can be given a transcript of a job interview in question and answer format and told to write a career interview essay.
Leadership Interview Essay/Paper. Sometimes you are required to write essays after interviewing or imagining you have interviewed a prominent leader. Your focus mostly should be on leadership philosophy, leadership style, leadership theories, success stories, and failures. Here is where you are likely to write an interview essay on a Chef, Nurse Informaticist, CEOs of the Big 5 or fortune 500 companies, or even celebrities, to mention a few.
College admission/ entrance paper. This piece is akin to a career interview. Your focus should be on your experiences in life, upbringing, values, goals, aspirations, skills, abilities, and philosophy. For instance, Why my personal values make my peers look up to me.
Narrative Interview. As the name suggests, this is always written in third-person speech. It could be based on the history, social and cultural issues, and entails taking many notes. Your professor can ask you to write a 500-word or 1000-word narrative interview paper. A narrative interview topic can be The life of Fidel Castro, Barrack Obama, Osama, and any other prominent leader.
Personal interview. When writing a personal interview essay, you will conduct a face-to-face assessment of the respondents and write essays. Be sure to support facts using citations from scholarly sources.
How to write an Interview Essay Introduction
A common question students ask is how to start an interview essay. It all trickles down to writing a good introduction for your interview essay. Mainly, the introduction of an interview paper should feature the primary question that is of focus.
Clearly, state the main issue at the beginning of your essay. Taking the funnel approach could be better.
How to Write an Interview Report. Based on your chosen topic, highlight why the issue of focus is important to the interviewee and the audience. If you are still wondering how to write an interview essay introduction properly, take some sip of water and scroll down. I assure you it has just begun to be better and more knowledge is to come.
You understand that the major aim of an interview essay is to give the readers an insight or impression on a subject, object, event, and thoughts on a given topic. Your introduction should introduce your interviewee to the readers. Also, if there is room, analyze the ideas or views of various professionals or experts in subject matter to give an overview of what the entire paper entails.
While at it, refine your thesis statement by including the primary question and make it possible for the reader to stay hooked. Whether to use a hook or not in your introduction depends on you. However, it is a great way to draw the attention of the readers. Make sure that the ideas in the thesis are well-maintained in the interview essay to avoid straying and writing bluff.
Sample Thesis Statements for Papers on Interviews
Thesis Statement Examples for Interview Essays

Example and type 1
Give facts on the interviewee.
Example: John, a renowned cardiologist, is a top advocate of lifestyle change, and we are very lucky to share his insights on factors causing increased risk to heart diseases in the contemporary world.
Example and type 2
Use the comments made by the interviewee on a given position or theme.
Example: John Muffins reflection on the factors that predispose us to heart diseases show a clear need for a lifestyle change to combat the skyrocketing economic and social burden of heart diseases.
The Body Paragraphs of Your Paper
After the introduction comes to the body, which is a combination of three well-constructed paragraphs. Depending on your chosen format, it is possible for your essay to look different or peculiar. The body of the interview essay bears the gist or the themes from the questions asked during the interview.
Use the answers as accurately as they were given to construct themes and ideas. The body part should have transition words for flow. Also, ensure that you limit the use of idioms. Keep it simple and clear.
When the respondents are more than one, always compare their responses and relate to your thesis statement. Having a good body means worrying about how to end an interview essay.
How to Conclude an Interview Essay
When you finish your interview paper, you just don't let it hang. Instead, a top-quality interview essay has a compelling conclusion. Not even a conclusion generator can guarantee the best conclusion, so pay attention here!
The conclusion should reflect:
A restated thesis that is well reconstructed but with meaning retained.
A concluding sentence or pointer. For example, In summary, in conclusion, to conclude, as can be seen above,
Any changes in ideology or beliefs reflected in the responses.
How the response has changed your perception as an interviewer.
Whether the responses align to certain conventional principles or theories.
Your conclusion should either support or disprove an idea reflected in the introduction of your essay. Ensure that the entire essay is well-grounded in literature. Mostly, stick to using sources not less than five years old from when you are writing.
Remember that within an interview essay that you can present the ideas and thoughts of others on given topics or issues.
In summary, we believe that with these pieces of information, you understand the rules of how to write a perfect interview essay. We assume that you know how to avoid plagiarism when writing essays. Should you need help from expert essay writers, talk to us! We are always ready to provide you with the best custom writing experience.
Sample Interview Essay - The best Interview Write-up Example
As a prerequisite to writing my university discourse paper, I interviewed Professor Bob Weisberg, who's a professor of political science at OSU. My humanities discipline is law, and although Weisberg doesn't teach in law school, he has a law degree, used to work as a lawyer, and has taught law-related courses in the past, so it seemed like he'd have a good understanding of writing in the legal profession. As it turned out, he'd written legal briefs in several different lawsuits on behalf of his clients, and I also found out that he published a law review article in the UCLA Law Review in 1998.
Weisberg started the interview by asking what type of law I was writing about; this took me aback because I was just planning to write about the law in general since I figured it would be similar across various legal fields. I told him this, and he said that there were many commonalities across the different types of law?criminal, environmental, civil rights, etc., but that the differences were significant as well I indicated that I was primarily interested in the overarching characteristics, and he said this was fine.
Throughout the interview, Weisberg kept stopping to consult different legal books, and this was the part of the interview I found most surprising. Weisberg said that the vocabulary used in law is so specialized that even lawyers have to look it up all the time. I mentioned I thought this was what people learned in law school, and Weisberg said law school is more about learning legal concepts, and that the main trick with the vocabulary has the resources to find the vocabulary you need.
According to Weisberg, the crux of solid legal writing is the ability to be straightforward while also being passionate. He said this is a difficult balance to attain because people often get vague when they try to state a point meaningfully. One example he gave me was that if a person was writing a legal brief to a judge, he or she might write, The only reasonable interpretation of the evidence is in favor of my client. To be consistent with prior court rulings, you must rule in favor of my client. This is good because it is being persuasive and logical. A person would not want to write, In the interest of justice, my client must be freed! If you do not do so, it will fly in the face of law and justice across America. For law, this is considered over the top because it relies more on emotion than on logical reasoning. However, Weisberg asserted that unlike science and engineering writing, legal writing does place value on persuasive rhetoric and emotional appeals; it's just that they need to be grounded more heavily in logical reasoning than emotion.
I asked Weisberg about the point of view precisely, because I know the Supreme Court writes its opinions in the first person. He said that judges do this when they hand down an opinion, but that regular attorney rarely does. For instance, when giving a brief to a judge, a person should not write, I think Miranda v. Arizona relates directly to this case; he or she should delete the I think.
One other aspect of the interview I wanted to note was that throughout the entire thing, Weisberg kept reiterating that legal writing isn't half as difficult as people think it is. He said that in a way, it's like learning a foreign language?but an easy one, and that if students are interested in doing legal research or going to law school, that they should not be intimidated by the language. Lawyers aren't half as smart as people think, he told me at one point.
Overall, I expect that this interview will really help me write my paper, specifically in the areas of style, tone, and use of specialized vocabulary. Moreover, Weisberg was able to point me towards other resources I will be able to use to research my paper, namely Black's Law Dictionary, Emanuel Legal Briefs, and Legal Writing in a Nutshell, two of which I have found at Valley Library already.
Take-away from the Sample
Here are some general ideas to include in your interview essay.
Reasons for interviewing the person, especially if the choice is unusual.
The experience, profession, and status of the interviewee.
Something peculiar that you learned from the interview.
Your observations during the interview.
Some facts that the interviewee corroborated. These are those things you knew from your preliminary research.
Write some quotes from the interview and why they stick out.
How the paper is of importance to the audience.