The Ultimate Literature Review Guide
Last Updated: 24 November 2021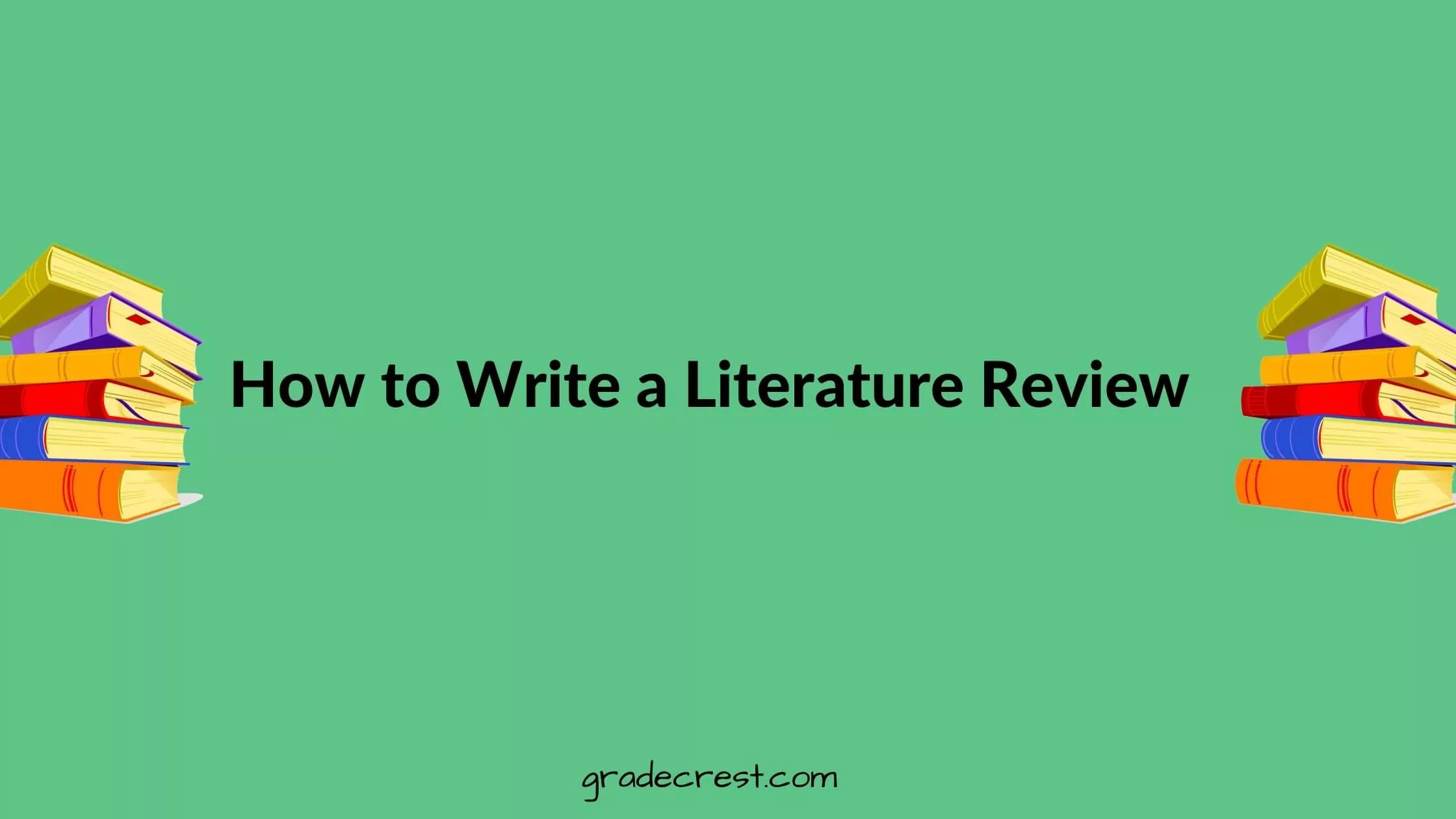 Maybe you are making a research paper, an undergraduate, master's, or doctorate dissertation, a research proposal, a term paper, or a thesis. If this describes you, you need to understand how to write a literature review because it is a critical component within the anatomy of these academic papers.
Usually assigned either as a stand-alone assignment or as part of a bigger assignment, writing a literature review requires keenness. It demands your attention and ability to read, critique, and reason with other authors.
The process of writing a literature review entails the searching and evaluation of available literature in a given subject or relating to your chosen topic. A literature review serves to document what others have said about your chosen topic.
It is not a book by book or article by article summary, neither is it not a descriptive list. Rather, a literature review must be defined by a guiding concept such as a research project, an objective, or essay question.
What is a Literature Review?
A literature review is a piece of academic assignment where the author discusses published information in a given subject area and sometimes information in a given subject area within a certain period of time. It summarizes the synthesis of the concepts, insights, perspectives, and concepts from various sources organized in a specific format. It entails re-organizing, reshuffling, and sifting through the information, interpreting the old information, and combining it to form a new interpretation. A literature review can also trace the intellectual progression of a given field. Finally, it may evaluate the source and advise the readers on the most pertinent and relevant ones.
A literature review shows the readers that you have gathered in-depth knowledge about a given topic and understand where your research fits or adds to the existing body of knowledge.
It demonstrates familiarity with the body of knowledge and establishes your credibility. A literature review also presents a summary of prior research and says how your current project is linked to that research. It also integrates and summarizes the current knowledge about a subject. Finally, it demonstrates that you have acquired knowledge from others, and your research is now a starting point for new ideas. Unlike an argumentative essay, it does not give finality to a topic but instead expounds on a new way of looking at a topic.
A literature review is different from an academic research paper in that, while an academic research paper develops a new argument and likely contains a literature review as its part, a literature review summarizes, synthesizes, and critically analyzes the arguments and ideas of the other scholars or authors without adding new contributions. A literature review for a research paper or any other paper acts as a foundation and support for the new insights that the academic paper contributes.
The Purpose of a Literature Review Paper
You are probably wondering why you need to do a literature review. A literature review can be assigned as part of another assignment or as an independent assignment, just like an annotated bibliography.
A literature review helps you, the author of a research paper, term paper, or thesis, explain why you chose to approach your selected topic from a given perspective. It builds the understanding of the audience/readers concerning a specific topic.
If there is limited time to conduct research, literature reviews also give an overview and act as stepping stones for the research.
In the professional realm, literature reviews are regarded as special reports that update them with the happenstances in their field. For academicians, students, or scholars, the depth and breadth of the literature review proves that one is credible and relevant to their field of study.
In general terms, literature reviews offer a strong background for investigating an issue, topic, or problem. It provides comprehensive knowledge that can be used to answer research questions, pass or refute a hypothesis, and adopt a given lens.
The four major objectives of a literature review include:
It presents ideas, concepts, and perspectives from literature in an organized way
It critically analyzes the information gathered through identifying the gaps in current knowledge, showing limitations of theories and perspectives, and formulating areas for further research as well as reviewing the areas of controversy
It also synthesizes the information in the given literature into a summary
It surveys the literature in a chosen area of study or one that touches on a given topic.
The Structure of a Literature Review
A literature review is structured like an essay or research paper. It has an introduction, body, and conclusion.
Introduction
The introduction of your literature review should do the following:
Define the selected topic, provide the context of the literature review, and explain the scope of the literature review. For instance, if you are reviewing the literature on the impacts of COVID-19 on the tourism industry, you can elaborate on the main points emerging from major studies that have looked at the impact of covid on the broader hospitality industry, provide statistics, and then narrow down to the specific sector in the tourism industry that is affected. Do not state what your literature review will not be covering. Instead, focus on what it will be covering.
Establish the reasons for the literature review
Explain how the literature review is organized, i.e., the sequence of the literature review
Body Paragraphs
The body paragraphs of the literature review is where you run the show. Each body paragraph should:
Have a topic sentence that specifies the contents of the paragraph
Have necessary and relevant pieces of evidence, examples, or illustrations
Be organized depending on the themes
Offer insight on the relationship between your selected topic and the subject area
Move from the general ideas or wider view to the specific focus of your research
Expose the gap in the literature that your project, research, or study intends to fill
Examine the past research in the area, highlighting the methodological and theoretical developments, areas of agreements, contentious or controversial areas, and essential studies
Should be focused on your area or topic of interest
States how the current work builds or responds to previous studies
Conclusion
Like normal academic papers, the conclusion should wrap up everything. It should:
Provide a summary of the important points of the existing body of literature
Establish a gap in the literature that supports the current study
Evaluate the current state of the literature review
Outline areas for future studies
Illustrate how to overcome some of the limitations identified in the literature
Link the research or study to the existing body of knowledge.
The conclusion summarizes what has emerged from the literature review and reiterates the conclusions.
Organization of Literature Review
You can organize the body of your literature review in different formats. Having a rough idea of the best strategy entirely depends on your choice, the research question, the length, and the scope of your literature review.
You can combine these strategies where necessary, especially if the literature review is longer. For instance, you can adopt a thematic approach for your overall structure but take a chronological approach in discussing the themes.
Let's explore the various organizational strategies you can use when writing a literature review.
Chronological
A literature review organized through the chronological approach entails writing about the materials depending on when they were published.
The chronological approach is the simplest to adopt when tracing the development of a topic through time.
If you select this strategy, be ready to avoid listing and summarizing the sources in order as we do with annotated bibliography. Instead, summarize, synthesize, and compare and contrast ideas, turning points, points of view, and major debates that shape the direction of the field you are interested in. You should also present your interpretation of how and why some developments occurred.
By publication
When writing a literature review, you can also organize it using their publication chronology.
By trend
You can organize a literature review by trend. This way, you end up with sections that detail the eras within the specific periods when the change was noticed.
Thematic
Thematic literature reviews are organized around a given topic, issue, or theme. This approach is excellent if you have identified recurring central themes and need to organize your literature review based on the themes. Doing so helps in streamlining ideas that relate to different aspects of the topic.
For instance, if you are reviewing the literature on childhood obesity, you can talk about nutrition, physical activity, genetics, advertising, social status, and other aspects related to childhood obesity.
Methodological
When you write a literature review with the methodological approach, your chief focus is on the methods of the researchers who conducted primary studies. In addition, you can look at the types of data collection methods (qualitative, quantitative, or mixed methods), sampling strategies, samples, data collection tools, and other aspects related to methodology.
It is best to explore how the topic has been developed through empirical and theoretical scholarship. You can as well categorize and classify the literature based on subject, points-of-view, and findings.
Theoretical
You can also arrange the body paragraphs of your literature based on the theoretical constructs, frameworks, or foundations of the past studies. Look at the theories, models, definitions, and frameworks that guided the studies.
For instance, if it's a leadership paper, check on leadership theories such as transactional, transformational, situational, contingency, and charismatic leadership theory. You can also look at the types of leadership or followership.
You need to argue for or against the relevance of a specific theoretical approach or combine different theoretical approaches to create a framework that guides your current research.
The 5Cs of a Literature Review
Given that a literature review is dense with information, the work must be intelligibly structured to allow easier readership, grasp the key concepts, and appreciate the purpose of a literature review. To achieve that, it is imperative to integrate the 5Cs (cite, compare, contrast, critique, and connect) into your literature review.
Cite: The literature review must primarily focus on literature relevant to a given subject area or topic. The material or sources that you refer to and use should define the research problem you are studying.
Compare: Your literature review must compare various arguments, methods, theories, findings, and approaches expressed in different literature. Describe how different researchers agree and disagree on issues and the similarities and dissimilarities of the approaches to studying related research issues.
Contract: When writing your literature review, contrast the various arguments, themes, methodologies, approaches, and controversies expressed in literature. For instance, what are the major areas of disagreement or debate?
Critique: As you write your literature review, remember to describe the arguments you find persuasive and explain the reasons for the same. Explain the approaches, methods, and findings that you deem reliable, relevant, and valid, and explain why. You also need to pay close attention to the verbs you use when describing the facts stated, asserted, expressed, argued, clarified by the previous researchers. Your literature review must be critical, more than just a summary of what others said. It should criticize the assumptions, values, and beliefs that influence the thoughts of the authors.
Connect: Your literature review must also connect the various research studies that you have reviewed. Describe how the work uses, draws from, departs from, synthesizes, adds, or extrapolates the previous research studies. Connecting ideas in a literature review help to make it convincing as it enables you to gather and analyze facts better. It also becomes contributive in that it gathers the most relevant information to support research where there is none. Finally, it extends the current knowledge, theory, and point of view.
Above all, a good literature review has to be clear, concise, convincing, contributive, and critical.
The Six Proven and Tested Steps for Writing a Literature Review
Now that we understand the various aspects of a literature review let's look at the core steps that one takes when writing one. Follow these steps to write an excellent literature review without a struggle.
First Step: Conduct a comprehensive literature search
Before writing a literature review, you need to find out what other scholars have presented or published about your subject, field, or chosen topic. To do so, you need to conduct a comprehensive literature search. It is the first step when writing a literature review, and there are different strategies to do so.
Naturally, the first step for your literature review writing process entails scavenging for the existing research that is relevant to your topic. This step is standard whether you are writing a literature review for a proposal, dissertation, or literature review section for a research or term paper assignment.
However, if you are doing the literature review as an independent assignment, you must choose your focus and develop a central question that will direct your search. That is the question that enables you to collect good data. It is that question that you must answer through your literature review.
To conduct a good search, follow these tips:
1. Define all the key terms
Begin by defining the research project or topic. And if you have a question, ensure that you internalize it at this point. Next, ask yourself the major concepts you need to feature in your literature review and compile a list of these keywords, related terms, and synonyms. These will be your seed keywords when developing a research strategy.
2. Search for relevant sources
Using the keywords, you then begin searching for sources. There are various tricks and tips that you can use to get as many sources as possible then narrow down to the best. Here is where you put on the cap of a hunter, a researcher, or a scavenger. Here are some tips:
Search through Google's academic search engine, Google Scholar for high-level journal articles, PDF publications, and studies that match your keywords. It is a free-to-access feature that every student uses to get quality articles.
Use the university database to access the articles from the internet that required paying to access. For instance, an article on Google Scholar might redirect you to another databases whose access is paid for; your school database can help you download the article without having to pay.
Snowballing from your journal articles can also be a great move. For instance, after reading a journal article and seeing that it fits your topic or research context, check its reference list section and select the relevant ones. Then, search them online and from the school database.
You can also scavenge through dissertations from ProQuest, Stanford SearchWorks, EBSCO, and Open Access Theses & Dissertations, to find sources that address your research topic. Finally, skim through the literature review section of the dissertation chapters and identify, extract, and store relevant literature sources. When selecting the sources, only choose peer-reviewed articles published within the last five years unless you are talking about seminal works.
Some other potential sources for your literature review apart from the library catalog of your university include INSPEC, Project Muse, Medline, EconLit, and JSTOR. Do not limit yourself; even the articles found on Science Direct can be good as long as they meet the criteria you have identified for your literature review. You can also check publisher websites, newspapers and magazines, conference papers, government publications, bulletins, and periodicals.
When searching for literature review, you can use Boolean operators to narrow your search and identify good sources. For example, you can use AND find sources that also contain more than one keyword, OR find the sources that contain a synonym of your keyword, and NOT exclude the results that contain certain unwanted terms.
You can select the articles to keep by reading the abstracts then judging whether they are fit for your question or work. If you have authors who are prominently cited in many sources, they are an authority, check out whether there are pieces of their work that can match your inclusion criteria.
Second Step: Organize, Clean, and Synthesize the sources
Assuming that you have your list of articles at this point, it is time to now clean out the bad and remain with what matters. You need to evaluate the sources further to determine if they are fit for entry into your literature review.
You need to begin by logging the reference information. For this, you can use online citation management tools such as Mendeley or Zotero. You are better of with these reference managers, and if you are patient enough, you can also use the MS Word Inbuilt reference manager. Keeping track of citations is necessary to avoid plagiarism. Besides, if you are to write an annotated bibliography or fill a literature evaluation table, it would be straightforward. Be sure to choose the appropriate citation style: MLA, APA, Harvard, Chicago/Turabian, or Oxford styles.
You can then further profile the contents of the articles based on major arguments, context, date, author, title, methodology, quotations, and notes. Of course, this means that you need to read every source and drop those that are not really reliable, credible, and relevant.
It would help if you took notes as you read the articles. These notes are beneficial once you begin writing. As a matter of fact, you can use an excel sheet to document different aspects of these sources.
If you want to synthesize the articles sufficiently, have an excel sheet with these columns:
Author and publication information- write all the publisher, author, and publication details of the article.
Keywords – list the keywords, concepts, vocabulary, or themes that recur in the article.
Arguments – write the major arguments, points, or issues an article focuses on
Context – list the context of the article: socio-economic, political, spiritual, etc
Methodology – the data research methods used
Quotes – the most outstanding quotes from the source
Notes – any special notes about the source. For instance, how it supports your research or question.
After detailing the components of the articles, it is now time to synthesize the information. You can create mind maps, concept maps, or relationship diagrams. Here are some important questions to ask yourself:
What problem is the author addressing?
What major concepts stand out, and how does an author define them?
What are the major themes, theories, methods, and models used?
Is the research based on an established framework or foundation?
What are the findings of the study?
What are the limitations and strengths of the study?
Does the research relate to other pieces of literature? How?
How does the chosen research contribute to your topic or area of interest?
What gaps are there in the current research?
What further areas of research do the authors recommend, and is your research addressing these areas?
Third Step: Organizing facts for your review
Now that you know what the authors have argued or said, you need to organize the arguments of your literature review and determine the appropriate structure to use. Check whether there are links between sources you read and borrow ideas from your notes; identify the themes, debates, and gaps.
You can identify the trends and patterns in results, methodology, and theory over time and check the themes that recur in the literature. Also, check the debates, contradictions, and conflicts between authors on subjects. Next, list the pivotal publications or the seminal works that highlight landmark studies that developed theories or changed the direction of a given field. Finally, check if there is a missing link in the literature and weaknesses that must be addressed.
Doing the above step helps you contextualize your literature review. It also allows you to choose an appropriate approach to your literature review and show how your research addresses the deficiencies in past research and contributes to knowledge in the field.
Fourth Step: Choose an appropriate Structure and write an outline
As we explored earlier, there are different approaches. Whether you go for chronological, thematic, theoretical, methodological, trend, or publication, you need to have an introduction, body, and conclusion.
Write an outline of your literature review, which is more of a blueprint that will guide your writing process. A detailed outline is a skeleton that helps you to envision how the piece of academic task would be. It enables you to avoid writing then realizing you omitted or overdid a section.
Although you will most likely derail off your structure, it is best to have it so that you can trace where you are when writing. It also eliminates the wastage of word count on things that do not matter.
Allocate the most optimum word count limits for every section of your literature review based on their relevance to the overall structure.
Fifth Step: Write your Literature Review
Now that you have the blueprint – your detailed literature review outline, write up the paper confidently. The only barrier here can be writer's block and procrastination. Try to avoid these two barriers and work early enough to avoid the pressure of writing a literature review in a rush.
The first draft is just that, a draft with so many mistakes. So, write first, then edit later. Then, express your thoughts, arrange and rearrange them, refine the points, and focus on perfection later.
With the initial draft written, take a break for as long as time allows, minding the deadline so that you can develop an objective and fresh mind for revision.
Sixth Step: Revise, Edit, and Polish
Now that you have done what most people find challenging, you need to polish it to achieve the 100% mark. You can polish your literature review by sending it to the supervisor for criticism and comments. When you receive the feedback, you can then edit the paper.
Alternatively, share the draft with a colleague or editor and ask if they understand what you wrote. If you want a peer-to-peer editing program, you can use our online editing service. We have strict and experienced academic editors. These research specialists can come in handy when polishing your literature review. Remember, maintaining simplicity when writing your literature review matters more.
After all, is done, check your grammar, punctuation, language use, verbs, tenses, nouns, and formatting to ensure that you are all set, then submit for grading.
Tips and Tricks for Writing and Outstanding Literature Review
Here are a few tips and tricks from our literature review writers to help you finish your literature review assignment. These tips and tricks have been tried, tested, and proven to work. They can be your guiding principles when writing your literature review.
Ensure that your literature review includes many primary data sources. Unfortunately, this is where most students err. Don't fall into the temptation of using secondary sources for their availability. Primary resources are the best for literature reviews.
Describe the procedures used to identify the sources that you included in the literature review.
Ensure that your literature review is not just a summary of sources; synthesize the contents of these sources.
Connect ideas from different resources for coherent, clear, concise, and fitting analysis
Ensure that your lit review is grammatically correct
Check all the spelling and punctuation errors
Never use first-person "I" or "you" in your literature review
Plan and start writing your literature review later
Stick to one academic formatting style
Do not use descriptive and narrative approaches, be critical as well
Evaluate the opposing opinions and draw conclusions
Use quotes sparingly when writing
Be selective with the information you extract from the source
Use evidence to support facts and ideas
Keep and maintain your own voice when writing
Use caution when paraphrasing
Revise and polish before submitting.
Have works cited, references, or bibliography section
Use headings and subheadings if necessary
When choosing the sources, focus on relevance, authority, and currency.
Evaluate the literature rather than just summarize it
Connect the ideas in the literature to your research
If it is a literature review for a research project, include the theoretical discussion about the selected methodology and argue why the research is necessary
Compare and contrast the sources to each other instead of writing discrete sections for each source
Literature review checklist
Did you outline the scope and purpose of the review?
Have you identified appropriate source material mainly from primary and secondary sources?
Have you written a draft and edited it carefully?
Is your literature review submitted on time and in the correct format?
Are the tenses correct?
Have you appropriately placed the punctuations?
Are the sources used listed at the end?
Did you keep bibliographical records of all the researched material?
Is each source critically reviewed?
Have you organized all the material you obtained from the sources?
Have you developed your approach?
Are the sources used current, relevant, authoritative, appropriate, and purposeful?
Is the literature review based on current literature?
Does your literature review fill the gap in knowledge and literature?
Does the literature review have balanced paragraphs?
We wish you the best of luck as you write your literature review; you will need it!